Simple Mayo Free Potato Salad
Sometimes you are looking for a mayo-free potato salad, either because you or someone in your family doesn't like mayonnaise, or because you are serving it at a picnic, or another outdoor gathering, and you are not eager to leave a salad made with mayo in the hot sun. Either way, this one fits the bill.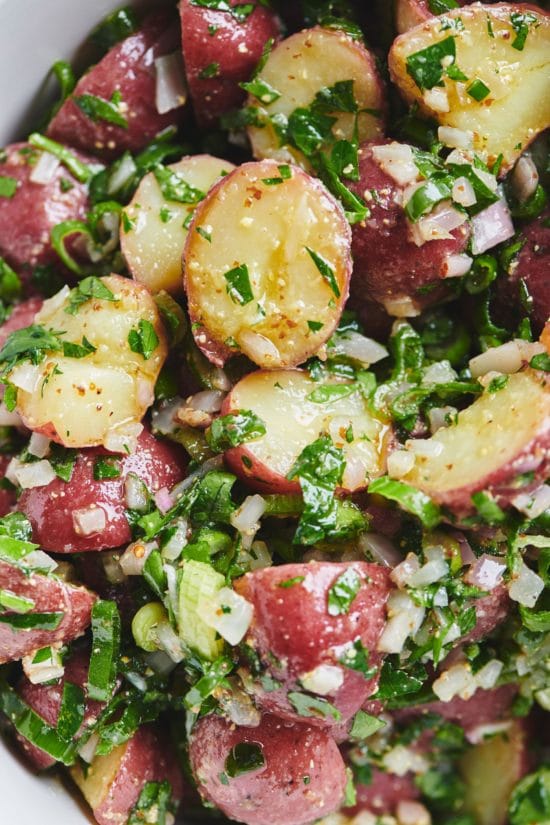 This no-mayo potato salad is very simple, and won't steal the limelight from whatever else is on the menu. I can fall hard for a potato salad with twists and turns (Capers! Heat! Other vegetables! Cheese! Eggs!) but I never tire of a simple potato salad (with or without mayo). It's really nursery food, a little mindless, requiring no real commitment on the part of the eater. That may not sound all that inspiring, but I really do think that it's awfully nice to have an item on the table that isn't yelling "look at me!" at most meals.
Sometimes you just want a great potato salad without the mayo—this one has classic flavors and comes together in 20 minutes.

Tweet This
No Mayo Potato Salad Add-Ins
Having said THAT….You can add other minced fresh herbs to the salad (instead of or in addition to the parsley), such as thyme, oregano, chervil, marjoram, or sage. Use some minced red onion in addition to — or instead of — the copious amounts of scallions for an additional pop of color. Thinly sliced celery also makes a nice addition, adding a bit of crunch.
Mayo-Free Potato Salad Tips
Tossing the potatoes with the vinaigrette-ish dressing while they are still warm helps them absorb the flavors of the dressing, which really boosts the depth of the salad. Don't forget to salt your cooking water, too—you want those potatoes to be seasoned with salt all the way through, and that can only happen if the water they are cooking in is salted.
What the Kids Can Do
Kids can use an age appropriate knife to slice the scallions, and chop the parsley. They can also help measure and mix up the dressing. Also if you want to cook the potatoes in halves rather than small pieces, once the potatoes have cooled, the kids can cut them up with a knife, now that they are soft.
Leave out the white wine if you are concerned about the very small amount of alcohol for the kids. I've always been preoccupied with other things to worry about.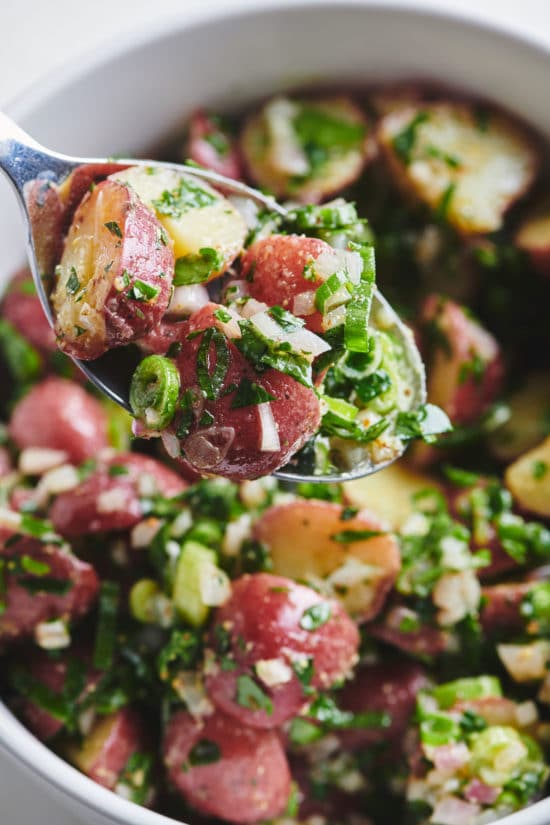 What to Serve with Mayonnaise-Free Potato Salad:
Other Potato Salad Recipes:
Like this recipe? Pin it to your favorite board on Pinterest.

Pin This
Mayonnaise-Free Potato Salad
Sometimes you just want a great potato salad without the mayo – this one has classic flavors and comes together in 20 minutes.
Ingredients
2

pounds

Yukon potatoes

or baby potatoes

½

cup

extra-virgin olive oil

1

tablespoon

Dijon-style mustard

¼

cup

dry white wine

optional

½

cup

minced onion

1

teaspoon

kosher or coarse salt

or to taste

½

teaspoon

freshly ground black pepper

or to taste

½

cup

sliced scallion

white and green parts

¼

cup

chopped fresh parsley
Directions
Peel or scrub the potatoes and cut them into 1-inch chunks, or halve or quarter baby potatoes so that the pieces are about 1-inch. Place them in a saucepan with salted water to cover by 2 inches. Bring the water to a boil over high heat, reduce the heat to about medium, and simmer the potatoes gently until they are tender and can be pierced with a sharp knife, about 15 minutes. Drain and let cool slightly.

Meanwhile in a large bowl, combine the olive oil, white wine (if using), Dijon mustard, onions, and salt and pepper.

Add the warm potatoes and gently toss until the potatoes are well coated with the dressing. Let cool slightly, then gently mix in the scallions and parsley. Serve at room temperature.
Nutrition Information
Calories:
266
kcal
|
Carbohydrates:
21
g
|
Protein:
4
g
|
Fat:
18
g
|
Saturated Fat:
3
g
|
Sodium:
435
mg
|
Potassium:
688
mg
|
Fiber:
4
g
|
Sugar:
1
g
|
Vitamin A:
294
IU
|
Vitamin C:
23
mg
|
Calcium:
58
mg
|
Iron:
5
mg
The nutrition values are provided as an estimate. It is not intended as a substitute for the advice of a qualified healthcare professional.
Made this recipe? Post a photo of your delicious creation on Instagram with our hashtag #dinnersolved