This post may contain affiliate links. Please read our privacy policy.
Easy Mongolian Beef
My family cannot get enough of Asian food, and any time I crank out a dish that announces itself with aromas of garlic, ginger, and soy sauce I pretty much know dinner will be a success.
What is Mongolian Beef?
Mongolian Beef is a Chinese-American (or American-Chinese) dish consisting of beef coated with a savory brown sauce that includes hoisin (usually), soy sauce, and chili peppers (or something spicy), plus some other additions. Usually there is some sweetness added as well, here brown sugar, which allows the sauce to caramelize so nicely.
It is highly reminiscent of the kind of dish you might get at an old-school Chinese restaurant. Often broccoli is included, and I am going to add some next time, for for now….broccoli on the side would be great.
Shaved Beef Steak
Look for shaved beef steak, sometimes called beef shaved steak—I don't know why—napkin-thin slices of beef which can come from any part of the cow. It might be labeled "sandwich steak" (designed for sandwiched like Philly subs) or shabu-shabu beef (intended for Japanese cooking, or possibly Chinese hot-pot) or Pho (used in the traditional Vietnamese soup). It also could be called braciole beef (used in that classic Italian dish where it is wrapped around a filling, usually involving breadcrumbs and cheese). Bulgogi in Korean markets. Rouladen in German butcheries.
If you have a friendly butcher ordering this cut of meat can generate some interesting conversation about the different ways to cook it.
This 20-minute dish is so easy to make, with a wonderful savory-sweet glaze coating the ultra thin slices of steak.

Tweet This
How to Make Mongolian Beef
Mongolian beef can also be made with different types of thinly sliced or small cut meat, and if shaved beef isn't an option, place a piece of flank steak in the freezer until quite firm but not totally frozen and then thinly slice it across the grain and use that instead. It will essentially defrost as you cut it and it waits to hit the hot pan. This thinness of the meat allows every little bit of it to be coated with a wonderful glaze.
Coat the Beef with Cornstarch
Dusting the slices of beef in cornstarch before sautéing them allows them to brown nicely. Saute in batches, so it can brown evenly. This is slightly annoying, but it goes SO fast. And then when the beef meets with sauce the cornstarch not only helps the thicken the sauce, but also allows the sauce to coat the beef deliciously.
Saute the Beef Quickly
The beef needs just a few minutes in the pan to brown.
Add the Sauce
Once all of the meat has been browned, put it back in the pan and add the sauce. Toss until it's thick and the glaze looks and smells lovely.
Finish the Mongolian Beef
The scallions add a little bit of spiciness, and some welcome fresh green (it's a brown dish, I will say that).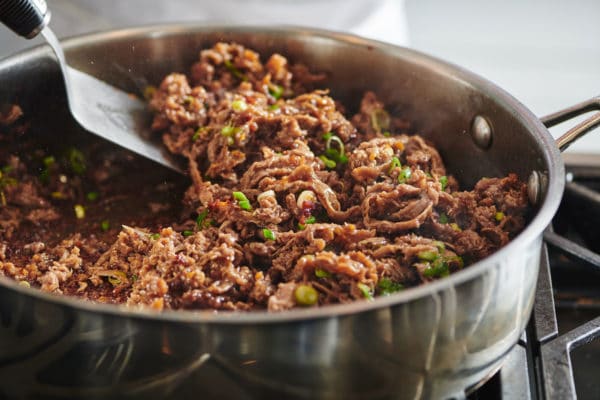 Toss until everything is well combined.
How to Serve Mongolian Beef
Serve it up over some hot rice. For an old school Chinese-American dish I default to white rice. This kind of food makes me wonder where the little packets of duck sauce are. Hey, maybe next time I make this, I will see if a little duck sauce on the side hits the spot. It seems like it could really work.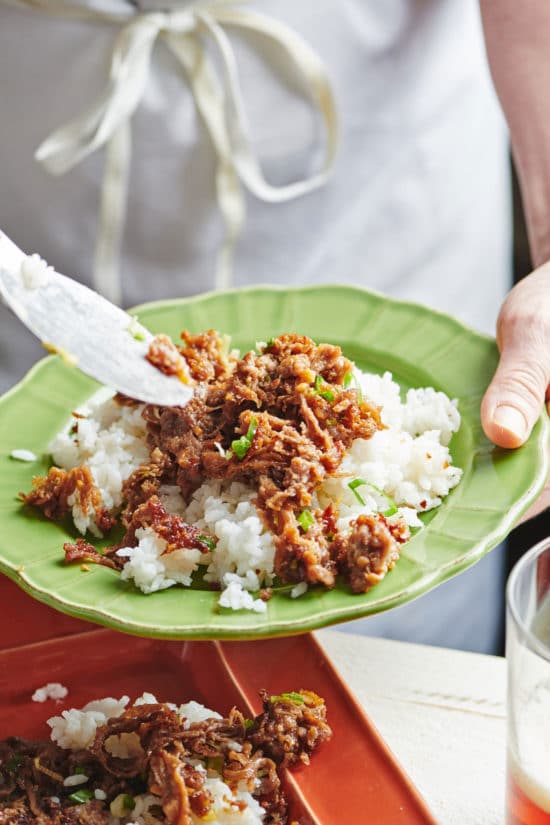 I could probably make this once a week for my family and it would be a long time until they tired of it. I served this up last with some Blistered Green Beans with Miso Butter. It really worked. And do give the beef one last sprinkle of fresh sliced scallions.
Mongolian Vegetables
Instead of beef, try this with a mixture of broccoli florets, sliced carrots, and snow peas. Use 6 cups of vegetables in total, and treat them just as you would the sliced beef. And if you want to use half beef (3/4 pound) and half vegetables (3 cups), just sauté them separately, with 6 teaspoons of cornstarch mixed with each, and then add half of the sauce and scallions to each of the pans and finish cooking.
What to Serve with Mongolian Beef:
Other Asian Beef Recipes:
Like this recipe? Pin it to your favorite board on Pinterest.

Pin This
Mongolian Beef
This 20-minute dish is so easy to make, with a wonderful savory-sweet glaze coating the ultra thin slices of steak.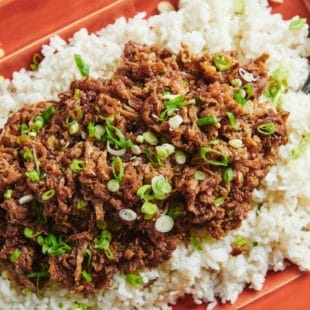 Ingredients
¼

cup

approximately plus 2 teaspoons vegetable or canola oil, divided

2

teaspoons

finely minced garlic

1

tablespoon

freshly minced ginger

½

cup

less sodium soy sauce

⅓

cup

packed brown sugar

1 ½

pounds

beef shaved steak

see recipe intro for more info

3

tablespoons

cornstarch

6

scallions

trimmed and thinly sliced (white and green parts)

Hot cooked brown or white rice

to serve
Instructions
In a small saucepan heat 2 teaspoons of the oil. Add the garlic and ginger, and saute for 30 seconds, then add the soy sauce and brown sugar and bring to a simmer, whisking frequently over medium heat. Allow it to simmer and reduce a bit, until it gets a glazey consistency, about 4 minutes. Set aside.

Meanwhile, toss the shaved steak in a mixing bowl with the cornstarch until evenly distributed.

Heat 2 tablespoons of oil in a large skillet (the bigger the better) over medium high heat. Line a counter or a large plate with paper towels. Sauté the beef in batches, taking care not to crowd the pan, and flipping it as it browns, about 2 minutes in all. Use tongs to remove the beef when it is browned, transferring it to the paper towels. Repeat until all of the beef is browned, adding more oil as needed (make sure the oil has a chance to get hot before you add the next batch of beef so it browns up nicely).

Pour off any additional oil and return the large skillet to medium high heat. Add all of the beef back to the pan, along with the sauce and scallions. Stir for about 3 minutes until the sauce is thickened and glazes all of the meat evenly. Serve over the rice.
Notes
What the Kids Can Do:
Slice scallions with supervision, measure the sauce ingredients, and help prepare the rice.
Nutrition
Calories:
445.54
kcal
,
Carbohydrates:
18.86
g
,
Protein:
20.9
g
,
Fat:
31.82
g
,
Saturated Fat:
16.11
g
,
Cholesterol:
80.51
mg
,
Sodium:
790.26
mg
,
Potassium:
393.8
mg
,
Fiber:
0.48
g
,
Sugar:
12.53
g
,
Vitamin A:
119.64
IU
,
Vitamin C:
2.57
mg
,
Calcium:
44.62
mg
,
Iron:
2.9
mg
Nutrition information is automatically calculated, so should only be used as an approximation.
Like this? Leave a comment below!