These full-flavored ribs get marinated overnight with a Southern-inspired rub, then they get baked in the oven and then are finished by being slathered with a basting sauce until they are juicy and tender. The hard part is waiting for a few minutes after they come out of the oven before slicing them, but just wait for another 10 minutes — your slicing will be easier and cleaner.
Cooking Ribs in the Oven
Baking ribs in the oven is so easy. Basically, unless there is a glaze or sauce on them that contains sugar, they can be left alone. And if you are going to finish them with a glaze or sauce, you want to do that at the end so they don't get charred on the outside, or even too browned before they are cooked through. So the first part of the baking is with the rib either just lightly seasoned with salt and pepper, or with a rub that doesn't have a sticky sugary ingredient aspect to it.
Then once the ribs are almost done, you baste them with your sauce and finish them in the oven. If when they are done you want to give them even a bit more browning or caramelization, then run them under the broiler for a minute or two, watching carefully.
The Option of Finishing the Ribs on the Grill
You can definitely finish them on the grill if you prefer, and have access to a grill. If you do that you can make them ahead up to the point of grilling, which is nice for a party or just if you want to get a head start on dinner. Before the ribs are finished with the first stage of baking (before they get basted with the sauce), preheat a gas grill to low, or prepare a charcoal grill for indirect grilling.
These full-flavored ribs are marinated with a Southern-inspired rub, then baked in the oven and slathered with a basting sauce until they are juicy and tender.

Tweet This
Cook them on the grill, turning every 5 minutes or so, and making sure they are nicely sauced, for another half an hour, until the meat is very tender. Watch carefully that the sauce doesn't start to burn, adjusting the heat as needed.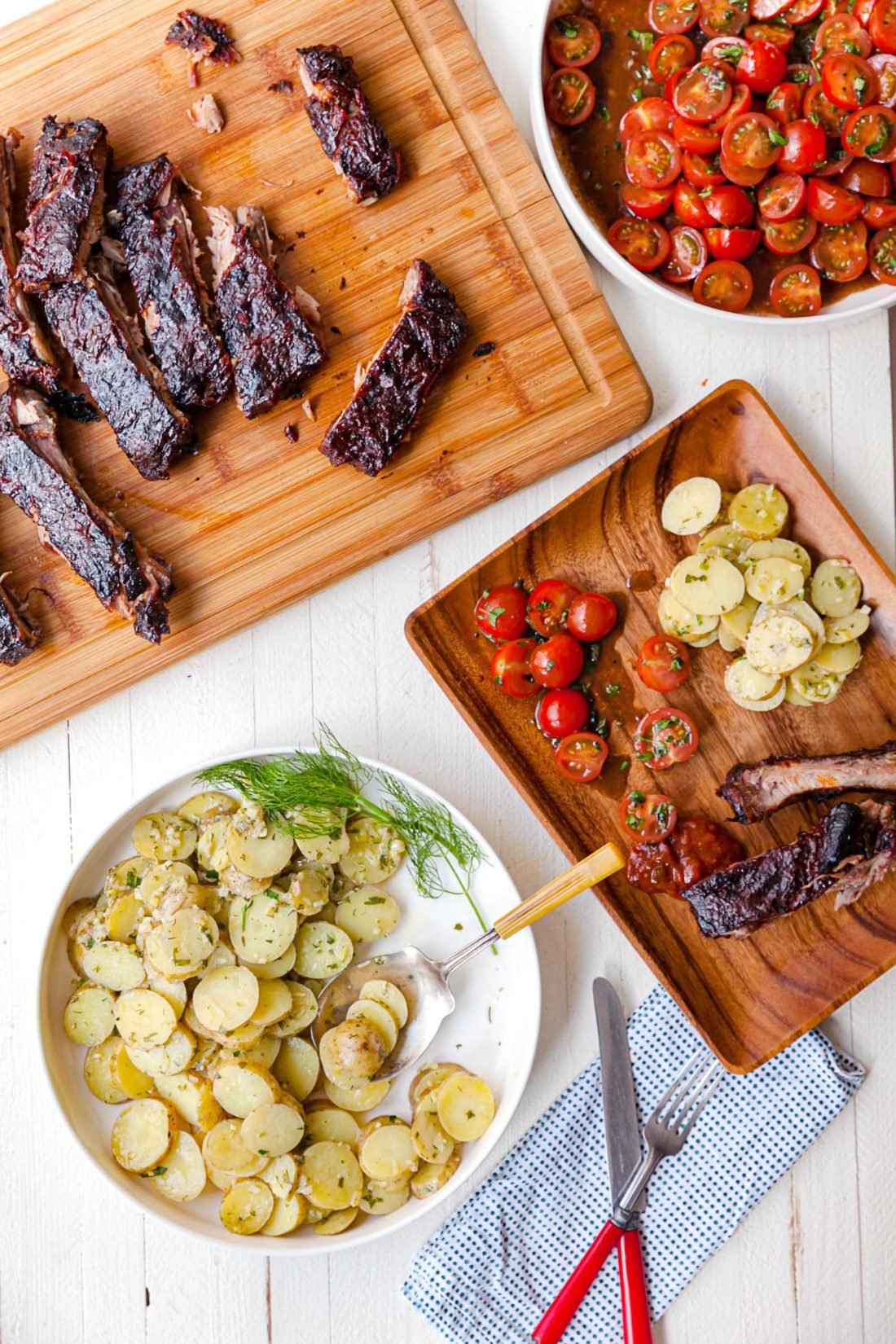 What to Serve with Oven Baked Cajun Sticky Ribs:
Like this recipe? Pin it to your favorite board on Pinterest.

Pin This
Oven Baked Cajun Sticky Ribs
These full-flavored ribs are marinated with a Southern-inspired rub, then baked in the oven and slathered with a basting sauce until they are juicy and tender.
Ingredients
For the Ribs
2

tablespoons

paprika

4

teaspoons

kosher salt

1

tablespoon

dried thyme

1

tablespoon

garlic powder

1

tablespoon

onion powder

2

teaspoons

black pepper

1

teaspoon

cayenne pepper

3

slabs pork baby back spareribs
For the Basting Sauce
3

cloves

garlic

minced

3

scallions

trimmed and chopped, white and green parts

1

cup

ketchup

¼

cup

molasses

¼

cup

(½ stick) unsalted butter

½

cup

cider vinegar

¼

cup

Dijon mustard

1

tablespoon

Tabasco or other hot sauce

½

teaspoon

coarse or kosher salt
Directions
In a small bowl mix together the paprika, salt, thyme, garlic powder, onion powder, black pepper and cayenne pepper. Remove the membranes from the bone side of all of the racks of ribs using a sharp knife and peeling the membrane off. Rub the seasoning all over the ribs. Place the ribs in a container or a bowl, loosely covered, and refrigerate for 4 to 24 hours.

Before you're ready to cook the ribs, make the basting sauce. In a medium saucepan combine the garlic, scallions, ketchup, molasses, butter, vinegar, mustard, or hot sauce and stir over medium heat until the butter is melted. Let simmer for another 15 minutes or so. You can make this ahead of time and reheat.

Preheat the oven to 350°F. Line two rimmed baking sheets with aluminum foil. Place the ribs bone side down in a roasting pan and pour 1 cup of water into each pan. Roast until the meat starts to pull away from the bones, about 1 1/2 hours.

Remove the pans from the oven and drain off any remaining water. Baste the ribs generously with the sauce. Baste them on all sides with the sauce and bake for another 1/2 hour in the oven, bone side down. You can put them under the broiler for the last 2 minutes or so to give them a nicely caramelized top (watch them carefully so they don't burn!).

Let the rib racks sit for 10 minutes before cutting them into individual ribs and serving.
Nutrition Information
Calories:
259
kcal
|
Carbohydrates:
20
g
|
Protein:
8
g
|
Fat:
16
g
|
Saturated Fat:
7
g
|
Cholesterol:
49
mg
|
Sodium:
1755
mg
|
Potassium:
462
mg
|
Fiber:
2
g
|
Sugar:
15
g
|
Vitamin A:
1361
IU
|
Vitamin C:
4
mg
|
Calcium:
63
mg
|
Iron:
2
mg
The nutrition values are provided as an estimate. It is not intended as a substitute for the advice of a qualified healthcare professional.
Made this recipe? Post a photo of your delicious creation on Instagram with our hashtag #dinnersolved