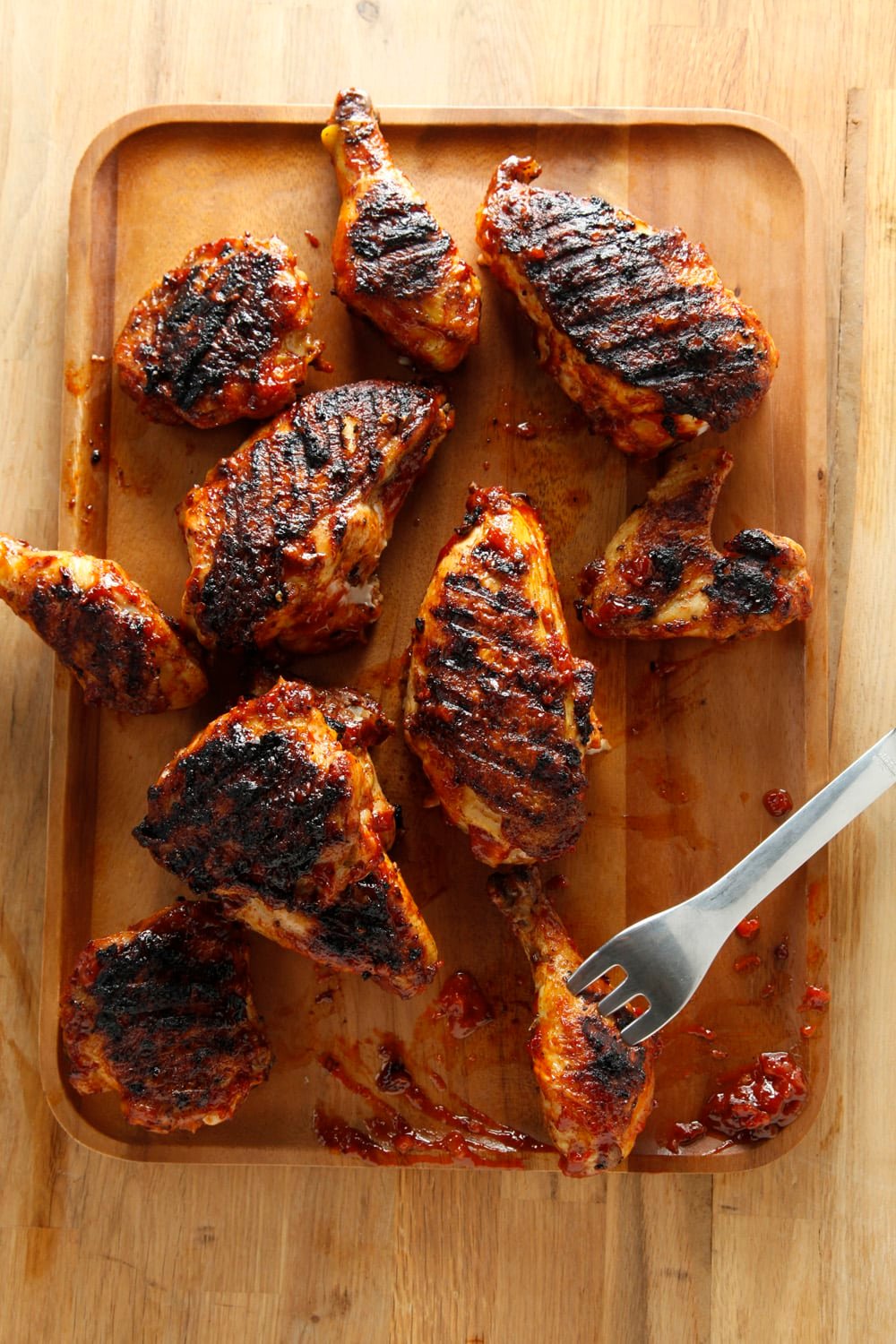 Why is barbecued chicken so perennially popular? Because it's just a perfect food. Tangy, slightly spicy, sticky sauce coating the most well-liked protein around. You can make it in the oven, you can make it on the grill, you can make it in the slow cooker, you can make it on a grill pan.
To me, no matter how I make it or when I make it, it speaks of summer, and that's probably another reason why we all love it so—it takes us mentally to outdoor get-togethers, evenings where it stays light for hours, and a slower warm weather pace—even if we are eating in in November straight from the oven.
Do you say BBQ or barbecue or BBQue? I am more of a barbecue kind of speller-outer, but I flipflop. I wonder if there is a regionality to this…
This barbecued chicken recipe calls for bone-in, skin on chicken pieces, but of course you can use boneless skinless breasts or thighs, or even pull off the skin from the bone-in chicken before cooking. It's all good. And other than chicken, anything you like with barbecue sauce on it can also be used.
You'll see that the chicken starts off without sauce on the grill—that's because bone-in pieces take a while to cook and the sugar in the sauce will start to caramelize/brown (possibly burn) before the chicken is fully cooked if you baste the chicken with the sauce from the get-go. Just let it start cooking, and then hit it with the sauce.
Making Barbecued Chicken in the Oven
So the recipe below is for the grill, but you can also bake your chicken in the oven. Just set the oven for 375°F and slather up your chicken with the sauce and bake it on a rimmed baking sheet sprayed with nonstick spray or lined with foil or parchment. Bone-in pieces will take about 40 to 50 minutes. You can sauce the chicken before baking it as long as you keep the temp to 375° or 350°F—higher than that and the sauce might brown too quickly.
Making Barbecued Chicken on a Grill Pan
You can also use a grill pan, and if I'm doing that I prefer boneless pieces of chicken. Brush your chicken with the barbecue sauce and cook it for about 6 minutes on each side for boneless breasts (more if they are very thick), and about 8 minutes on each side for boneless thighs. Skin on or off, your call—I usually go for no skin, because it won't get crispy and I think that's really the point of skin.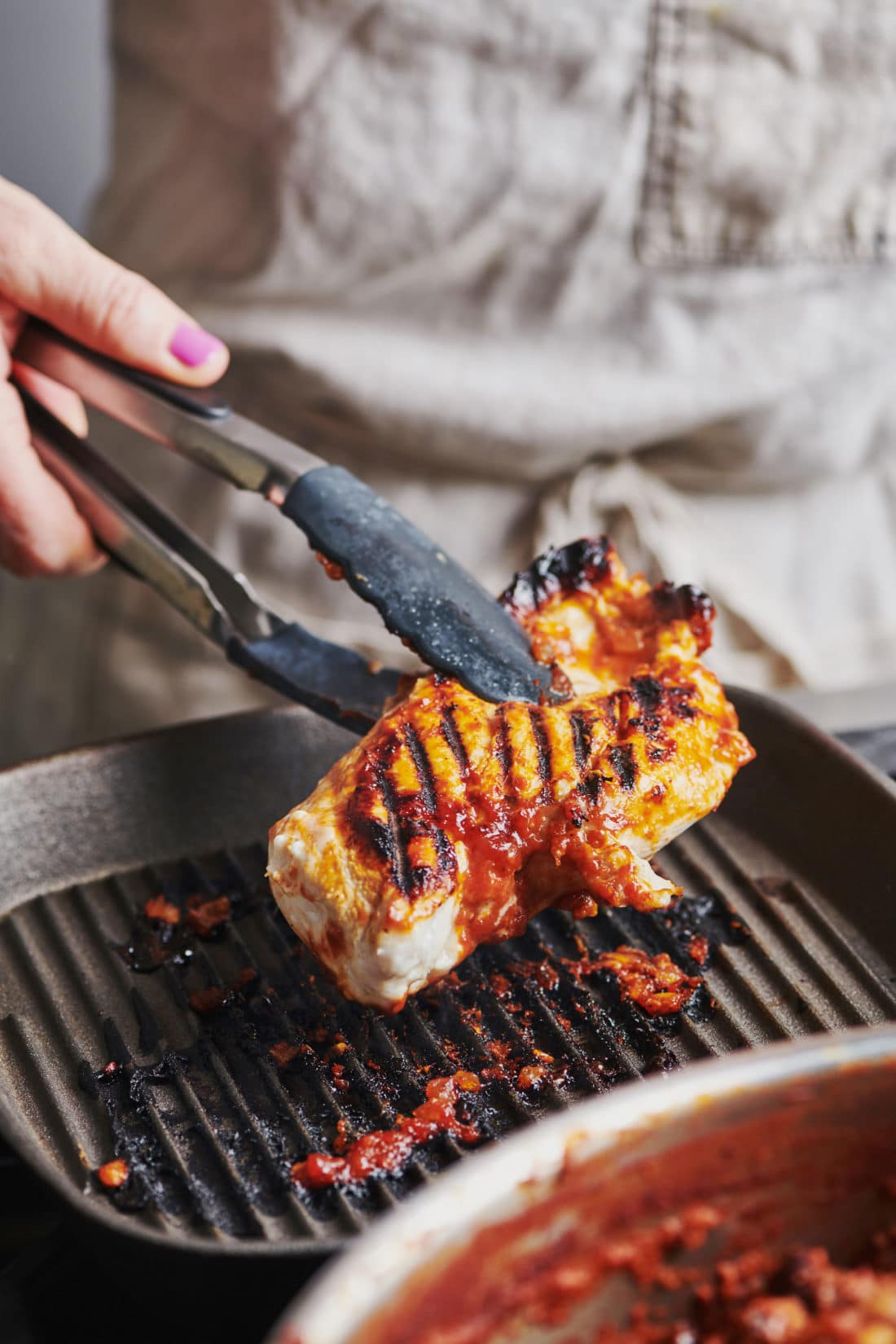 What to Serve with Barbecued Chicken:
Like this recipe? Pin it to your favorite board on Pinterest.

Pin This
Barbecued Chicken
For summer entertaining, when in doubt, barbecued chicken is always the answer. Plus, this tangy, savory sauce is so easy to make.
Ingredients
1

recipe Barbecue Sauce

5

pounds

bone-in, skin-on chicken pieces

your choice of thighs, breasts and drumsticks
Directions
Preheat the grill to medium (or preheat the broiler with the rack placed 6 to 8 inches away from the heat). Place the chicken, naked at first, on the grill or under the broiler and cook with the grill covered for about 10 minutes on each side, until the chicken is—to your best estimation—about 2/3 cooked. Watch for smoke and flare-ups.

Now baste the chicken with the barbecue sauce and give it another 5 minutes or so on each side, basting as necessary and checking to see that it's caramelizing nicely, but not burning. When the outside looks the way you like it, and it's cooked throughout, let it sit for a few minutes off the heat and serve.
Nutrition Information
Calories:
390
kcal
|
Carbohydrates:
1
g
|
Protein:
34
g
|
Fat:
27
g
|
Saturated Fat:
8
g
|
Cholesterol:
136
mg
|
Sodium:
129
mg
|
Potassium:
343
mg
|
Sugar:
1
g
|
Vitamin A:
254
IU
|
Vitamin C:
3
mg
|
Calcium:
20
mg
|
Iron:
2
mg
The nutrition values are provided as an estimate. It is not intended as a substitute for the advice of a qualified healthcare professional.
Made this recipe? Post a photo of your delicious creation on Instagram with our hashtag #dinnersolved