This post may contain affiliate links. Please read our privacy policy.
Dill is one of my favorite herbs, especially in the summer. I love its bright flavor and freshness. It also adds lovely color to various dishes, such as Chicken Salad with Grapes, Arugula and Cucumber Salad with Tzatziki Vinaigrette, and Herbed Mayonnaise and Sugar Snap Pea Salad. Not to mention Salmon Corn Chowder; scroll down for the recipe!
Here's what you need to know about cooking with dill, preparing fresh dill, substituting fresh or dried dill…and why dill weed is different from dill seeds.
This one's ready for you. Using it as a template for these posts, so LMK what you think about the order.
What Is Dill?
Dill is an incredibly popular herb for good reason. Although it's probably most famous for its pivotal role in Greek cuisine (salads, tzatziki, soups), dill can be found in dishes from all over the world, where it is a frequent companion to legumes, cheeses, and meat. It's also included in many Eastern European and Scandinavian dishes. This herb is a perfect choice to add a fresh kick to any plate. Fresh dill is a great addition to feta yogurt dip, tzatziki vinaigrette, and other salad dressings.
Dill belongs to the Apiaciae plant family, which also includes parsley. This leafy plant originally hails from the Mediterranean region but can be grown almost anywhere. It is also an enthusiastic participant in any herb garden. Make sure to keep dill confined in its own area of your garden, as it can spread very quickly and take over too much space.
You can find dill in two forms: the leafy greens you most likely recognize, called dill weed (available dried and fresh), and the seed form. Dried dill weed and dill seeds have different tastes and are used for different things in the kitchen. Make sure to note which type is called for in a recipe.
What Does Dill Look Like?
Dill grows in verdant green stalks with bunches of short, thin leaves. In the wild, the dill plant can be recognized by its characteristic yellow flowers. In the supermarket, fresh dill weed is usually sold in bunches, with any flowers removed.
Fresh dill can sometimes be confused with fennel fronds, as they are part of the same plant family and have similar leaves. However, dill leaves are wider than those of the fennel plant, and they both have a very different and distinctive flavor.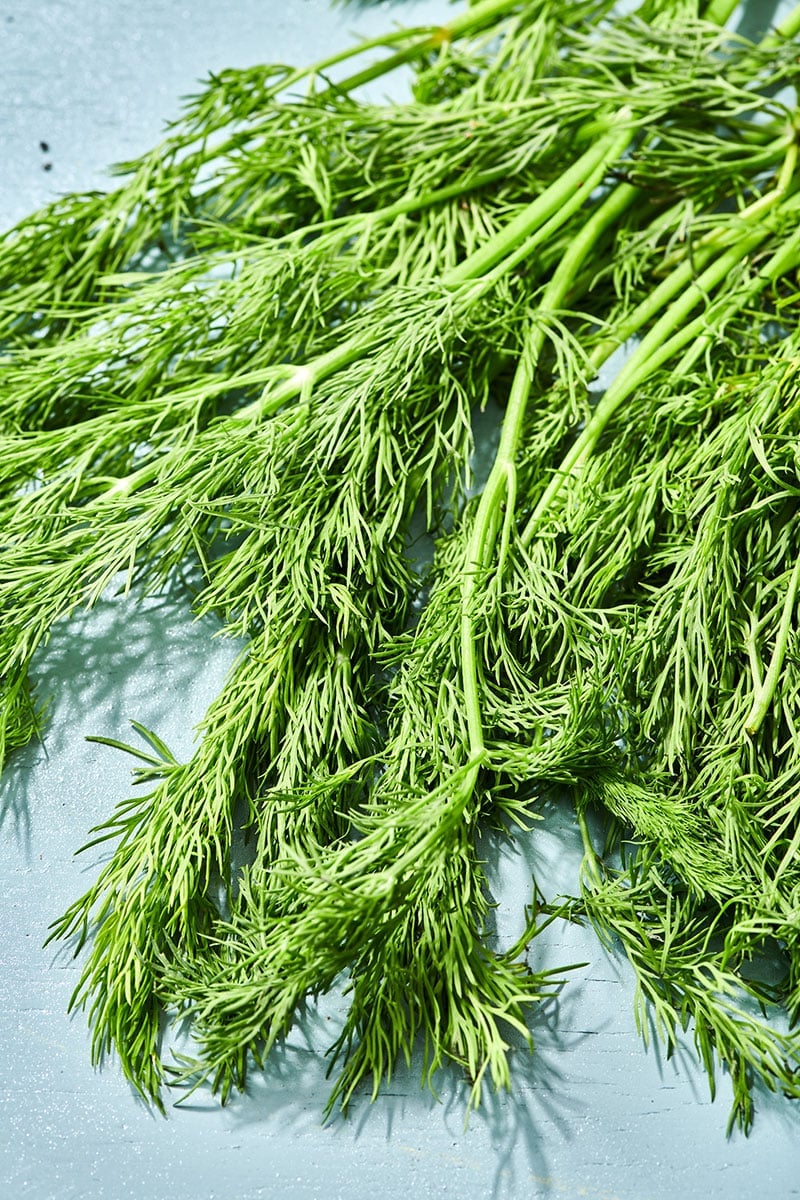 What Does Dill Taste Like?
Dill weed is an aromatic plant. This means that as it grows, it secretes an oil that is recognizable for its singular smell, which is crisp and grassy, with a hint of sweet licorice.
Dill seeds, on the other hand, have a more lemony taste than dill weed. Dill weed is normally used for cooking and seasoning, while dill seeds are most often used to create brines for pickles or marinades for meats (think corned beef).
I think dill goes remarkably well with summery recipes, like pasta salads, salad dressings and vinaigrettes, creamy dips and sauces, salmon, and dishes made with corn. But it can also brighten up cold-weather comfort food recipes, like turkey chili. So while I find myself using it often during the summer, I also find it helpful for giving heavier foods a lift in the colder months.
Dried Dill vs. Fresh Dill
Whenever you have the ability to choose between fresh and dried dill, go for the fresh herb. Fresh dill is more versatile and has a beautiful bright green color, which fades when the herb is dried. When making uncooked dishes such as salads, never substitute dry dill for fresh dill — the ingredient is called for because of its freshness!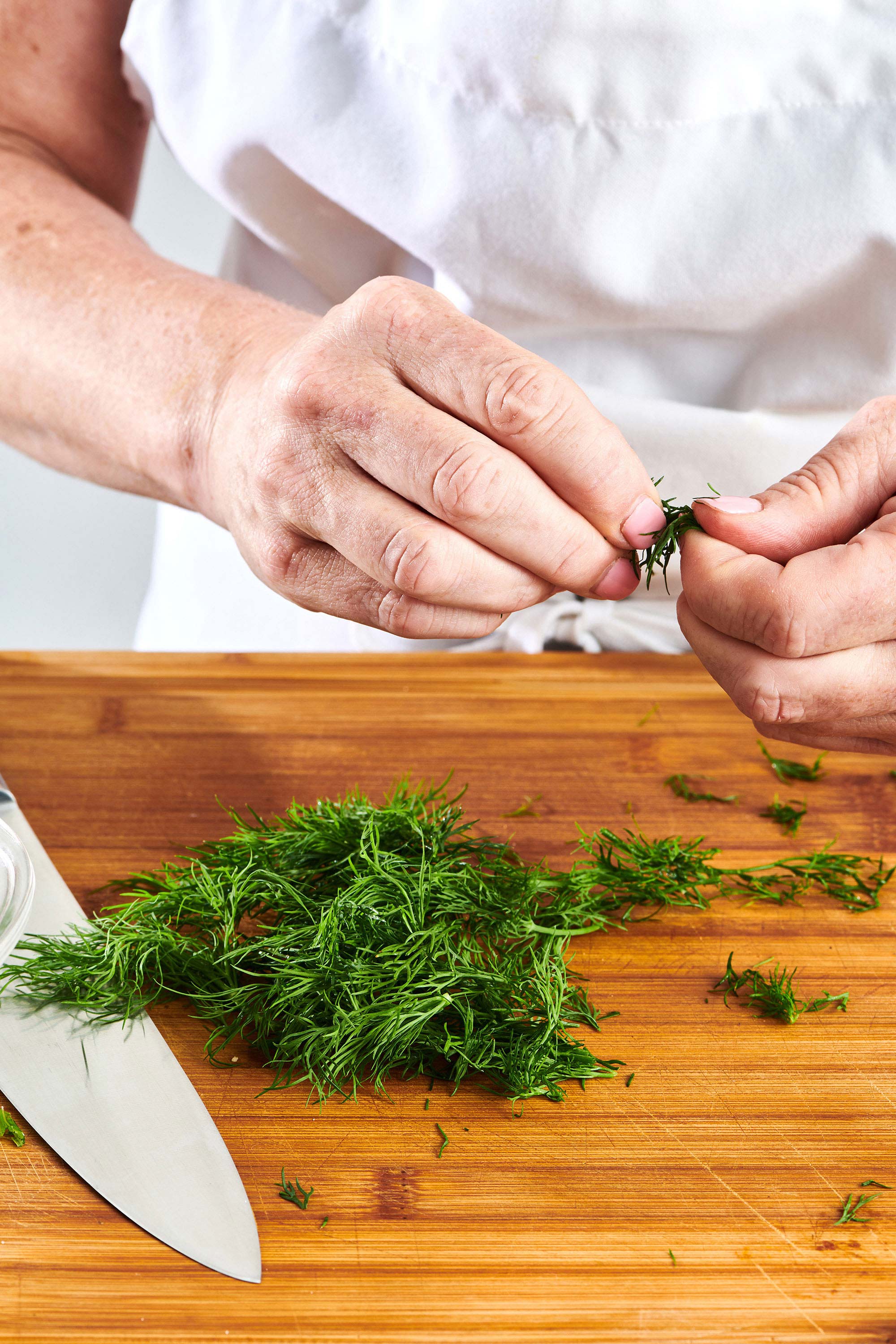 In recipes that require cooking, dried dill can get the job done, too. However, when substituting dried dill for fresh dill, make sure to add less than your recipe calls for, as the flavor of the herb is heightened by the drying process. You can find fresh dill in the grocery aisle of most supermarkets, while dried dill will be shelved with other spices.
Substitutes
The best substitute for fresh dill weed is definitely a smaller quantity of dried dill. However, if that's not available (or you are making a dish that really needs a fresh herb), there are other solutions.
If your recipe requires cooking, try using fresh or dried thyme in place of the dill. The flavor profile of these herbs is not an exact match, but thyme retains its flavor well when exposed to heat. Most recipes that call for dill are flexible in terms of their flavor profiles, and a quick swap for thyme will not make or break the dish. Since thyme is a more potent herb than dill, you may want to start with a smaller amount.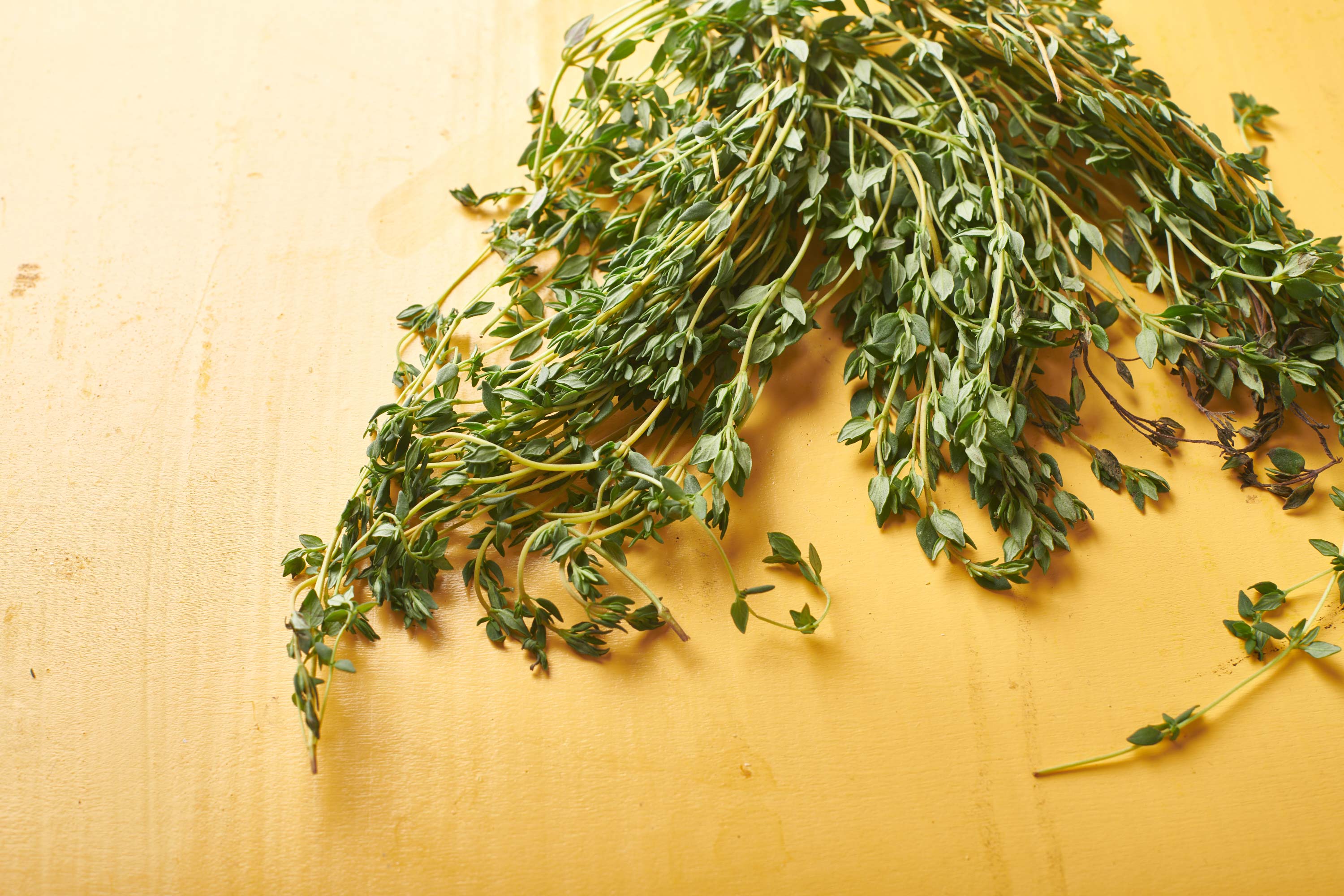 If you're making a vinaigrette or using the herb raw in a salad or other dish, try substituting fresh tarragon. Fresh tarragon is the most similar tasting herb to fresh dill. It's equally flavorful, so you can swap in equal amounts.
How To Prepare and Cook With Dill
When you prepare dill for use, you do not need to separate the slim upper stalks from the leaves. Just remove the lower, thicker part of the stem. Make sure you're using your sharpest knife since a dull knife can bruise the herb and make it lose its color. Dill is a delicate herb, which means that it should be chopped right before it is used. This also means you should not wash it before you are ready to use it.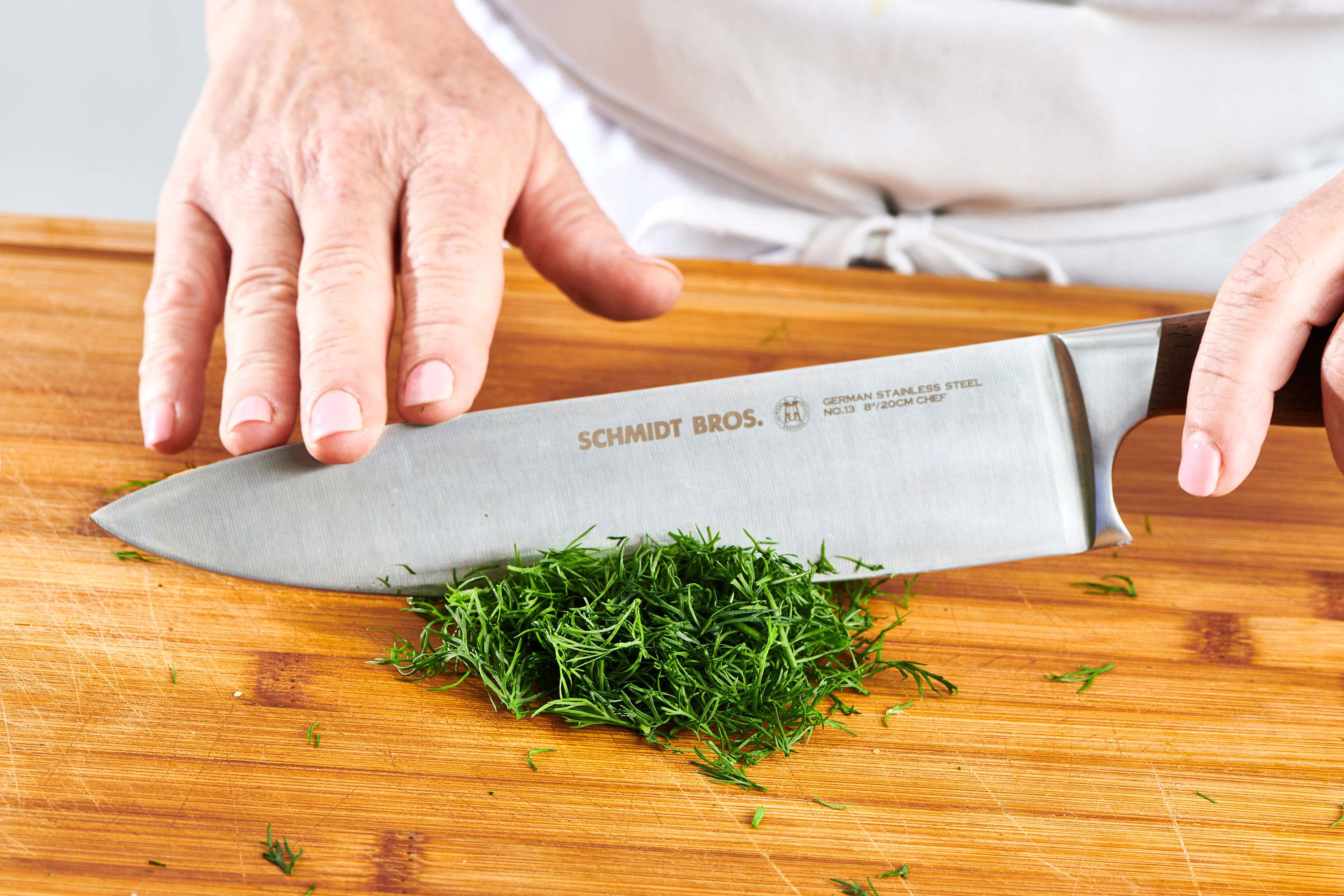 Dill loses flavor very easily, especially when exposed to heat. This means you should only add the herb to your dish right before you take it off the stove. Otherwise, you risk losing some of that freshness. Also, consider scattering a generous sprinkle of the chopped herb on top of a dish to make the very most of its freshness and color!
How to Store Dill
Here's some bad news about dill: because it's so delicate, it wilts and becomes limp and moist pretty quickly. Try to use fresh dill within a week of buying it. You can also preserve its freshness by taking it out of its original packaging and rewrapping smaller bunches in moist paper towels. Place the dill in a plastic bag of some sort, leaving it open, and remoisten the paper toweling as needed.
If you want to hold on to your fresh dill longer, store it standing up in a glass of water so that the stems have direct access to water. This method makes for a lovely green bouquet, and it can stay in the fridge for at least a week or a day or so on the counter. Change the water every few days if storing for longer than a day.
Dried dill weed can be stored tightly sealed in a cool, dry, dark place for up to 6 months. Dried dill weed will last for about 9 months; also stored in a cool, dark, dry place.
Everything you need to know about buying, storing, preparing and substituting for dried fresh and dried dill.

Tweet This
Fun Facts About Dill
Did you know that dill has been used since Ancient Egyptian times? Back then, it was commonly thought that dill weed could be used to fend off witches, similar to how Medieval Europeans believed garlic would ward off vampires. Here are some other random facts to boost your dill knowledge (who doesn't love a person at a cocktail party who knows weird things about fresh herbs?):
The first dill pickles were likely eaten in the mid-19th century after the inventions of paraffin wax and the Mason jar made it a lot easier for cooks to brine at home. (The first recorded written instance of "dill pickle" was in 1899.)
As an appetite-suppressing snack, Puritans and Quakers used to give their children dill seeds to snack on during services.
Dill seed oil is considered an essential oil that some people use to reduce stress or as a mild sedative.
---
Salmon Corn Chowder Recipe
This is a main course chowder. In this recipe, once you have cut the corn kernels from the corn cob, the cobs are simmered in milk plus half-and-half for a bit. This allows you to get even more flavor into the soup, as the milk picks up more corn taste from the cobs. I love this kind of resourceful cooking. It makes me feel like I am getting every bit of corn essence into the chowder.
Ingredients
Corn – This is a great way to use that local corn when it's in season, cheap and plentiful!
Milk – Use whole milk for creaminess.
Half-and-half – Even more creaminess! You can use all whole milk if you prefer, but the half-and-half makes this a richer chowder.
Salmon fillets – These will be cut into chunks and then fall apart a bit as they cook in the chowder.
Unsalted butter
Shallots
Chicken or vegetable broth – I prefer less-sodium so I can control the salt level of the soup.
Yukon gold potatoes – These, or another type of waxy potato, hold their shape when cooked better than all-purpose potatoes, like russets, but that's also an option.
Fresh dill – Some for the soup, some for garnishing.
A main course soup, chock-a-block with chunks of salmon, corn, potatoes, and bound together with a creamy savory, dill-flecked chowder.

Tweet This
Tips and Substitutions
Try clams, chopped shrimp, or baby scallops instead of the salmon.
Pureeing some of the cooked corn and potatoes thickens the soup and adds body.
Don't be tempted to use anything but whole milk in this recipe. Milk with a lower fat content will result in a watery soup.
If you have a larger group, feel free to double the recipe (I did!).
If you wanted to make a loaf of Chimichurri Garlic Bread and serve that up on the side, no one would be sad at all.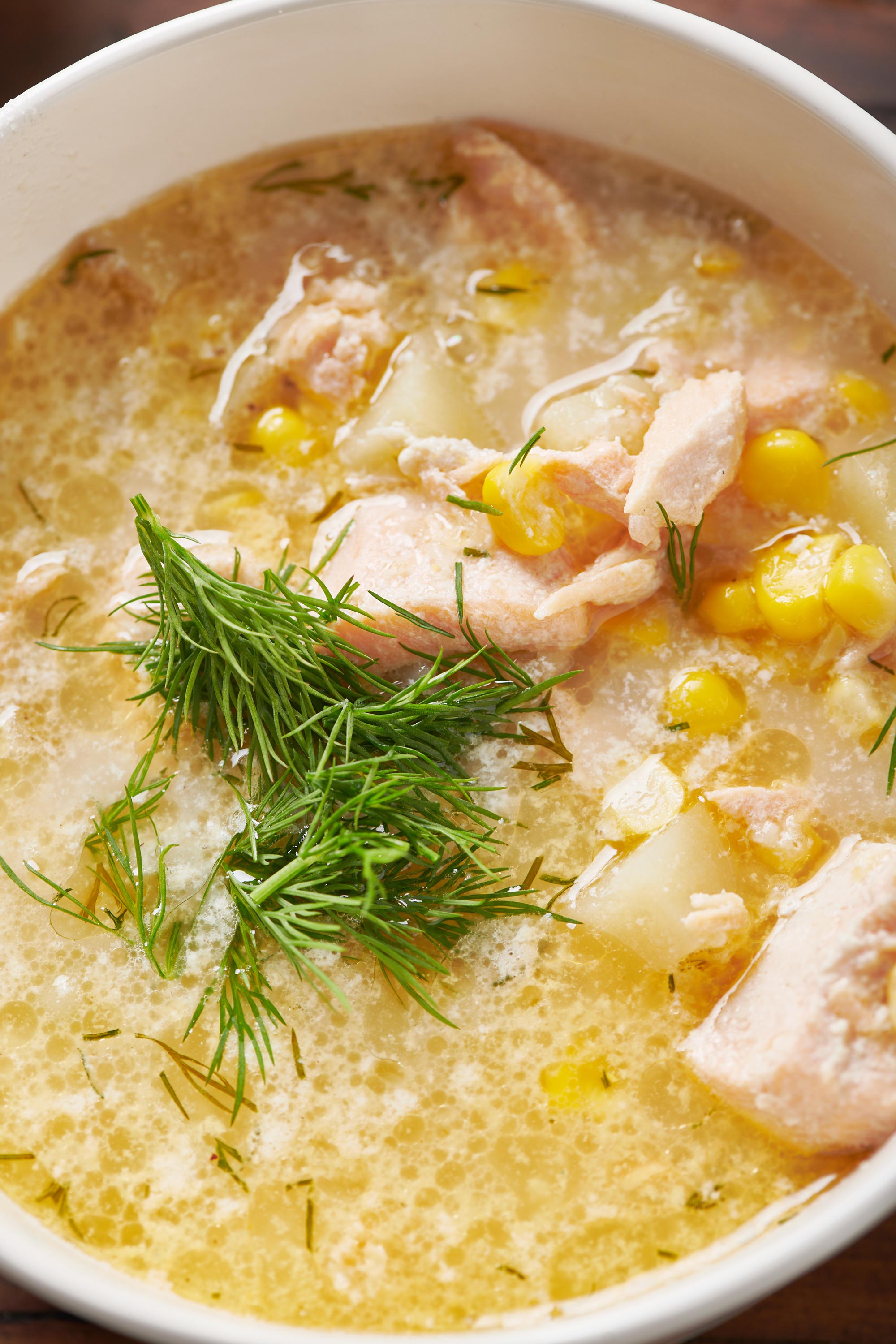 Like this recipe? Pin it to your favorite board on Pinterest.

Pin This
Essential Dill Cooking Tips, Plus a Dill and Salmon Corn Recipe
Everything you need to know about cooking with dill and a fresh chowder recipe chock-a-block with chunks of salmon, corn, and potatoes.
Ingredients
4

ears corn

1

cup

whole milk

½

cup

half-and-half

1

pound

skinless salmon fillets

1

tablespoon

unsalted butter

1

tablespoon

olive oil

2

tablespoons

minced shallots

2

cups

low-sodium chicken or vegetable broth

3

Yukon gold potatoes

(about 1 pound; scrubbed and cut into ½-inch dice)

2

tablespoons

minced fresh dill

(plus extra for garnish)

Kosher salt and freshly ground pepper

(to taste)
Instructions
Using a sharp knife, cut the kernels from the corn; you should have about 2 cups, give or take. Break the corn cobs in half, and reserve the kernels.

Place the whole milk and the half-and-half in a small pot along with the corn cobs and bring to a simmer over medium-high heat. Adjust the heat and simmer for 10 minutes. Remove the corn cobs with tongs, reserving the milk mixture.

Meanwhile, cut the salmon into 1-inch pieces. In a large soup pot over medium heat, melt the butter. Add the salmon and sauté just until the outside turns opaque, about 2 minutes. Remove from the skillet with a slotted spoon and set aside.

Return the pot to the stove and heat the olive oil over medium-high heat. Add the shallots and sauté until softened, about 3 minutes. Add the broth, increase the heat to high and bring to a simmer. Reduce the heat to medium-high and add the potatoes. Partially cover the pot, keep the broth at a simmer, and cook until the potatoes are tender, 12 to 15 minutes.

In a blender or food processor, place ½ cup of the corn kernels. Use a slotted spoon to scoop out about ¼ cup of cooked potatoes and add those to the bender; pour in about ½ of the milk mixture, and puree until smooth.

Add the pureed mixture, along with the remaining corn kernels and the remaining milk mixture, back into the pot, and return to just barely a simmer. Simmer gently for 2 minutes, then add the partially cooked salmon and the 3 tablespoons of dill. Season with salt and pepper and simmer for another 2 minutes until the salmon is just cooked through. Use the back of the spoon to break up the salmon into smaller chunks.

Taste and adjust seasonings as needed and serve hot, with a sprinkle of fresh dill.
Notes
Try clams, chopped shrimp, or baby scallops instead of the salmon.
Pureeing some of the cooked corn and potatoes thickens the soup and adds body.
Don't be tempted to use anything but whole milk in this recipe. Milk with a lower fat content will result in a watery soup.
If you have a larger group, feel free to double the recipe (I did!).
Nutrition
Calories:
491
kcal
,
Carbohydrates:
46
g
,
Protein:
33
g
,
Fat:
21
g
,
Saturated Fat:
7
g
,
Polyunsaturated Fat:
4
g
,
Monounsaturated Fat:
8
g
,
Trans Fat:
0.1
g
,
Cholesterol:
88
mg
,
Sodium:
149
mg
,
Potassium:
1587
mg
,
Fiber:
5
g
,
Sugar:
11
g
,
Vitamin A:
525
IU
,
Vitamin C:
32
mg
,
Calcium:
146
mg
,
Iron:
3
mg
Nutrition information is automatically calculated, so should only be used as an approximation.
Like this? Leave a comment below!