This post may contain affiliate links. Please read our privacy policy.
I've always considered it well worth taking a moment to master the art of the perfect, simple, oven-baked baked potato. That ideal ratio of oven temperature to timing results in a perfect potato, complete with chewy skin and a tender interior that is ready to be fluffed with a fork. And then you can keep it very simple (butter!!! sour cream!!! ) or go nuts with the toppings.
A baked potato can absolutely act as your dinner. It's a great customizable meal and a good way to use up leftovers since everyone can top their potatoes as they see fit. Try topping your baked potato with the filling from these Ground Beef Tacos or Ground Turkey Tacos, plus all of the taco topping options. Turkey Chili, Slow Cooker Barbacoa Beef, and Broccoli Casserole would all make great toppings.
You could also serve baked potatoes on the side of a great, hearty main, like Slow Cooker Teriyaki Beef Tip Steaks or Roast Chicken, and add in a side of Roasted Asparagus to round out the meal. And few things are more satisfying than a steak and baked potato dinner. Try Rib Eye Steaks with Thyme-Garlic Butter, Filet Mignon, or Mexican Grilled Rib-Eye Steak.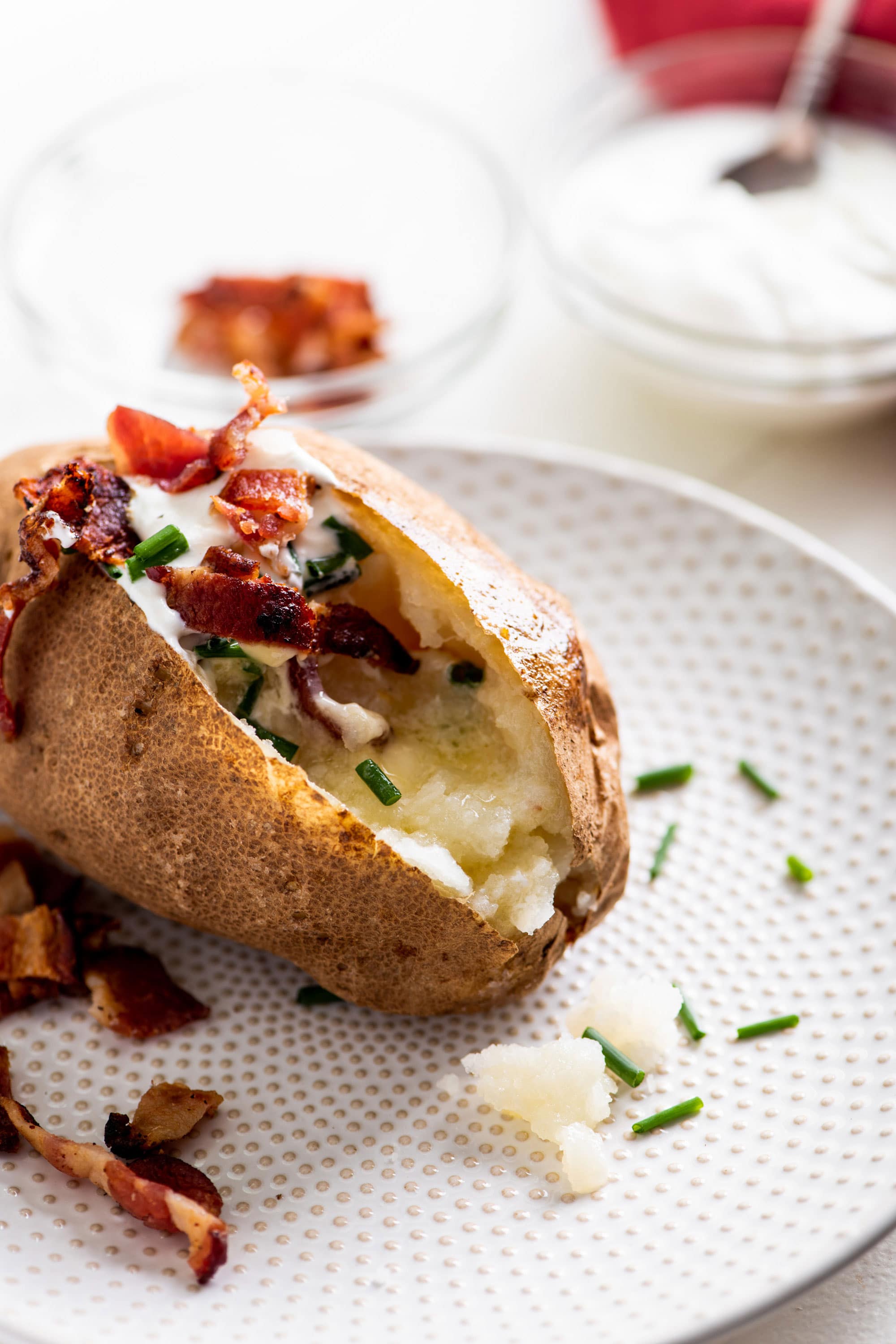 Ingredients
Potatoes – Use large, firm Idaho russet potatoes; sweet potatoes can also be baked using the same method.
Oil – Optional. Rubbing your potatoes with oil before baking them will get you a more crackly, crisp skin.
Toppings – Toppings are optional, but I strongly recommend using salt and pepper at the very least. A traditional loaded baked potato will have a bit of butter, some sour cream, a sprinkle of chives or sliced scallions (green onions), and some crumbled cooked bacon.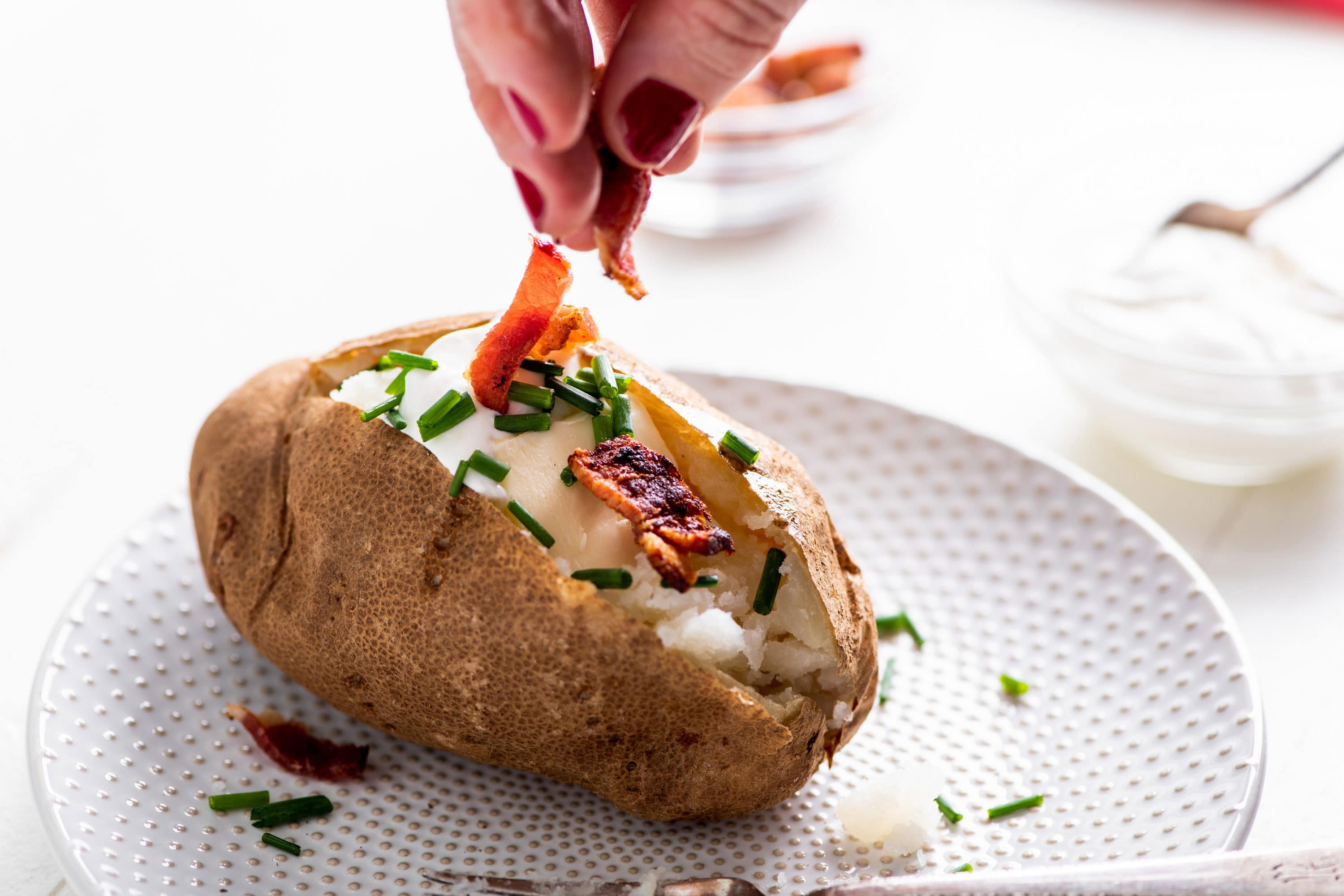 How to Make Baked Potatoes
Preheat: Preheat the oven to 375 degrees. The baked potato oven temp is actually pretty fluid, from 350 to 400 degrees, so if your oven is set at a different temperature, go ahead and cook the potatoes at that temperature — just know they might take a little shorter or longer to become soft.
Prep potatoes: Wash and dry the potatoes, removing any "eyes" with a small sharp knife. Prick them several times with a fork (or a skewer, or the tip of a sharp knife), piercing the skin, to allow moisture to escape while they cook and prevent them from bursting.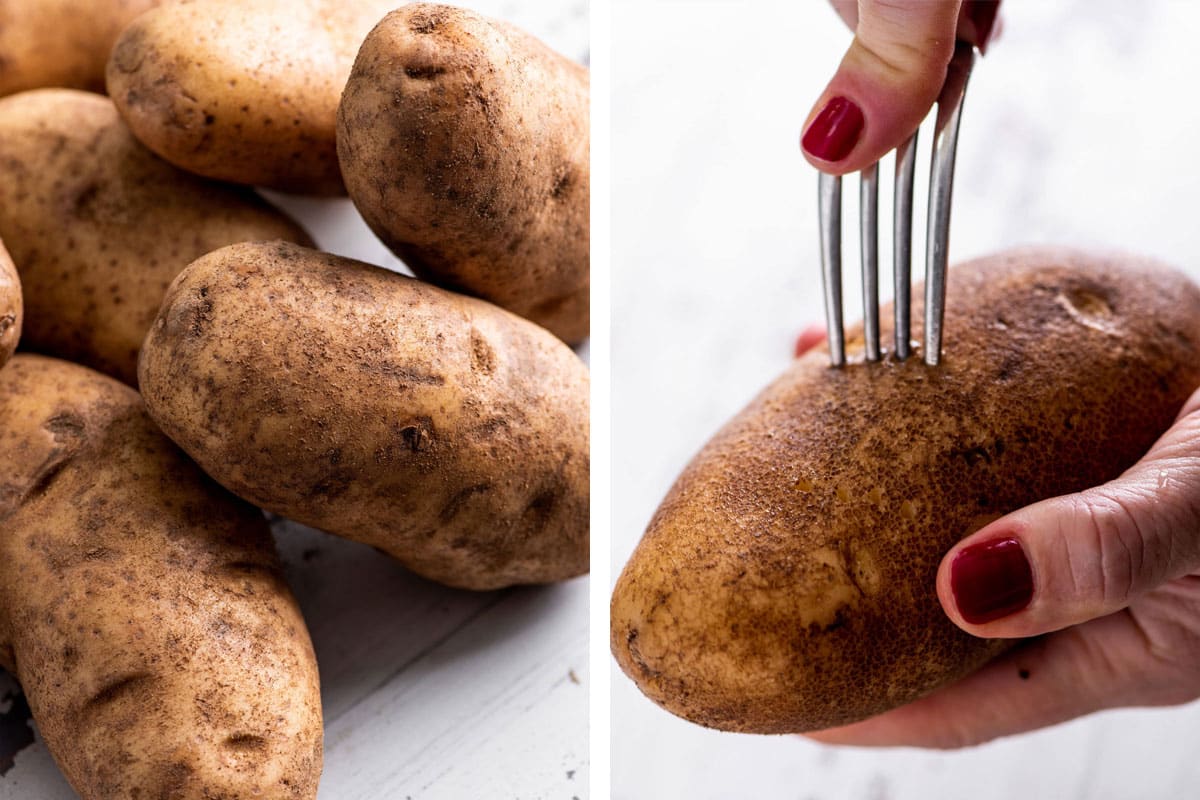 Bake: At this point, you can bake them as-is directly on an oven rack, or you can rub them with oil and season with salt and pepper if desired. In that case, you can still place them directly on a rack in the middle of the oven, but place a baking sheet on the rack below them to catch any drips of oil.
Open up potatoes: Remove the potatoes from the oven and let them sit for a minute or two. Make a slit on the top lengthwise from one end to another. Squeeze the potato on each end, and it will open — watch out for the hot steam rising!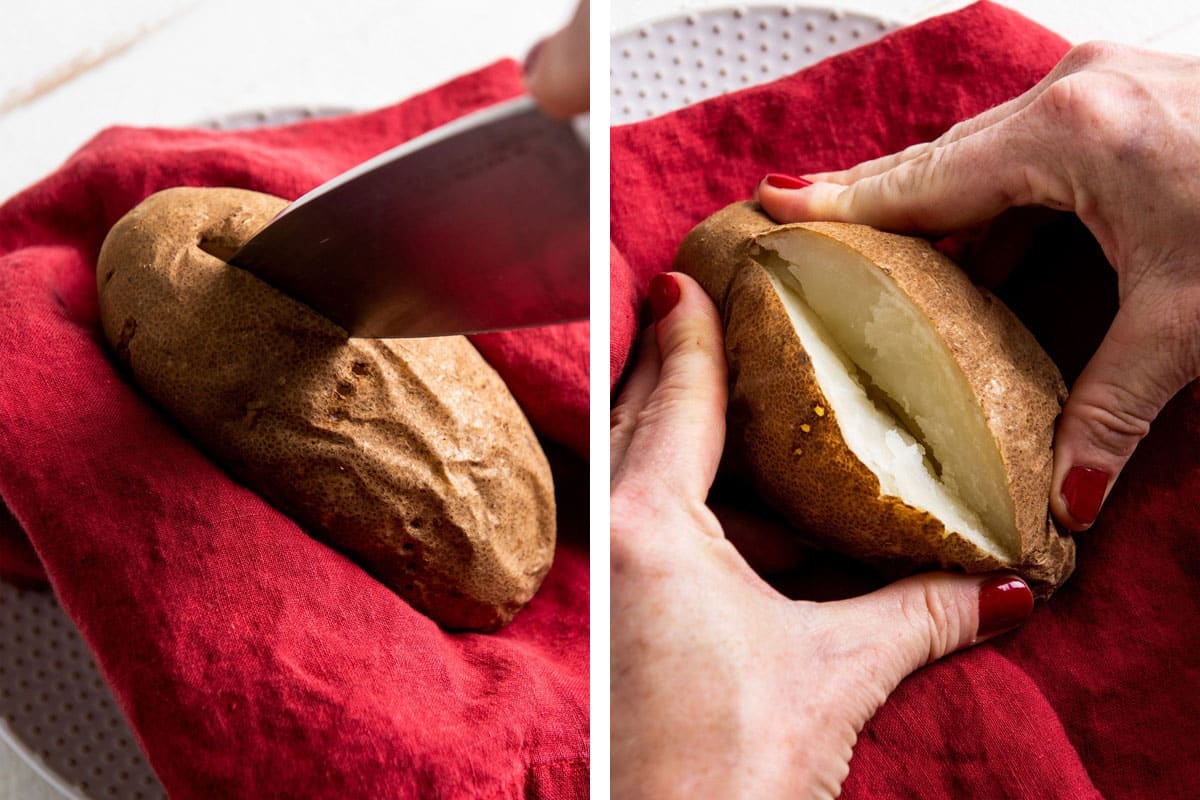 Fluff and serve: You can fluff the insides with a fork if you like, and then it is ready to serve topped with whatever you like.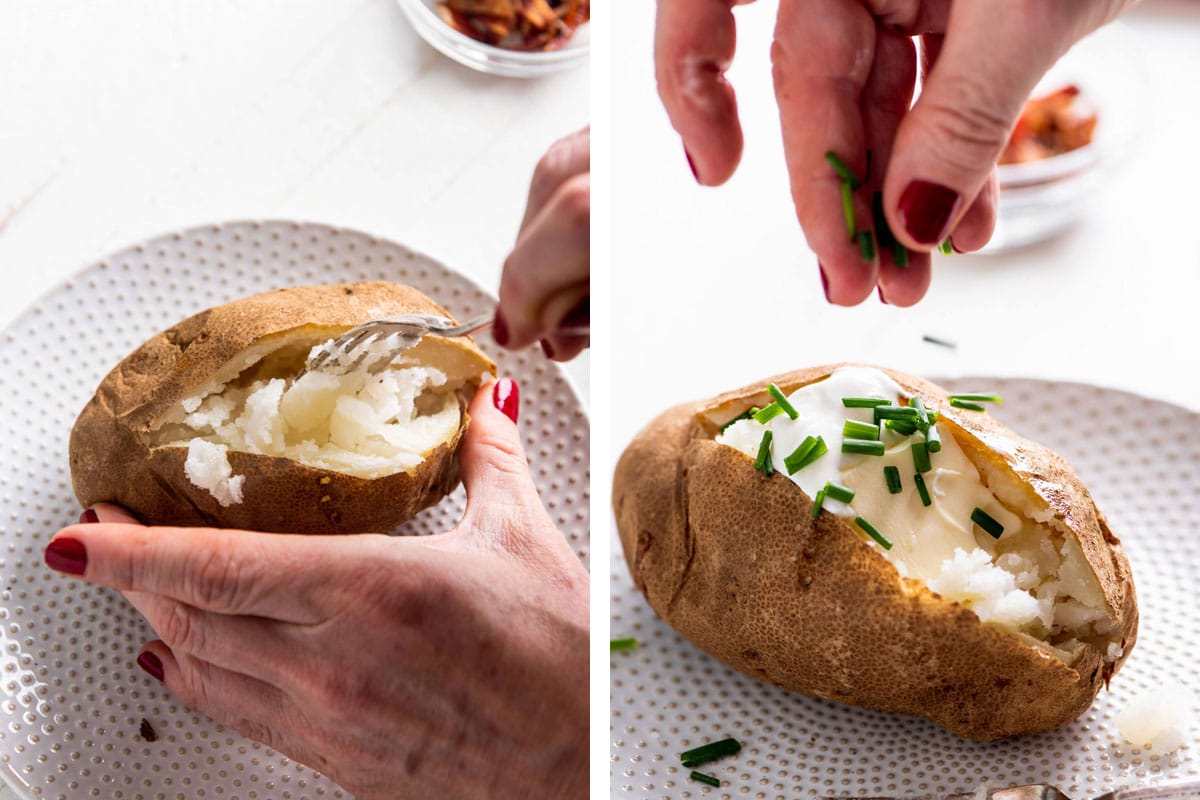 How Long to Bake a Potato
The cooking time will vary depending on size, but a fair estimate is that baked potatoes will take about an hour or up to an hour and 15 minutes. If you have a bunch of potatoes or if your potatoes are quite large, you may need to add another 10–15 minutes or so to the cooking time.
The potatoes are done when the skin is firm and crisp and the inside is squeezable. You can also test readiness by inserting a knife into the potato; when there is barely any resistance past the skin, the potatoes are done.
How to Make Potatoes Softer
Personally, I like a crunchy skin on my oven-baked potatoes. However, that's not how all people feel. If you prefer softer skin, then wrap your potatoes in tin foil before baking. The foil traps the moisture in the skin and keeps them from crisping up. Again, not for me, but I know there are some soft-baked potato fans out there!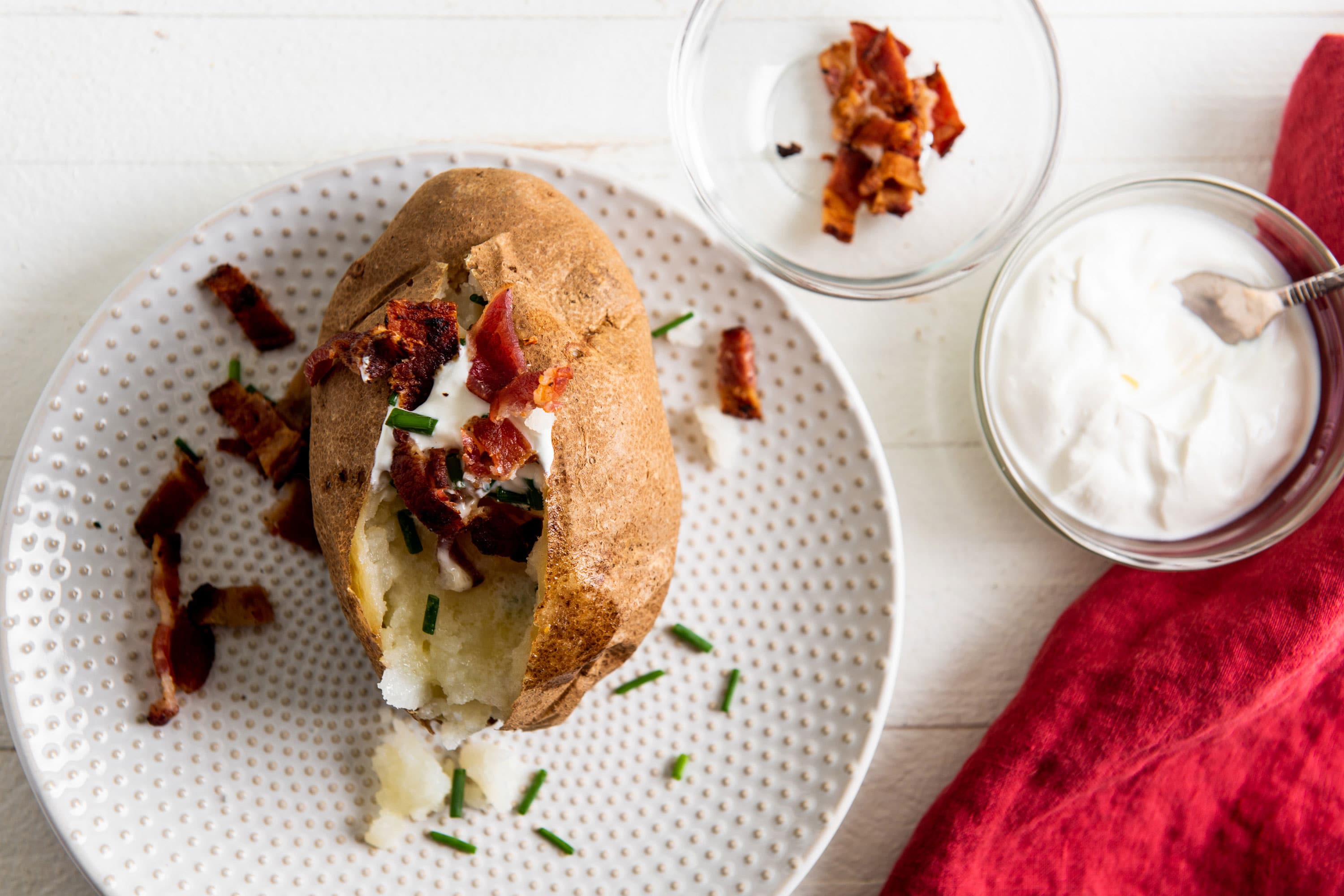 How to Make a Baked Potato in the Microwave
While this isn't my favorite method because you lose the crispiness, it sure is faster. (And no, it's not really a baked potato, but let's ignore that for now.) To make baked potatoes in the microwave, you first still need to scrub your potatoes and dry them. Next, poke them with a fork so that they can release steam. This is very important, even more so in a microwave than in an oven (though it's important there, too).
Microwave your potato for 5 minutes, then turn it upside down. (Hopefully, you have a rotating tray; if not, turn the potato around on the tray as well). Microwave it for another 4 minutes, and check to see if it's soft enough. Add more time as needed, 1 minute at a time. If you are microwaving more than one potato, it may take longer. Also, it's important to note: Never put foil in the microwave!
FAQs
Are baked potatoes gluten-free?
Yes, potatoes, in general, are naturally gluten-free. Potatoes (and potato flour) are a delicious carbohydrate option for people who need to avoid eating gluten.
Are baked potatoes good for you?
Baked potatoes have about 150 calories for a medium-sized potato (without any toppings, of course) and 4 grams of fiber (with the skin), according to the USDA. They are a good source of vitamins B6 and C and potassium. And they have no fat (yes, again, without any toppings!).
Do I have to poke holes in a baked potato?
Steam builds up in the potato as it heats. Without little holes in the skin to release that steam, the potato could explode. And that's not all that fun to clean up, whether in a microwave or an oven!
What is the best oven temperature for baking potatoes?
I like to bake potatoes at 375 degrees, but this is a flexible suggestion. Potatoes can be baked at 350 or 400 degrees if that's what your oven is set to for another reason. Just adjust the timing accordingly. Baked potatoes will take about 10 to 15 minutes less time to cook at the higher temperature, and 10 to 15 minutes longer to cook at the lower temp.
How long to bake potatoes?
Depending on the temperature of the oven, baked potatoes will take at least an hour. At 400 degrees, they should take from 60 to 75 minutes, depending on the size of the potato.
What to Serve With Baked Potatoes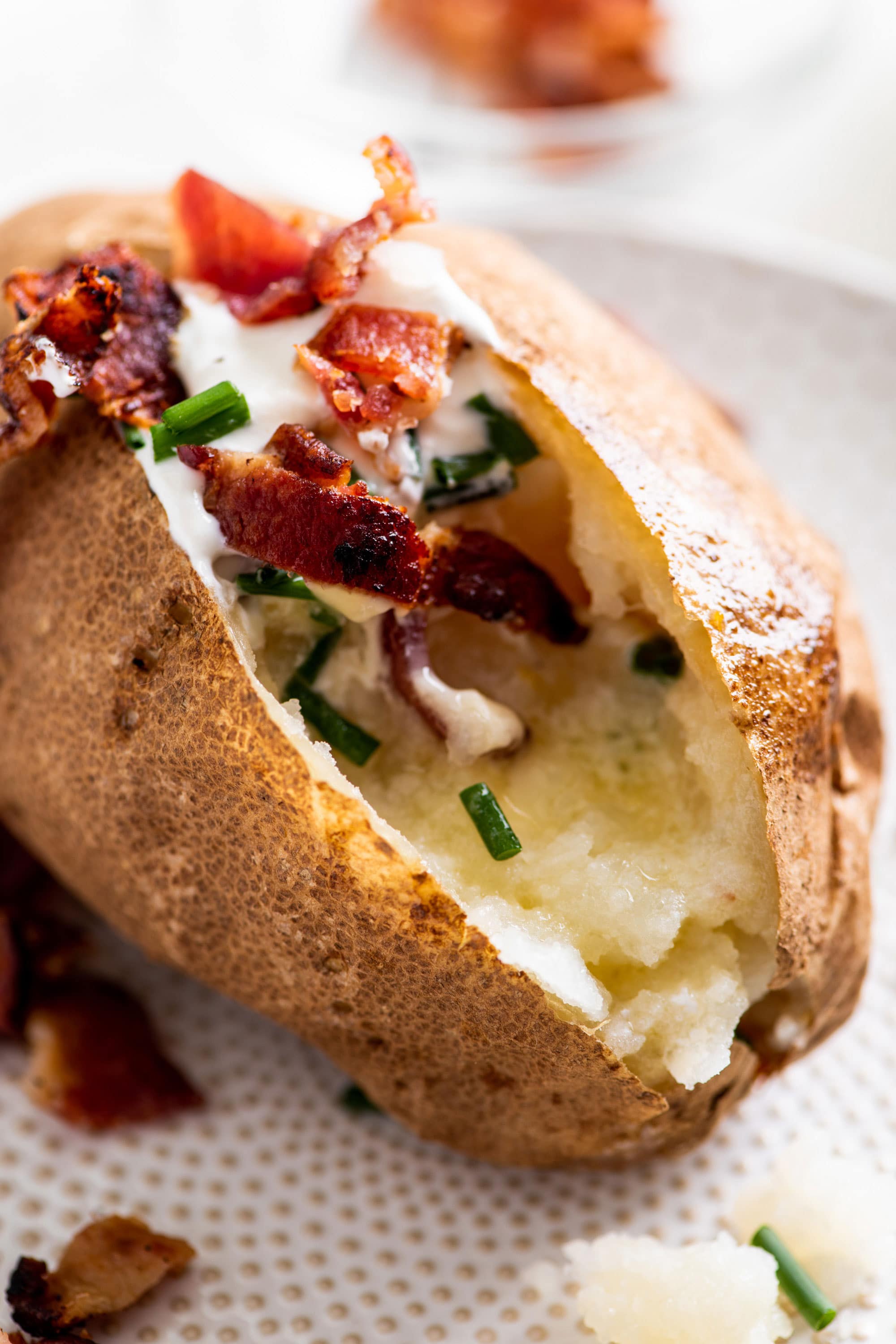 More Potato Recipes
Like this recipe? Pin it to your favorite board on Pinterest.

Pin This
How to Bake a Potato
Easy step-by-step instructions (and photos) for getting a perfect baked potato every time. Multiply as needed!
Ingredients
2

large Idaho or russet potato

Butter, sour cream, salt

(optional; for serving)
Instructions
Preheat the oven to 375 degrees. Scrub the potatoes, dry them, and use a small sharp knife to remove any dark brown or greenish spots, or "eyes." Use a fork, a skewer, or a thin sharp knife to poke several holes all around the potato.

Bake the potatoes for 1 ¼ to 1 ½ hours, until a thin, sharp knife slides easily into the potato.

Let it cool for a couple of minutes, then take a knife and slit the potato right down the middle. Give it a squeeze, spread it open, and use a fork to loosen up the insides a bit.

Top as you like — with butter, sour cream, salt — or go for something more adventurous!
Notes
I am not a fan of baking potatoes in foil because I like a crunchy skin. If you prefer a softer skin, then you can wrap the potatoes in foil before baking.
Nutrition
Calories:
168
kcal
,
Carbohydrates:
38
g
,
Protein:
5
g
,
Fat:
0.2
g
,
Saturated Fat:
0.1
g
,
Polyunsaturated Fat:
0.1
g
,
Monounsaturated Fat:
0.01
g
,
Sodium:
11
mg
,
Potassium:
888
mg
,
Fiber:
3
g
,
Sugar:
1
g
,
Vitamin A:
2
IU
,
Vitamin C:
12
mg
,
Calcium:
28
mg
,
Iron:
2
mg
Nutrition information is automatically calculated, so should only be used as an approximation.
Like this? Leave a comment below!