When I was a young adult person, pre-marriage, pre-kids, I remember discovering egg potato salad at the deli counter and wondering who the genius was who conceived of mixing egg salad AND potato salad together. Who? If you know, please tell me, as I would like to properly thank this person. And now, Egg and Potato Salad with Bacon. Me oh my oh.
If you like the rich, creaminess of egg salad, and the (also creamy) textural nature of a perfect potato salad, then you know that the two together are a thing of beauty.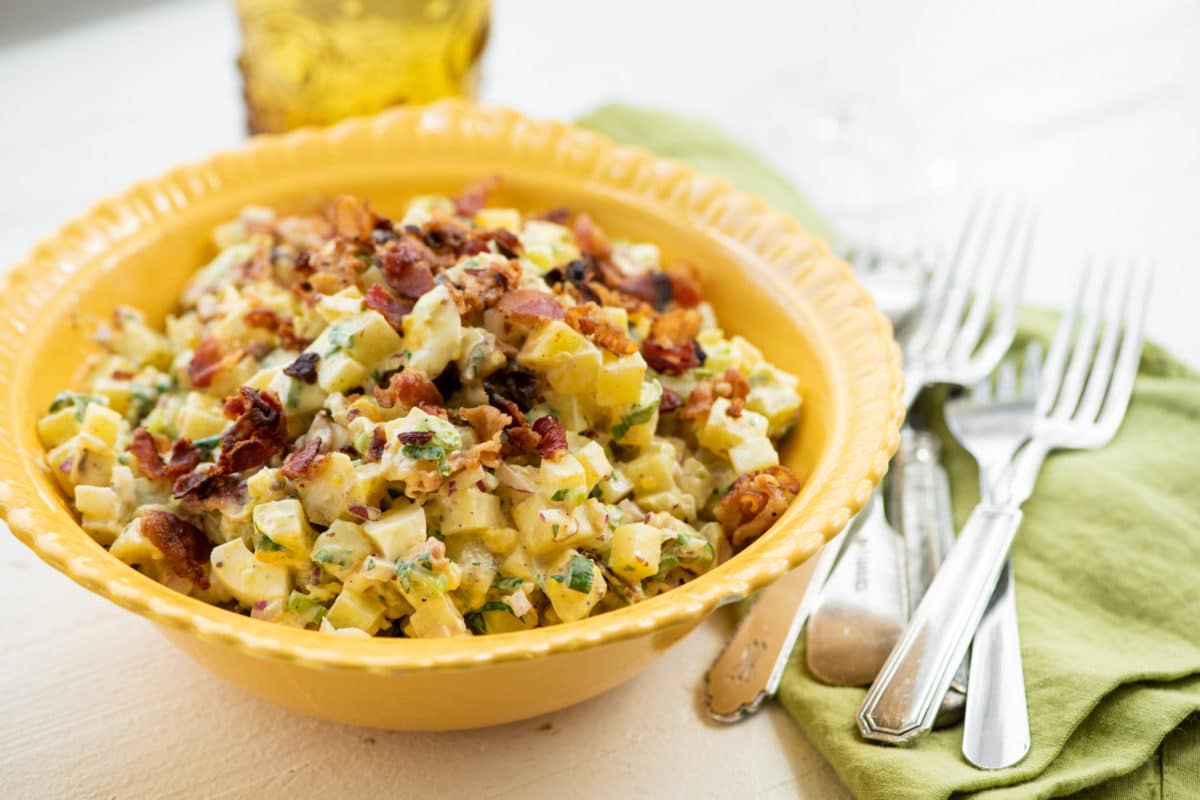 When I was a new college graduate, living with a roommate in NYC, with a super tight budget, this was the potato salad I would splurge for at the deli. It cost more than regular potato salad. Cause of the eggs. But it also cost less than the egg salad. Cause of the potatoes. Now, none of these ingredients will make or break most food budgets, but I do remember knowing that that extra dollar was well spent on that pint of more-than-perfect potato salad.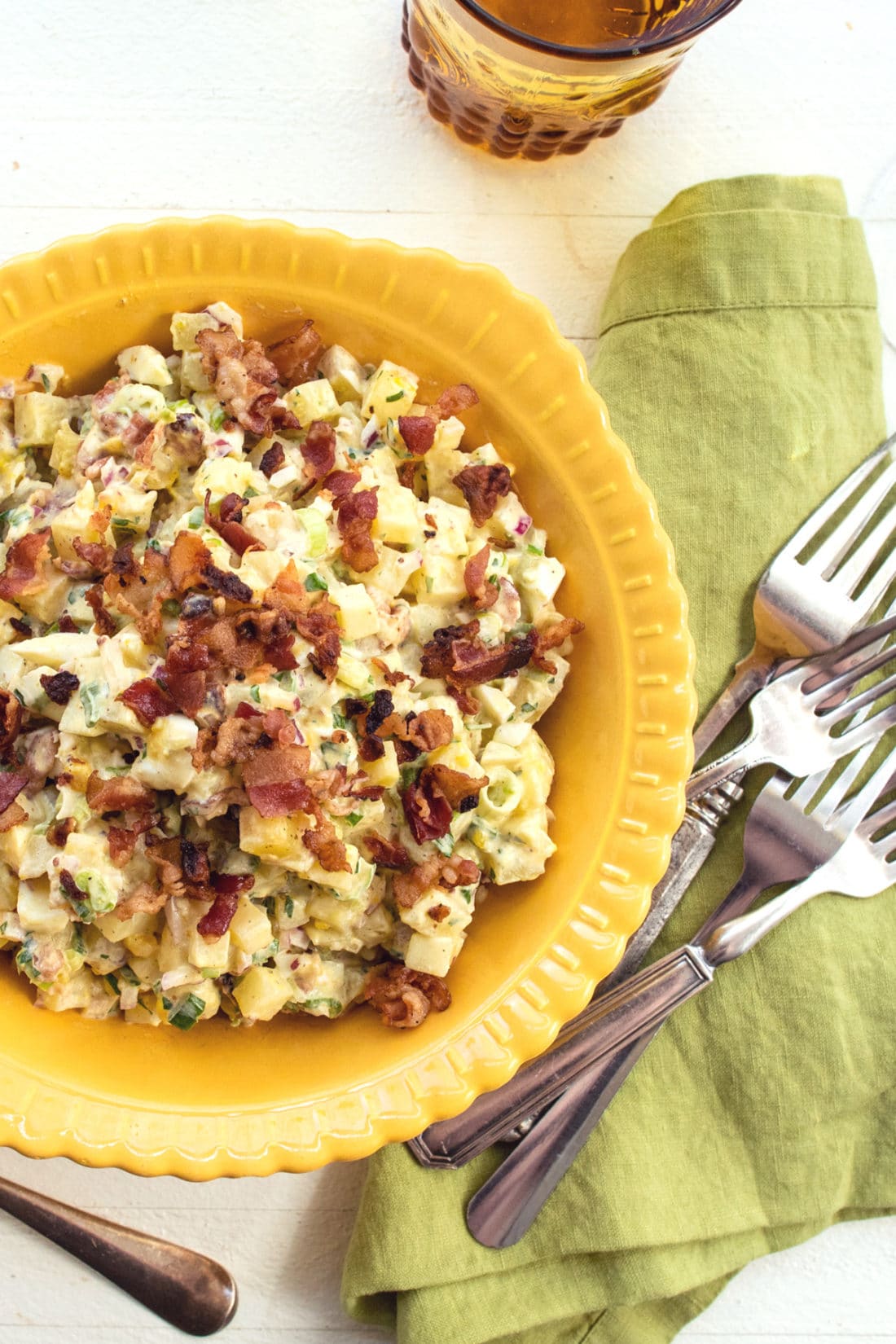 I don't believe there was bacon in the equation back then. I guess I've graduated. Also, think about it: eggs, potatoes and bacon? Is that not the key ingredients of a great diner breakfast? And now—together in a summer side dish salad.
The combination of egg and potato in one salad is a thing of beauty.

Tweet This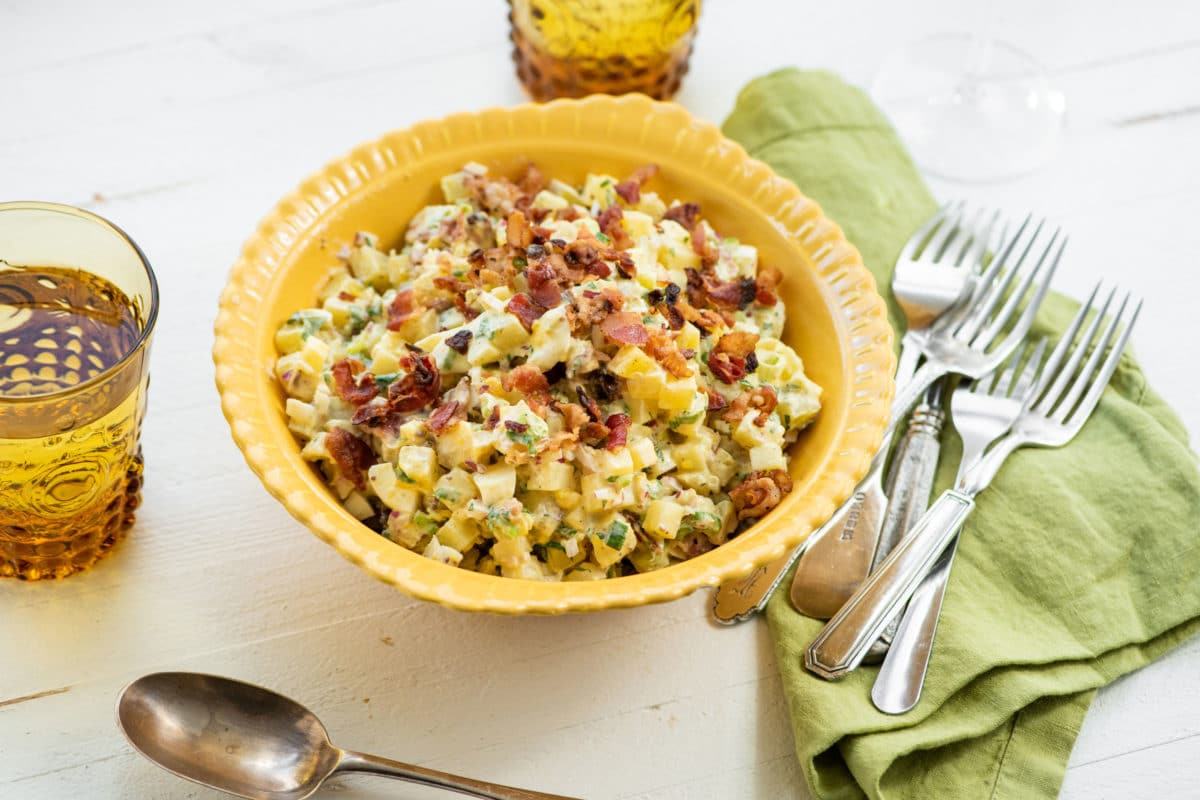 I like to mix half of the bacon into the potato salad itself, and then sprinkle the rest over the top so that the people know what they're getting. The crackling pork goodness that awaits.
You can go with all onion or all scallions in this salad, but the mix adds very nice color. Also, many recipes (not just potato salad but recipes in general) are kind of particular in calling for brown mustard vs. Dijon—I often specify one or the other. Dijon is sharper, with white wine in the mix.
But truthfully in many recipes, and certainly recipes like potato salad it surely doesn't matter much, especially when there is such a small amount called for. Again, the Dijon will give you a more pronounced mustard flavor, but either will work perfectly well here.
Another potato salad peculiarity of mine is to dice the potatoes pretty small, and then to cook them just until the are tender. I'm surely not averse to bigger chinks of potatoes cooked until they are pretty soft, which then fall apart a bit as the potato salad is mixed up. That's another type of potato salad pleasure. But the smaller cubes stay a bit distinct, and get coated so nicely with all of the other goodness in the dressing. And they look sort of dainty and perky perched in a saucy pile.
Because who isn't looking for dainty and pretty in their potato salad.
Making Potato Salad Ahead of Time
If you make the potato salad ahead of time, really make sure it gets back to cool room temperature before serving. Chilled potato salad loses some flavor, and the texture isn't nearly as creamy and appetizing as potato salad that has the chill taken off it.
More Potato Salad Recipes:
Like this recipe? Pin it to your favorite board on Pinterest.

Pin This
Egg and Potato Salad with Bacon
Who is the genius who conceived of mixing egg salad AND potato salad together? We need to thank them.
Ingredients
2

pounds

red-skinned or Yukon gold potatoes

cut into ½ to ¾-inch pieces

6

large eggs

¾

cup

mayonnaise

3

tablespoons

Dijon or brown mustard

2

tablespoons

white wine or white balsamic vinegar

8

scallions

thinly sliced

1

red onion

chopped

2

tablespoons

minced fresh Italian parsley

1

tablespoon

sugar

Kosher or coarse salt and freshly ground pepper

to taste

8

slices

crispy-cooked bacon

chopped
Directions
Put the potatoes in a medium saucepan and cover with cold water. Cover, bring to a boil, then reduce the heat to medium, cover partially, and cook until a fork or knife glides easily into the potatoes, about 15 minutes.  Drain the potatoes, but don't rinse them, and let cool in the colander 6 to 8 minutes.

While the potatoes are cooking, put the eggs in a small saucepan and cover with cold water. Bring to a boil, then remove from the heat, cover and let stand for 7 minutes. Drain, then return them to the pot and cover with cold water to cool them; change the water a few times, and when they are cool enough to handle, peel and chop the eggs (peeling them under water helps get the shells off cleanly).

And still, while both the potatoes and eggs are cooking, in a small bowl, combine the mayonnaise, mustard, vinegar, scallions, red onion, parsley, sugar, and salt and pepper to taste.

Transfer the potatoes to a large bowl and the chopped cooked eggs. Pour in the dressing, and add half the bacon. Toss well to combine. Top with the rest of the bacon, and serve at room temperature.
Nutrition Information
Calories:
313.43
kcal
|
Carbohydrates:
18.64
g
|
Protein:
10.64
g
|
Fat:
22.06
g
|
Saturated Fat:
4.52
g
|
Cholesterol:
139.42
mg
|
Sodium:
396.1
mg
|
Potassium:
620.69
mg
|
Fiber:
3.6
g
|
Sugar:
2.93
g
|
Vitamin A:
395.73
IU
|
Vitamin C:
17.53
mg
|
Calcium:
70.63
mg
|
Iron:
4.72
mg
The nutrition values are provided as an estimate. It is not intended as a substitute for the advice of a qualified healthcare professional.
Made this recipe? Post a photo of your delicious creation on Instagram with our hashtag #dinnersolved