Grilling Swordfish
Grilling fish is understandably a source of some stress for many people. In general, fish (filets in particular) are fairly fragile, and hard to flip on the grill without breaking them apart and making a mess. Not to mention losing some of that precious fish down the grates. The answer for the fish-grilling-phobic is swordfish.
Perfectly Grilled Swordfish
Meaty, firm, dense, swordfish grills up like a dream, very similarly to a beef steak or a chicken breast. It holds together well and is easy to turn on the grill, so you will end up with beautiful intact swordfish steaks on the plate, and look like a grilling champ while you're doing it. Fish steaks are boneless cross-cuts of larger fish (tuna and swordfish are the most common) and while they can be cooked in any number of ways, they take particularly well to grilling.
Swordfish has been popular in the U.S. for a long time, partly because of its steak-like texture and its lack of "fishiness". It's mild, so a good blank canvas, and it takes well to strong flavors. But you can also make it very simply, and think about giving it a drizzle of Easy Lemon Butter Sauce to finish.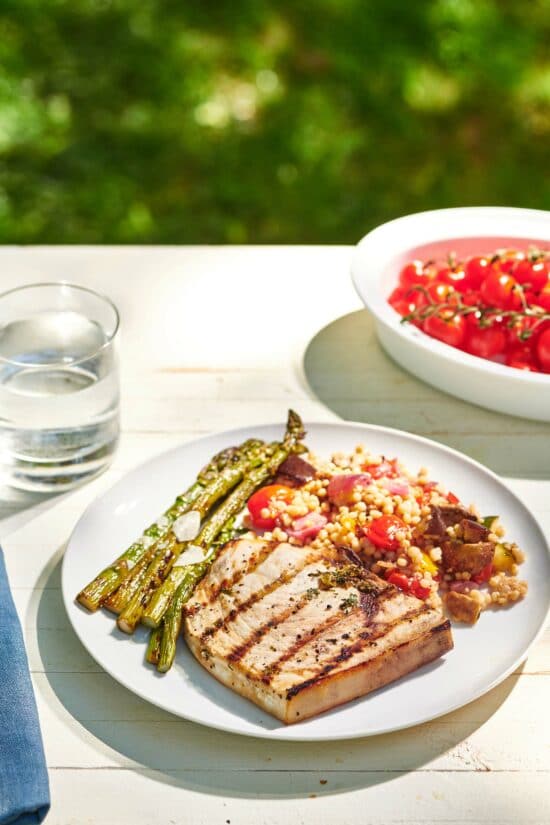 Is Swordfish Sustainable?
Once overfished and in danger of extinction, now U.S.-caught swordfish is in the sustainable category, so we can buy and cook it without reservations (or you can make reservations and eat it in a restaurant, but that's not why you are here!)
How to Pick Fresh Swordfish
You should first give it the smell test – yes it will small like fish, but it shouldn't smell "fishy". Then look for color: swordfish can be pale ivory to slightly pink. There are some drak spots that run through a swordfish, and most steaks will have a bit of the darker color, but just look for a more reddish tone in the dark spots. Avoid any fish that has overtones of a dull brownish hue. Look for moist fish steaks, not dry, and if you are buying it at a fishmonger, it should be laid out on clean ice.
How Long Does it Take to Grill Swordfish?
The time for grilling swordfish depends, like most everything you grill, on the thickness of the fish. An average of 8 to 10 minutes total for a 1-inch steak is about right, with the heat source being about 4 inches away from the grill.
Make sure the fish lifts easily from the grill before you flip it; I often cook it a bit longer on the first side, say 5 or 6 minutes, then flip it and cook for just 3 minutes on the second side, since usually it lifts from the grates pretty easily at those points. The top side will have firmed up a bit from the heat of the grill before you turn it, so making sure the first side to hit the grill gets a good sear is more important for a nicely intact fish steak at the end.
You don't want to overcook swordfish, as it will dry out, due to the lower fat content, so err a bit on the side of a shorter cooking time. The inside should just have a touch of pinkness.
Is Swordfish Healthy?
Like all fish, swordfish is really good for you. It has a very high amount of protein and also contains B12, zinc, Omega 3
How do you know when swordfish is done on the grill?
Using touch is tricky, as it's a firm fish to begin with.  If you have an internal thermometer, look for a temperature of 130 F at the thickest part.  Otherwise, if you have a fish with a 1-inch thickness, or even 1 1/2 -inch, 5 to 6 minutes on the first side, and 3 or 4 on the second side should get you to a perfectly cooked piece of fish.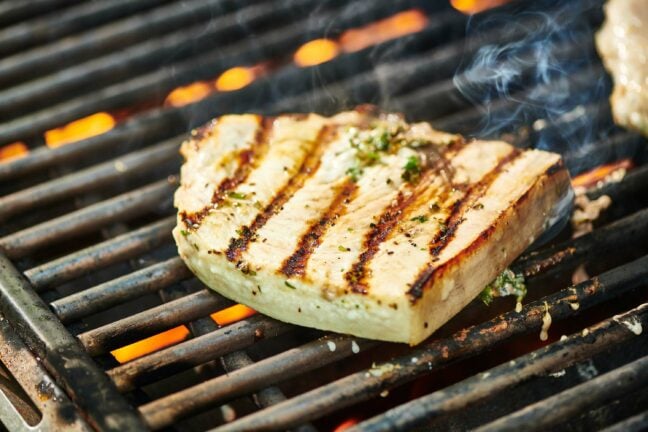 You can add time for a thicker piece of swordfish, but I don't recommend going thinner than 1-inch on the grill, since the inside will probably overcook before the outside gets those nice grill marks.
When the fish it done, it should separate into flaky chunks when pressed.
Grilled Swordfish: Meaty, firm, dense, swordfish – very simply marinated – grills up like a dream.

Tweet This
Should you wash swordfish before cooking?
Nope. Washing fish and other meats can actually help to spread bacteria vs. eliminating it. The heat from the grill will take care of any bacterial issues.
What to Serve with Grilled Swordfish:
Couscous Salad with Roasted Vegetables
Other Grilled Fish and Seafood Recipes:
Like this recipe? Pin it to your favorite board on Pinterest.

Pin This
Grilled Swordfish
Meaty, firm, dense, swordfish – very simply marinated – grills up like a dream.
Total Time:
2
hours
20
minutes
Ingredients
4

1-inch thick swordfish filets

(about 1 ½ pounds total)

2

tablespoons

olive oil

Juice and finely grated zest from 1 lemon

1

teaspoon

Worcestershire sauce

2

tablespoons

finely chopped fresh parsley

, divided

1

tablespoon

chopped fresh thyme

Kosher salt and freshly ground pepper

to taste

1

lemon

, cut into wedges
Directions
In a large shallow container or bowl, combine the olive oil, lemon juice and zest, Worcestershire sauce, 1 tablespoon parsley, thyme and salt and pepper on both sides. Season with salt and pepper. Add the fish and turn to coat with the marinade. Cover and refrigerate for about 2 hours, but not more than 6.

Heat the grill to high. Carefully oil the grill grates. Remove the fish from the marinade and pat dry. Discard the leftover marinade.

Grill the swordfish for a total of 8 to 10 minutes, until the fish is just cooked though, turning it at least once during cooking. For more dramatic cross hatch marks, you can turn it (rotating the fish a quarter turn every time you slip it), a total of three times. When the fish it done, it should separate into flaky chunks when pressed.

Serve hot, sprinkled with the remaining parsley, with lemon wedges on the side.
Nutrition Information
Calories:
318
kcal
|
Carbohydrates:
3
g
|
Protein:
34
g
|
Fat:
18
g
|
Saturated Fat:
4
g
|
Trans Fat:
1
g
|
Cholesterol:
112
mg
|
Sodium:
154
mg
|
Potassium:
782
mg
|
Fiber:
1
g
|
Sugar:
1
g
|
Vitamin A:
463
IU
|
Vitamin C:
20
mg
|
Calcium:
27
mg
|
Iron:
1
mg
The nutrition values are provided as an estimate. It is not intended as a substitute for the advice of a qualified healthcare professional.
Made this recipe? Post a photo of your delicious creation on Instagram with our hashtag #dinnersolved