This post may contain affiliate links. Please read our privacy policy.
Parsley is an extremely popular herb, likely among the top 5 most used herbs worldwide. Parsley is widely found in European, Brazilian, Middle Eastern, and American cuisines because of its fresh herbal flavor, quick flash of color, and versatility. And yes, we have certainly all seen it garnishing our plates at restaurants, usually the curly variety. It adds freshness to dishes like Easy Shrimp Scampi, Tomato, Zucchini, and Bulgur Salad, and Mayonnaise-Free Potato Salad.
Keep scrolling for more recipes, including a full recipe for Spinach Parsley Pesto Garlic Bread.
Types of Parsley and Uses
There are two main groups of parsley: French, or curly leaf, and Italian, or flat-leaf. A third type that is much less common in the U.S. is Hamburg root parsley which resembles a parsnip and is used as a root vegetable in central and eastern European cuisine.
Parsley is an essential herb in lots of dishes such as tabbouleh (try this Kamut Tabbouleh Salad), falafel, salsa verde, chimichurri sauce, and some pestos. It is also almost always included when making a bouquet garni (a bundle of fresh herbs used as a flavoring ingredient in stocks, soups, and sauces). And it's a starring herb in Green Goddess Dressing and some gremolata recipes.
What Does Fresh Parsley Look Like?
Italian flat-leaf parsley has broad, serrated, bright green leaves attached to a long slender stem. It is often mistaken for cilantro, though the flavors of the two herbs are significantly different. As the name suggests, curly parsley's leaves are bright green but curled and crinkly, also on a long slender stem.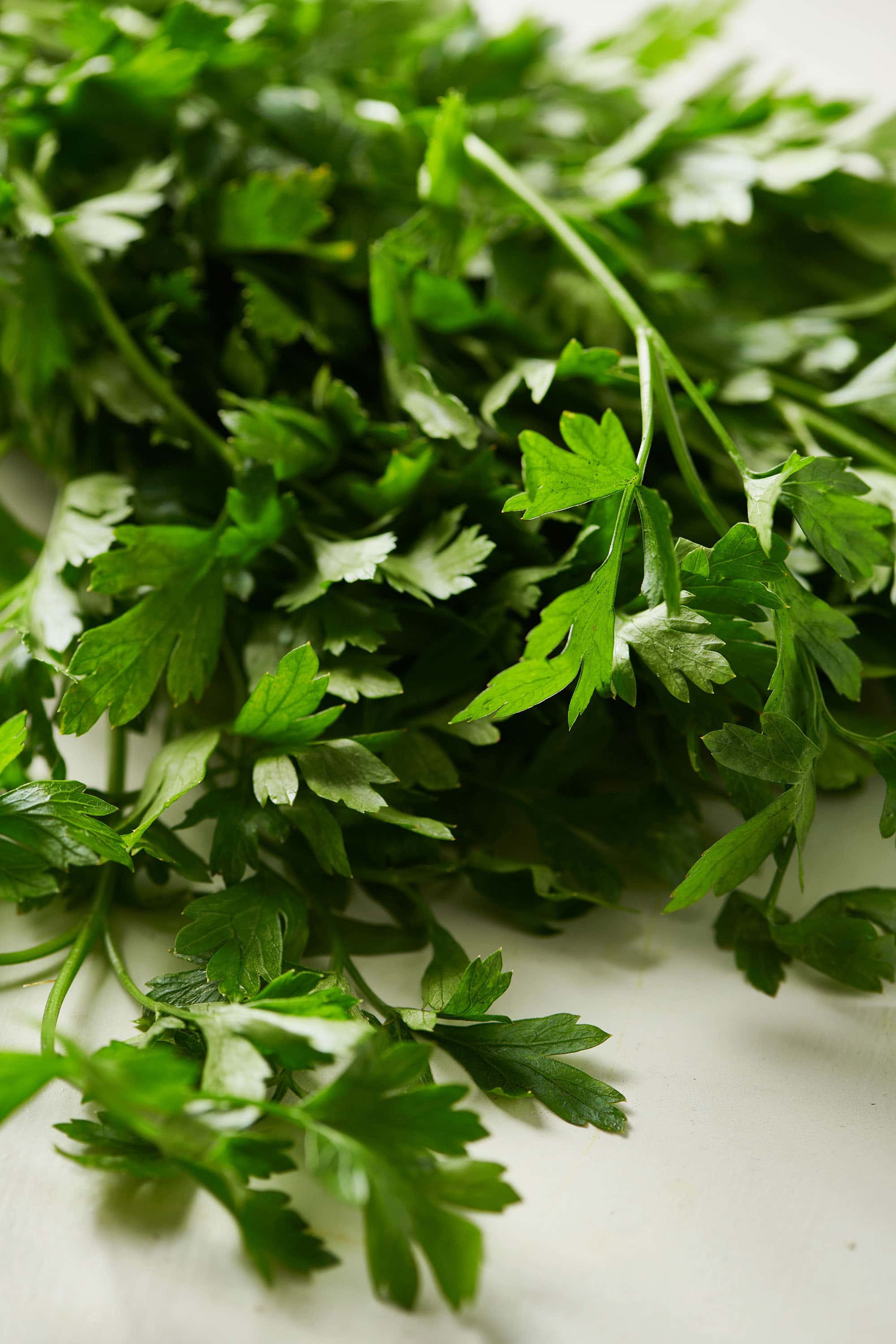 What Does Parsley Taste Like?
Parsley has a fresh, clean taste with slightly peppery and citrusy notes. Adding parsley to a recipe gives vibrancy to the dish and boosts the flavors of the other ingredients. Curly parsley is a little more delicate and somewhat bland, so ideal for fine chopping and adding to a dish at the end, whereas Italian parsley is more flavorful and is ideal when you want to add a verdant flavor note.
The stems of curly leaf and Italian parsley have even more flavor than the leaves and are great to use in soups, sauces, and stews. You can tie them with some twine, add them to the pot, and then discard them before serving.
Substitutes
If you don't have fresh parsley, there are several substitutes available. Whether it's dried parsley or another herb, you have options!
Substituting Dried for Fresh Parsley
Dried parsley only slightly resembles the true taste of fresh parsley and is best used as a substitute for fresh in recipes that are cooked, such as soups, stews, and pasta sauces. I'm not the biggest fan of dried parsley; I try to keep fresh on hand at all times, as it is cheap and lasts for a while.
However, to substitute dried parsley for fresh, use 1 teaspoon of dried parsley for 1 tablespoon of fresh, so a 1:3 ratio of dried to fresh parsley.
For recipes and dishes that call for fresh parsley that not are cooked, sometimes it's ok to sub in dried, sometimes not. The best rule of thumb is just to think about how the herb is being featured in the food. If it's blended into a marinade, for instance, dried is probably fine. But, if you are sprinkling it over a salad or chicken dish, then pick another fresh herb if you don't have parsley, or possibly just skip it.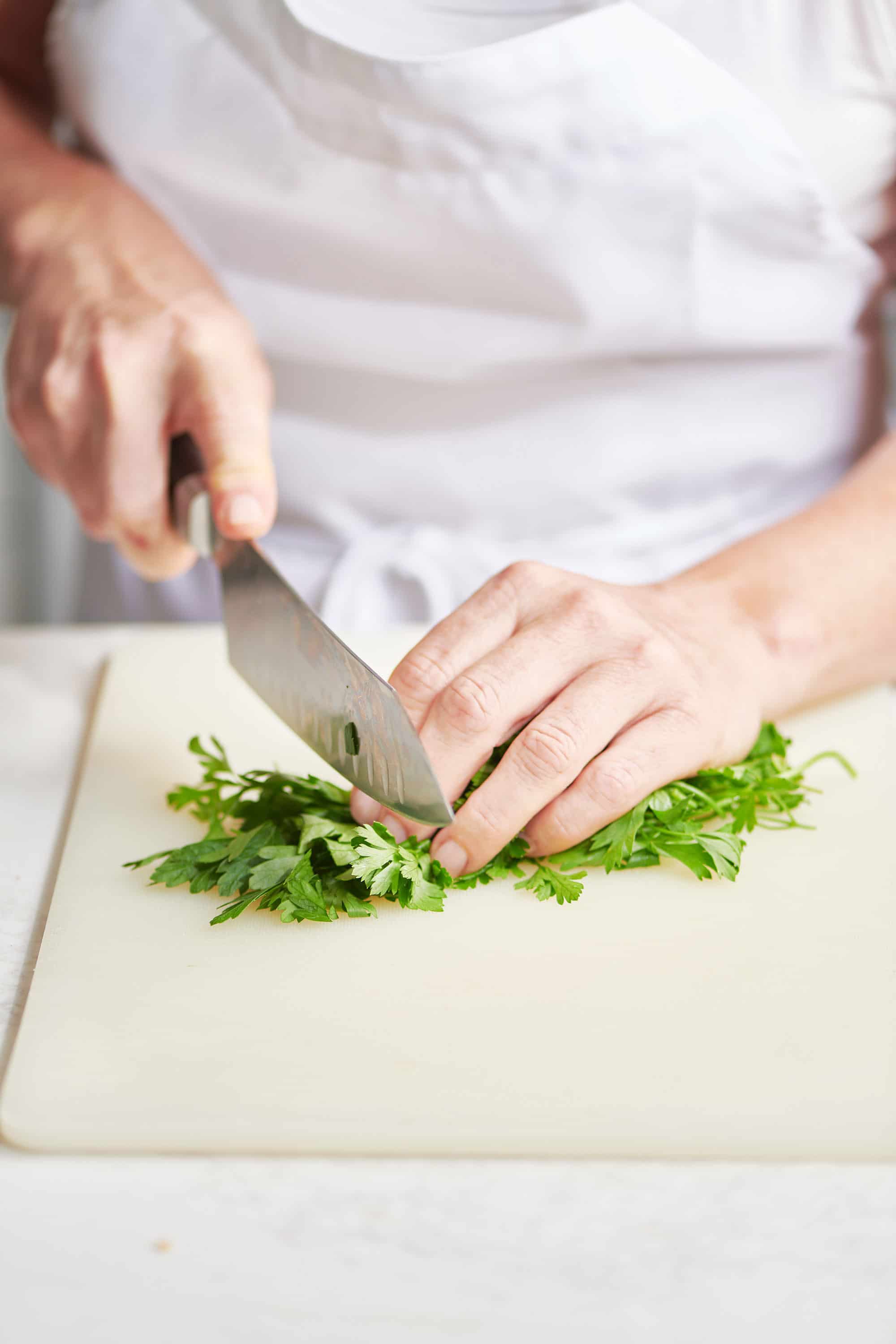 Substituting Other Herbs for Parsley
Fresh parsley has a very distinct flavor, and substituting other herbs will change the flavor profile of your dish. However, there are other herbs that can be subbed in, which complement dishes made with parsley. Think about chervil (that's my first choice), cilantro, oregano, tarragon, arugula, and basil; consider the particular recipe, and which of these herbs would work best.
How to Choose Fresh Parsley
Fresh parsley can be found year-round in the fresh produce section of supermarkets. It is usually sold in bunches. Avoid parsley with browned leaves or leaves that look shriveled, yellowed, dry, or damp.
Dried parsley is found in the baking aisle with other dried herbs and spices.
How To Prepare and Cook With Parsley
Before using, parsley should be rinsed under water and patted dry. The leaves are most often removed from the stem and then used whole, torn, or chopped. Like other herbs, parsley can be pureed into sauces, pestos, and dips as well. Parsley is often added to dishes like pastas, sauces, salads, meat dishes, and vegetables. Parsley is frequently sprinkled on the top of finished dishes for an extra punch of fresh, herby flavor as well as appearance.
When cooking with parsley, it's best to add fresh parsley leaves toward the end of cooking, so the flavor stays bright and intense. If using dried parsley, add it early on when cooking a dish so that the herbs have time to blend into the dish.
How to Chop Parsley
Chopping parsley is very easy. Simply pull the leaves from the stems and pile them onto a cutting board. Use a large sharp knife to chop the parsley, making sure you curl your fingers to protect them from the blade and you start to chop the herbs.
Once they are roughly chopped, you can use them as is (roughly chopped parsley adds more pronounced bursts of flavor to a dish), or you can place one hand on top of the knife and lever it up and down with your dominant hand to get a finer chop, or mince.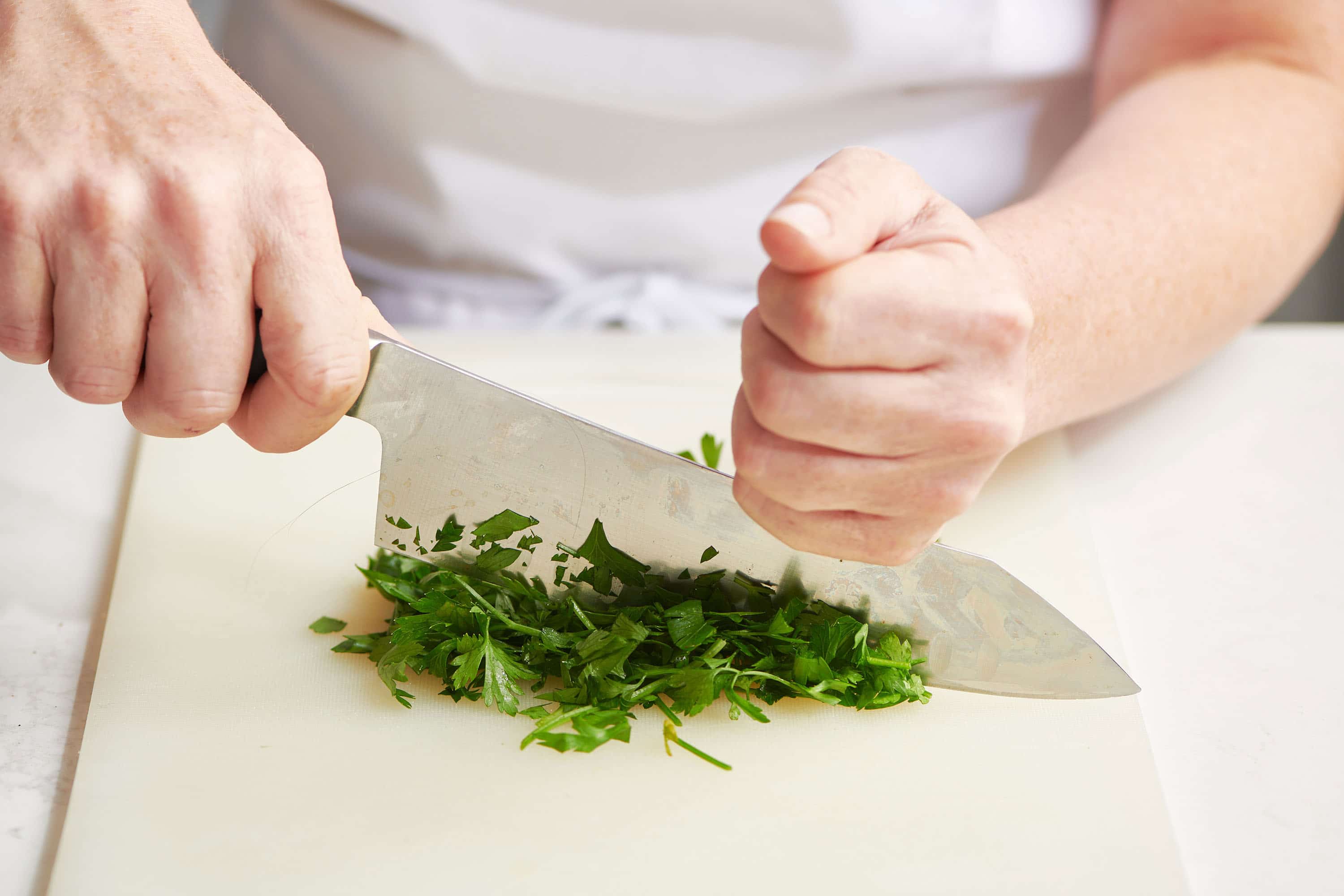 How to Cook with Parsley: Here's everything you need to know about how to buy, store, chop, and cook with parsley – plus a recipe for Spinach Parsley Pesto Garlic Bread.

Tweet This
How to Store Parsley
Fresh parsley will last for at least a week if you wrap it in a slightly damp paper towel and then place the bundle in a plastic bag or container. Place it in the crisper drawer for even better storage conditions (less cold than the back of the fridge).
Dried parsley, like all dried herbs, should be stored in a sealed container in a cool, dry place.
Recipes With Parsley
Below is a recipe for Spinach Parsley Pesto Garlic Bread, one of the best things you can make with parsley pesto! It's the key ingredient in Argentinian Chimichurri Sauce, too. Also, try Tomato, Avocado, and Cucumber Salad and Bulgur Wheat with Caramelized Onions and Parsley.
How to Cook With Other Fresh Herbs
---
Spinach Parsley Pesto Garlic Bread
Garlic bread gets a little better when smeared with a spinach parsley pesto! At dinner, this disappeared quickly, with people taking two, three slices, looking around hopefully for more. This would be so great served with Simple Baked Pasta with Bolognese Sauce, Creamy Garlic Parmesan Chicken and Potatoes, or Pasta with Fresh Heirloom Tomato Sauce.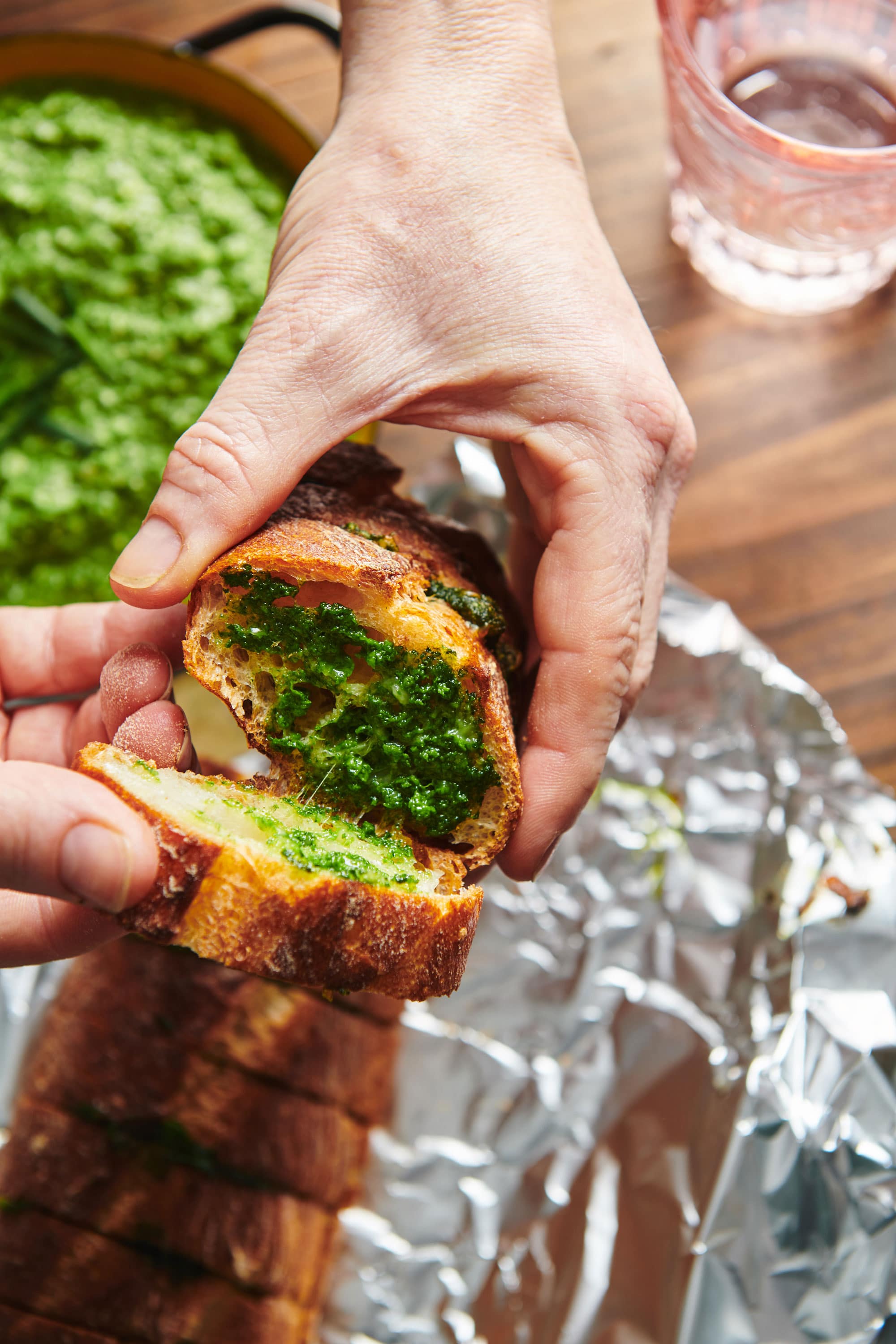 This Spinach Parsley Pesto Garlic Bread is an easy & satisfying way to use up leftover condiments. It's also an easy side dish to make dinner more special.

Tweet This
Ingredients
Garlic – Definitely use fresh garlic for this!
Scallions – Even the green parts, and a mild oniony flavor.
Fresh parsley leaves
Fresh spinach
Pine nuts – These are optional; obviously, skip if there are any nut allergies in your group.
Parmesan cheese – You can buy freshly grated or grate it yourself (never use that stuff in the can!).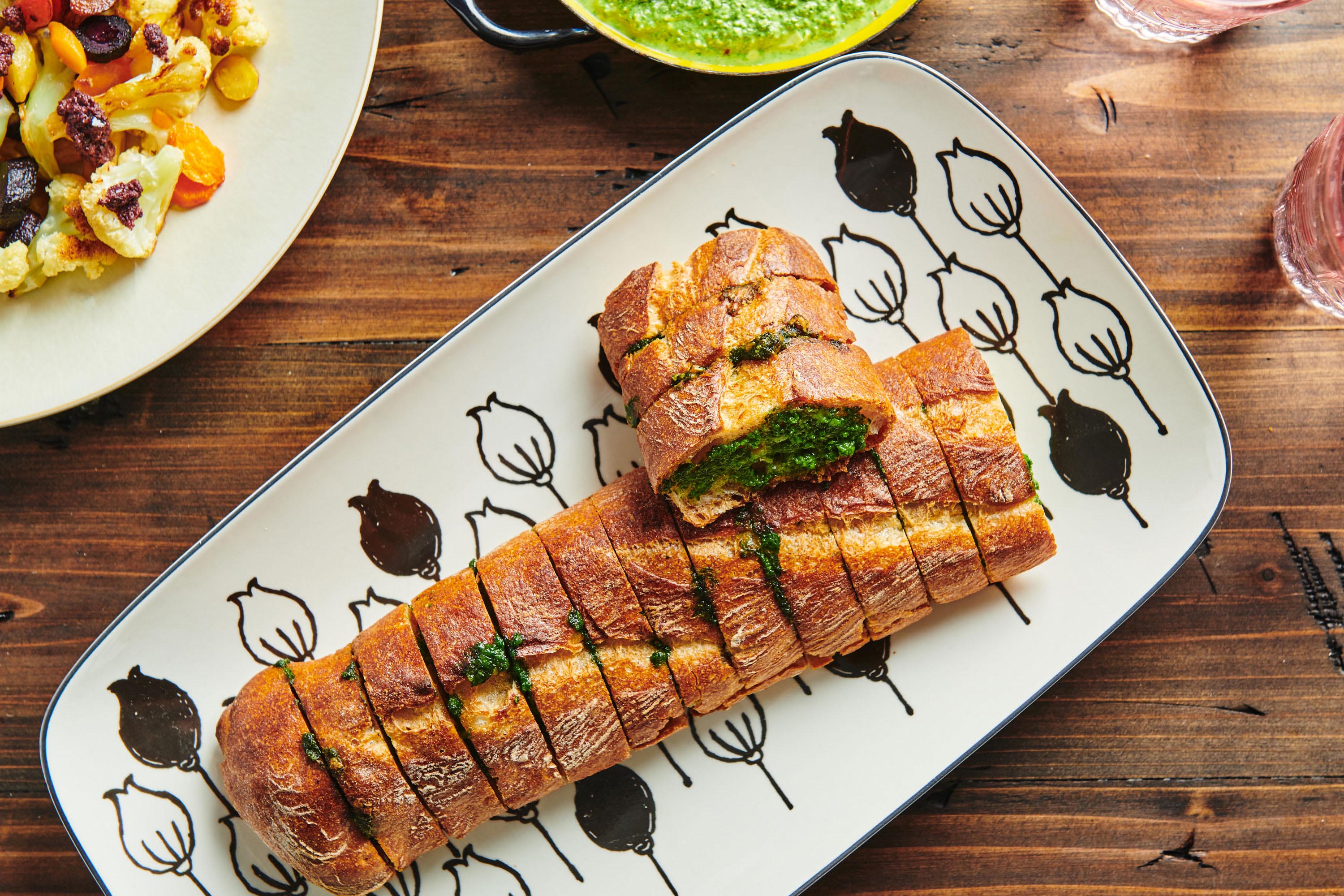 Like this recipe? Pin it to your favorite board on Pinterest.

Pin This
Spinach Parsley Pesto Garlic Bread
Get an amazing garlic bread recipe that is an easy and satisfying way to use parsley and leftover pesto. In just a few minutes, dinner feels super special.
Instructions
Preheat the oven to 400 F.

Cut the baguette into 1/2-inch or so slices, but don't cut all the way through the bread; the goal is for the slices to remain attached at the bottom. (Place chopsticks along the sides of the bread to prevent slicing all the way down.)

Use a brush to smear the pesto in between the slices, making sure to brush some of the pesto on both sides of each slice. Place the baguette on a large piece of foil, and pull the foil up around the sides of the bread, but not over the top — you want the top to be able to brown.

Bake for about 20 minutes until the bread is hot and the top is lightly browned and crusty. Serve hot.
Notes
The best way to cut a baguette into slices without cutting all the way through the bread is to use chopsticks as a guide. Place one chopstick on each side of the bread. Cut the bread into slices, stopping when the knife hits the chopsticks.
Nutrition
Calories:
81
kcal
,
Carbohydrates:
15
g
,
Protein:
3
g
,
Fat:
1
g
,
Saturated Fat:
0.2
g
,
Polyunsaturated Fat:
0.4
g
,
Monounsaturated Fat:
0.2
g
,
Cholesterol:
0.01
mg
,
Sodium:
194
mg
,
Potassium:
39
mg
,
Fiber:
1
g
,
Sugar:
1
g
,
Vitamin A:
1
IU
,
Calcium:
33
mg
,
Iron:
1
mg
Nutrition information is automatically calculated, so should only be used as an approximation.
Like this? Leave a comment below!