What Is Parsley?
Parsley is an extremely popular herb, likely among the top 5 most used herbs worldwide. Parsley is widely used in European, Brazilian, Middle Eastern and American cuisine because of its fresh herbal flavor, quick flash of color, and versatility. And yes, we have certainly all seen it garnishing our plates at restaurants, usually the curly variety.
There are two main groups of parsley: French, or curly leaf, and Italian, or flat leaf. A third much less common-in-the-U.S.-type is Hamburg root parsley which resembles a parsnip and is used as a root vegetable in central and eastern European cuisine.
Parsley is an essential herb in lots of dishes such as tabbouleh, falafel, and some pestos. It is also almost always included when making a bouquet garni (a bundle of fresh herbs used as an flavoring ingredient in stocks, soups, and sauces).
What Does Fresh Parsley Look Like?
Italian flat leaf parsley has broad, serrated, bright green leaves attached to a long slender stem. It is often mistaken for cilantro, though the flavors of the two herbs are significantly different. As the name suggests, curly parsley's leaves are bright green but curled and crinkly, also on a long slender stem.
What Does Parsley Taste Like?
Parsley has a fresh, clean taste with slightly peppery and citrusy notes. Adding parsley to a recipe gives a vibrancy to the dish and boosts the flavors of the other ingredients. Curly parsley is a little more delicate and somewhat bland so ideal for fine chopping and adding to a dish at the end, whereas Italian parsley is more flavorful and is more ideal when you want to add a verdant flavor note.
The stems of curly leaf and Italian parsley have even more flavor than the leaves and are great to use in soups, sauces, and stews – you can tie them with some twine, add them to the pot, and then discard before serving.
Substituting Dried Parsley for Fresh Parsley
Dried parsley only slightly resembles the true taste of fresh parsley and is best used as a substitute for fresh in recipes that are cooked, such as soups, stews and pasta sauces. I'm not the biggest fan of dried parsley; I try to keep fresh on hand at all time, as it is cheap and lasts for a while.
However, to substitute dried parsley for fresh, use 1 teaspoon of dried parsley for 1 tablespoon fresh, so a 1:3 ratio of dried to fresh parsley. For recipes and dishes that call for fresh parsley that not are cooked, sometimes it's ok to sub in dried, sometimes not. The best rule of thumb is just to think about how the herb is being featured in the food. If it's blended into a marinade, for instance, dried is probably fine, but if you are sprinkling it over a salad or chicken dish, then pick another fresh herb if you don't have parsley, or possibly just skip it.
How to Cook with Parsle: Here's everything you need to know about how to buy, store, chop, and cook with parsley – plus 10 recipes using parsley.

Tweet This
Substituting Other Herbs for Parsley
Fresh parsley has a very distinct flavor and substituting other herbs will change the flavor profile of your dish. However, there are other herbs that can be subbed in, which complement dishes made with parsley. Think about chervil (that's my first choice), cilantro, oregano, tarragon, arugula, and basil; you'll need to think about the particular recipe, and which of these herbs would work best.
Where To Find Parsley
Fresh parsley can be found year-round in the fresh produce section of supermarkets. Dried parsley is found in the baking aisle with the other dried herbs and spices.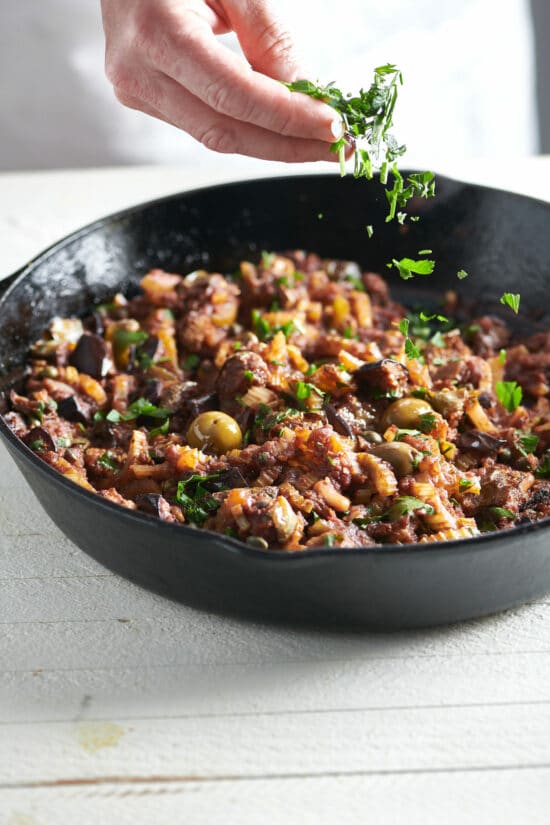 How to Choose Fresh Parsley
Fresh parsley is usually sold in bunches. See below for how to store it once you bring it home. Avoid bunches with browned leaves or leaves that look shriveled, yellowed, dry or damp.
How To Prepare and Cook with Parsley
Before using, parsley should be rinsed under water and patted dry. The leaves are most often removed from the stem and then used whole, torn, or chopped. Like other herbs, parsley can be pureed into sauces and pestos and dips as well. Parsley is often added into dishes like pastas, sauces, salads, meat dishes, and vegetables. Parsley is frequently sprinkled on the top of finishes dishes for an extra punch of fresh herby flavor as well as appearance.
When cooking with parsley, it's best to add fresh parsley leaves toward the end of cooking, so the flavor stays bright and intense. If using dried parsley, add it early on when cooking a dish so that the herbs have time to blend into the dish.
How to Store Parsley
Fresh parsley will last for at least a week if you wrap it in a slightly damp paper towel and then place the bundle in a plastic bag or container. Place it in the crisper drawer for even better storage conditions (less cold than the back of the fridge).
Dried parsley, like all dried herbs, should be stored in a sealed container in a cool dry place.
How to Chop Parsley
Chopping parsley is very easy.  Simply pull the leaves from the stems and pile them onto a cutting board.  Use a large sharp knife to chop the parsley, making sure you curl your fingers to protect them from the blade and you start to chop the herbs.  Once they are roughly chopped, you can use them as is (roughly chopped parsley adds more pronounced bursts of flavor to a dish), or you can place one hand on top of the knife and lever it up and down with your dominant hand to get a finer chop, or mince.
Also See How to Cook Other Fresh Herbs!
Other Recipes with Fresh Herbs:
---
Some Recipes Using Parsley:
A great, versatile change up from regular basil pesto, with a very fresh and delicate taste.
---
This amazing garlic bread is an easy and satisfying way to use up leftover pesto. In just a few minutes, dinner feels super special.
---
This is one of the best and easiest and most popular shrimp recipes out there, for very good reason.
---
A great grain and vegetable salad for all kinds of occasions.
---
Sometimes you just want a great potato salad without the mayo – this one has classic flavors and comes together in 20 minutes.
---
Adding grains to green salads gives them a definite level of umph.
---
The benefits of a little jar of this green and vibrant condiment in your fridge are myriad.
---
Colorful and fresh and filled with a variety of textures, this easy recipe is a great summer and early fall go-to salad for all kinds of meals.
---
One of the best creamy, herby dressings ever (and also don't forget to use it as a dip!).
---
A pretty and simple side dish to have in your back pocket, that goes with almost anything.
---