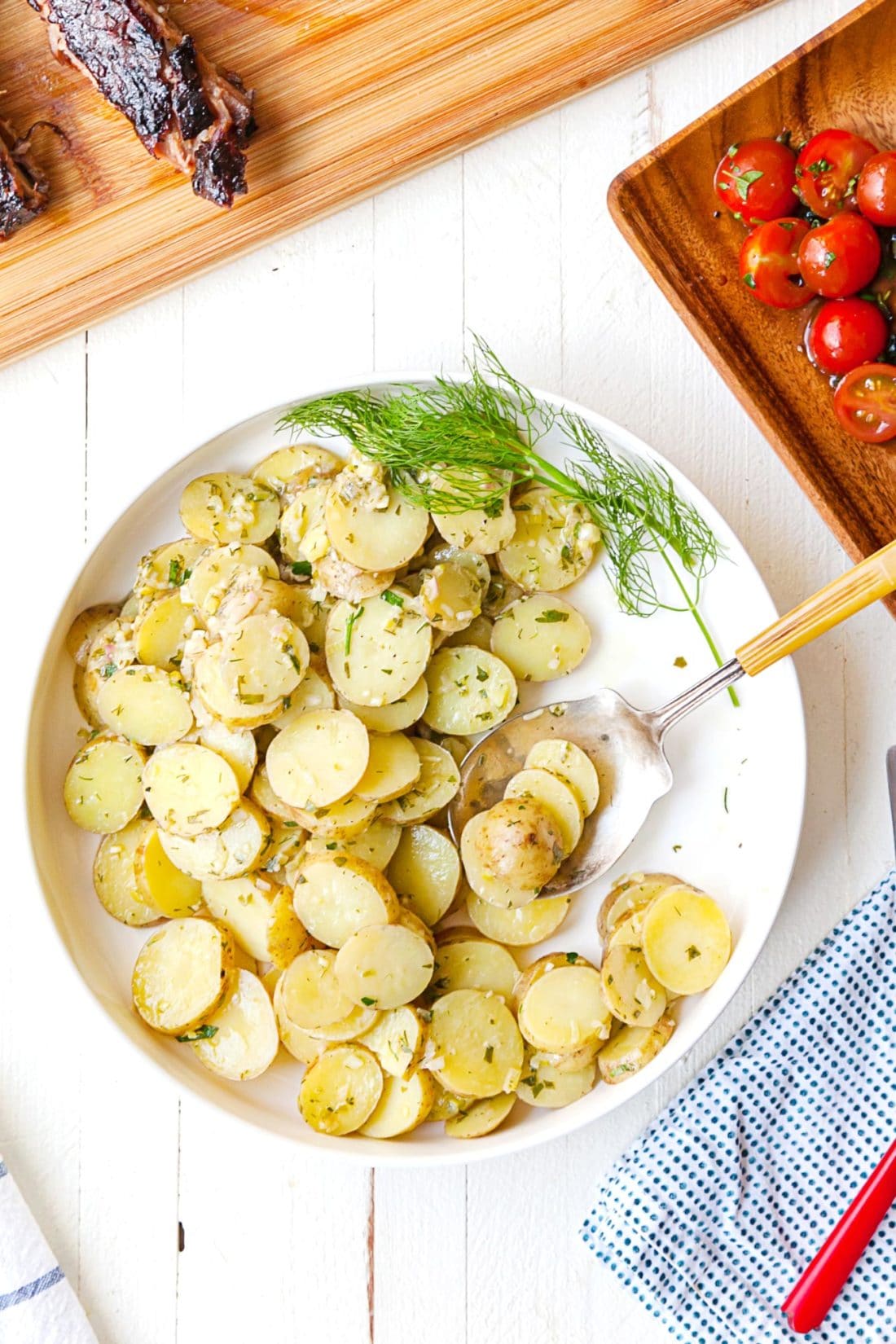 What is French Potato Salad?
French potato salad is essentially a potato salad made with a vinaigrette-based dressing vs. a mayonnaise based one. It also typically contains Dijon mustard, some member of the onion family, as well as a generous flurry of fresh herbs.
What Kind of Potatoes to Use
You will want to use waxy, non starchy potatoes for potato salad, which tend to hold their shape better. They also have thin skins, which means you don't have to peel them unless you want to. And for this salad I went with baby potatoes, and cut them into thin slices before cooking them, about ¼-inch thick. You could definitely go with larger waxy potatoes, red or white or yellow. You can cut those into ½ inch cubes, or cut them into quarters, and then slice the quartered potatoes ¼-inch thick.
How Long to Cook Potatoes for Potato Salad
If you slice the potatoes, or cube them into small dice they should take about 10 minutes to cook until just tender. Don't let them overcook, as they will start to fall apart. And even as they cool in the dressing, they will continue to soften slightly, so make sure to take them out just at the point of tenderness.
French Potato Salad: This mayo-free potato salad is very clean tasting, with fresh herbs and a touch of mustard and a lovely vinaigrette dressing.

Tweet This
Dress the Potatoes While They are Still Warm
Make sure to finish the dressing while the potatoes are simmering, because you will want to pour the olive oil and vinegar based dressing over the potatoes while they are still warm, so they soak up the dressing nicely.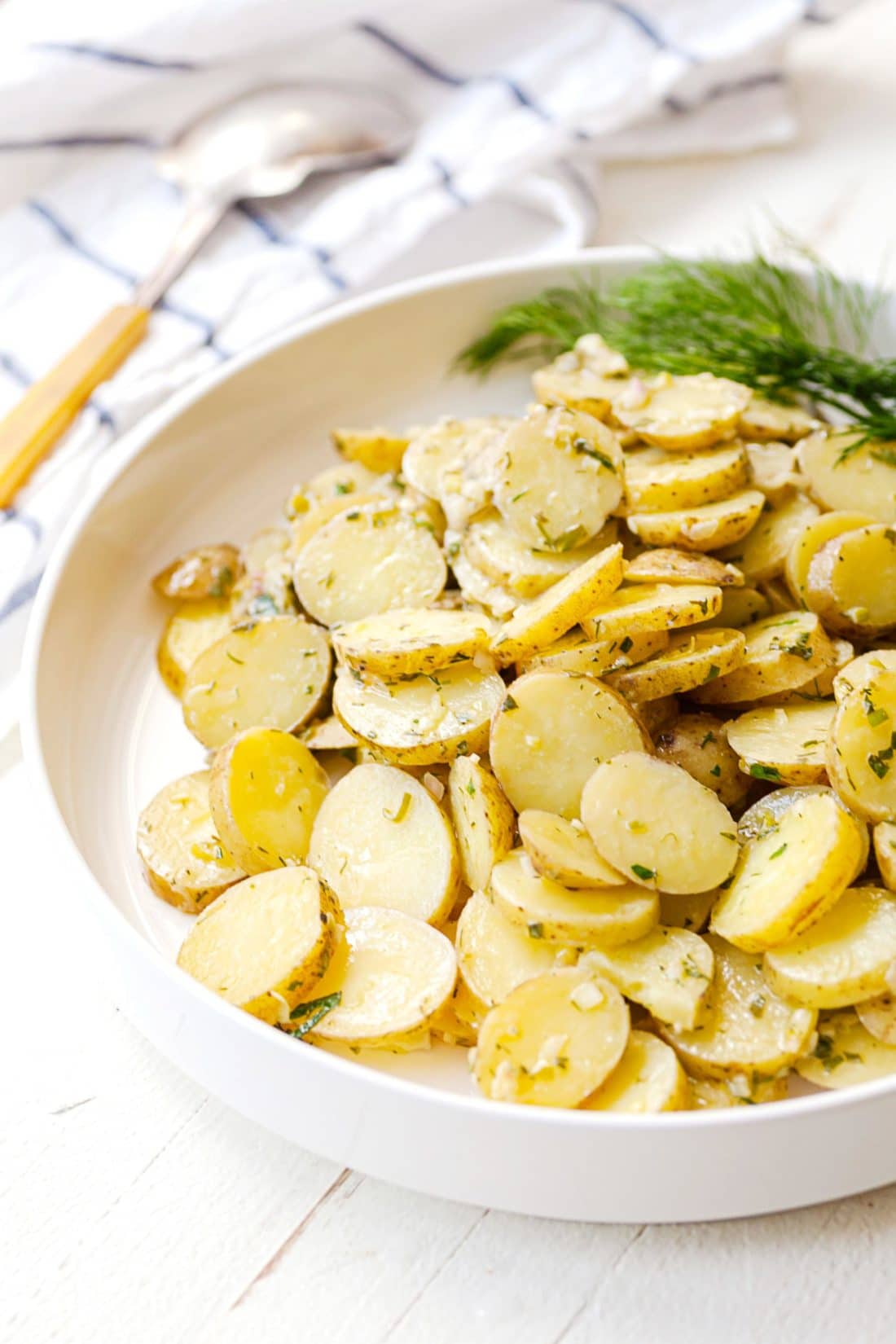 Once you drain the potatoes, spread them out on a rimmed baking sheet or tray of some kind. Drizzle the dressing evenly over the potatoes. When they are slightly cooled Using a spoon, or your hands when they are cooled slightly, toss the potatoes in the dressing on the baking sheet. Spread them out again and let the whole thing come to room temperature. Transfer to a serving dish and serve at room temp.
A Change of Pace No-Mayo Potato Salad
Did anyone miss the mayo? Nope. This potato salad you see sitting before you was inhaled by a bunch of teenage boys. And it was on a buffet with things like ribs and chicken wings and other magical teenage boy foods that might have distracted from the humble potato dish.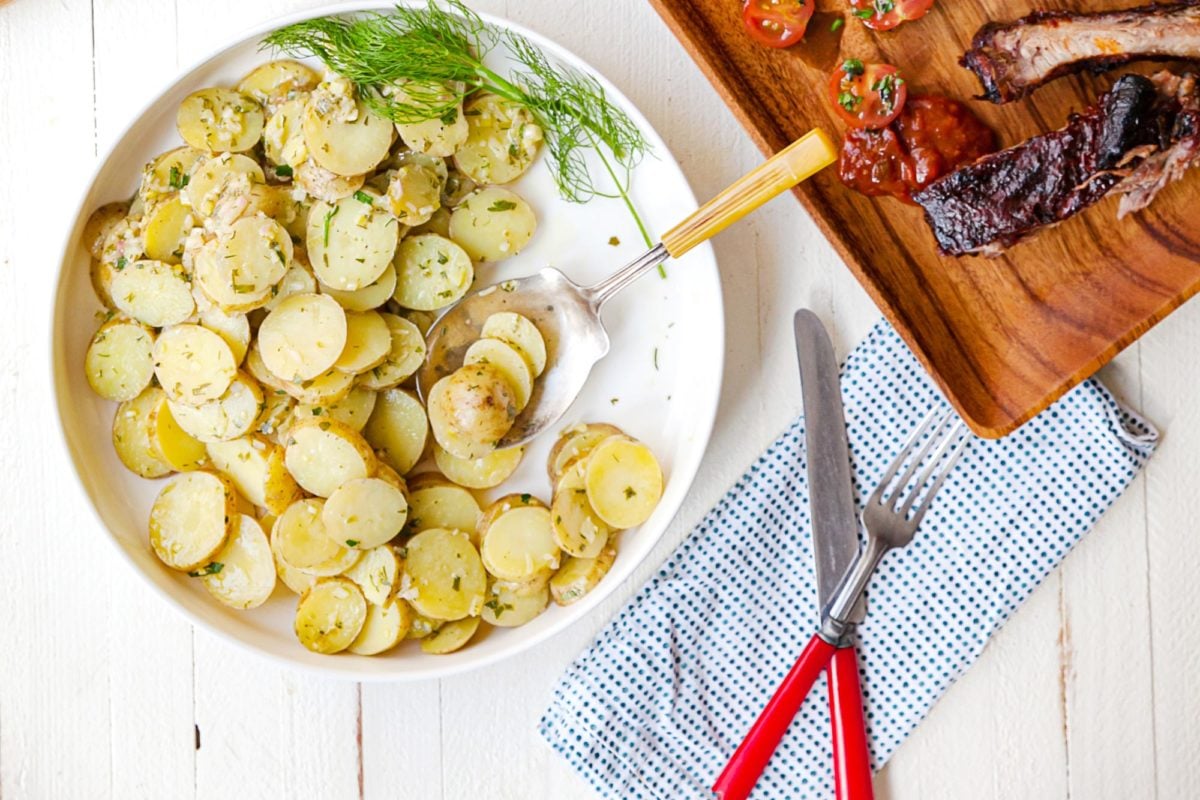 I rarely am surprised when a dish is so heartily embraced – I usually see it coming from a cutting board away. And conversely I rarely have false expectations about how excited the kids are going to be about a rutabaga puree. I know who I made that for, and it wasn't Jack and Charlie and associates. This time, I was surprised by the French potato salad.
But in a good way, and I hope you will, too.
What to Serve with French Potato Salad:
Ribs (in the photos are Cajun Sticky Ribs, recipe coming soon, but you could try Asian Baby Back ribs, too).
Like this recipe? Pin it to your favorite board on Pinterest.

Pin This
French Potato Salad
This mayo-free potato salad is very clean tasting, with fresh herbs and a touch of mustard and a lovely vinaigrette dressing.
Ingredients
Kosher salt to taste

3

pounds

baby potatoes

scrubbed and sliced 1/4-inch thick

½

cup

extra-virgin olive oil

2

tablespoons

white wine vinegar

½

cup

minced scallions

white and green parts

2

tablespoons

minced shallots

1

tablespoon

Dijon mustard

¼

cup

minced parsley

1

tablespoon

minced basil

1

tablespoon

minced fresh thyme

1

tablespoon

minced dill

Freshly ground black pepper to taste
Directions
Bring a large pot of salted water to a boil. Add the potatoes and cook until tender, adjusting the heat so that the potatoes stay at a simmer, about 8 minutes. Drain and spread out on a rimmed baking sheet.

Meanwhile, in a large bowl, whisk together the olive oil, vinegar, scallions, shallots, mustard, parsley, basil, thyme, dill and salt and pepper.

Pour the vinaigrette over the warm potatoes on a baking sheet and gently toss and spread them out again. Allow the potatoes to cool to room temperature, and soak up the dressing.   Adjust seasonings to taste.   Transfer to a serving bowl and serve at room temperature.
Nutrition Information
Calories:
258
kcal
|
Carbohydrates:
31
g
|
Protein:
4
g
|
Fat:
14
g
|
Saturated Fat:
2
g
|
Sodium:
35
mg
|
Potassium:
757
mg
|
Fiber:
4
g
|
Sugar:
2
g
|
Vitamin A:
275
IU
|
Vitamin C:
39
mg
|
Calcium:
31
mg
|
Iron:
2
mg
The nutrition values are provided as an estimate. It is not intended as a substitute for the advice of a qualified healthcare professional.
Made this recipe? Post a photo of your delicious creation on Instagram with our hashtag #dinnersolved