This post may contain affiliate links. Please read our privacy policy.
Peeling ginger with a traditional vegetable peeler can absolutely be done, but the lumps and bumps of ginger make it a little hard to navigate. But luckily there is an easier way – a plain old teaspoon however is a great tool for the task of peeling ginger.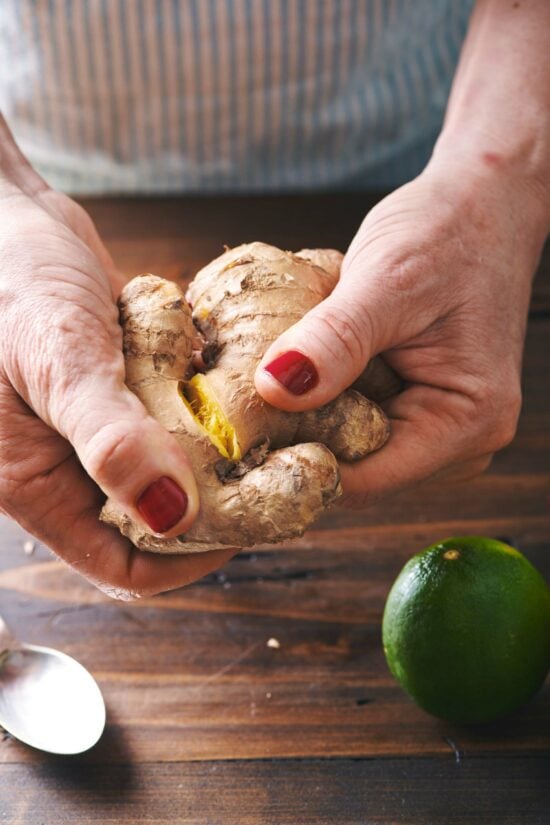 The skin of ginger is very thin, so just scrape over it with the edge of a teaspoon, with the convex side of the spoon towards you, pulling towards you. In no time you'll have peeled ginger ready for chopping or slicing or mincing.
Use the edge of the spoon to scrap up and over all of the little knobs.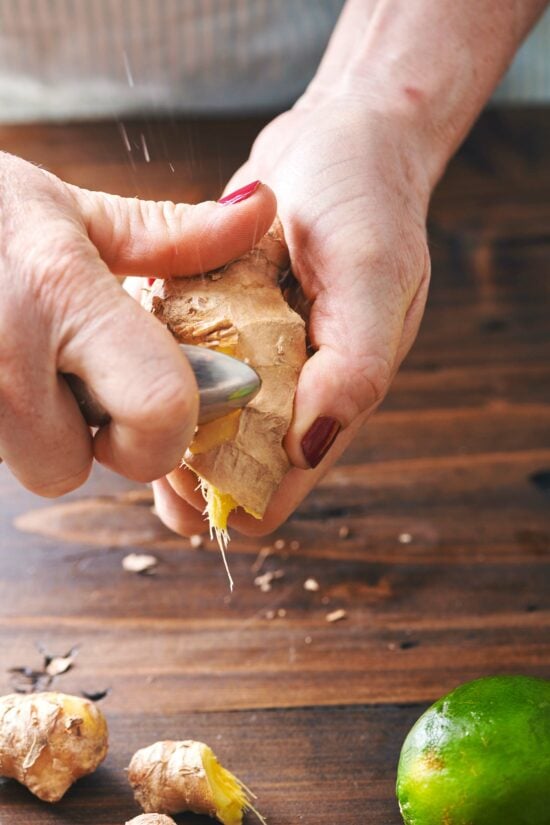 Look closely at the photo below – you can even see little flecks of ginger juice coming off the bulb as it's being scraped! That's some fresh ginger!
And there's more good news — even little kids can help with this. If you give a willing child a knob of ginger and a teaspoon you will give them something to keep them busy for quite a chunk of time, and allow them to feel like a great kitchen helper as well. Make sure they (and you!) wash their hands thoroughly after, as ginger is spicy so if they touch their eyes after it could smart.
Do You Need to Peel Ginger?
If the ginger is going to be added to something you are eating and the ginger is on the larger more mature side, then you should peel it. Also, cut off any woody bumps that may not feel as fresh and juicy. If the ginger is being used to add flavor to a drink or marinade, and then is going to be strained out, then you can skip the peeling unless the skin looks very thick or rugged.
If the ginger is small and very young, with a super thin skin, then you don't have to peel it.
How to Peel Ginger: The simplest and safest way to peel fresh ginger (hint: no vegetable peeler required!)

Tweet This
How to Mince Fresh Ginger:
Use a microplane, which will create a very finely grated ginger pulp, and remove all of the fibrous parts.
Grab a knife and a cutting board. Slice the ginger into coins, then slice those into thin sticks. Then just keep mincing until you get to the chunkiness or fineness you are looking for.
Use a food processor to mince ginger. This works best for amounts in 2 tablespoons or more. If you are just mincing a small amount you will probably want a small food processor, as a larger one has a big bowl and blade which might not let you get to the fine chop you want.
How to Store Peeled Ginger
Peeled ginger will keep wrapped in plastic in the fridge for up to a week. Minced ginger will keep tightly sealed in the fridge for up to 5 days.
Also see How to Cook with Fresh Ginger.
---
How to Use Fresh Ginger:
Here are some of my favorite recipes with fresh ginger, a mix of Asian-inspired recipes and other recipes that benefit from the pop of fresh ginger.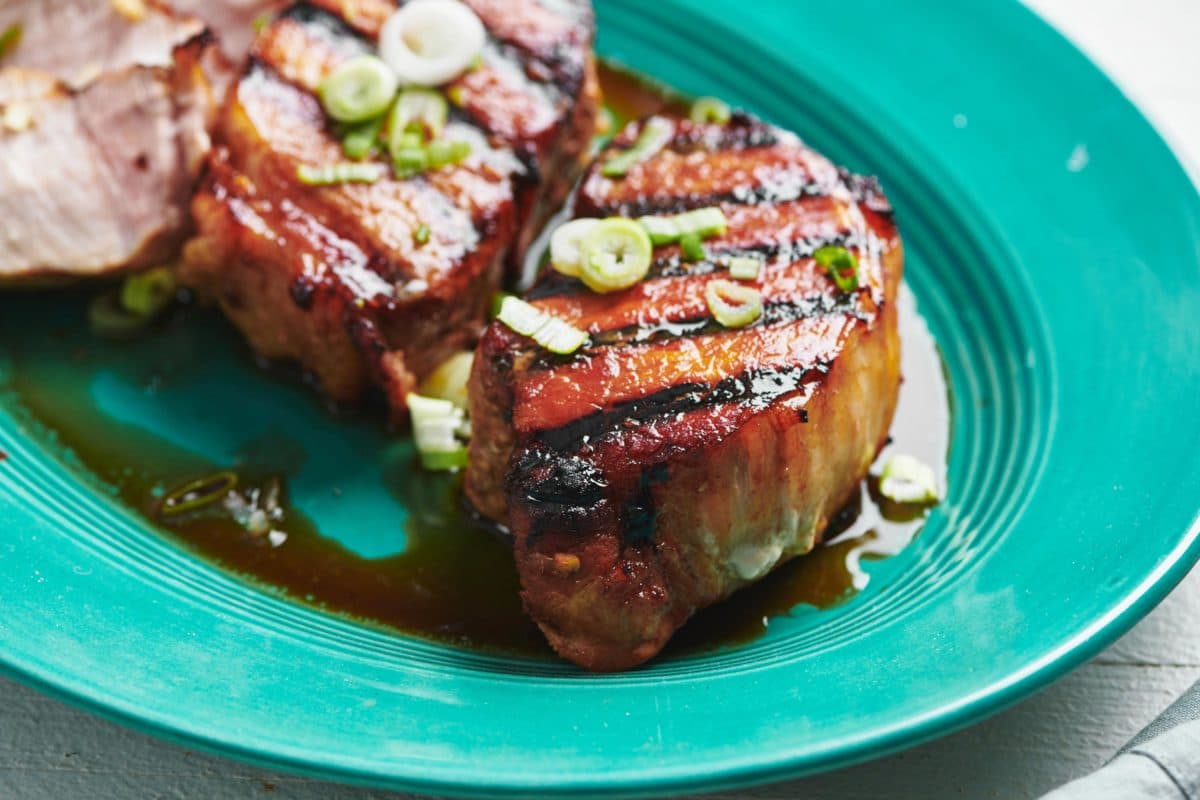 If you are into teriyaki-like flavors, then this super simple pork chop recipe will be a hit in your house.
---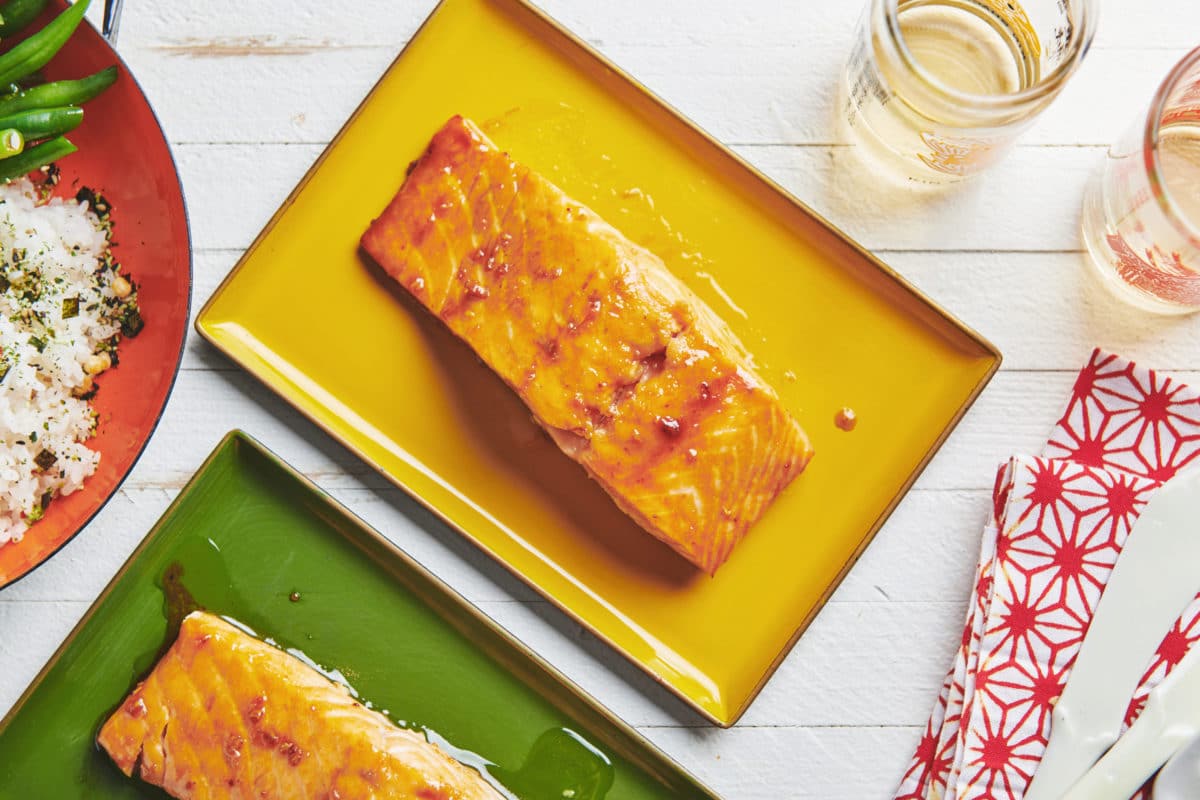 A handful of ingredients and under 30 minutes of time get you a delicious dinner that the whole family can get behind.
---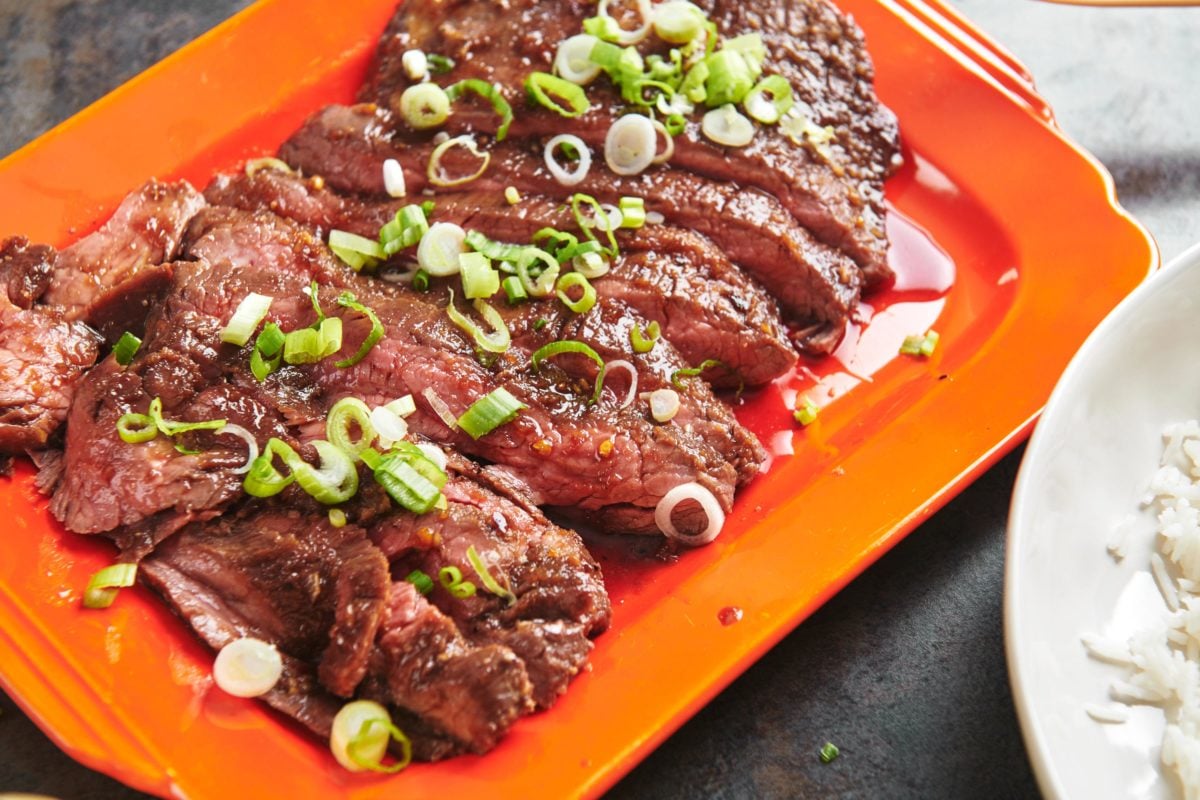 This Teriyaki-style steak is my family's all-time favorite steak. The garlic and soy and ginger with a bit of brown sugar are just a complete home run.
---
Completely fresh and interesting and the nicest way to dress up a simple piece of fish or meat.
---
This bright marinade with slightly Southeast Asian flavors is a perfect soak for anything from shrimp to chicken to pork.
---