This post may contain affiliate links. Please read our privacy policy.
If you've ever fallen in love with that thick, rich, carroty, gingery orange dressing you find at a Japanese restaurant, this recipe is for you. I could eat this dressing (which happens to be gluten-free and vegan) with a spoon. The salad part of the recipe is just a suggestion — use whatever lettuce and veggies your family is into.
This salad happens to be my older son's favorite part of dinner at any Japanese or Hibachi restaurant (if you like the dressing at Benihana's, you'll love this!). It's a great change of pace from the usual vinaigrette and a perfect companion to any Asian dish. And how nice that the dressing has so many carrots built right in? Seriously, the dressing is a full serving of vegetables before it even hits the salad.
Pair this salad with any Japanese or Asian main dish. Try Chicken Yakitori, Teriyaki Beef or Chicken Skewers, or Miso Salmon.
Not only is this carrot ginger dressing amazing on green lettuce salads, but it also makes a great topping for steamed or roasted veggies like broccoli, asparagus, sugar snap peas, green beans, or cauliflower. It's a nice dip for raw veggies, too. You might sauté some tofu or chicken, mound it on hot rice, and spoon the dressing on top — that, to me, is comfort food.
This Japanese salad dressing recipe is just like the ones in a hibachi or other Japanese restaurant. Thick, gingery, and carroty, it's also easy!

Tweet This
Ingredients
Two of the ingredients are optional (miso and mirin), but if you have them on hand, they will add a lot of depth and flavor to the dressing. They last for a long time in the fridge, even once opened.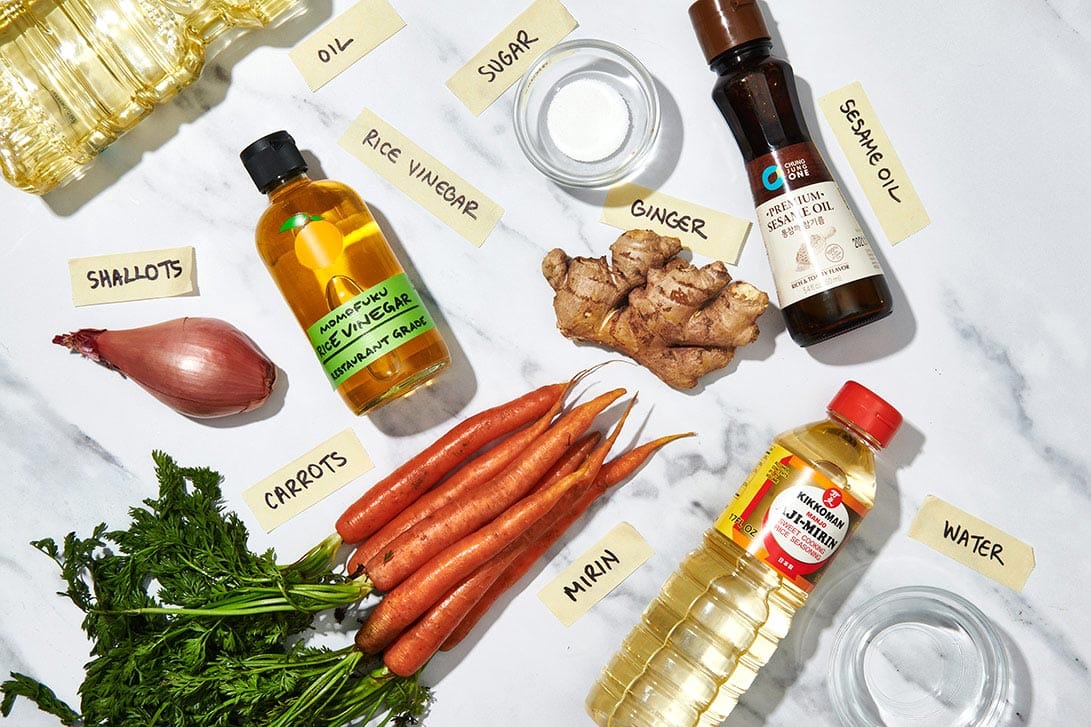 Canola, peanut, or vegetable oil – Any neutral oil will work here; just make sure your oil is fresh.
Sesame oil – Use the dark toasted sesame oil in this recipe.
Sugar – A bit of granulated sugar smoothes out the flavors and balances out the acidity from the vinegar and heat from the ginger.
Miso paste– Use white or yellow miso, which are the milder versions. This is an optional ingredient, but use it if you can — it adds a deep, rich umami flavor.
Mirin – Also optional, but a little bit elevates the flavor of the dressing. Mirin is a mild, low-alcohol, slightly sweet Japanese rice wine. You can find it in some supermarkets, at Asian groceries, and online. Open, it last for ages.
How to Make Japanese Salad Dressing
Make the dressing: Add all of the dressing ingredients to a food processor and puree until smooth.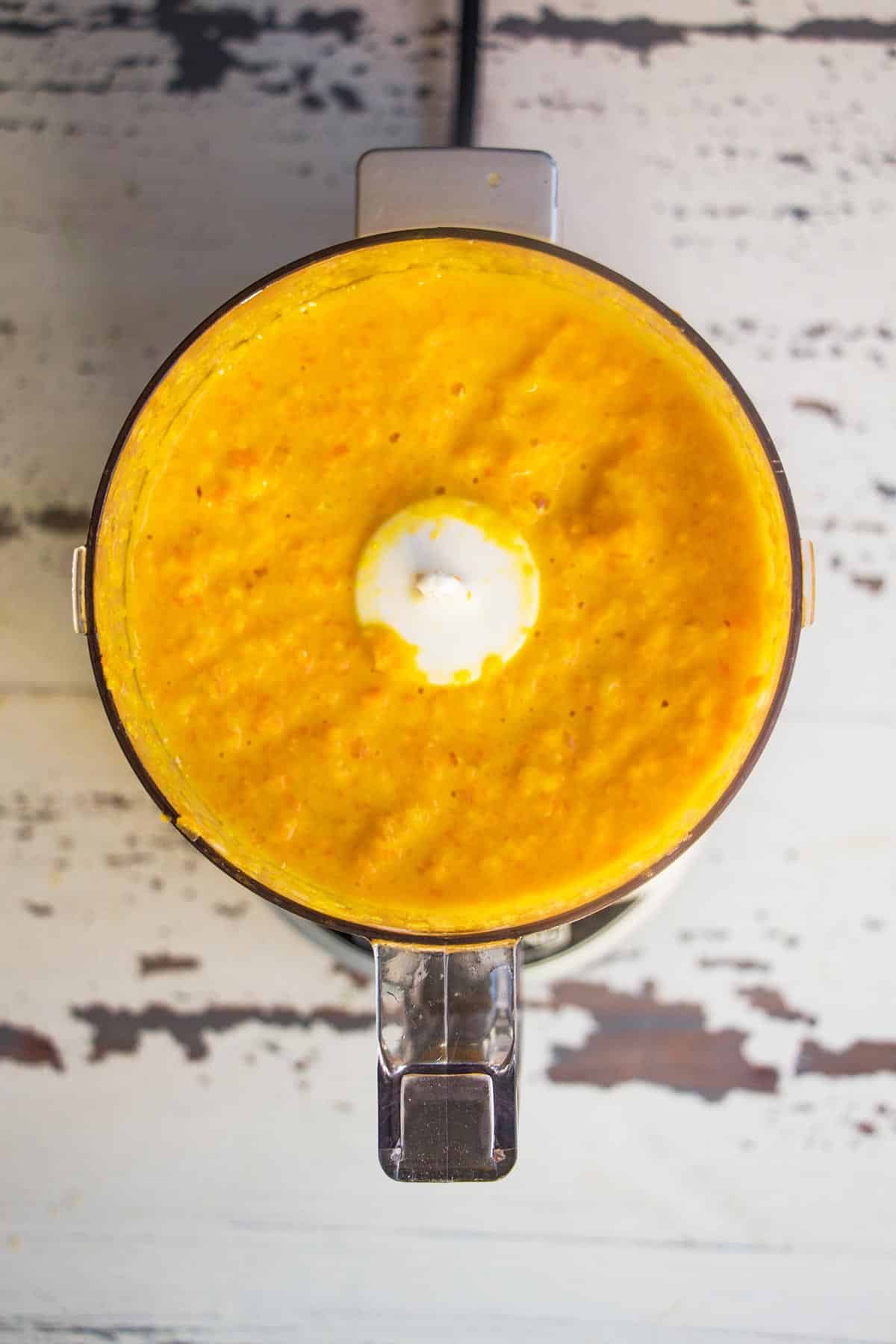 Store or serve: Transfer the dressing to an airtight container until needed. Use to top a fresh salad with shredded lettuce and other veggies.
Storage and Leftovers
The Japanese carrot-ginger dressing lasts in the fridge for at least a week. That's why this is a recipe for a big batch, more than double what you would use for a salad for a family of four or so. Even so, I usually make a double batch, and we enjoy it all week long. Might as well make it worthwhile to rev up the food processor, right?
Again, don't just think of this dressing for a salad! Dollop it on a simply cooked chicken breast, a steak, or some grilled vegetables.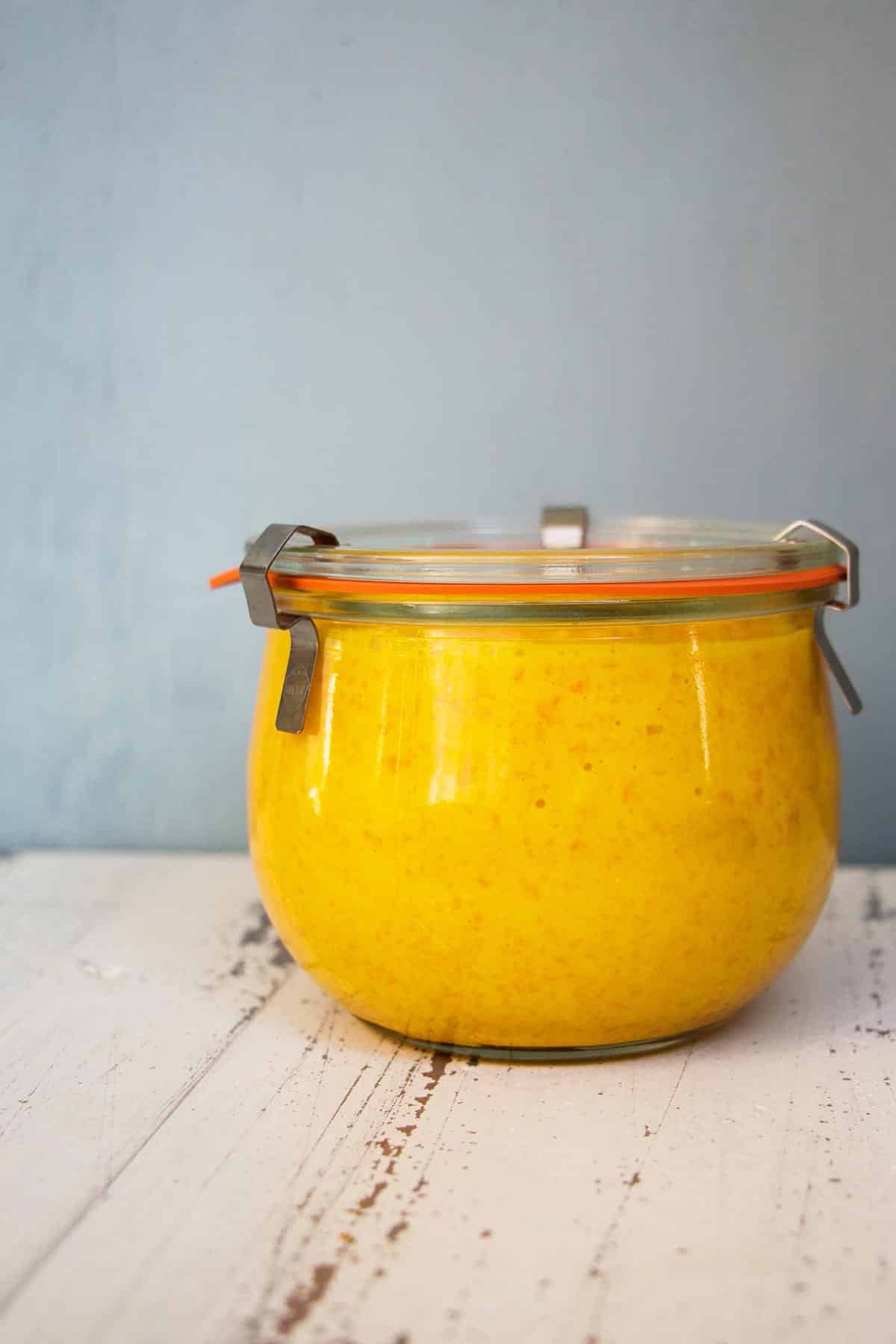 FAQs
What is Japanese salad dressing made from?
Different recipes call for different ingredients, but some common ingredients are ginger, carrots, and miso paste. Often there is a bit of sugar involved. Some also contain soy sauce, though this one doesn't and is gluten-free.
What type of dressing is used on hibachi?
Not only is this a great salad dressing, but it is also good with other hibachi-style dishes, like stir-fried steak, shrimp, and chicken.
Tips
Did you know you can peel ginger with a teaspoon? It's true — the skin is very thin, and if you take a teaspoon and turn the bowl part in toward the ginger and scrape away with the edge of the spoon, it will take the skin right off quickly. A spoon can get into those creases and crevices of the ginger better than a regular vegetable peeler. This task can safely keep a young sous chef busy for a while.
If you want your dressing a little thinner, you can add another tablespoon or two of water and puree again.
What to Serve With Japanese Restaurant Salad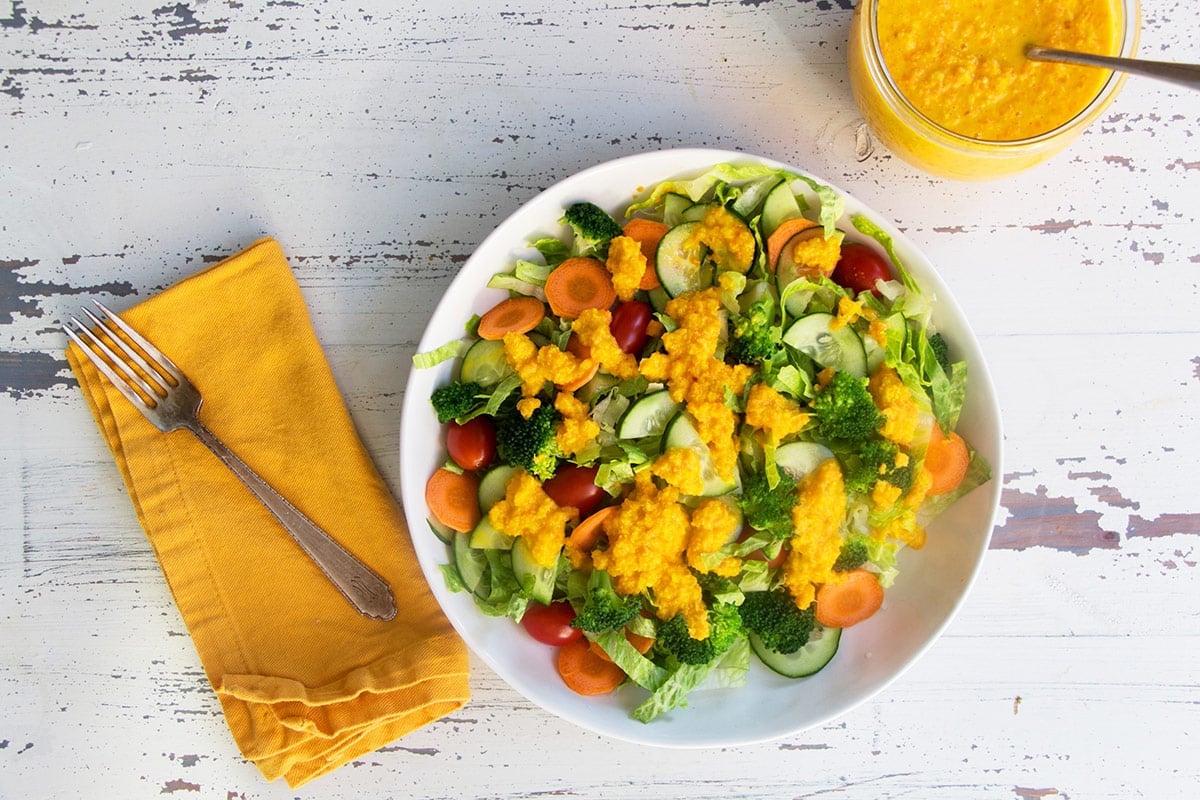 More Asian Salad Recipes
Like this recipe? Pin it to your favorite board on Pinterest.

Pin This
Japanese Restaurant Salad Dressing
This is the thick orange salad dressing we all fall in love with at hibachi restaurants, and it's so easy to make at home!
Ingredients
For the Japanese Carrot-Ginger Dressing
3

medium-size carrots

(peeled and cut into about 1-inch chunks)

1

piece

2-inches fresh ginger

(peeled and cut into disks)

1

shallot

(minced, or 1⁄4 cup minced onion)

¼

cup

unseasoned rice vinegar

(or 3 tablespoons white wine vinegar)

¼

cup

canola, peanut, or vegetable oil

1

tablespoon

Asian dark sesame oil

1

teaspoon

granulated sugar

4

teaspoons

miso paste

(optional, but recommended)

2

teaspoons

mirin

(optional)
For the Salad
6 to 7

cups

thinly sliced romaine lettuce

(about 11⁄2 heads lettuce or 2 hearts of romaine)

½

cups

shredded peeled carrots

½

cucumber

(preferably seedless or English; peeled, cut in half lengthwise, and thinly sliced crosswise)

Handful of cherry or grape tomatoes

1

cups

steamed tiny broccoli florets

(optional)
Instructions
Make the Japanese carrot-ginger dressing: Place the carrot chunks, ginger, shallot or onion, rice vinegar, canola oil, sesame oil, and sugar in a food processor fitted with a metal blade. Pulse until well combined. Add the miso and mirin, if using, and 1⁄4 cup of water and puree until nicely blended and fairly smooth. If you want your dressing a little thinner, you can add another tablespoon or two of water and puree again.

Make the salad: Place the lettuce, shredded carrots, cucumber, tomatoes, and broccoli, if using, in a large serving bowl and drizzle about 1⁄2 cup of the dressing on top, or more if desired. Toss the salad and serve.
Notes
To peel ginger, you can use a vegetable peeler or just a teaspoon. Turn the bowl part of the spoon in toward the ginger and scrape the skin off with the edge of the spoon.
If you want your dressing a little thinner, you can add another tablespoon or two of water and puree again.
Nutrition
Calories:
155
kcal
,
Carbohydrates:
10.36
g
,
Protein:
2.13
g
,
Fat:
12.26
g
,
Saturated Fat:
1.11
g
,
Sodium:
200.41
mg
,
Potassium:
352.07
mg
,
Fiber:
3.06
g
,
Sugar:
4.77
g
,
Vitamin A:
11083.49
IU
,
Vitamin C:
18.97
mg
,
Calcium:
42
mg
,
Iron:
0.9
mg
Nutrition information is automatically calculated, so should only be used as an approximation.
Like this? Leave a comment below!