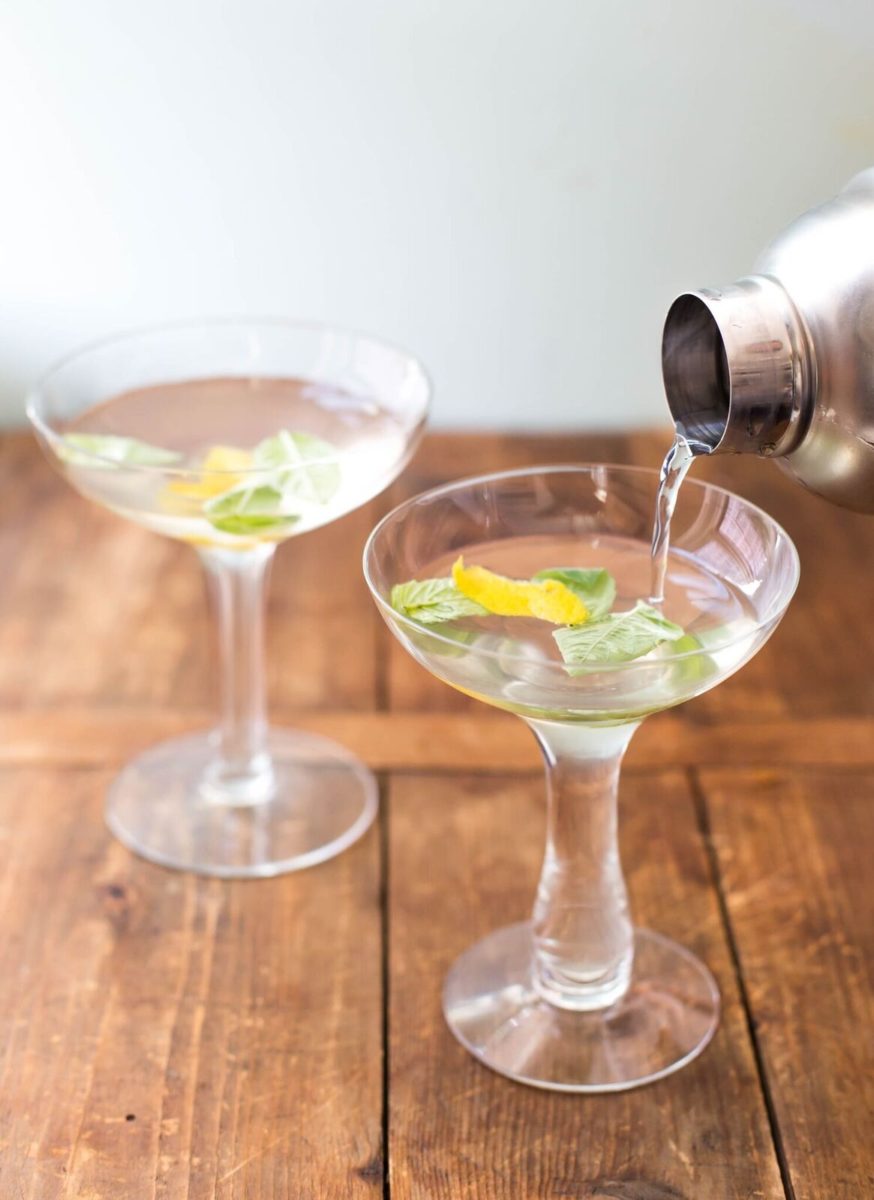 Inventing a cocktail can seem completely daunting for us mere cooks. Until recently the feeling of the chemistry and cocktail-ology of it all made me stick to pouring glasses of wine, or making a gin and tonic with the addition of cucumber for a wacky twist at best (which is actually quite excellent, so don't miss out).
And it's true that in the fancier bars and restaurant mixologists are very busy making tinctures and flavor-infused smoke and doing all sort of very mad scientist activities to create super-innovative cocktails. I'm happy to leave them playing in their specialized world.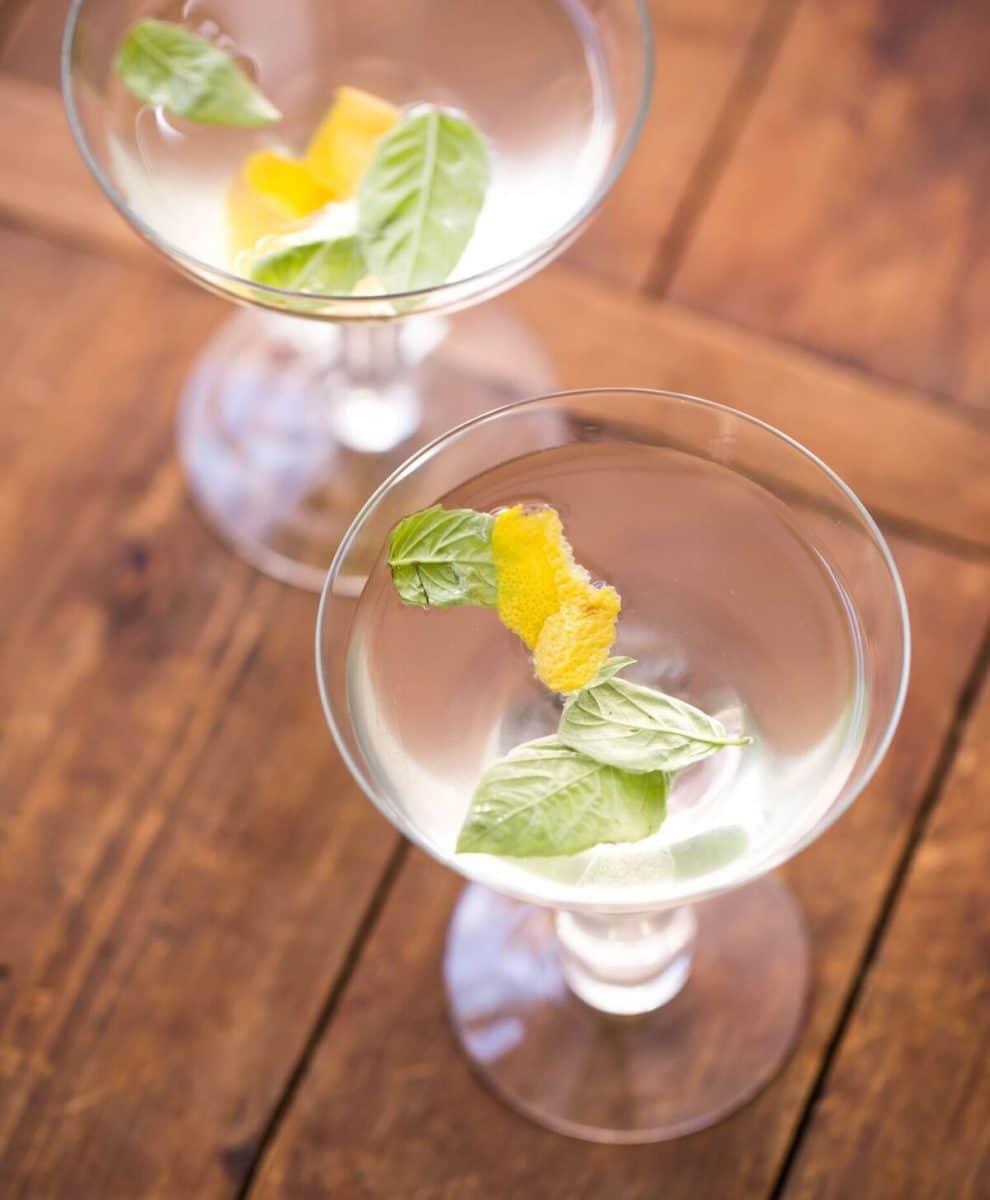 Infused Simple Syrup Recipe
But lately I've been playing around with simple syrups and this has been a game changer for me in terms of giving me ideas for ways to blend together refreshing drinks with all kinds of flavors.
A simple syrup is literally equal parts water and sugar (or some variation on that theme), simmered together in a pot until the sugar melts, then cooled, and chilled. This sweetened syrup is amazingly useful in any kind of dish or (especially) beverage where you want sweet, but there isn't the heat to dissolve the sugar – think lemonade, iced tea, iced coffee, etc.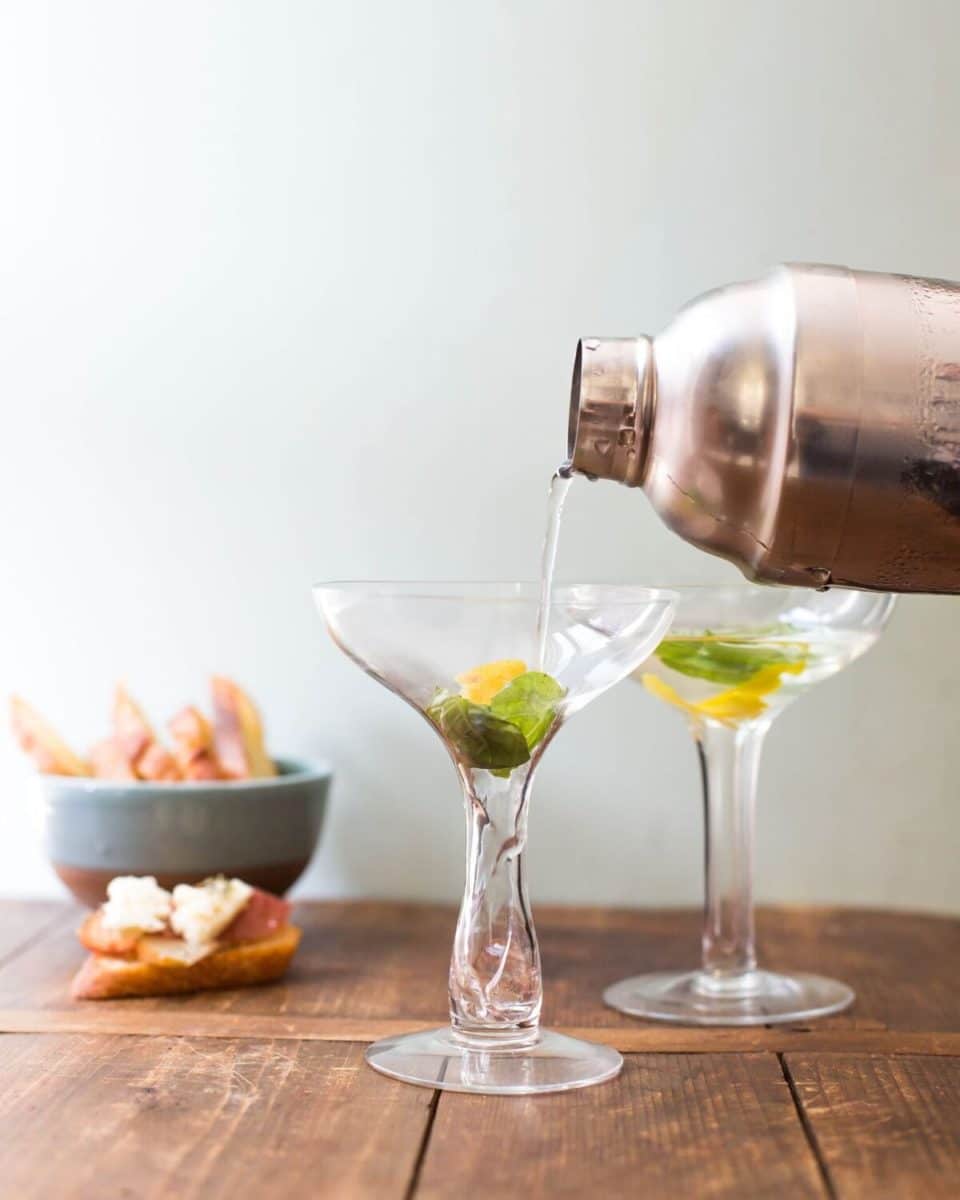 And of course think cocktails. Non-alcoholic blended drinks, too. But the great part is that you can add all kinds of other ingredients to the simmering water-sugar simple syrup mixture, which with infuse themselves into the liquid. Once the liquid is cooled, the extra flavorings should be strained out, which will allow the flavored simple syrup to last for a week or two or more in the fridge.
And then you get to make this refreshing Basil Ginger Lemon Saketini. You can use more sake than vodka if you want a slightly less alcoholic drink.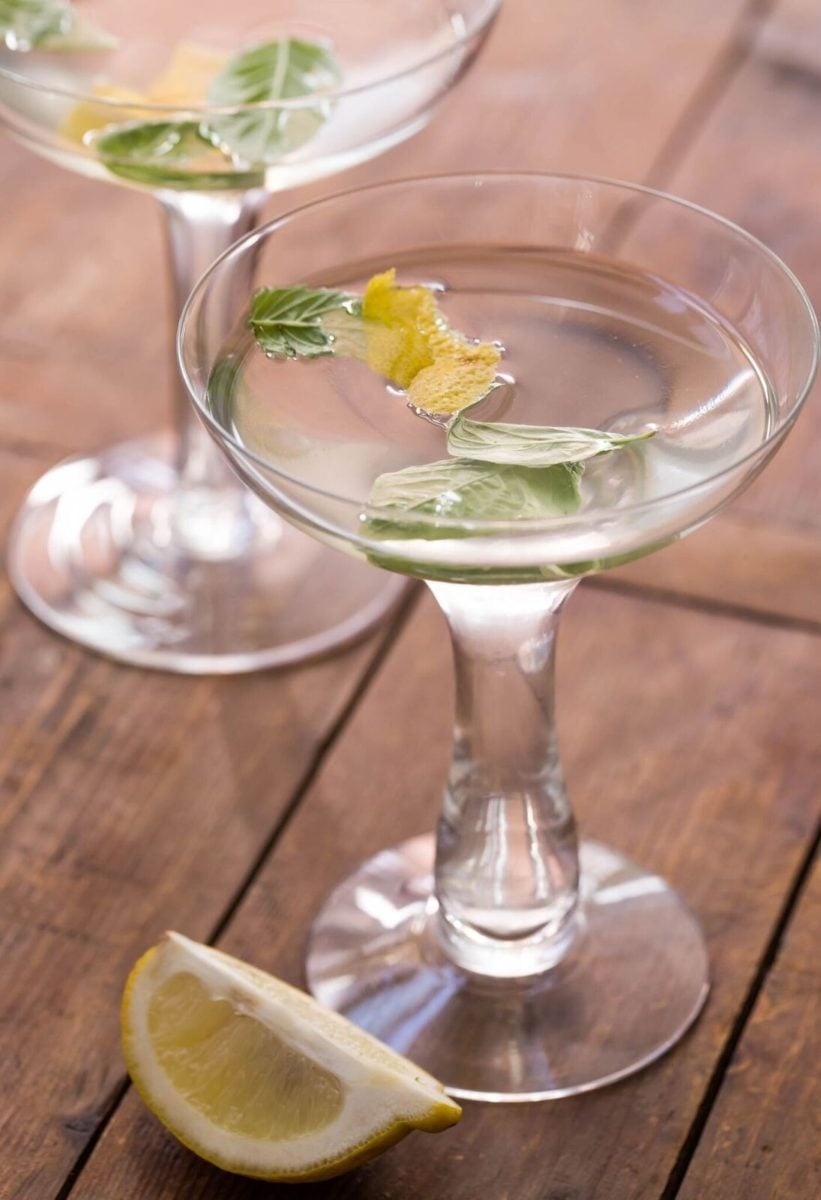 Sake Cocktail
Make sure to buy a good sake, one meant to be served chilled. Ask your sake/wine person for advice, or check out the refrigerated section of the wine store.  Sometimes sake is sold in big inexpensive bottles, but that sake is usually not very delicately flavored and meant to be served hot. Believe you me, I am not snob about that – I love a carafe of cheap hot sake with my sushi.  And I also love great sake, served crispy cold.  But for this cocktail, you want to go for the better stuff. 
During or after the sipping of the cocktail, nibble on the lemon rind and basil leaves for a bracing little snack.
The strained Basil Ginger Simple Syrup will last for up to 10 days in the fridge – and I froze some for a few months, and it was a-ok.
Other Cocktail Recipes:
Basil Ginger Lemon Saketini
This is one refreshing cocktail.
Chilling Time for the Syrup
1
day
Total Time:
1
day
20
minutes
Ingredients
For the Saketini
2

ounces

vodka

2

ounces

sake

1

tablespoon

Basil Ginger Syrup

recipe follows

Basil leaves and strip of lemon zest

for garnish
For the Lemon Basil Ginger Simple Syrup
½

cup

water

½

cup

sugar

1

cup

packed basil leaves

2

tablespoons

minced fresh ginger

8

strips lemon zest

from 1 lemon
Directions
Into a shaker filled with ice, pour the vodka, sake, and Lemon Basil Ginger Syrup (see below). Shake well, and let sit for 1 minute to chill well. Shake again and strain into a martini glass, or champagne glass or coupe. Add a couple of basil leaves and 1 or 2 lemon zest strips to garnish and serve chilled.

To Make the Lemon Basil Ginger Simple Syrup: A super simple pan seared broccoli or broccolini dish with garlicky deep flavor and great texture.Combine the water with the sugar in a small saucepot over medium high heat. Bring to a simmer and stir until the sugar is dissolved. Stir in the basil, ginger and lemon zest and remove from the heat. Let cool to room temperature, then transfer to a clean glass container and refrigerate for 24 hours. Strain out the solids and place the Basil Ginger Syrup in a clean container.
Nutrition Information
Calories:
277
kcal
|
Carbohydrates:
21
g
|
Protein:
1
g
|
Fat:
1
g
|
Saturated Fat:
1
g
|
Sodium:
22
mg
|
Potassium:
129
mg
|
Fiber:
1
g
|
Sugar:
15
g
|
Vitamin A:
1266
IU
|
Vitamin C:
4
mg
|
Calcium:
42
mg
|
Iron:
1
mg
The nutrition values are provided as an estimate. It is not intended as a substitute for the advice of a qualified healthcare professional.
Made this recipe? Post a photo of your delicious creation on Instagram with our hashtag #dinnersolved