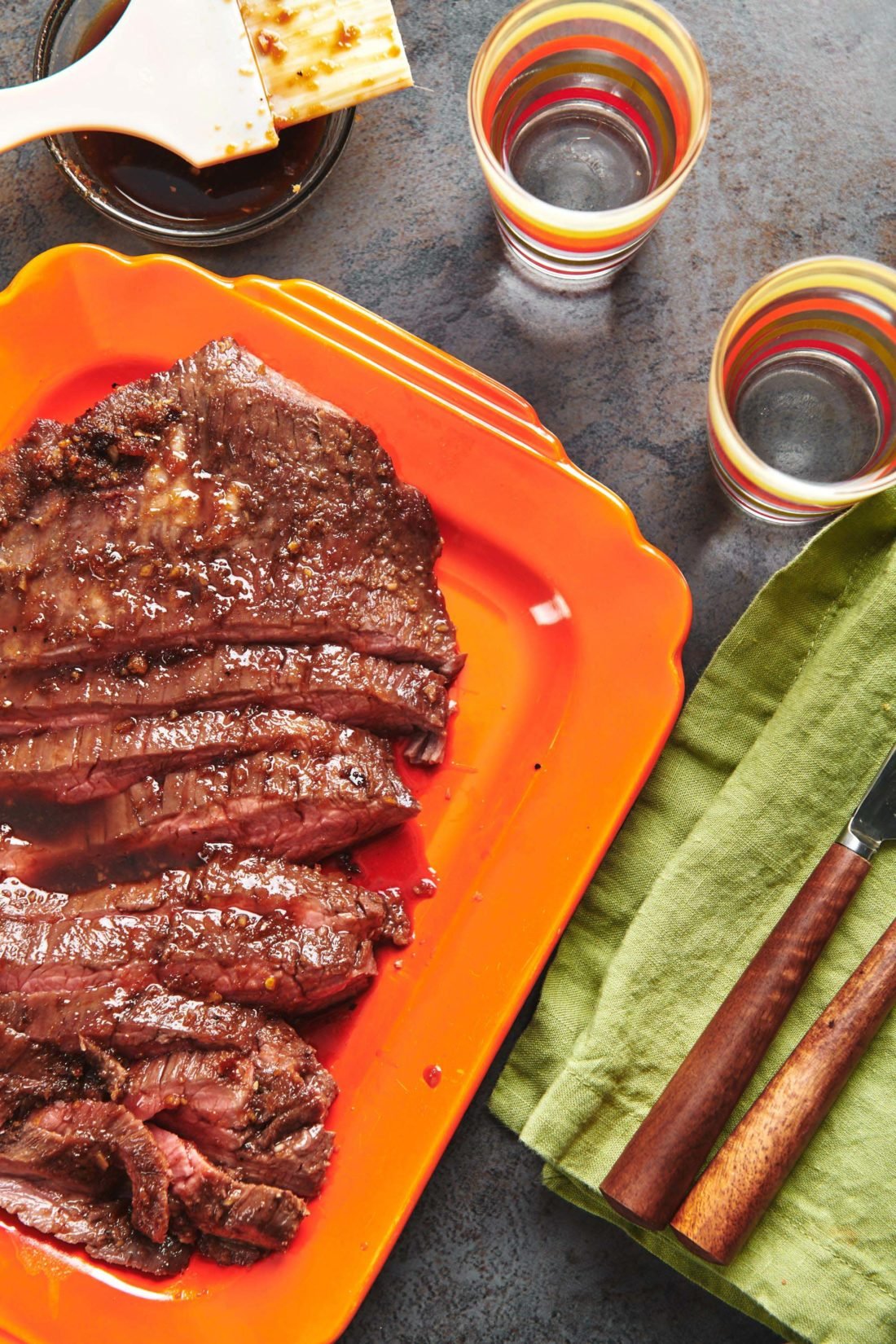 Asian Flank Steak
This soy ginger flank steak is my kids' all-time favorite steak.  The garlic and soy and ginger with a bit of brown sugar are just a complete home run, and it sure has enough going on to make the grownups happy.  There's a simplified teriyaki quality to the whole thing.
How to Cook Flank Steak
Flank steak is a thin and somewhat chewy cut of meat, so you'll want to give it a pretty quick broil or sear, and don't forget about carryover cooking (see below). If you want to use skirt steak, or even London broil, that will work, too. You can also prepare this steak on a grill, or even use a grill pan and cook it on top of the stove.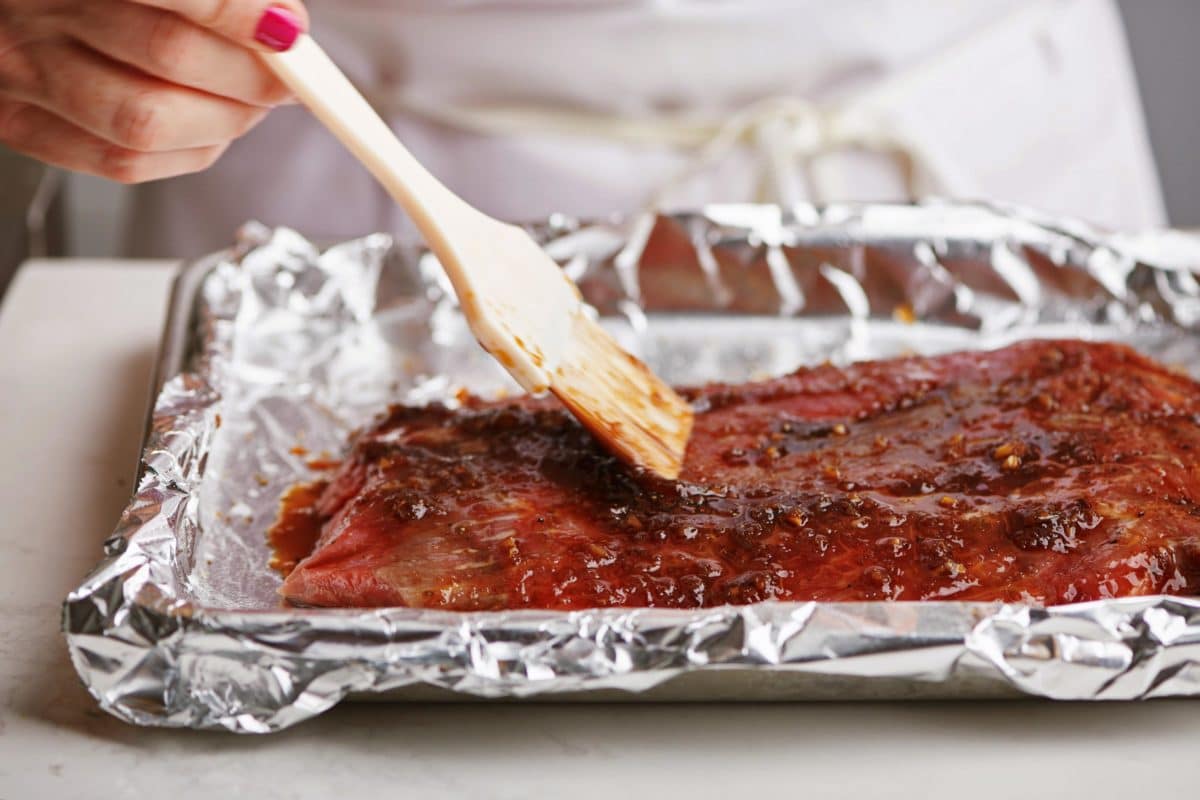 Carryover Cooking for Steak
Carry-over cooking is just a term that means that food continues to cook after it's removed from the heat, so you want to take foods off the stove or out of the oven just before they are done to your liking. This is true for meat, vegetables, even brownies!
So, a simple but good tidbit of kitchen know-how: whenever you finish cooking a piece of meat (steak, chicken, lamb chops, whatever) you will want to let it sit for at least 5 minutes or so before you cut into it. For a roast, even longer, 15 to 20 minutes.
Why wait? During the cooking process, the fibers of the meat contract, forcing out the liquid into the spaces between them. As the meat sits, the cells relax, reabsorbing the juices, and therefore stay in your steak, instead of running out onto the cutting board and leaving you with a hunk of dry tough meat.
Also, when it comes to a bigger piece of meat, like a roast, the outside is much hotter than the inside when it comes out of the oven, and letting the meat rest evens out the temperature; the inside of the meat will continue to cook, with the internal temperature rising up to ten degrees — which is why you want to take it out before it's cooked to the level of doneness you are looking for.
This Teriyaki-style soy ginger flank steak is my family's all-time favorite steak. 

Tweet This
Slicing Flank Steak
Slicing steak on the bias (eg, diagonally) is not really any harder to do than just slicing it straight up and down, but it just looks so much nicer on the plate. I'm not even suggesting that the smaller members of your household will notice this, but the bigger ones (e.g., you and your mate) might appreciate the slightly sexier looking slices with more surface area.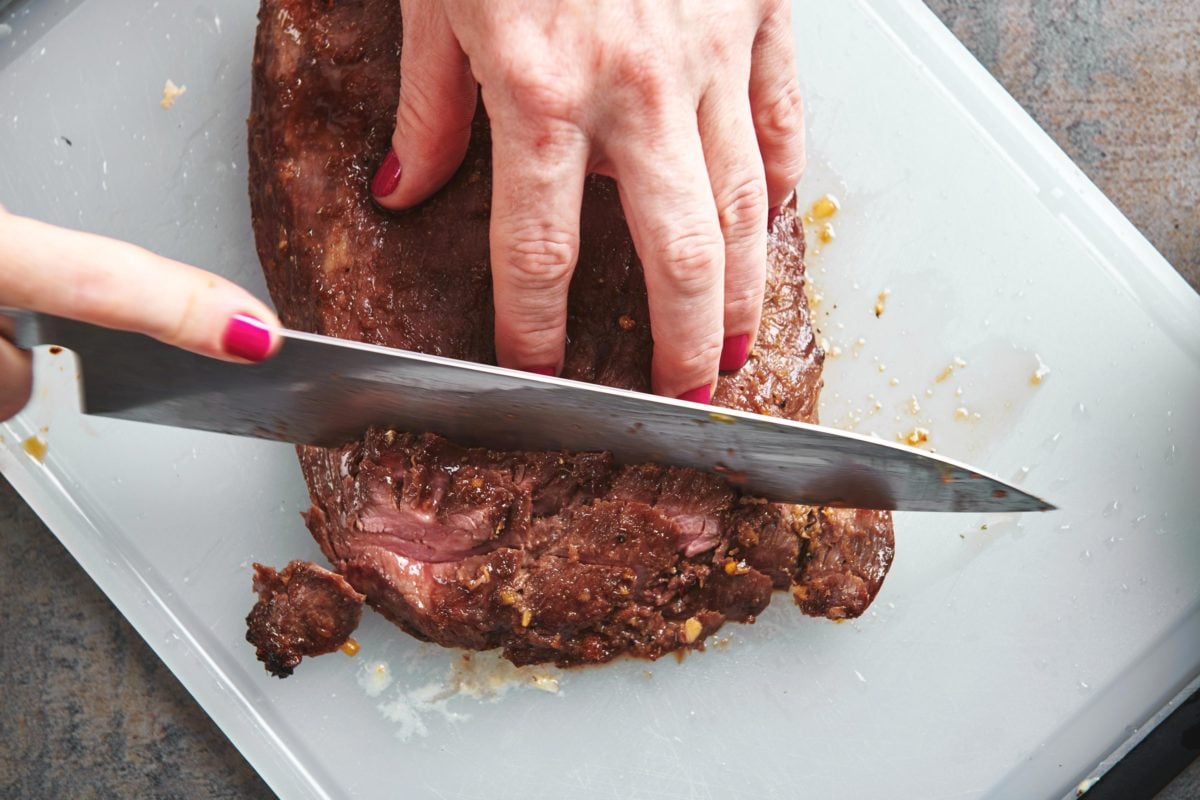 Testing Flank Steak for Doneness
How done is done?
If you have a meat thermometer you can be pretty accurate in your assessment of how well cooked your steak is: 125F for rare, 135F for medium, and 155F for well-done), but you can also use the palm of your hand as a guide to determine the doneness of the meat, by pressing the meat and comparing it to the firmness of different parts of your hand.
Rare meat should feel fairly soft, similar to pressing the fleshy pad underneath your thumb on your hand. Medium should feel like the center of your palm, firmer than rare, obviously, but not too firm. For well done compare the meat to the area of your palm directly under your pinky; it should offer little resistance.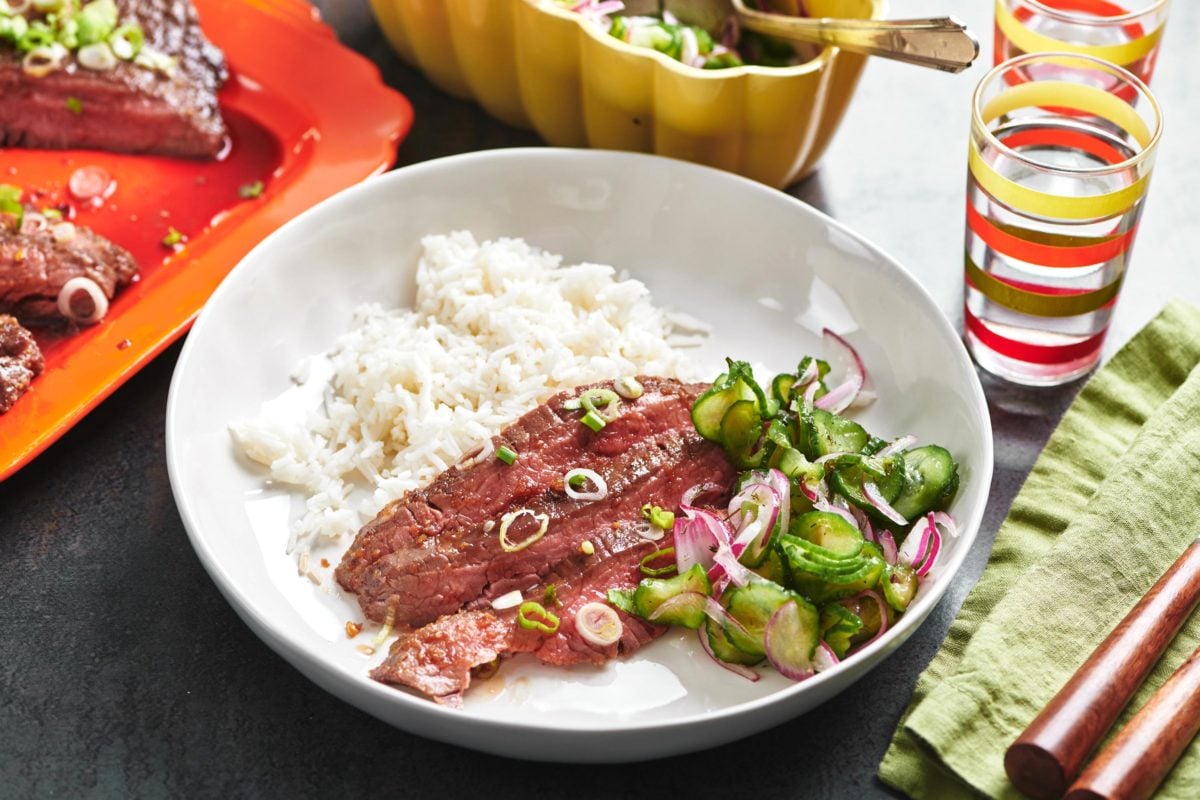 And for all, remember, it will continue to cook for a few minutes after you take it from the heat, so err on the side of softness! You can't uncook meat, as we've all learned the hard way.
Other Steak Recipes:
What to Serve with Soy-Ginger Flank Steak:
Like this recipe? Pin it to your favorite board on Pinterest.

Pin This
Soy-Ginger Flank Steak
This Teriyaki-style steak is my family's all-time favorite steak. The garlic and soy and ginger with a bit of brown sugar are just a complete home run.
Ingredients
1

tablespoon

vegetable or canola oil 

1 ½

tablespoons

finely grated fresh ginger 

1

tablespoon

minced garlic 

⅔

cup

low-sodium soy sauce 

or ½ cup soy sauce and 3 tablespoons water

½

cup

lightly packed dark brown sugar 

½

teaspoon

crushed red pepper

optional

1

flank steak

2 ½ to 3 pounds

Freshly ground pepper

to taste

Thinly sliced scallions

both white and light greens parts (optional), to serve

Lime wedges

to serve

Hot cooked rice

to serve
Directions
Preheat the broiler, and if you have an adjustable rack, make sure it is as close to the flame as it can get.  

In a small saucepan, heat the oil over medium heat.  Add the ginger and garlic and stir until you can really smell everything and the garlic turns golden, about 3 minutes.  Add the soy sauce, brown sugar and crushed red pepper, if using, raise the heat to medium-high and simmer until slightly reduced and syrupy, stirring occasionally, about 5 minutes.  Set aside to cool for 5 minutes.

Season the steak lightly with pepper. Brush the top side of the steak with the soy glaze, then broil the steak for 4 minutes.  Flip the steak with tongs, then brush the top the glaze and broil until it is done to your liking (see above!), about 4 more minutes. Remove the steak to a cutting board and let sit for 5 minutes.  Meanwhile, reheat the rest of the soy glaze over low heat for at least 4 minutes.

Thinly slice the steak and brush the slices with some of the reserved soy glaze. Transfer to a platter, and scatter the scallions, if using, over the sliced steak.  Toss the lime wedges on the edge of the platter and let everyone squeeze one (if they like) over their steak. Put the rest of the heated soy glaze in a small pitcher or bowl to serve at the table (drizzle over the rice).
Nutrition Information
Calories:
160
kcal
|
Carbohydrates:
21
g
|
Protein:
10
g
|
Fat:
4
g
|
Saturated Fat:
3
g
|
Cholesterol:
23
mg
|
Sodium:
973
mg
|
Potassium:
211
mg
|
Fiber:
1
g
|
Sugar:
18
g
|
Vitamin A:
49
IU
|
Vitamin C:
1
mg
|
Calcium:
30
mg
|
Iron:
1
mg
The nutrition values are provided as an estimate. It is not intended as a substitute for the advice of a qualified healthcare professional.
Made this recipe? Post a photo of your delicious creation on Instagram with our hashtag #dinnersolved