This post may contain affiliate links. Please read our privacy policy.
Fresh ginger is one of the greatest ingredients in our cooking arsenals. Spicy, bracing, zesty, assertive, uplifting. I use it in almost every stir-fry, in cocktails, in baked goods, in marinades. It's one of the easiest ways to add bang-for-your-buck flavor to so many dishes. And wait til you see this easy hack for peeling ginger!
Fresh ginger can be sliced, chopped, or minced. Then you are on your way to amazing dishes like Ginger, Mint, and Lime Marinade, Honey Ginger Salmon, and Butter Chicken. But keep scrolling — there are many original recipes below that feature the inimitable taste of fresh ginger!
How to Peel Ginger With a Spoon
While peeling ginger with a traditional vegetable peeler can absolutely be done, the lumps and bumps of ginger make it a little hard to navigate. Luckily, there is an easier way — a plain old teaspoon is a great tool for the task of peeling ginger. And it's so simple and safe that even little kids can do it!
The skin of ginger root is very thin, so just scrape over it with the edge of a teaspoon, with the convex side of the spoon towards you, pulling towards you. In no time, you'll have peeled ginger ready for chopping, slicing, or mincing.
Use the edge of the spoon to scrape up and over all of the little knobs.
Look closely at the photo below — you can even see little flecks of ginger juice coming off the bulb as it's being scraped! That's some fresh ginger!
And there's more good news — even little kids can help with this. If you give a willing child a knob of ginger and a teaspoon, you will give them something to keep them busy for quite a chunk of time and allow them to feel like a great kitchen helper as well. Make sure they (and you!) wash their hands thoroughly after, as ginger is spicy, so if they touch their eyes after, it could smart.
Removing the peel from a knob is ginger is so safe and easy – and then you can explore dozens of recipes (drinks, salsas, marinades, stir fries!) for using fresh ginger.

Tweet This
Do You Need to Peel Ginger?
If the ginger is going to be added to something you are eating and the ginger is on the larger, more mature side, then you should peel it. Also, cut off any woody bumps that may not feel as fresh and juicy. If the ginger is being used to add flavor to a drink or marinade and then is going to be strained out, you can skip the peeling unless the skin looks very thick or rugged.
If the ginger is small and very young, with a super thin skin, then you don't have to peel it.
How to Mince or Grate Fresh Ginger
Many recipes that use fresh ginger, such as stir-fries, marinades, and sauces, call for minced fresh ginger. Mincing ginger, or chopping it finely, allows it to flavor the dish completely without leaving big spicy chunks of fresh ginger in the dish. There are a few ways to mince ginger:
Use a microplane, which will create a very finely grated ginger pulp and remove all of the fibrous parts.
Grab a knife and a cutting board. Slice the ginger into coins, then slice those into thin sticks. Then, just keep mincing until you get to the chunkiness or fineness you are looking for.
Use a food processor to mince ginger. This works best for amounts in 2 tablespoons or more. If you are just mincing a small amount, you will probably want a small food processor, as a larger one has a big bowl and blade that might not let you get to the fine chop you want.
How to Add Fresh Ginger to Recipes
I cook with fresh ginger all the time, both in savory and sweet dishes. I just love the burst of slightly spicy, bold flavor.
In savory Asian dishes, fresh ginger is often paired with garlic or another member of the onion family. Ginger is featured heavily in Thai, Malaysian, Korean, Burmese, Japanese, Vietnamese, and, of course, Chinese cooking. Don't hesitate to throw a tablespoon of minced fresh ginger into almost any Asian recipe you can think of.
It is also used in other cuisines, such as Caribbean and West Indian, Indian, European, and American.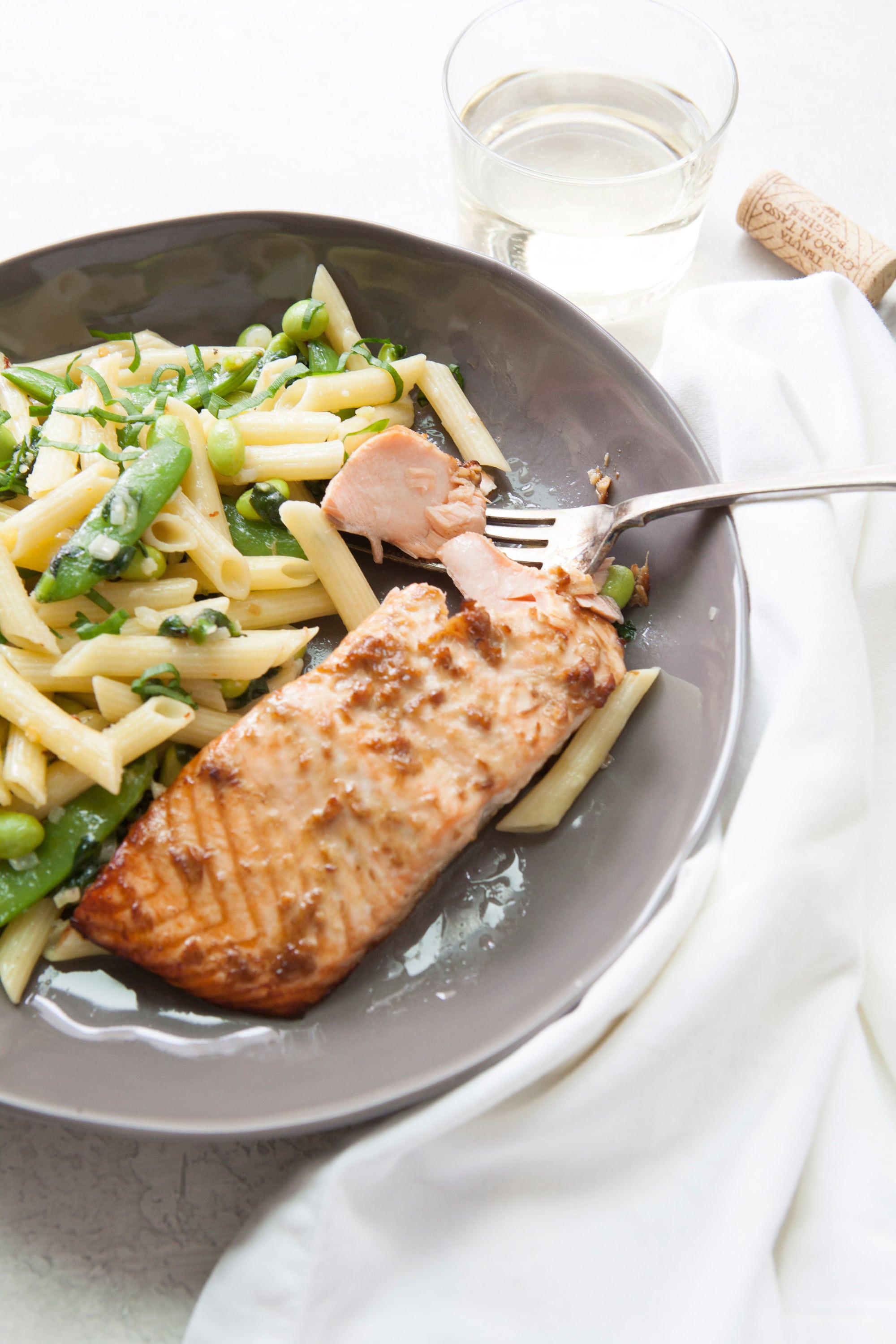 How to Use Fresh Ginger
Mince it and add it to stir-fries.
Use it in glazes and marinades.
Use it in an Asian-inspired pan sauce.
Add some minced ginger to Asian noodle dishes.
Ginger Simple Syrup
You can use ginger in cocktails and mocktails. The easiest way to get a ginger flavor into a drink is to make a simple syrup with ginger or some sort of liquid or tincture where the ginger is infused into a liquid and then strained out.
For ginger simple syrup, you don't have to peel the ginger unless you think the skin is not all that firm and fresh feeling. Simply bring 1 cup water and 1 cup sugar to a boil and add some crushed slices of fresh ginger (simply smash the slices lightly with the back of a chef's knife). Simmer for a few minutes, then turn off the heat and let the ginger steep for about 20 minutes as the liquid comes to room temperature. Strain out the ginger, transfer the syrup to a clean container, cover, and refrigerate for up to 2 weeks. Then add to your favorite drink.
Make Ginger Tea
Slice a 1-inch piece of ginger into thin slices and lightly crush them (again, simply use the back of a chef's knife to lightly smash the slices) to a cup of water, 1 teaspoon of honey, and one squeezed lemon quarter in a pot. Bring to a simmer over medium-high heat, simmer for 5 minutes, then turn off the heat. Strain out the ginger and lemon and drink hot. It's a great alternative to the warm water of a Hot Toddy.
How to Store Fresh Ginger
You can keep ginger in the refrigerator for up to 2 weeks before using it. Cut off any shriveled or wrinkled parts before adding ginger to a recipe. You can also freeze ginger in an airtight zipper top bag with all of the air pressed out. It is easy to grate in the frozen state; no need to defrost. You can peel it before or after freezing.
Peeled ginger will keep well when wrapped in plastic in the fridge for up to 1 week. Minced ginger will keep tightly sealed in the fridge for up to 5 days.
---
27 Sweet and Savory Ginger Recipes
Here are some of my favorite recipes with fresh ginger, a mix of Asian-inspired recipes, and other recipes that benefit from the pop of fresh ginger.
---
---
---
---
---
---
---
---
---
---
---
---
---
---
---
---
---
---
---
---
---
---
---
---
---
---
---