Oven Baked Ham
There are a whole bunch of occasions where you can expect (or at least not be surprised) to see a ham on the table. Easter, Christmas, holiday parties, potlucks, brunches, baby or bridal showers. Large gatherings (because hams are generally large) that need a crowd-pleasing main course to anchor a table or (often) a buffet.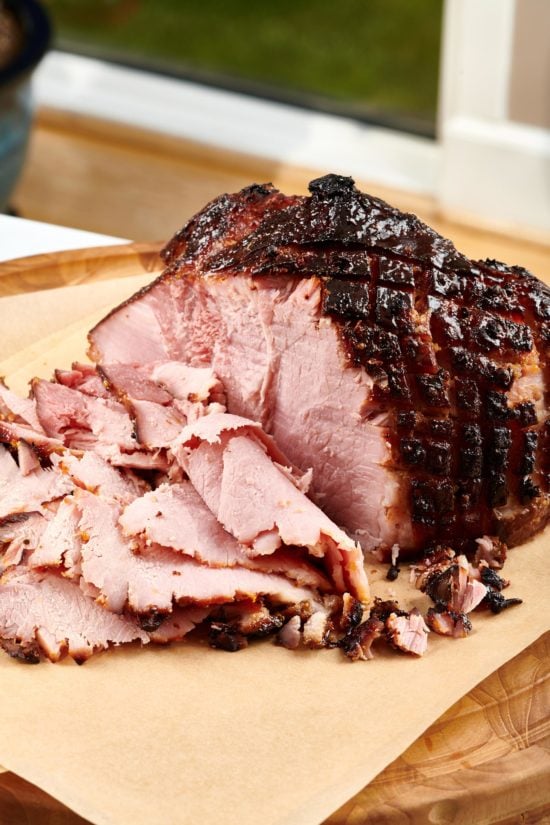 Pre-Cooked Ham
Almost all hams are sold smoked or cured – already cooked, as it were. You can buy a uncooked ham and cook it from scratch yourself, but they are harder to find, and unless you get yourself a very good recipe, you may find yourself with a dry piece of meat.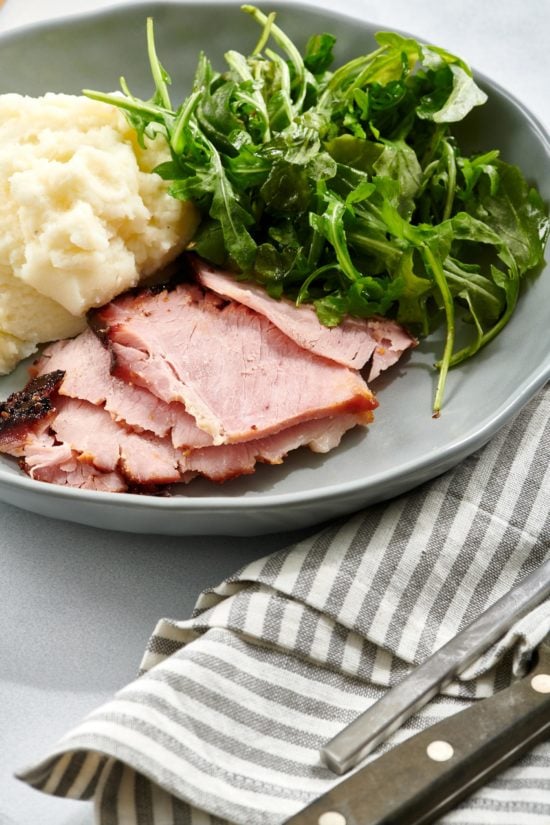 Most baked hams we've all enjoyed were cooked to begin with and then reheated thoroughly in the oven. Often there is a glaze on the ham, frequently one with sweetness to it. Cloves are another very popular flavor, and the quintessential, iconic, traditional image many of us have when we think of ham is a ham that is shiny with a glaze, perhaps crosshatched, and sometimes studded with whole cloves. This is that ham.
Leftover home cooked ham makes ham sandwiches that are a notch above what you can buy sliced at a deli. I like my ham sliced very, very thin, as thin as I can manage, but you may feel differently. However, I also like to pluck little bits of ham directly from the whole ham as I'm slicing it, so I guess I'm not that picky after all.
The classic, perfect baked ham — shiny with a tangy sweet glaze, crosshatched, ideal for Christmas, Easter, and any large gatherings that call for a ham.

Tweet This
What to Serve with Baked Ham:
Other Holiday Main Dish Recipes:
Like this recipe? Pin it to your favorite board on Pinterest.

Pin This
Classic Baked Ham
The classic, perfect baked ham — shiny with a tangy sweet glaze, crosshatched, ideal for Christmas, Easter, and any large gatherings that call for a ham.
Ingredients
1

10-pound smoked or cured bone-in ham

, approximately

1

cup

light or dark brown sugar

½

cup

Dijon mustard

¼

cup

maple syrup

5

teaspoons

whole cloves

(optional)
Directions
Position a rack in the lower third of the oven making sure there is room for the ham to fit. Preheat the oven to 300°F.

Cut off the ham's tough outer skin and any excess fat and toss. Score the ham, which means to make crosshatch cuts all over the surface (see photos), about ½ inch deep and 1/2 to 1-inch apart. Place the ham in a roasting pan.

Bake the ham for 1 ½ hours.

Stir the sugar, mustard and maple syrup together in a bowl. Remove the ham from the oven, and raise the temperature to 375°F. Use a brush to coat the ham with the brown sugar glaze, using about half of the glaze. Carefully (the ham is hot! Rubber cloves are helpful here) insert a clove into the center of each cross hatched diamond, if desired.

Return the ham to the oven and bake for another 60 to 90 minutes, brushing on some additional glaze every 30 minutes or so, if you have the time and are in the kitchen. The ham should have an internal temperature of 165°F; check with a meat thermometer.

Transfer the ham to a cutting board and let sit for at least 20 minutes. You are welcome to let the ham cool for longer, or even come to room temperature as well.

Slice the ham, thinly or thickly, and serve warm or at room temp.
Nutrition Information
Calories:
395
kcal
|
Carbohydrates:
14
g
|
Protein:
43
g
|
Fat:
18
g
|
Saturated Fat:
4
g
|
Cholesterol:
166
mg
|
Sodium:
2694
mg
|
Potassium:
672
mg
|
Fiber:
1
g
|
Sugar:
13
g
|
Vitamin A:
4
IU
|
Vitamin C:
53
mg
|
Calcium:
32
mg
|
Iron:
2
mg
The nutrition values are provided as an estimate. It is not intended as a substitute for the advice of a qualified healthcare professional.
Made this recipe? Post a photo of your delicious creation on Instagram with our hashtag #dinnersolved