I am a huge arugula fan, and luckily (though somewhat surprisingly) my family is too, even my kids from a pretty young age. If you like spicy, then you'll like this lettuce.
What Is Arugula?
Arugula, also known as rocket, especially in Europe, is a lettuce. It is also called rucola, rucoli, rocket salad, roquette, Italian cress, and salad rocket. It can be harvested and found as baby arugula, which is smaller, more tender, and more delicate, or more mature arugula which is a bit rougher in texture and stronger in taste.
What Does Arugula Look Like?
Arugula looks like long slightly spiky leaves. The leaves can be tiny and softer in shape, one or two inches long, or much larger with a dramatically defined outline, depending on how mature the plant was when the leaves were harvested.
What Does Arugula Taste Like?
Peppery. The larger the leaves, the more peppery it is usually, and sometimes overblown arugula leaves can taste a bit bitter.
How Do I Know What Arugula to Buy?
Arugula can be found at farmers markets in early summer, but all year round in supermarkets. Sometimes it is sold loose, in a bulk bin, by weight. Often it is packaged in a clamshell or plastic bag. Look for smaller leaves with a consistent green color and no fading or browning. And definitely look for leaves that are dry and not at all slimy, whether the arugula is loose or in a container.
How Do You Prepare Arugula?
Arugula may come pre-washed in bags, or you may need to give it a quick rinse and dry before using.
How Can You Use Arugula?
Arugula can be eaten uncooked or cooked. You can use arugula uncooked in salads, either on its own, or in combination with other lettuces. Because it is quite peppery, it is often used as part of a lettuce blend, especially if the arugula is more mature and stronger in taste. It's nice in sandwiches as well. You can also use it in recipes like soups, crostinis, lasagnas and other pasta dishes, pestos, vegetable sautes, and stir fries.
How to Use Arugula: plus how to cook, chose, store, and make the best use of this versatile spicy green.

Tweet This
How Do You Cook Arugula?
Arugula is usually used raw, but it can be used in cooked dishes as well, much like spinach or other greens, or a fresh herb. Sauteing is one way to cook arugula, or including it in simmered, baked or roasted dishes.
What Cuisines Use Arugula?
It's very popular in Italy where it is used in many ways, and often is strewn over a pizza after it comes out of the oven. It's also popular in Brazil, Argentina, Cyprus, Egypt and Turkey.
One of my favorite ways to use arugula is to roughly chop it and then use it to finish a dish instead of chopped parsley or another herb.
When is Arugula in Season?
Arugula is in season from the spring through the fall, though during the hotter months of the summer it may be stronger in flavor.
How Do I Store Arugula? And How Long Will Arugula Keep?
Don't wash arugula until you are ready to use it. Arugula will last in the refrigerator for about one week, loosely wrapped in a plastic bag.
---
8 Arugula Recipes
Use Arugula in these recipes!
This pan sauce begs for some rice or crusty bread so you don't lose one drop.
---
Proof that salads can be sexy.
---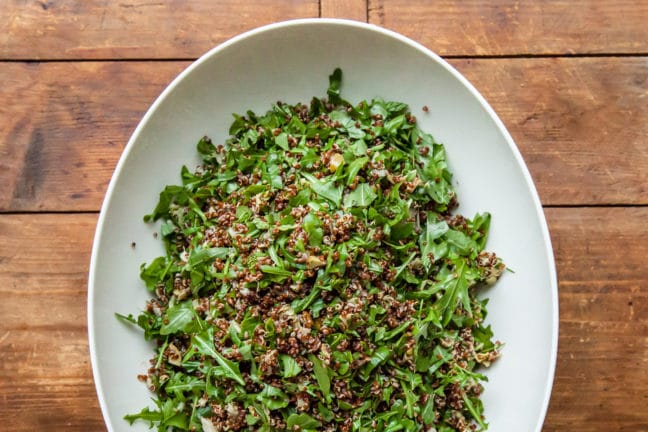 Sometimes a side dish will steal the show—and when that's the case, maybe it should be the main dish.
---
A tangle of fresh greens play so beautifully against rich lamb. This is a very impressive main dish, and not hard at all.
---
A little burst of citrus in a salad is beautiful on many levels.
---
The herbiest-freshest-greenest dipping sauce yet for my roasted baby potato obsession.
---
A handful of supporting ingredients turn a couple of handfuls of arugula into an amazing pan sauce.
---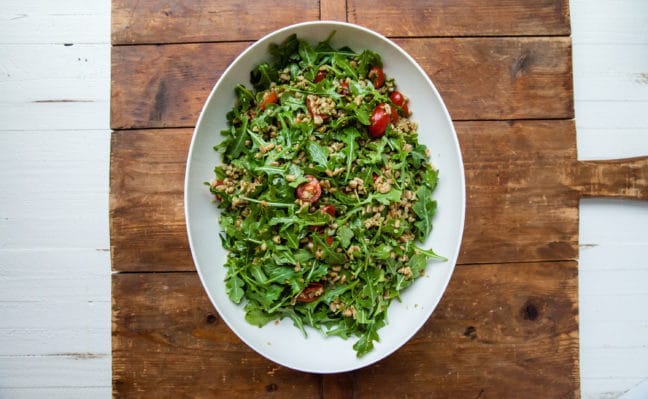 The combo of greens and grains is always a good one, and this salad is pulled together with a citrusy vinaigrette.
---