I am such a flat-out sucker for an old-school Chinese food recipe. I grew up in a time when there were still Pu-Pu Platters to be found at Chinese restaurants as a common occurrence. What happened to Pu-Pu platters? Was the name just too silly? Did the food just stop appealing, or become linked with something old-fashioned and often mediocre? I would kill for someone to put down a big round plate of shellacked ribs and crab rangoon dumplings and fried chicken wings in front of me. I may have to go on a little Pu-Pu platter vision quest.
Which is why when I saw Sweet and Sour Chicken on a menu recently I knew I wanted to make that right away. I knew it would be a Gary hit—and I also resigned myself to the fact that it would not be a Charlie hit. Sweetness and/or fruit in savory things in not his jam.  But that's ok.  More pineapple for me.
What is Sweet and Sour Chicken Made Of?
The main ingredients in sweet and sour chicken are chicken, pineapple, and bell peppers. The sauce is a combination of brown sugar, ketchup, vinegar and ginger. Often the chicken is deep fried, but here it is pan fried, first coated in an egg white and cornstarch mixture, so that is gets crispy in the hot pan.
Healthy Sweet and Sour Chicken
Because the chicken is stir fried and not deep fried, this recipe uses much less oil than some other recipes. Choose pineapple chunks canned in juice and not syrup. The amount of sugar is small, and there are plenty of nutritious peppers in the mix.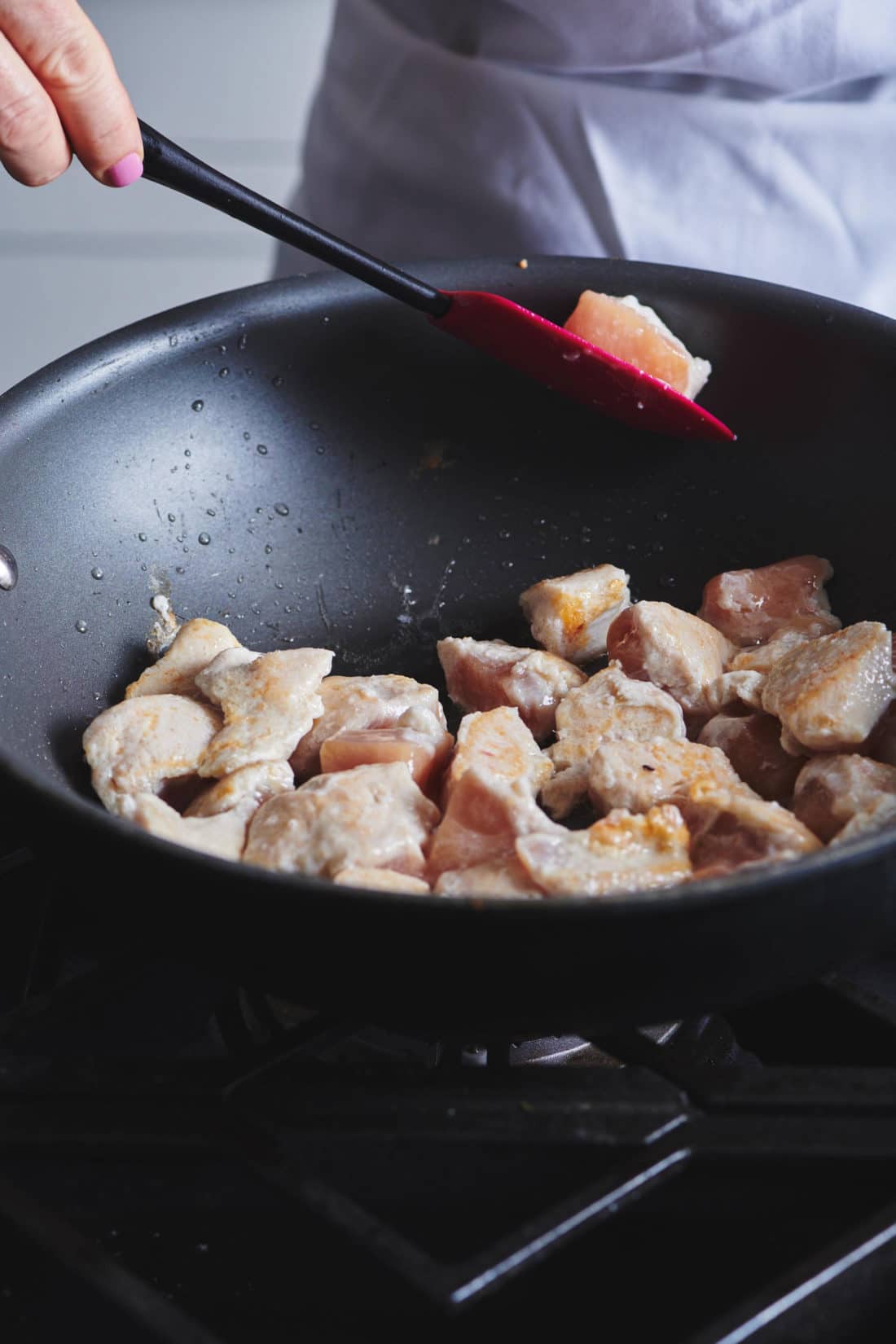 How to Make Chinese Sweet and Sour Chicken
It comes together super fast. You toss some cubed chicken with a few ingredients, and make a simple sauce to have waiting in the wings. That's all of say 7 minutes, including cutting up the chicken.
Then you quickly stir fry the chicken in a large skillet or wok. I actually find a skillet as least as useful as a wok for stir-frying as there is more surface area for the outside of the food to be in contact with the pan. Remove with a slotted spoon. This is 3 minutes start to finish.
In the same skillet, saute the peppers with some ginger for 2 minutes, then add the pineapple (canned or fresh are both good) and the sauce. I realized that I didn't even use garlic in this dish—it's just simple and sweet and very gentle. Add a teaspoon of garlic if you must. You can use any color bell peppers that you like, and mixing more than one hue makes this dish really pretty.
Sweet and Sour Chicken: This pretty, sweet and gentle old-school Chinese-American favorite comes together in 20 minutes.

Tweet This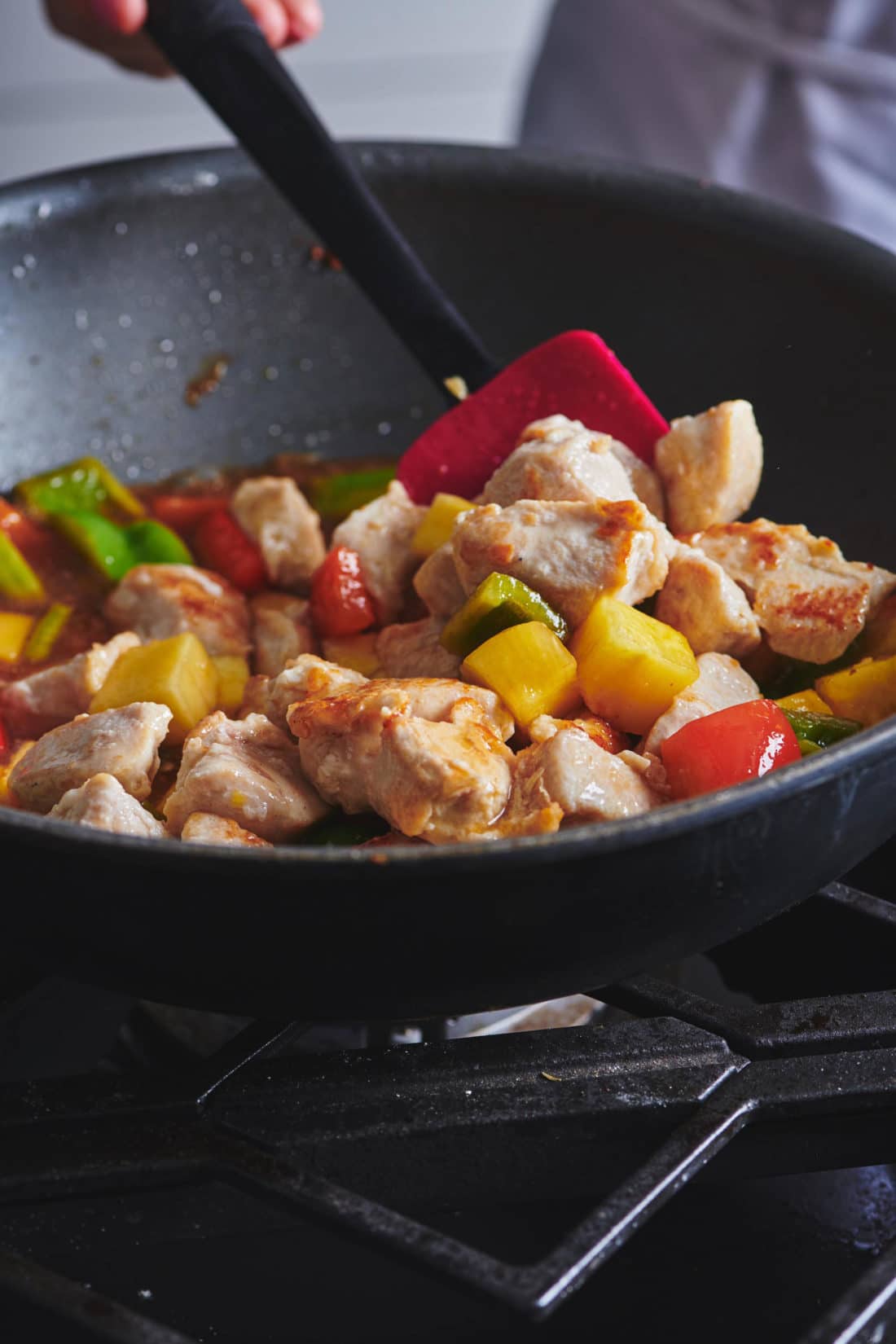 Return the chicken to the pan, give it another few minutes to finish cooking, and you are done. You will want to have put the rice on the stove at least 10 minutes before your start the stir fry, or your Hot and Sour Chicken will be cooling before the rice is finished. It takes about 10 minutes from the point the chicken first hits the skillet.
I like white rice with this—fully leaning into the old schoolness of the dish. I am now officially an old lady, "Why when I was a child, they never offered brown rice at a Chinese restaurant! That was unheard of!"
Other Stir Fry Recipes:
Some older school than others.
Like this recipe? Pin it to your favorite board on Pinterest.

Pin This
Sweet and Sour Chicken
This pretty, sweet and gentle old-school Chinese-American favorite comes together in 20 minutes.
Ingredients
2

large egg whites

1

tablespoon

cornstarch

1

pound

boneless skinless chicken breasts

cut into 1-inch pieces

1

8-ounce can pineapple chunks in juice, drained and juice reserved (or use 1 cup fresh pineapple cubes)

¼

cup

cider vinegar

¼

cup

low-sodium chicken broth

2

tablespoons

ketchup

2

tablespoons

brown sugar

2

tablespoons

vegetable or canola oil

divided

1

red bell pepper

cut into 1-inch pieces

1

green bell pepper

cut into 1-inch pieces

2

teaspoons

grated fresh ginger

Kosher salt to taste
Directions
In a large bowl combine the egg whites, cornstarch, and ½ teaspoon of salt. Add the chicken and toss to coat well.

Whisk together the reserved pineapple juice, vinegar, chicken broth, ketchup and brown sugar.

Heat a very large skillet or a wok over high heat. Add 1 tablespoon of the oil, turn to coat the bottom of the pan, then add the chicken, allowing any excess egg white to drip back into the bowl. Stir-fry for 3 minutes, so that the chicken pieces brown slightly on all sides. Remove the chicken with a slotted spoon to a plate and set aside.

Add the remaining tablespoon of oil to the pan, then the bell peppers and the ginger and stir-fry for 2 minutes. Add the sauce and the pineapple chunks. Bring the sauce to a simmer, lightly season with salt to taste, then return the chicken to the pot with any juices that have accumulated, and allow it to simmer for another few minutes until the chicken is cooked through. Serve hot.
Nutrition Information
Calories:
292
kcal
|
Carbohydrates:
22
g
|
Protein:
27
g
|
Fat:
10
g
|
Saturated Fat:
6
g
|
Cholesterol:
73
mg
|
Sodium:
234
mg
|
Potassium:
676
mg
|
Fiber:
2
g
|
Sugar:
18
g
|
Vitamin A:
1142
IU
|
Vitamin C:
69
mg
|
Calcium:
23
mg
|
Iron:
1
mg
The nutrition values are provided as an estimate. It is not intended as a substitute for the advice of a qualified healthcare professional.
Made this recipe? Post a photo of your delicious creation on Instagram with our hashtag #dinnersolved