What is a Curry?
That is a very big question, and one which merits in depth and authoritative discussion – there are reasons entire books have been written about curry!
In short, curry is a term for a wide variety of dishes from India (and also some other Southeast Asian countries) which are characterized by a complex and layered combination of spices, and often a sauce. Cumin, coriander, turmeric, ginger, and chili peppers are mainstays of Indian curry blends, but then the different kinds of spices that can be included grows exponentially from there.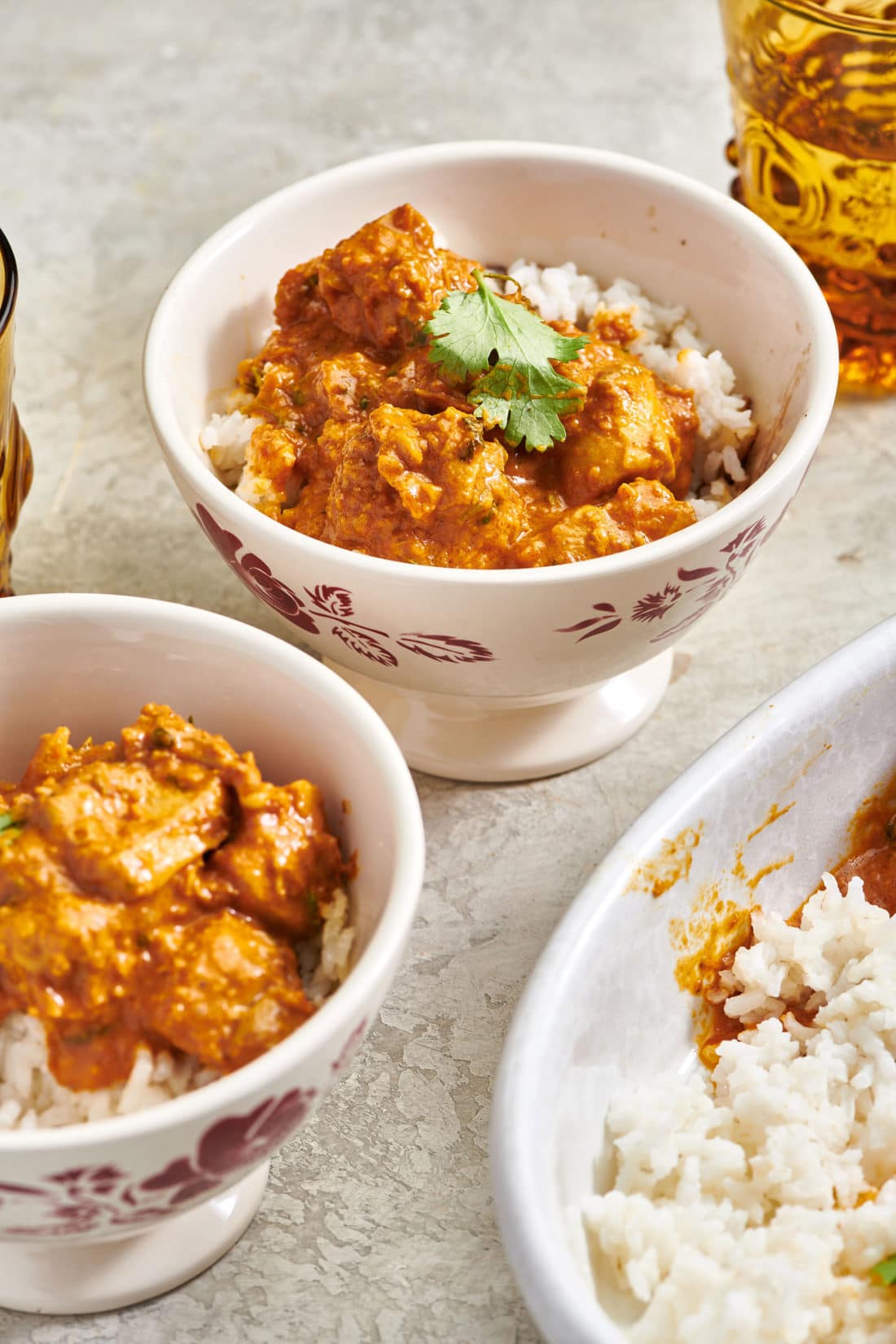 What is Curry Powder?
Curry powder, a blend found easily in U.S. supermarkets and all around the world, is actually a Western invention, attached to the British Colonial government in the 18th and 19th centuries. It's really a shortcut product designed to allow those without large spice pantries or deep knowledge of Indian food approximate homemade spice blends.
Skilled Indian chefs are usually not big fans of commercial curry blend, but I think that whatever gets a cook to try his or her hand at Indian food is a-ok.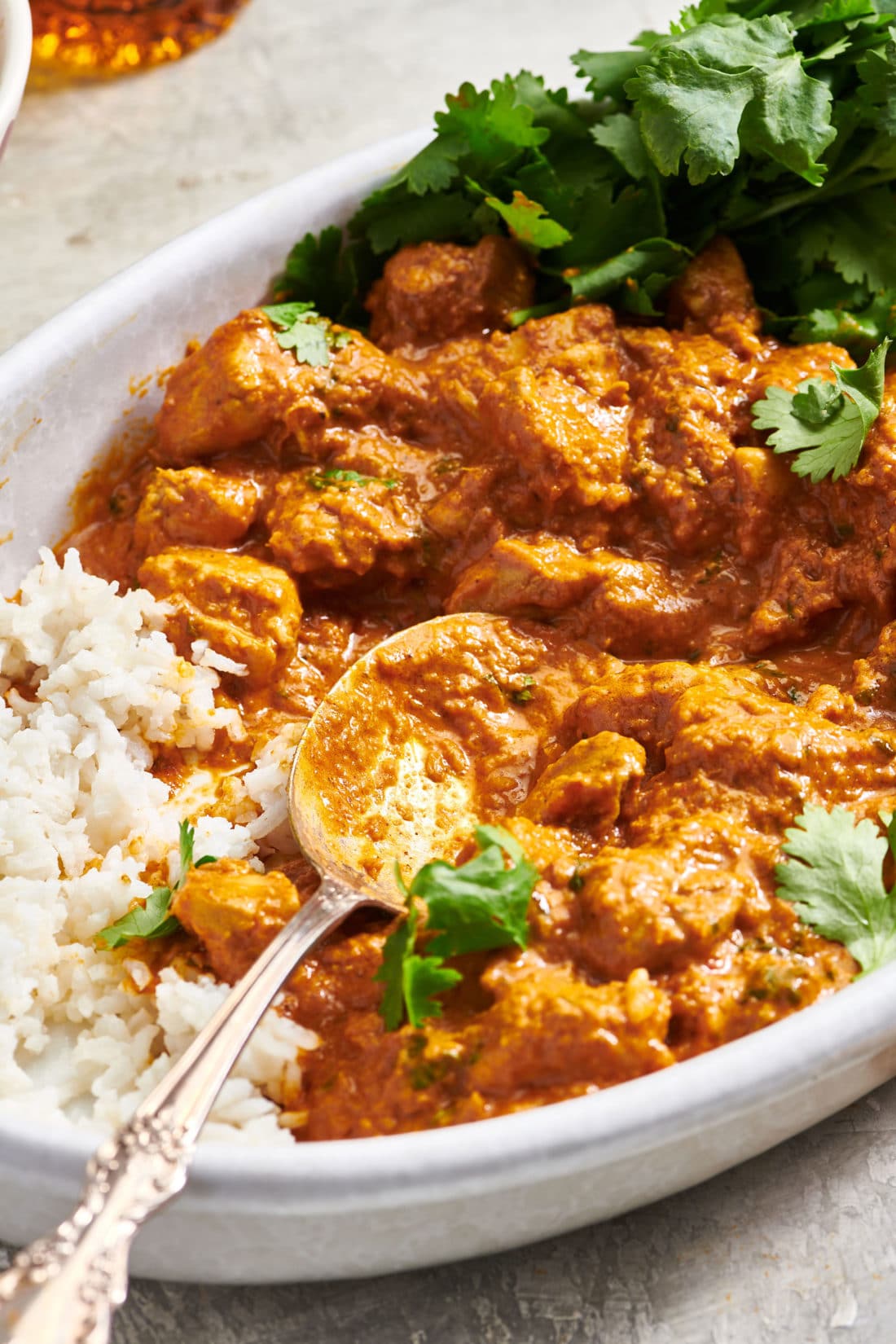 Having said that, I have some wild spice allergies, and can't feel safe with prepackaged spice blends, so I always make my own.
Curries may container meat, poultry, vegetables, fish, vegetables, a combination of some of the above. Curries may be wet or dry, though most commonly they have some sort of sauce. The term curry extends to dish outside of the Indian Subcontinent, Southeast Asian countries in particular, but that's a whole other topic (think coconut milk curries).
Now, over to Butter Chicken.
Butter Chicken (Murgh Makhani): Butter Chicken is one of the most popular curries of Northern India, well spiced but not spicy, with an addicting sauce.

Tweet This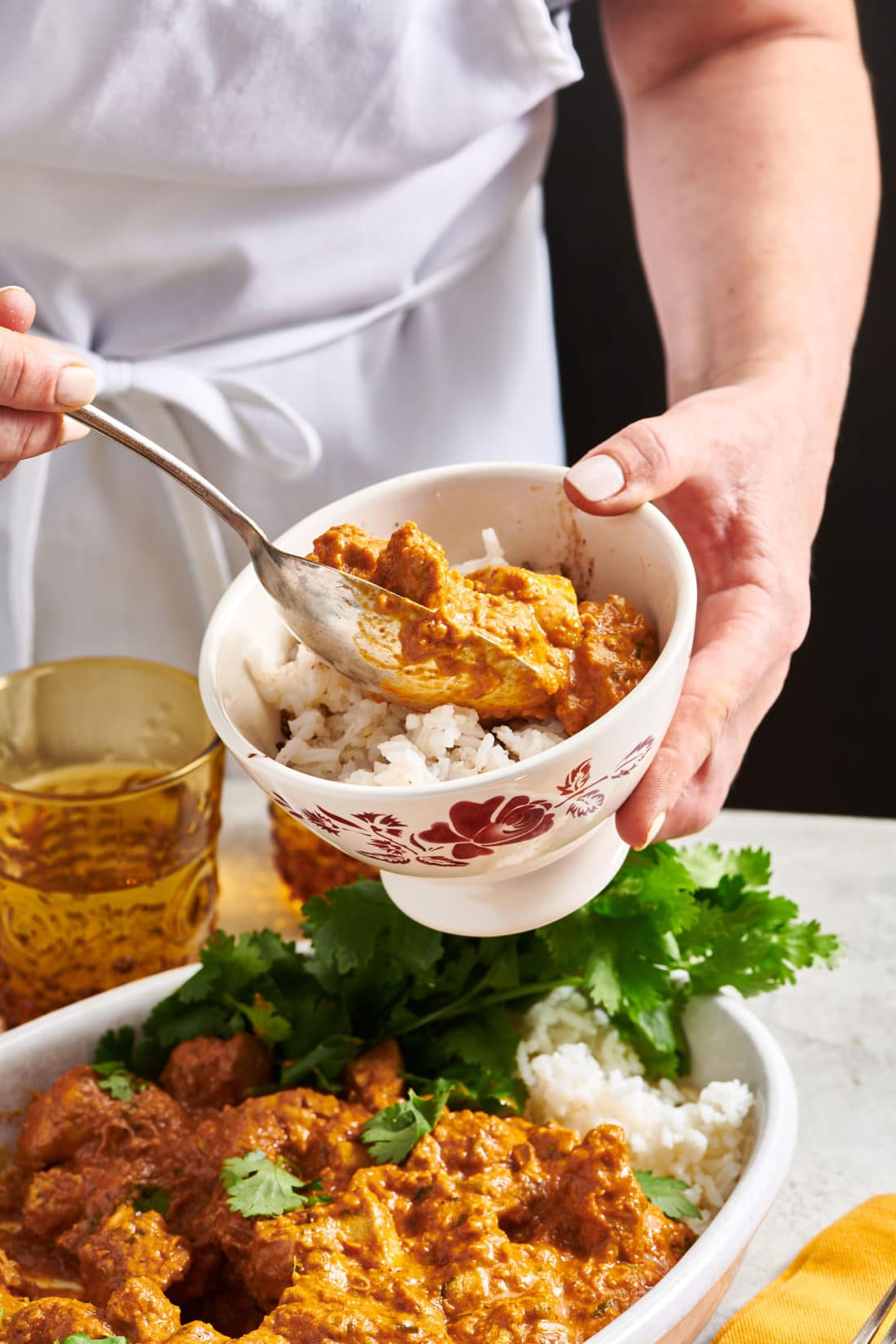 Indian Butter Chicken
Butter Chicken is one of the most popular curries of Northern India. It's well spiced but not spicy; people get nervous about curries being uncomfortably hot but that just isn't the case here, and with many recipes.
The spices can vary (this is the story of all curries!) but the ones I used are some of the classics in butter chicken: fennel seeds, cumin, cinnamon, fenugreek, bay leaves, coriander, ginger, turmeric, cloves and cayenne. But every Indian cook will have their own combo.
FTC Disclosure: As an Amazon Associate I earn from qualifying purchases.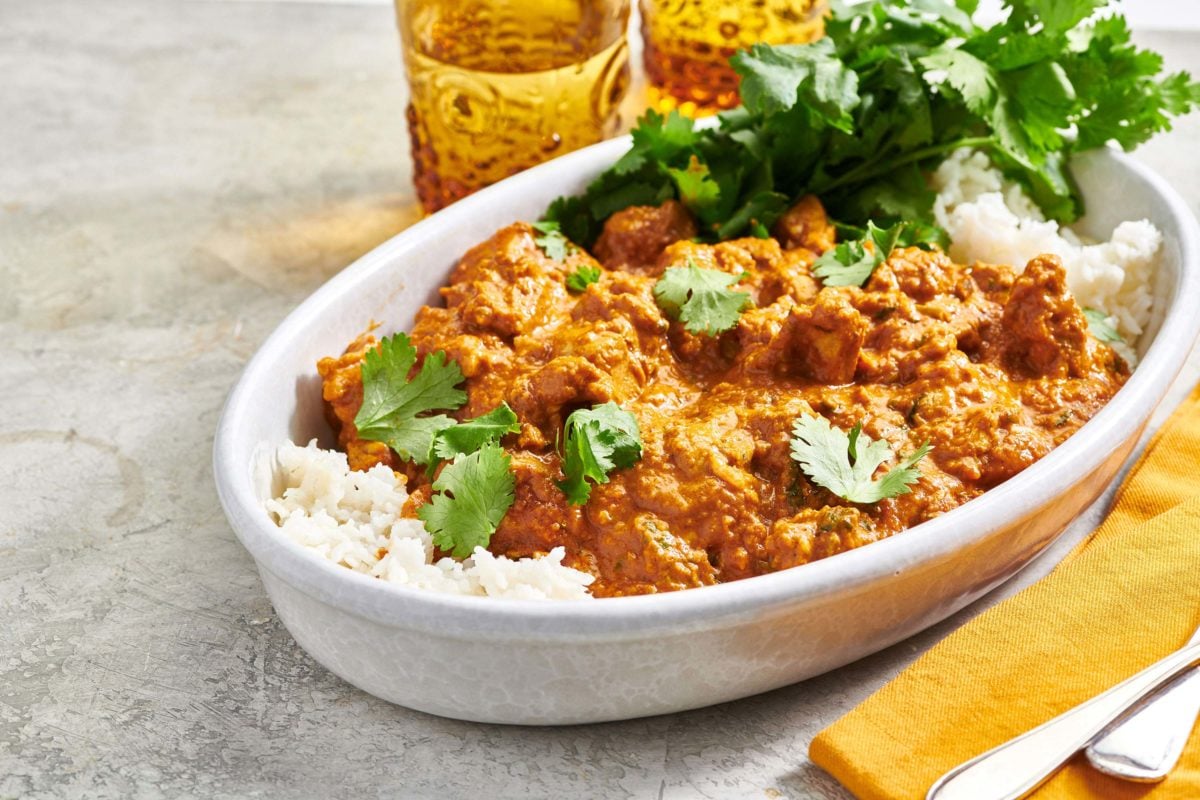 Butter Chicken Sauce
The chicken is finished in a tomato-based sauce enriched with butter and cream, and it is addicting. Bay leaves and a cinnamon stick add additional flavor to the sauce. I added the fenugreek and a touch of sugar thanks to the advice or Indian restaurateur Roni Mazumdar of the restaurants Adda Indian Canteen, Rahi, and The Masala Wala in New York City. I happened to be talking with him right after I made my first butter chicken, and he mentioned the dish, so of course I tapped him for his thoughts.
He says, "the bitterness from the fenugreek opens up your taste buds so that you can taste the spices and the salt, and the sugar better. Balancing the sugar with the salt – that's what matters most. It brings the dish to a more authentic space." The touch of sweetness is what makes the sauce so perfectly balanced. I made the dish again with these adjustments, and have been grateful for Roni's tips.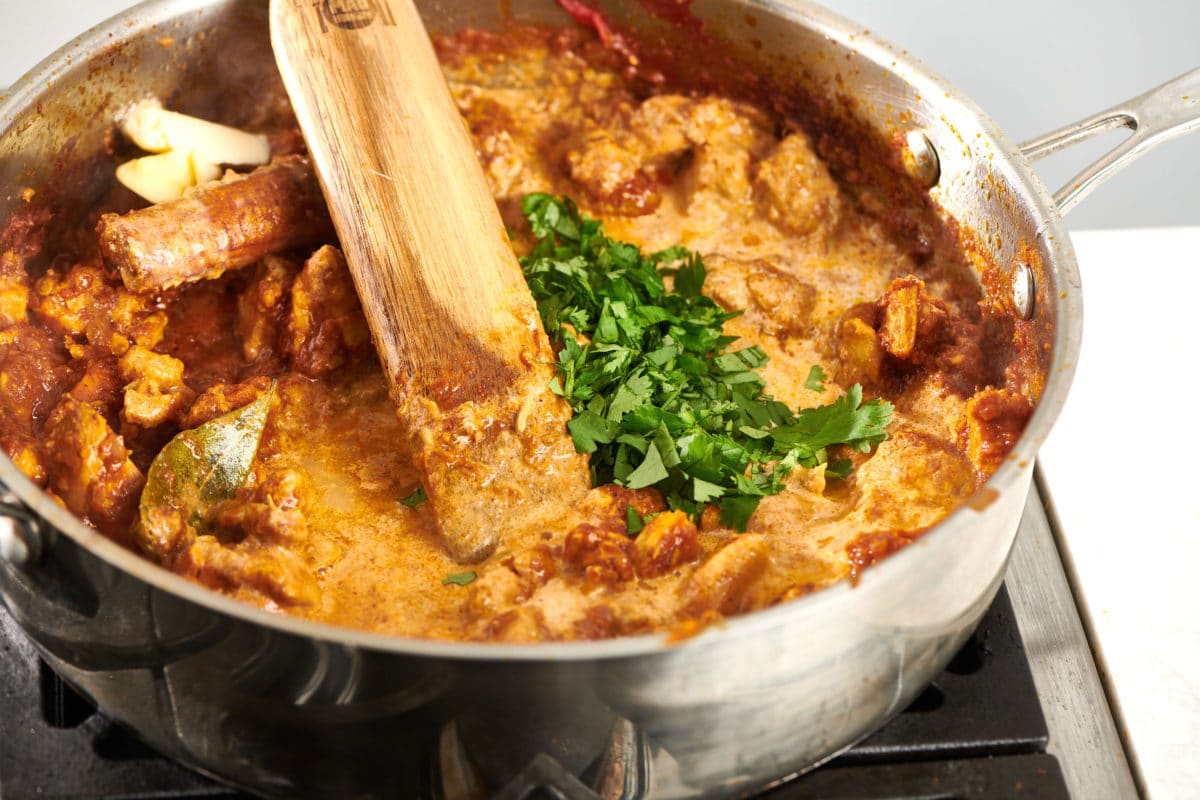 Other Curry Recipes:
Like this recipe? Pin it to your favorite board on Pinterest.

Pin This
Butter Chicken (Murgh Makhani)
Butter Chicken is one of the most popular curries of Northern India, well spiced but not spicy, with an addicting sauce.
Ingredients
1

onion

, quartered

3

cloves

garlic

1

1-inch piece fresh ginger

, peeled

1

teaspoon

fennel seeds

(optional)

1

teaspoon

ground cumin

1

teaspoon

ground coriander

1

teaspoon

sugar

½

teaspoon

ground ginger

½

teaspoon

ground turmeric

¼

teaspoon

ground cloves

⅛

teaspoon

cayenne pepper

½

teaspoon

kosher salt

, or more to taste

½

teaspoon

freshly ground black pepper

, or more to taste

2

pounds

boneless skinless chicken thighs

, cut into 1 ½ inch pieces

6

tablespoons

unsalted butter

, divided

1

can

(8 ounces) tomato sauce

3

tablespoons

tomato paste

1

cup

chicken broth

or water

½

teaspoon

ground fenugreek

1

cinnamon stick

½

cup

heavy cream

1

tablespoon

fresh lemon juice

½

cup

chopped fresh cilantro

Hot cooked rice

for serving, preferably basmati or jasmine
Directions
Place the onion, garlic, ginger, fennel seeds, if using, cumin, coriander,sugar, ginger, turmeric, cloves, cayenne, salt and pepper in a food processor and puree it into a paste.

Melt 4 tablespoons of the butter in a large deep skillet over medium-high heat. Add the chicken pieces and cook until the outside is golden brown but the inside is still not quite cooked, about 8 minutes in all. Stir occasionally but don't fiddle with the pieces too often so they get browned. Transfer the chicken to a plate.

Add the pureed paste to the skillet and cook over medium heat for 2 minutes, stirring frequently, until it becomes slightly tender and very fragrant. Stir in the tomato sauce, tomato paste, broth or water, ground fenugreek, cinnamon stick and bay leaves and bring to a simmer. Add the partially cooked chicken and return to a simmer, adjusting the heat as needed, and simmer until the chicken is cooked through and the sauce has thickened a bit, about 10 minutes.

Add the cream, the remaining 2 tablespoons butter, lemon juice and cilantro and stir until the butter has melted and everything is hot and blended; don't allow it to boil. Serve hot over rice.
Nutrition Information
Calories:
387
kcal
|
Carbohydrates:
9
g
|
Protein:
31
g
|
Fat:
25
g
|
Saturated Fat:
13
g
|
Cholesterol:
201
mg
|
Sodium:
770
mg
|
Potassium:
684
mg
|
Fiber:
2
g
|
Sugar:
4
g
|
Vitamin A:
1091
IU
|
Vitamin C:
11
mg
|
Calcium:
59
mg
|
Iron:
3
mg
The nutrition values are provided as an estimate. It is not intended as a substitute for the advice of a qualified healthcare professional.
Made this recipe? Post a photo of your delicious creation on Instagram with our hashtag #dinnersolved