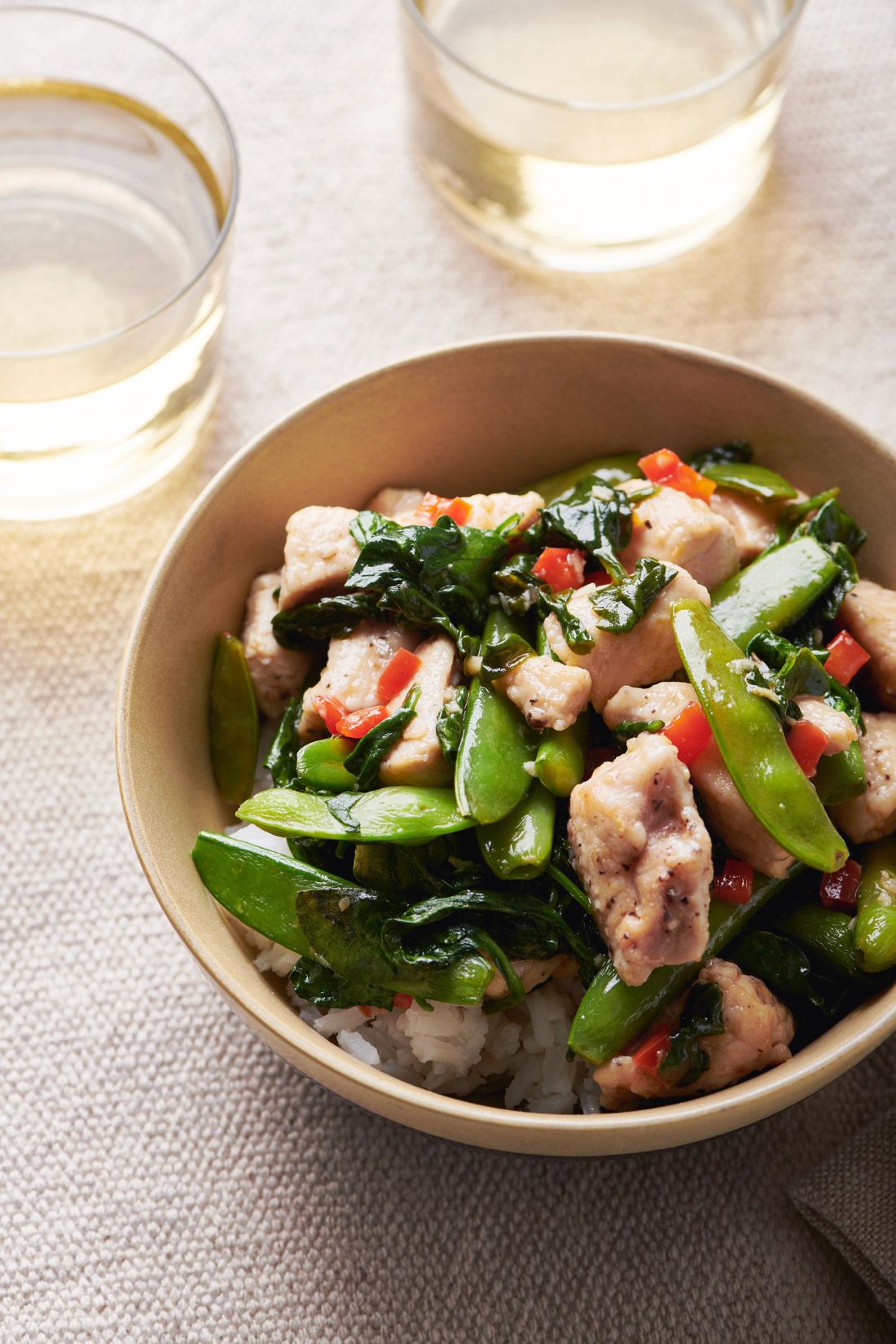 After the holidays, what we want to eat becomes a little divergent. One the one hand, after a steady diet of stuffed birds and figgy puddings we seek something lighter, that feels a little bit clean with being penitent. One the other hand, it's cold out there, and we want something satisfying to curl up with. What to do, what to do….
What's that I see? (Insert upbeat superhero music here) A stir-fry on the horizon? (Insert hoofbeats) Why that's just the thing.
If Gary gets to pick what's for dinner, he picks stir fry (Jack picks tacos, Charlie is less predictable). Gary doesn't care what's in the stir fry: Lemon and Scallion Chicken Stir Fry, Chicken and Cabbage Stir Fry with Miso Sauce, Spicy Stir Fried Beef and Vegetables, all good.
Like most stir-fries (and certainly the ones I make) this is fast, and simple, and immensely flavorful without being heavy. Stir fries are wonderfully adaptable, so let's dig into the ways you can make this your own with what you have.
First, you can leave pretty much any single ingredient out and you'll have a great stir fry. Use chicken thighs instead of breasts (give them an extra couple of minutes in the first saute, as they take a bit longer to cook). Or use cubed pork, shrimp or strips of beef suitable for stir fry (tender cuts). Shrimp will take less time, just about a minute for each batch.
Over to the vegetables: this recipe calls for sugar snap peas,spinach ,and bell peppers. You can use truly any vegetable you have instead: asparagus, mushrooms, broccoli florets, carrots. Just add them according to density, with the longer cooking vegetables, like carrots or mushrooms, going in first, and the shorter cooking vegetables at the end, like asparagus.
I usually serve stir fries with rice, though occasionally noodles.  If Gary is very, very lucky I might cook up some noodles and then heat some oil in a screaming hot pan, and make fried noodle pancakes to heap the stir fry on. 
Just spread the noodles out in the hot pan in a layer and let them cook until the bottom is crisp and lightly browned, the flip them over with a wide spatula.   You can also slide the noodles onto a plate, and then invert them back into the pan if that is more comfortable for you – be very careful of the hot oil splattering.
The crispy noodle disk is a great textural counterpoint to the stir fry, and get a little soft as it soaks up the sauce. Yum, yum, and yum.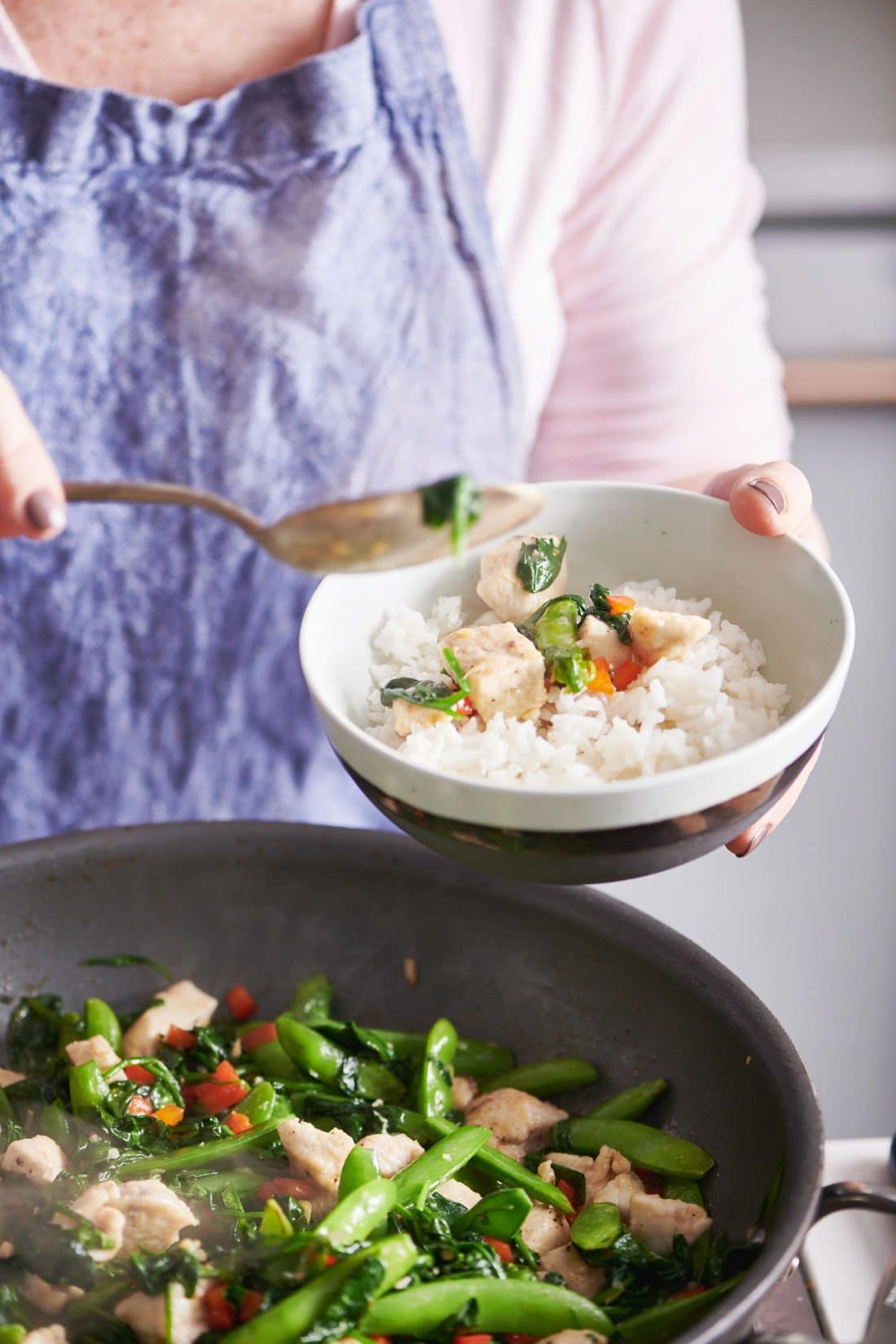 More stir fry recipes!
And you may also want to know: How to Cook Perfect Rice on the Stove.
Chicken and Spinach Stir-Fry with Ginger and Oyster Sauce
Never too many stir fries. This one features chicken,but is loaded with vegetables.
Ingredients
1

pound

boneless, skinless chicken breasts

cut into 3/4-inch dice

1

teaspoon

kosher salt

divided

½

teaspoon

freshly ground black pepper

1

tablespoon

cornstarch

½

pound

sugar snap peas

trimmed and de-stringed

1

cup

diced red bell pepper

½

pound

baby spinach

2

tablespoons

oyster sauce

1

teaspoon

sesame oil

½

teaspoon

sugar

2

tablespoons

vegetable oil

divided

2

teaspoons

minced fresh ginger

2

teaspoons

minced garlic

½

cup

chicken broth

Hot cooked rice or quinoa

to serve
Directions
In a large bowl, toss the chicken with about half of the salt, the pepper and the cornstarch until the chicken is well coated. Set aside.

In a small bowl mix together the oyster sauce, sesame oil, and sugar.

Heat a large skillet or wok, preferably nonstick, over medium high heat. Heat 1 tablespoon of the vegetable oil in the pan, then add the ginger and garlic and give a brief stir. Add half the chicken and stir fry until it turns white, about two minutes. Transfer the partially cooked chicken to a plate with a slotted spoon and stir-fry the rest of the chicken for two minutes. Transfer to the plate with the first batch of chicken.

Return the pan to medium high heat. Add the remaining tablespoon oil, then add the sugar snap peas and peppers and sauté for 1 minute, then add the spinach by the handful and stir-fry until it wilts, adding more as the volume goes down, until all of the spinach is added and somewhat wilted, about 4 minutes. Add the chicken broth and bring to a simmer. Add the oyster sauce mixture, and return the partially cooked chicken to the pan. Simmer, stirring occasionally for another two minutes, until the chicken is cooked through. Serve over the hot rice or quinoa.
Nutrition Information
Calories:
279
kcal
|
Carbohydrates:
15
g
|
Protein:
30
g
|
Fat:
12
g
|
Saturated Fat:
7
g
|
Cholesterol:
73
mg
|
Sodium:
1160
mg
|
Potassium:
1268
mg
|
Fiber:
5
g
|
Sugar:
5
g
|
Vitamin A:
12450
IU
|
Vitamin C:
117
mg
|
Calcium:
151
mg
|
Iron:
5
mg
The nutrition values are provided as an estimate. It is not intended as a substitute for the advice of a qualified healthcare professional.
Made this recipe? Post a photo of your delicious creation on Instagram with our hashtag #dinnersolved