Tomato lovers wait all year for this moment, where plants in the garden are struggling with the weight of those gorgeous red (or yellow or orange) orbs, and the tables at the farmers' markets are threatening to buckle under the load. We slice and eat them as fast as we can….but we still can't keep up, nor can we get enough.
This is when is fresh tomato sauce comes into play, turning a basketful of ripe tomatoes into an easy dinner. You can of course make this with tomatoes that are not labeled heirloom—the main reason I'm calling this heirloom is because combining a variety of colorful tomatoes might not get you that rich red color you are looking for, but it will get you a festive and ever-changing medley of tomato flavors.
Sometimes I just chop up the ripest tomatoes and toss them with hot pasta, a bit of garlic and oil, and a handful of slivered basil, and call it a day. But if you want to make your tomatoes into a real heirloom tomato sauce, all it takes is a few extra ingredients and a little time.
How to Make Fresh Heirloom Tomato Sauce
The blanching of the tomatoes (giving them a dunk in boiling water, and a bath in ice water) is a quick way to rid yourself of the tomato skins, which means a more luxurious sauce. If you have a food mill, and plan to put the sauce through the mill when it is cooked, you can skip that step: the food mill will prevent the skins from going through into the sauce. As for the seeds and the juice, just let the whole inside be part of the sauce—no need to seed.
You can really cook the tomatoes for as little or as long as you want, and you'll still have a lovely clean sauce. The longer you cook the sauce, the thicker and more concentrated it will get.
Also, if you prefer a chunky rustic sauce, just skip the blending step altogether. You can use absolutely any tomatoes you like. Some are more meaty, some have more water and seeds, and the sauce's consistency, flavor and color will vary according to what kind of tomatoes you use.
This Pasta with Fresh Heirloom Tomato Sauce recipe makes great use of an abundance of fresh garden tomatoes and herbs in the summer.

Tweet This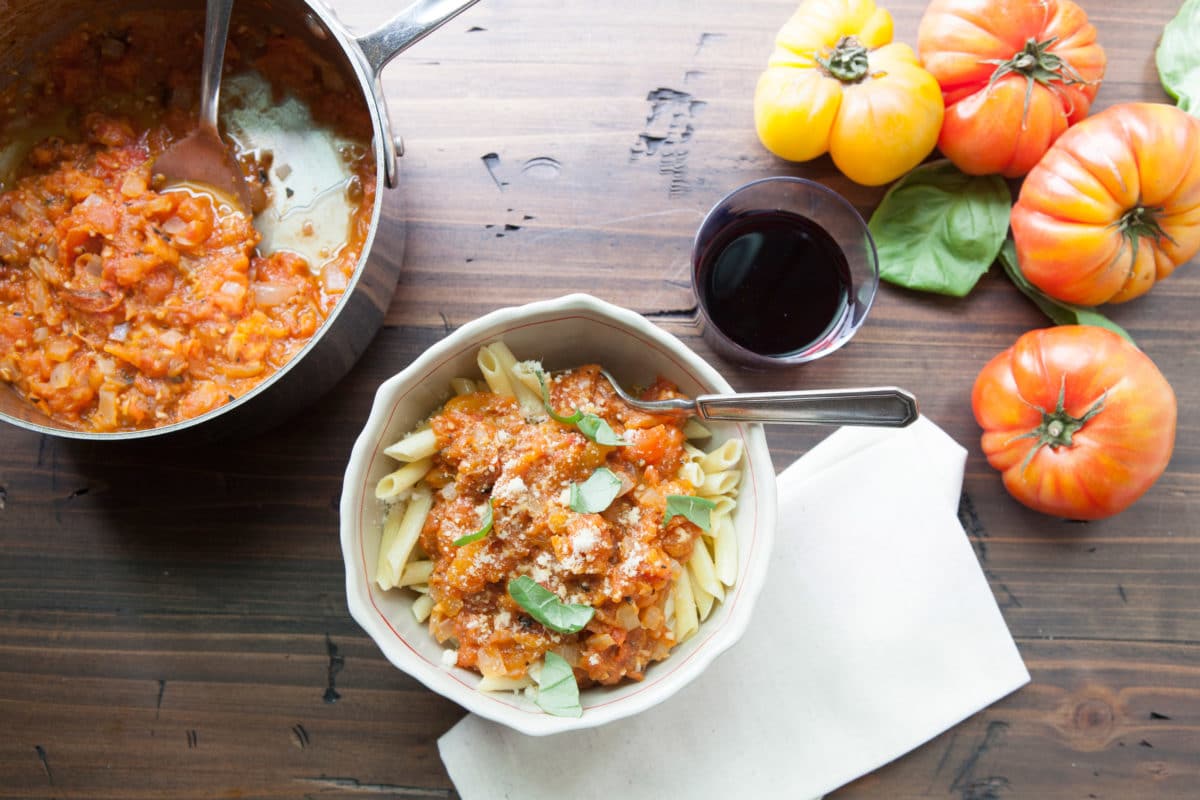 Seasoning Heirloom Tomato Sauce
I use a mix of oregano and thyme and basil, and then finish the dish with some shredded fresh basil on top. You can switch up the herbs any which way you like.
And if you have the opportunity to mix different varieties of tomatoes then you'll get a blend of different notes of sweetness and acidity. The tiny bit of sugar bumps up the natural sweetness of the tomatoes; it's a nice touch.
However you make it, this Pasta with Fresh Heirloom Tomato Sauce is the quintessential summertime pasta meal.
More Summertime Pastas:
Like this recipe? Pin it to your favorite board on Pinterest.

Pin This
Pasta with Fresh Heirloom Tomato Sauce
How to turn a basketful of ripe tomatoes into an easy dinner.
Ingredients
4

pounds

ripe tomatoes

3

tablespoons

olive oil

1

onion

chopped

5

cloves

garlic

minced

½

teaspoon

red pepper flakes

optional

½

teaspoon

sugar

1

teaspoon

chopped fresh thyme leaves

6

large basil leaves

chopped or shredded

1

teaspoon

chopped fresh oregano

1

pound

dried pasta

any kind

Kosher or coarse salt and freshly ground black pepper to taste

Freshly grated Parmesan cheese to serve

(optional)
Directions
Bring a large pot of water to a boil. Fill a large bowl with ice water.

Make an x with a sharp knife on the bottom end of each of the tomatoes. Drop the tomatoes into the boiling water, cook for 60 seconds, then remove with a slotted spoon to the ice water. Let cool for a minute or two minutes.

Place the tomatoes on a cutting board with a groove to catch the juices, and dump out the ice water, reserving the bowl. Peel off the tomato skins, then roughly chop the tomatoes, discarding the stem and any white core. Transfer the chopped tomatoes to the bowl with all of the juices.

Meanwhile, return the same pot that you cooked the tomatoes in to the stove over medium heat. Add the olive oil, then add the garlic and onions and sauté, not allowing the garlic and onions to get more than lightly golden, for about 5 minutes, until soft. Stir in the red pepper flakes if using and season with salt and pepper. Add the tomatoes and all of their juices, and turn the heat up to high. Bring to a simmer, add the sugar, and cook for about 10 to 20 minutes until the sauce is as thick as you like it. Stir in the fresh herbs. Check and adjust the seasoning.

While the tomato sauce finishes cooking cook the pasta according to package instructions. At this point if you like a chunky sauce you can simply drain the pasta, return it to the pot, and toss with the sauce to combine. Or you can use an immersion blender to puree the sauce as smooth as you'd like right in the pot, or carefully transfer it to a food processor or blender and pulse or puree the mixture — in batches if necessary — until it reaches the desired consistency.

Serve in a large shallow serving bowl, or in individual bowls. Pass the Parmesan for those who want it.
Nutrition Information
Calories:
411
kcal
|
Carbohydrates:
71
g
|
Protein:
13
g
|
Fat:
9
g
|
Saturated Fat:
1
g
|
Sodium:
24
mg
|
Potassium:
922
mg
|
Fiber:
7
g
|
Sugar:
11
g
|
Vitamin A:
2605
IU
|
Vitamin C:
44
mg
|
Calcium:
60
mg
|
Iron:
2
mg
The nutrition values are provided as an estimate. It is not intended as a substitute for the advice of a qualified healthcare professional.
Made this recipe? Post a photo of your delicious creation on Instagram with our hashtag #dinnersolved