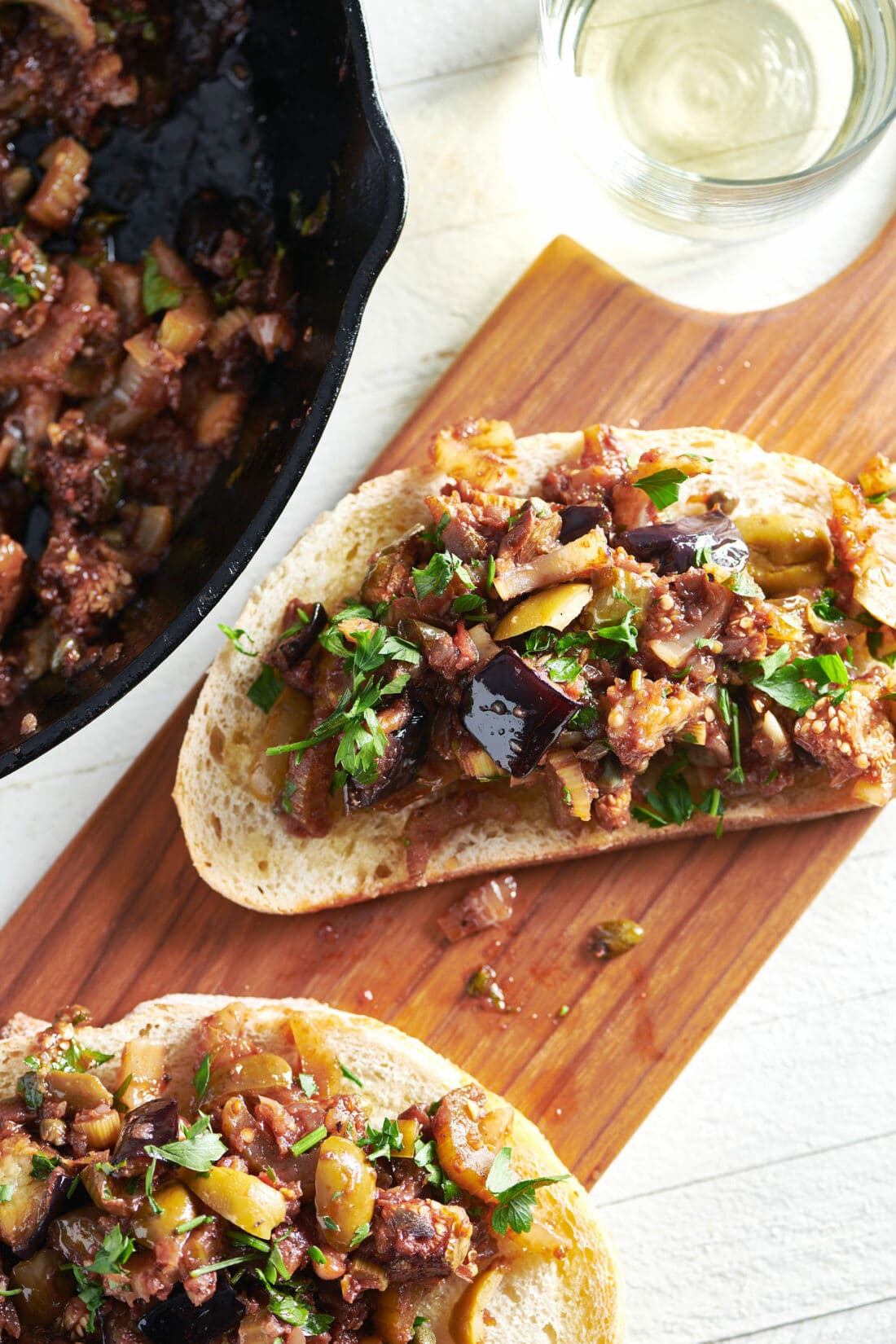 It's too bad that most dishes made with eggplant aren't prettier. I mean eggplant Parm (coming soon!) is quite pretty, but that's thanks to melty mozzarella, which can make anything look pretty. And the tomato sauce, which remains pretty distinct. But other stewed or roasted eggplant dishes – not going to win the beauty contest.
What is Caponata?
But if you know caponata, or if you just plain old happen to like eggplant, then all is forgiven, yes? Eggplant is a fabulous vegetable, super versatile, indispensable in a vegetarian diet (unless you don't like eggplant; then it's dispensable).
Caponata is a Sicilian eggplant salad, made with vinegar, some sweetness, olives and capers, and tomatoes. Sometimes pine nuts. I prefer not to peel the eggplant, but if you think the skin is particularly thick, or you just don't like the texture, you can peel it if you wish.
There are many ways to make caponata, and unsurprisingly many people who feel like their way is the right way. I have seen the celery blanched instead of sautéed, but I felt like that was a corner I could cut, though I kept the sautéing time short, so the celery would retain some of the crunch.
What Type of Eggplant to Use for Caponata
I used a combo of smaller eggplant instead of one big purple one (more classically Italian) when we shot this recipe. I used a mix of round steaked Thai baby eggplants, some Japanese eggplants, and you can mix and match which kinds you use. You are looking for about 1 ¼ to 1 ½ pounds total eggplant.
Sauteing Eggplant
Sometimes a lot of oil is used to cook eggplant, and the eggplant is basically deep fried – sometimes it's just sautéed. I used a generous amount of oil, but not a deep-frying level of oil. And I have seen recipes with a lot more sugar (or sometimes honey), but I have no love for sweet vegetable salads. And because you salted the eggplant, you won't need to add any additional salt as you prepare the recipe – plus there is salt coming from the capers and olives.
The parsley at the end is not optional. It's not a garnish – it's an ingredient. This salad is earthy and lusty and begs for the freshness a big handful of chopped parsley brings. You could also try mint, though maybe a slightly smaller amount. Also, basil.
How to Eat Caponata
You can eat caponata at room temperature or cold, but the flavors will be more developed at room temperature. Caponata will last in the refrigerator for up to a week.
Caponata is eaten as part of an antipasti plate, or on its own to start a meal. It's also a great side dish for everything from chicken to fish to pork. My favorite way to serve and eat caponata is on toast, essentially caponata bruschetta, which is very fun and feels quite Italian to say.
Caponata: This classic Sicilian eggplant salad, made with vinegar, some sweetness, olives, capers, and tomatoes is amazing heaped on bruschetta or just served as a hearty side.

Tweet This
And here it is with Killer Roasted Chicken and a simple salad. A very good pairing.
What to Serve with Caponata: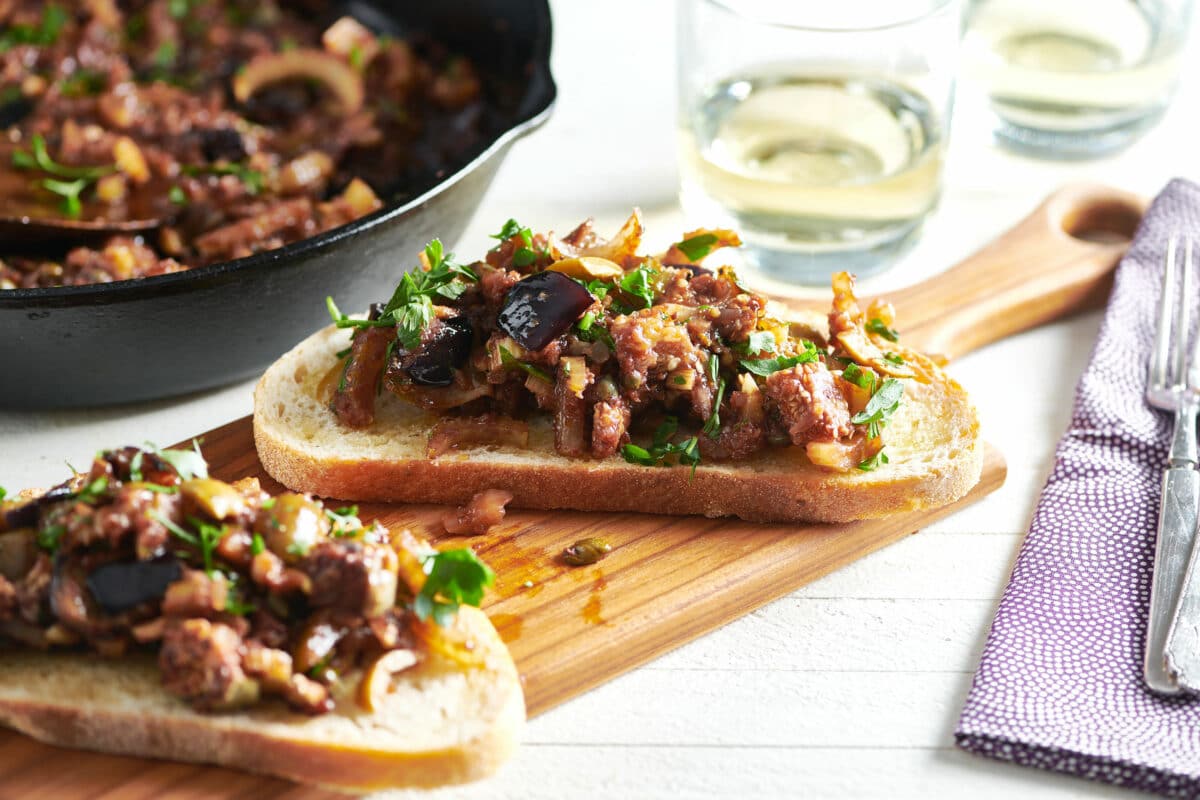 Other Mediterranean Sides:
Like this recipe? Pin it to your favorite board on Pinterest.

Pin This
Caponata
This classic Sicilian eggplant salad, made with vinegar, some sweetness, olives, capers, and tomatoes is amazing heaped on bruschetta or just served as a hearty side.
Eggplant Resting Time
1
hour
Total Time:
1
hour
22
minutes
Ingredients
1

eggplant

(about 1 ¼ to 1 ½ pounds), cut into 1-inch cubes

Kosher salt

⅓

cup

plus 2 tablespoons olive oil

(if needed)

1

cup

chopped onion

2

cups

sliced celery

(preferably hearts)

¼

cup

tomato paste

1

cup

green olives either pitted or with pimentos

¼

cup

drained and rinsed capers

2

tablespoons

sugar

⅓

cup

red wine vinegar

½

cup

chopped parsley
Directions
Place the eggplant in a colander, sprinkle with a generous amount of kosher salt, 3 to 4 teaspoons, toss the eggplant with the salt, and let sit in the colander in the sink or over a bowl for 1 hour. Turn the eggplant onto a dry clean dishtowel, and pat dry with another dry clean dishtowel.

Heat the 1/3 cup oil in a large skillet over medium-high heat. When the oil is hot, add the eggplant (in batches if it is too much to cook in a single layer. Cook for about 6 minutes, stirring occasionally, until the eggplant is tender and lightly browned. While the eggplant is cooking, line a paper plate of baking sheet with paper towels. Use a slotted spoon to transfer the cooked eggplant to the paper towels.

If there is no more oil left in the skillet, then add the remaining two tablespoons olive oil and heat over medium high heat. Add the onions and saute for 4 minutes until almost tender. Stir in the celery and saute for another minute. Stir in the tomato paste, then add 1 cup water and bring to a boil. Add the capers, sugar, vinegar, and the cooked eggplant. Bring to a simmer, lower the heat slightly, stir in the olives, and simmer for 5 minutes.

Cool to room temperature. Refrigerate for up to a week. Serve chilled or at room temperature.
Nutrition Information
Calories:
204
kcal
|
Carbohydrates:
16
g
|
Protein:
2
g
|
Fat:
16
g
|
Saturated Fat:
2
g
|
Sodium:
672
mg
|
Potassium:
457
mg
|
Fiber:
5
g
|
Sugar:
10
g
|
Vitamin A:
855
IU
|
Vitamin C:
14
mg
|
Calcium:
53
mg
|
Iron:
1
mg
The nutrition values are provided as an estimate. It is not intended as a substitute for the advice of a qualified healthcare professional.
Made this recipe? Post a photo of your delicious creation on Instagram with our hashtag #dinnersolved