My family likes nothing better than an Italian, red sauce-y, baked pasta dish on a chilly night. I love how easy they are to throw together. This one is kind of like an unstructured lasagna. You can use any meat sauce (or even a vegetarian tomato sauce) in place of the Bolognese. Just make a simple green salad and you are good to go.
While most of us think of Parmesan when thinking of sharp dry, grated Italian cheeses, in fact Grana Padano is (and has been for a long time) Italy's best-selling cheese worldwide. Who knew? Grana Padano is a cheese created by monks approximately 1,000 years ago as way for the dairy farmers of northern Italy's Po Valley to preserve excess milk from their herds. Again, who knew?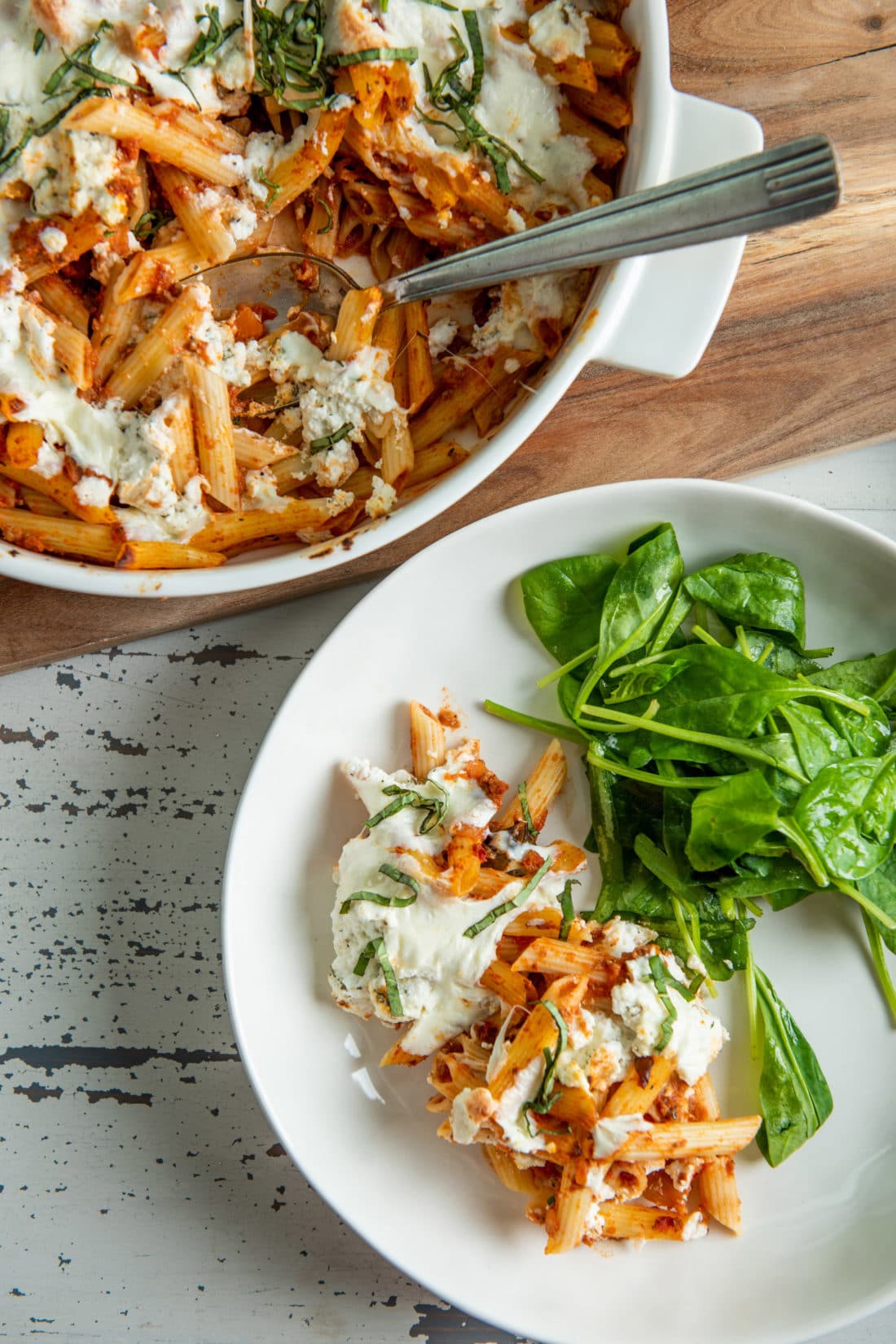 You can buy Grana Padano in chunks or pre-grated. It has a pale yellow color and a surprisingly sweet flavor. It's made exclusively with milk from Italian Holstein-Friesian cows (you knew that, right? I mean I did, before I looked it up….I just wanted to make sure), and aged anywhere from 12 to 16 months, 16 to 20 months, or between 20 to 30 months, deepening in flavor and intensity over time. And that's the Grana Padano lesson of the day.
A super solid, super satisfying cold weather pasta casserole—kind of a deconstructed lasagna.

Tweet This
Add some red pepper flakes if you want a bit of a kick, and sprinkle on some grated Parmesan just before baking, or even at the table, for a bit of extra flavor. A sprinkle of fresh basil never did an Italian pasta any harm in the history of pasta.
You can chop the basil right before sprinkling (don't do it far ahead of time or it will blacken around the edges), or just rip it into tiny bits with your fingers. Or if you want to make it super pretty you can chiffonade the basil. What that means is to very thinly slice the basil into strips, which looks cool and restaurant-ey. And it's dead simple.
Stack up a few basil leaves one on top of the other—3 to 5 is good. Roll the leaves up on a cylinder from top to bottom or side to side, either way works. Use a sharp knife to thinly slice across the little basil roll, and you'll see the the cut slivers of basil will unfurl into super thin little ribbons. If you want all the details on chiffonading basil, click here. Pretty, right?
You can assemble this dish in the morning or even the night before and keep it in the fridge, then bake it right before serving.
The kids can grate the mozzarella if you are buying it whole, they can pick the shape of the pasta, such as rigatoni, ziti, penne, whatever you like. They can measure the ingredients, mix up the ricotta mixture, mix the sauce with the pasta, dollop on the ricotta, and sprinkle on the cheese. This is a very kid-friendly recipe, as long as you make sure they know how to handle the hot noodles while combining them with the sauce.
Other beefy, cheesy dinners:
Like this recipe? Pin it to your favorite board on Pinterest.

Pin This
Simple Baked Pasta with Bolognese Sauce
A super solid, super satisfying cold weather pasta casserole—kind of a deconstructed lasagna.
Ingredients
½

pound

dried short tubular pasta

1 ½

cups

ricotta

¼

cup

Grana Padano cheese

1

teaspoon

dried oregano

½

teaspoon

dried basil

Kosher salt and ground pepper to taste

2

cups

Bolognese sauce

store-bought or homemade

½

pound

grated mozzarella cheese

thinly sliced

chiffonaded fresh basil to serve
Directions
Preheat the oven to 350°F.

Cook the pasta in a large pot of salted water according to package directions.

While the pasta is cooking mix together the ricotta, Grana Padano, dried oregano, dried basil, salt and pepper in a medium-sized bowl.

Drain the pasta and return it to the pot. Add the Bolognese sauce and stir to combine. Transfer the pasta to a shallow 2-quart baking dish. Spoon tablespoons of the ricotta mixture over the top of the pasta, tucking it down into the pasta slightly. Sprinkle the top with the grated mozzarella.

Bake the casserole for about 30 minutes until everything is hot and the cheese is melted and the top is golden brown. Serve hot, with the basil sprinkled over the tip.
Nutrition Information
Calories:
596
kcal
|
Carbohydrates:
54
g
|
Protein:
34
g
|
Fat:
27
g
|
Saturated Fat:
16
g
|
Cholesterol:
96
mg
|
Sodium:
1179
mg
|
Potassium:
672
mg
|
Fiber:
4
g
|
Sugar:
8
g
|
Vitamin A:
1373
IU
|
Vitamin C:
9
mg
|
Calcium:
590
mg
|
Iron:
3
mg
The nutrition values are provided as an estimate. It is not intended as a substitute for the advice of a qualified healthcare professional.
Made this recipe? Post a photo of your delicious creation on Instagram with our hashtag #dinnersolved