I feel like everyone has a somewhat Proustian garlic bread memory. Or if they don't they should. A moment in time, or a restaurant where garlic bread was at the center of the universe and all other foods faded away in the shadow of this, one of the world's most perfect foods.
And such a simple food, too. My garlic bread remembrance stems from a restaurant in City Island called J.P.'s. It was a big, weird place, with a kind of smelly carpet (which my mom mentions every time the name of the restaurant comes up). The reason the carpet was a little smelly is because it was a seafood restaurant, and all day and all night long the place was filled with people eating fish, mussels, clams and most importantly lobsters. We celebrated many a birthday and anniversary and other milestones at this place, and cracked many a claw.
A Basket of Garlic Bread
But first, there was always garlic bread. A waiter would deposit a big basket on the table as soon as you sat down, and everyone would just tear right into it. The bread was insane, dripping with an ungodly amount of butter and probably some oil, riddled with chopped fresh garlic, and glistening on the top. Butter ran down your wrist as you shoveled it in. It was worth almost ruining your dinner for.
The whole meal was decadent—we always started with steamers (steamers! Oh, steamers…), then lobsters of course, because that's why we were there. There was a salad because we are a civilized family, and there were also French fries. My father always ended his meal with a piece of key lime pie.
My father was not a light eater. In fact, I remember one dinner there with some long-time friends of theirs—the man was named Victor and he was a doctor, and aside from being a doctor he has also just had heart surgery, so he was eating with restraint. My father was eating assiduously. At one point Victor put down his fork and looked at my dad and said, I think admiringly and enviously, something like, "well, that's a thing of beauty." We all looked at my dad. Who was in the process of dipping a French fry into his little cup of melted butter. Talk about spitting into the wind.
Anyway, that's what I think of when I think of garlic bread, and I need to start asking people to share their garlic bread memories because I think we all have them. And we can create more garlic bread memories, because it is so stupidly easy to make.
How to Make the Best Garlic Bread Ever
Making great garlic bread is downright easy, and this garlic bread recipe is pretty foolproof.
Blend up some softened butter with minced garlic, parsley, Parmesan and salt.
Best Garlic Bread Ever: Garlic bread is one of the most perfect foods of all time, and one of the easiest to make."

Tweet This
Smear it in between slices of partially sliced baguette or Italian bread. Be a bit generous with the butter and get it on both sides of each slice of bread, but don't go too nuts—stop short of J.P. levels of butter, unless it's a very special dinner. Use good butter if possible (meaning European-style butter). I like to use unsalted butter, so I can add in the amount of salt I like, and also use more coarse kosher or sea salt, which also gives a little salty crunch.
Baking Garlic Bread
Wrap the bread in foil but leave the top of the foil open while baking it. This is my favorite way to cook any type of flavored bread, and I make a lot of these types of bread. It is, to me, the perfect cross between the crunchy top and the soft inside. Wrapping it completely in foil is an option of you like a fully soft garlic bread. Baking it with no foil on a rimmed baking sheet is also an option of your like your bread with a crunchy hard crust all around.
What to Serve with Homemade Garlic Bread
I wish I had a photo of garlic bread alongside a big old lobster. But I don't. I did serve it up with some leftover Chicken Marbella drumsticks and a Chickpea Salad that I have been playing with all summer. And on another night, with Grilled Chicken Breasts with Lime, Roasted Garlic and Fresh Herb Marinade. And now I'm dreaming up a reason to head to J.P.'s for a lobster, and hoping my garlic bread recollection is still accurate.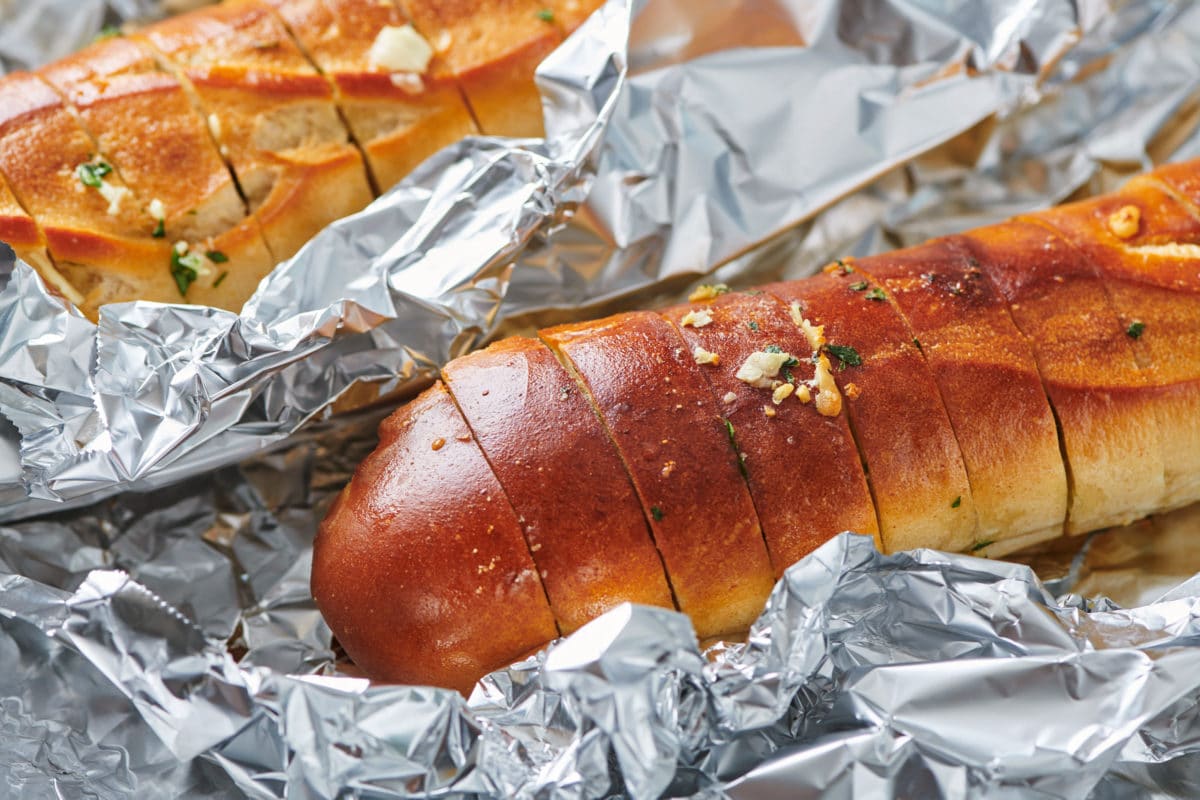 Other Garlic Bread Recipes to Try:
Like this recipe? Pin it to your favorite board on Pinterest.

Pin This
Best Garlic Bread Ever
Garlic bread is one of the most perfect foods of all time, and one of the easiest to make.
Ingredients
½

cup

butter

softened

3

tablespoons

finely grated Parmesan cheese

1

tablespoon

very finely minced garlic

2

tablespoons

minced parsley

½

teaspoon

Kosher salt

1

baguette
Directions
Preheat the oven to 375°F. In a small bowl, combine the butter, Parmesan, garlic, parsley and salt.

Cut the baguette into 1/2-inch or so slices, but don't cut all the way though the bread; the goal is for the slices to remain attached at the bottom.  One easy way to keep yourself from cutting through the bread is to place a chopstick alongside each side of the bread and slice the bread stopping when the knife hits the chopsticks. You can use the handles of wooden spoons as well.

Spread the garlic butter on each side of all of the slices of the bread, trying to keep the bread attached at the bottom.

Place the baguette on a large piece of foil and pull the foil up around the sides of the bread, but not over the top—you want the top to be able to brown.

Bake for 15 to 20 minutes until the bread is hot and the top is lightly browned and crusty.   Serve hot.
Nutrition Information
Calories:
196
kcal
|
Carbohydrates:
16
g
|
Protein:
4
g
|
Fat:
13
g
|
Saturated Fat:
8
g
|
Cholesterol:
32
mg
|
Sodium:
468
mg
|
Potassium:
40
mg
|
Fiber:
1
g
|
Sugar:
1
g
|
Vitamin A:
455
IU
|
Vitamin C:
2
mg
|
Calcium:
52
mg
|
Iron:
1
mg
The nutrition values are provided as an estimate. It is not intended as a substitute for the advice of a qualified healthcare professional.
Made this recipe? Post a photo of your delicious creation on Instagram with our hashtag #dinnersolved