This post may contain affiliate links. Please read our privacy policy.
One of my favorite things that I've ever been a part of is the Teacher-Staff Appreciation Committee at my kids' school. We started it when my older son, Jack, was in 1st grade—and somehow, impossibly, he is now in college. I've been co-chairing the committee since it started, through elementary, middle school, and now still in high school and when Charlie graduates in a few years I think they may have to drag me away from this committee kicking and weeping.
We organize a monthly cookie baking festival with different grades taking turns baking every month, and we do a little "elevenses" (tea) for Valentine's Day. But the favorite event is the somewhat newer Staff Appreciation Potluck Lunch that takes place in February.
Teachers are awesome, and what a pleasure to be able to thank them for all the amazing things they do for our kids. But less visibly—the school staff are also scaffolding the lives of our kids in ways big and small every day.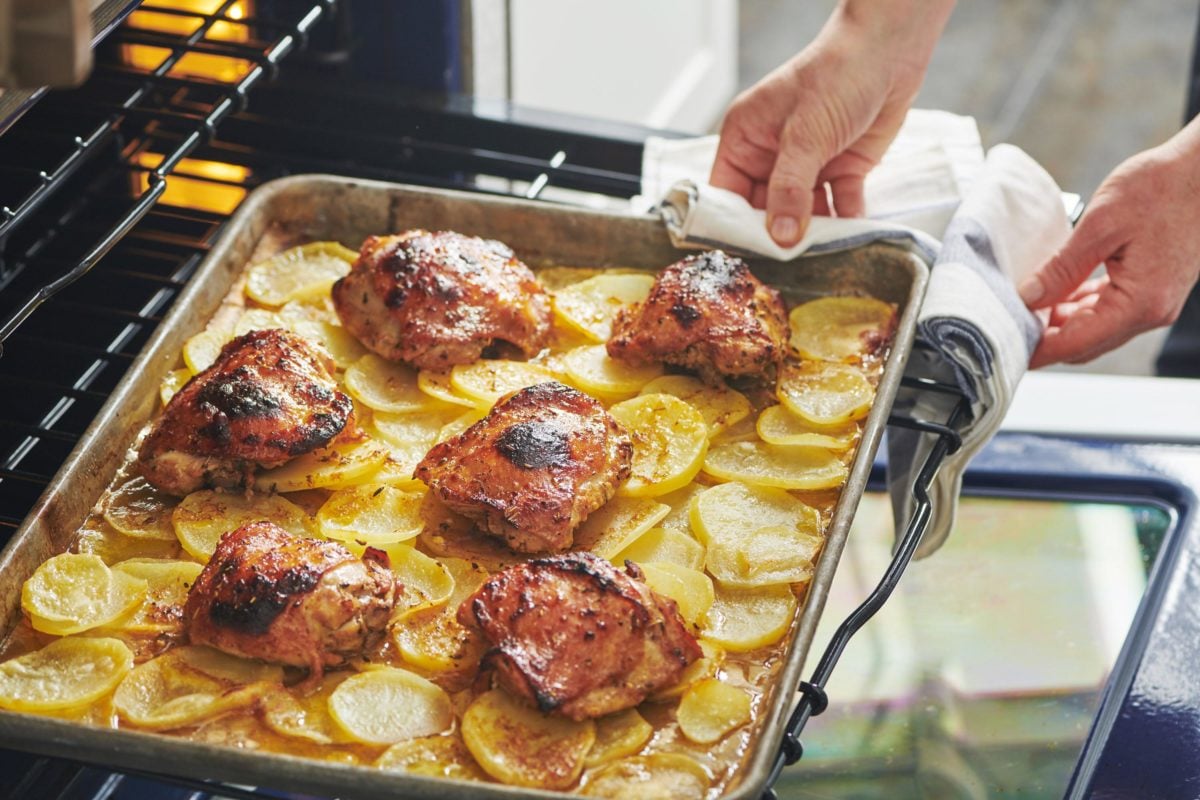 The people who work in the cafeteria, who keep the school clean, who keep our kids safe, who fix things as they break, who make sure everyone who works at the school has insurance, who organizes all of the meetings in the buildings, who take care of our guys when they get sick at school (or fake it because they remembered they had a quiz), who schedule buses for field trips, who drive buses on field trips, who make sure the sports equipment is ready every season, who order the supplies, who make hard decisions, who balance the budgets. All of them are amazing, and few things make me happier than organizing this lunch every year.
So, it's a potluck, and parents are invited to bring in whatever they like. No high bars to entry, no cooking shame—you want to pick up a platter of pinwheel sandwiches at the market and drop them off? Thank you sincerely! But many parents do cook, and the offerings are varied and really fun to unwrap. We were all somewhat humbled last year by the woman who brought in two tagines in actual clay pots PLUS a paella with a whole lobster nestled in the center. #newmom #goodforher
One Pan Chicken Dish
So in all of the planning for the event I almost forgot to make the chicken dish I signed up for, and literally starting throwing ingredients into a bowl for a marinade about 2 hours before the event started. #oldmom #keepingitreal
The chicken only got to have a quick soak in the marinade while the oven preheated before I had to get those trays in the oven in order to not be late. For the event for which I was co-chair. But hey! Warm chicken! I planned it that way!
We took a quick taste as I packed up many, many pounds( more thighs than the Rockettes!; sorry), and it was pretty terrific. So much so in fact that as I was loading everything up I asked Gary to grab a pen and paper and starting hollering ingredients at him before I forgot what the hell I put into the marinade: Worcestershire! Sriracha! Lemon! Dijon! Thyme! Rosemary! Honey!
This chicken gets super tender and amazingly flavorful with a marinade made from ingredients you may well have in the house.

Tweet This
Luckily I left enough for dinner that night. And luckily I kept the paper that Gary dutifully jotted down ingredients on, and made it again, and it lived up to my self-congratulatory memory. But this time I really marinated the chicken, which gave it much deeper flavor.
And for this sheet pan dinner, I roasted the chicken atop sliced potatoes and oh wow, those potatoes are nutso good, tender and drenched with the juices from the chicken as well as the warm marinade, slightly crispy around some of the edges. You could skip the potato part if you wanted to serve the chicken with another starch like mashed potatoes or rice, but it really is a treat.
I've paired it with simply sauteed broccolini and also with Cheesy Brussels Sprouts, and both were great.
More Delicious Chicken Recipes:
Like this recipe? Pin it to your favorite board on Pinterest.

Pin This
Sheet Pan Chicken and Potatoes
This chicken gets super tender and amazingly flavorful with a marinade made from ingredients you may well have in the house.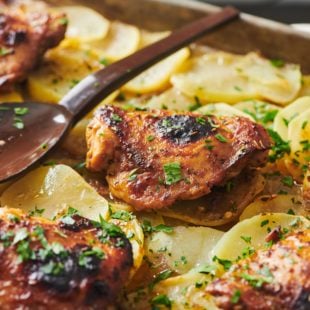 Ingredients
¼

cup

olive oil

plus 1 tablespoon

1

tablespoon

minced garlic

1

tablespoon

minced fresh rosemary

or 1 teaspoon dried

2

tablespoons

minced fresh thyme leaves

or 2 teaspoons dried

2

tablespoons

honey

2

tablespoons

Worcestershire sauce

2

tablespoons

Dijon mustard

Zest and juice of 1 lemon

1

teaspoon

Sriracha sauce

1

teaspoon

kosher salt

½

teaspoon

freshly ground pepper

8

bone-in skin-on chicken thighs

(about 2 ½ pounds)

2

pounds

Yukon Gold Potatoes

sliced about ¼ in thick (peeled or not peeled your choice)

Minced fresh parsley

to serve
Instructions
In a large bowl mix together the ¼ cup olive oil, garlic, rosemary, thyme, honey, Worcestershire sauce, Dijon mustard, lemon juice and zest, Sriracha sauce, and salt and pepper. Place the chicken into marinade and turn to coat—your hands are the best tools for this! Either cover the bowl, or transfer the chicken and marinade to a large zipper sealed bag. Refrigerate the chicken for 8 to 24 hours.

Preheat the oven to 425°F. Line a rimmed baking sheet with parchment paper or foil, or spray with nonstick cooking spray. Place the potatoes on the baking sheet and drizzle with the remaining tablespoon of olive oil. Spread the potatoes over the bottom of the baking sheet, slightly overlapping is fine. Arrange the chicken over the potatoes, not allowing the pieces to touch.

Roast the chicken for about 45 to 50 minutes, until the potatoes are tender and the chicken is cooked through (an internal temperature of 165°F) with the skin nicely browned and crispy. Serve hot, sprinkled with fresh parsley.
Notes
You could skip the potato part if you wanted to serve the chicken with another starch like mashed potatoes or rice, but it really is a treat.
Nutrition
Calories:
553.39
kcal
,
Carbohydrates:
27.54
g
,
Protein:
30.46
g
,
Fat:
36.11
g
,
Saturated Fat:
8.51
g
,
Cholesterol:
157.44
mg
,
Sodium:
657.32
mg
,
Potassium:
1020.22
mg
,
Fiber:
4.36
g
,
Sugar:
6.38
g
,
Vitamin A:
245.91
IU
,
Vitamin C:
22.62
mg
,
Calcium:
79.04
mg
,
Iron:
6.81
mg
Nutrition information is automatically calculated, so should only be used as an approximation.
Like this? Leave a comment below!