I think I add the line "serve with rice" more than I add any other line about what-to-serve-with suggestions. It's just hard to go wrong with rice – most everyone likes it, there are a butt-load of types (basmati, jasmine, brown, white, long-grain, short-grain, risotto varieties, Spanish, Italian, Japanese, oh my goodness, there are a lot), it's easy to make, and it works with all kinds of dishes and cuisines. I once wrote a short country music song to puff pastry….I clearly might be writing another ballad to rice.
And more often than not, plain rice is – in the immortal words of Alanis Morrisette — fine, fine, fine. But what if you need your rice to stand up a little taller on the plate, flavor wise, or color wise?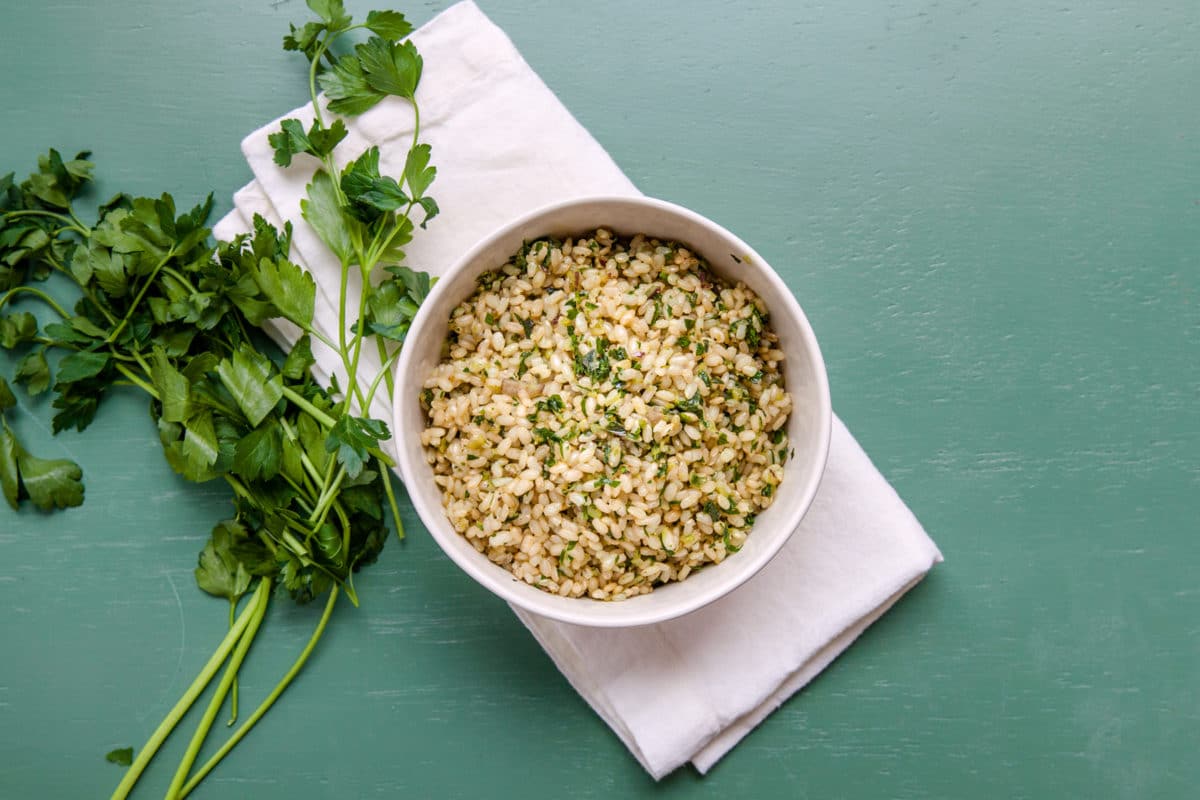 You can use pretty much any herbs you like, instead of the ones suggested here, which makes this a great way to use up a half a bunch of something left over from another recipe. Some herbs, like rosemary, are more potent, so make sure to taste as you go, and remember that you can always add more. Dried herbs will not work well in this dish, which really highlight those fresh green herbs.
You can also use other grains, from other rice varieties (see diatribe above) to quinoa, in place of the brown rice. I do like to work some brown rice into the rotation when I can. Whole grain brown rice retains the outer bran layer (though it's hull is removed) with its fiber and micro-nutrients intact, making it low in fat, high in fiber, and a more nutritious whole grain alternative to white rice. Which, by the way, we love, and eat plenty of.
You can use brown rice much the same way you use white rice, just know that it has a longer cooking time, so adjust accordingly. Try brown rice in pilafs, soups, stir-fried rice dishes and of course as a base for curries, chilies, bean dishes, stews, and so forth. Cooked brown rice can also be used in grain salads, and in vegetarian cooking. It's a great ingredient to think of when you want to lightly bulk up a vegetarian burger, meatballs, or a meatloaf.
And you can sub out the red onion and use any other onion, or scallions, shallots, or even garlic – again with garlic you'll want to use a much smaller amount.
In short, this is a jumping-off point recipe, to inspire you to make your own herb-grain side innovations. I actually came up with this whole thing to use up a dressing I had made for some black-eyed peas, and then realized, this one's a keeper.
Most recently it was hanging out on the side of some simple Asian salmon.
More Rice and Grain Side Dish Recipes:
Herby Brown Rice
When plain rice just doesn't seem like enough.
Ingredients
¼

cup

extra virgin olive oil

¼

cup

minced red onion

¼

fresh parsley leaves

chopped

2

tablespoons

chopped fresh basil

3

cups

cooked brown rice

warm or at room temperature
Directions
In a food processor, combine the olive oil, onion, parsley, basil, salt and pepper, and pulse until combined (you can also do this by hand, just mince up everything as finely as you like, and stir it all together in a bowl).

Place the rice in a medium-sized bowl and add the herb dressing. Stir to combine well, and serve warm or at room temperature.
Nutrition Information
Calories:
287
kcal
|
Carbohydrates:
35
g
|
Protein:
4
g
|
Fat:
15
g
|
Saturated Fat:
2
g
|
Sodium:
2
mg
|
Potassium:
130
mg
|
Fiber:
3
g
|
Sugar:
1
g
|
Vitamin A:
53
IU
|
Vitamin C:
1
mg
|
Calcium:
15
mg
|
Iron:
1
mg
The nutrition values are provided as an estimate. It is not intended as a substitute for the advice of a qualified healthcare professional.
Made this recipe? Post a photo of your delicious creation on Instagram with our hashtag #dinnersolved