Roasted Brussels Sprouts with Parmesan
In this recipe Parmesan cheese is sort of a co-star to the roasted Brussels Sprouts. The dish is amazingly complex for being so simple—and that is the true beauty of Parmesan.
When I am in possession of a large amount of Parmesan cheese I feel like all is right with the world. It is just one of the world's best and most versatile cheeses. In large quantities it shines with its assertive flavor. In small quantities it elevates dishes, and because it's salty I almost feel like it's also a seasoning at times.
How Do I Use Parmesan Cheese?
Parmesan cheese (known in Italy as Parmigiano-Reggiano) is a hard, granular cheese. It is named after the area of Italy in which it is produced, and authentic Parmesan can actually only comes from certain areas of that country, according to Italian law. Outside of Europe, the name "Parmesan" can legally be used for cheese made in the Parmigiano-Reggiano style, but not the full name.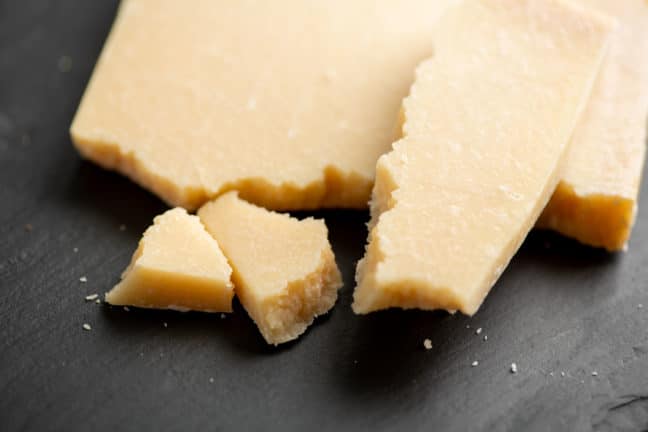 Parmigiano-Reggiano is made from unpasteurized cow's milk, and there are many strict guidelines around how authentic Italian Parmesan is made. It is an aged cheese, and often the more aged it is the more pronounced the flavor and the more expensive.
If you buy a domestic version of Parmesan that's also fine; if you are so inclined, buy Parmesan in chunks and grate or slice it yourself, or buy it in a market or cheese shop that grates their Parmesan regularly, or has a high turnover of packaged grated Parmesan. Only buy it in the cheese case, never buy the stuff in shelf-stable cans.
Parmesan is often grated, finely or coarsely, and used in pastas, sauces, risottos, and soups. It can be thinly sliced over different dishes and salads, and it can also be eaten straight, broken into small chunks or shards, which is very common in Italy and throughout Europe. Americans use it more in cooking.
In this Brussels Sprouts dish, the Brussels sprouts are halved and drizzled with olive oil, and then seasoned with salt and your choice of balsamic vinegar or lemon zest. I've made them both ways—it really depends on what else in on the plate, but both are absolutely delicious.
How to Make Parmesan Brussels Sprouts
Give them a toss and spread them out on a rimmed baking sheet.
The brussels sprouts are roasted for about 15 minutes in a hot oven, until they are part way cooked.
Sprinkle over the Parmesan and give them a little stir to distribute the cheese. Back into the oven they go for another 10 minutes.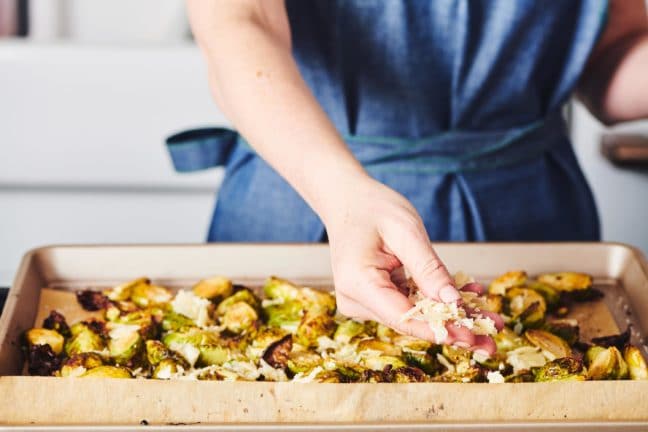 Until the Parmesan is melted and everything is a bit browned and crisped in spots.
Parmesan Roasted Brussels Sprouts are perfect with simply roasted chicken and mashed potatoes.
Or a roasted piece of cod with a zig zag of lemony yogurt sauce, and some couscous and a salad. Or just eaten straight off of the baking sheet. Which is my favorite way to eat these, truly.
Other Roasted Vegetables with Parmesan:
Roasting vegetables with Parmesan is the easiest way I know to kick them up a notch, without much fuss.
Other Recipes with Parmesan:
Also see How to Cook Brussels Sprouts!
Like this recipe? Pin it to your favorite board on Pinterest.

Pin This
Best Parmesan Brussels Sprouts
The dish is amazingly complex for being so simple—and that is the true beauty of Parmesan.
Ingredients
2

pounds

Brussels sprouts

trimmed and halved

2

tablespoons

olive oil

1

teaspoon

finely minced garlic

Zest of 1 lemon or 1 tablespoon balsamic vinegar

½

teaspoon

red pepper flakes

Kosher salt and freshly ground pepper

to taste

¼

cup

coarsely grated or shaved Parmesan cheese
Directions
Preheat the oven to 425°F. Spray a rimmed baking sheet with nonstick spray, or line with parchment paper or aluminum foil.

Place the Brussels sprouts on the baking sheet. Drizzle over the olive oil and sprinkle over the garlic and red pepper flakes. Sprinkle over the lemon zest or balsamic vinegar. Use your hands to toss the Brussels sprouts until they are evenly coated, and then spread them out in an even single layer on the baking sheet. Sprinkle with salt and pepper and roast for 15 minutes, until the Brussels sprouts start to soften.

Sprinkle over the Parmesan and use a spoon to toss the Brussels sprouts with the Parmesan until well combined, then spread them back out on the baking sheet. Roast for another 10 to 15 minutes until they are browned and tender. Taste and add additional salt and pepper as needed. Serve warm or hot.
Nutrition Information
Calories:
95.84
kcal
|
Carbohydrates:
10.8
g
|
Protein:
5.08
g
|
Fat:
4.75
g
|
Saturated Fat:
1.1
g
|
Cholesterol:
2.75
mg
|
Sodium:
78.78
mg
|
Potassium:
441.12
mg
|
Fiber:
4.35
g
|
Sugar:
2.84
g
|
Vitamin A:
919.12
IU
|
Vitamin C:
96.51
mg
|
Calcium:
82.28
mg
|
Iron:
1.62
mg
The nutrition values are provided as an estimate. It is not intended as a substitute for the advice of a qualified healthcare professional.
Made this recipe? Post a photo of your delicious creation on Instagram with our hashtag #dinnersolved