Greek Chicken Thighs
I am bonkers for Greek flavors. Seriously, whenever you combine some of the the mainstay ingredients of Greek cuisine—which to me are oregano, olive oil, lemon juice and garlic or some other member of the onion family (there are many others of course, but these are my platonic Greek ingredients)—only good things can happen.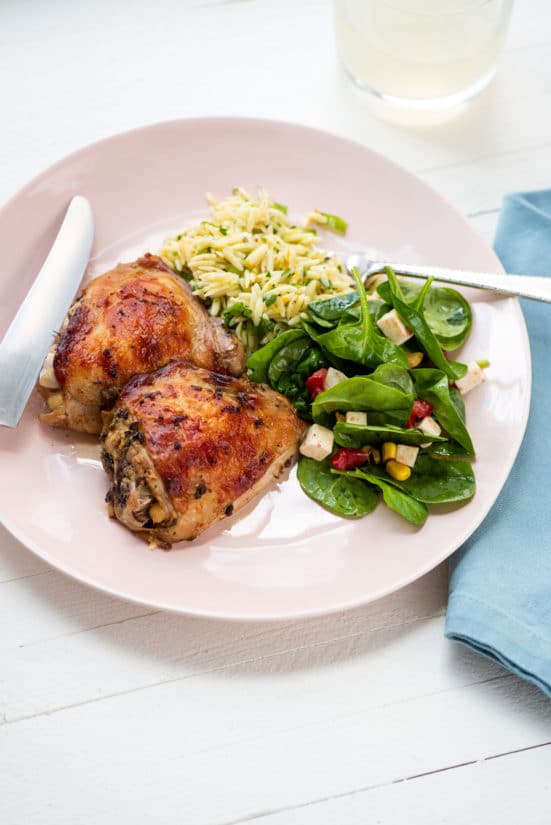 And not just good things. Clean, bright-tasting good things, Healthful good things. Good things that adult AND kids like. Summery good things. Greek Roasted Chicken good things.
Greek Chicken Marinade
I would use this Greek chicken marinade on anything, from slabs of zucchini to skewered shrimp or chicken to a piece of fish. And I would definitely think about grilling most of those things, but in this case, the chicken got roasted, and the crackling skin and the moist dark meat were pretty much dinner bliss. And as we are crazy about Greek flavors, we are also crazy about roasted chicken thighs – probably the favorite roast chicken part in our house.
Roasting Chicken Thighs:
Cooking skin-on, bone-in chicken in the oven is probably my favorite method; hands-on, and great results every time. Roasting is very similar to baking, in that it entails cooking the food in the oven, with little to no liquid involved, usually uncovered. Hot dry air circulating all around the food to provide a browned exterior and a juicy interior. By definition roasting involves cooking at a higher temperature (and correspondingly short cooking times) than baking. Roasting is the oven method of choice, but even if you are baking these chicken thighs at a lower temperature you can still get to very tender meat and crispy skin.
If you want to cook this chicken at 350 degrees or 375 degrees instead of 425 degrees then just add another 10 to 15 minutes of baking time.  This is useful to know when you have the oven set at a different temperature for another dish – no need to cook them separately, chicken in general, and thighs in particular, are very accommodating.  Thighs vary in size like crazy, so very small thighs might be finished at 425 degrees in 30 minutes, while super large ones might take 50 minutes.  Use a meat thermometer if you want, and look for an internal temperature of 165 degrees.
The Beauty of Chicken Thighs
Chicken thighs are very forgiving – the moist, dark meat stays very tender, and even if you leave them in the oven for another 15 or even 30 minutes, nothing bad will happen. I've done this by accident and I've done this intentionally, and in fact I happen to like them slightly overcooked. The skin usually just gets even crisper and the meat gets fall-apart tender, and comes away from the bone really easily.
Charlie is also a big fan of the well cooked thicken thigh, and has been known to point at the crackley skin on other people's plates and ask, "Are you going to eat that?" It was a little cuter when he was a young child.
The Easiest, Most Delicious Greek Roasted Chicken Recipe—the simple flavors of lemon and oregano turn ordinary roasted chicken thighs into a perfect weeknight dinner.

Tweet This
What to Serve with Greek Roasted Chicken Thighs
Would serving this with a Modern Greek Salad be too much? Well, I don't think so. Or try a salad made of ribbons of zucchini on the side, or Sugar Snap Pea Salad. Also a bowl of Orange and Herb Orzo passed around the table. Simpler perfection would be hard to find.
This chicken is also great at room temperature or even straight from the fridge. If you packed up a container of these along with the Red Onion Mint Orzo or Greek Tabbouleh Salad that would be one hell of a picnic. Maybe some green beans tossed with Chervil Vinaigrette. And some cookies for dessert, like Peanut Butter Chocolate Chip Oatmeal Cookies. This portable meal would be a reason to own a picnic blanket.
If you want to make a similar version of this recipe with chicken breasts, click here!
Other Roasted Chicken Thighs Recipes:
Like this recipe? Pin it to your favorite board on Pinterest.

Pin This
Greek Roasted Chicken Thighs
The simple flavors of lemon and oregano turn ordinary chicken thighs into a perfect weeknight dinner.
Ingredients
¼

cup

olive oil

1

teaspoon

minced garlic

1

tablespoon

fresh lemon juice

1

tablespoon

red wine vinegar

2

teaspoons

dried oregano

2

teaspoons

kosher or coarse salt

½

teaspoon

freshly ground black pepper

3

pounds

bone-in, skin on chicken thighs
Directions
In a

large bowl

, container or sturdy zipper top bag, combine the olive oil, garlic, lemon juice, vinegar, oregano, salt and pepper. Stir to combine thoroughly, add the chicken, turn to coat well, the cover or seal and refrigerate for 12 to 24 hours (or even up to 2 days!).

Preheat

the oven

to 425°F. Line a rimmed

baking sheet

with aluminum foil and spray with nonstick cooking spray. Remove the chicken from the marinade and place on the baking sheet skin side up. Roast for about 40 minutes until cooked though, depending on the size of the thighs. Serve the roasted chicken hot, warm or cold.
Nutrition Information
Calories:
505.7
kcal
|
Carbohydrates:
1.39
g
|
Protein:
31.43
g
|
Fat:
41.06
g
|
Saturated Fat:
9.89
g
|
Cholesterol:
188.92
mg
|
Sodium:
924.29
mg
|
Potassium:
403.59
mg
|
Fiber:
0.33
g
|
Sugar:
0.1
g
|
Vitamin A:
161.71
IU
|
Vitamin C:
1.13
mg
|
Calcium:
26.07
mg
|
Iron:
1.59
mg
The nutrition values are provided as an estimate. It is not intended as a substitute for the advice of a qualified healthcare professional.
Made this recipe? Post a photo of your delicious creation on Instagram with our hashtag #dinnersolved