Sometimes one comes into possession of a whole lot cherry tomatoes. This somehow happens to me a quite often. I think it's because they are one of the vegetables (yes, yes, I know, actually a fruit) that I incessantly buy without a goal in mind. Sure, I can toss them into green and grain salads, and add them to sautes and fling them across finished dishes for a burst of color. But sometimes there is still a big old pile of cherry tomatoes just waiting to be put to use, and then why not make them the star of their own little show.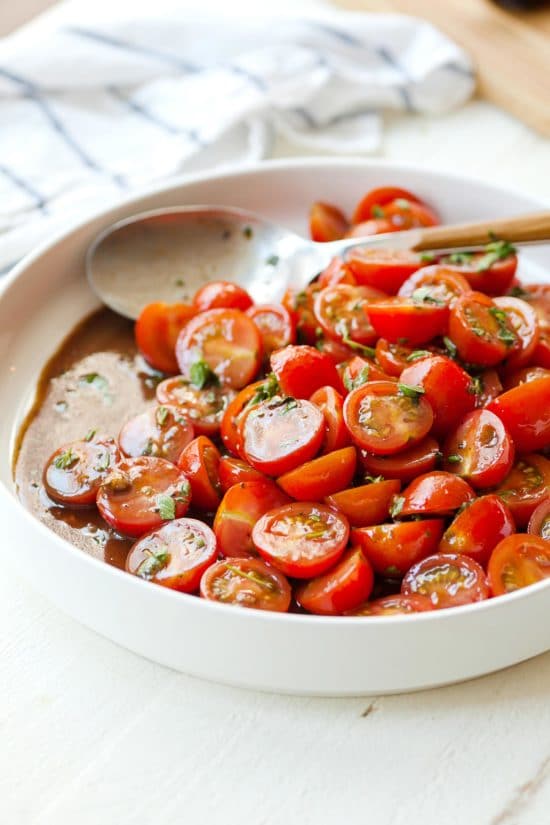 A cherry tomato salad is the absolute easiest way I know to add a pop of dazzling color to a spread or a plate. Use mixed color tomatoes, or all red as I did here. Whatever you do, it will be gorgeous.
Cherry or grape tomatoes are just plain cheery and delicious, and here they are the start of their own little show.

Tweet This
Cherry Tomato Salad Add-Ins
This is a very simple salad, with a balsamic-ey, slightly sweet dressing (thank you honey, love you honey). You could also add in plenty of other things—cubed mozzarella, crumbled feta cheese, olives, other herbs (basil is a classic—I went with oregano because I'm just that crazy). Other vegetables would be good, diced young zucchini or summer squash, sliced or diced cucumber, diced onion—raw or sautéed.
But you will not be disappointed if you stick with only tomatoes. And you can have this whole salad on the table in …I'll say 10 minutes.
What is the Difference Between Grape and Cherry Tomatoes?
And of course you can use grape tomatoes instead of cherry tomatoes. In most recipes they are interchangeable, though there are some subtle differences. Cherry tomatoes can range in size from quite small to golf ball size. Grape tomatoes are usually smaller, meatier and have a thicker skin. Their lower water content means they will last longer, but
Grape tomatoes last longer than cherry tomatoes, in general; having said that ideally you should never refrigerate tomatoes at all. Refrigeration changes their texture, and mutes their flavor. Keep them on the counter at room temperature, and eat them while they are good! If they start to wrinkle before you are ready to eat them you can tuck them in the fridge, but it's not the best way to store any tomato.
Are Cherry or Grape Tomatoes Sweeter?
Cherry tomatoes are usually sweeter than grape tomatoes, especially at the height of tomato season, mid to late summer. There are some varieties that are super sweet: look for Sun Gold Cherry Tomatoes which are almost candy-like! (remember tomatoes are botanically a fruit!)
Cutting Cherry Tomatoes for Salad
Sometimes whole cherry tomatoes are included in salad — more often than not when they are an add in, versus the main ingredient. I almost always cut them, and recommend doing to for this salad. Cutting them in half makes them easier to scoop, serve, and bite into (without squirting your dinner mate). Also it allows the dressing to soak into the middle of the tomato, giving this salad a whole lot more flavor. Whole cherry or grape tomatoes slicked with a vinaigrette are less unified as a salad than tomatoes that have been halved. If your cherry tomatoes are very large, you might cut them into quarters.
What to Serve with Simple Cherry Tomato Salad:
Other Recipes with Cherry or Grape Tomatoes:
Like this recipe? Pin it to your favorite board on Pinterest.

Pin This
Cherry Tomato Salad
Cherry or grape tomatoes are just plain cheery and delicious, and here they are the start of their own little show.
Ingredients
For the Salad
4

cups

cherry tomatoes

halved

¼

cup

chopped fresh oregano
Directions
In a large bowl, combine the olive oil, balsamic vinegar, Dijon mustard, honey, garlic, salt and pepper.

Add the tomatoes and the oregano and toss to combine. Taste and adjust seasonings as needed.
Nutrition Information
Calories:
177.55
kcal
|
Carbohydrates:
13.23
g
|
Protein:
1.89
g
|
Fat:
13.89
g
|
Saturated Fat:
1.94
g
|
Sodium:
48.75
mg
|
Potassium:
376.06
mg
|
Fiber:
2.4
g
|
Sugar:
8.53
g
|
Vitamin A:
779.64
IU
|
Vitamin C:
33.97
mg
|
Calcium:
67.54
mg
|
Iron:
2.28
mg
The nutrition values are provided as an estimate. It is not intended as a substitute for the advice of a qualified healthcare professional.
Made this recipe? Post a photo of your delicious creation on Instagram with our hashtag #dinnersolved