This post may contain affiliate links. Please read our privacy policy.
So, these vegetables aren't necessarily unfamiliar, like kohlrabi or rutabegas….but when zucchinis come into season they hit like a vegetal tsunami, bursting from the garden by the dozen ("wait, there were only about 6 of those when I went to bed last night!"), piled at the farmers' market, practically free at the supermarket, omnipresent in your CSA at the end of the summer.
How to use it all, and not feel like zucchini bread is coming out of your ears (not that there's anything wrong with a plentitude of zucchini bread—and you probably have neighbors!).
What the heck do I do with all that zucchini? Here's everything you need to know about how to cook zucchini!

Tweet This
---
What Are Summer Squash and Zucchini?
Technically they are in the fruit family, though they are most often treated as a vegetable. Summer squash can be green (know as zucchini, or courgette throughout Europe), yellow (usually called summer squash or yellow zucchini), or striated.
What Do Summer Squash and Zucchini Taste Like?
Very mild and delicate. The flavors of each variety are similar, with the yellow versions being a bit more bland in taste, and sometimes a little less firm in texture.
How Big Do Summer Squash and Zucchini Get?
They range in size from babies the size of a finger to monster baseball bats. The longest zucchini measured 8 ft 3.3 inches, grown by Mr. Giovanni Batista Scozzafava in Niagara Falls, Ontario, measured on 28 August 2014 (talk about a lot of zucchini bread). Zucchini grow pretty quickly – often you can see that they get bigger overnight! They will continue to grow until you pick them (or a frost comes).
How Do I Choose Zucchini and Summer Squash?
Choose squash between 6 and 8 inches long, no more than 2-inches in diameter, firm to the touch, with smooth, taut skin.
The smaller squash tend to be less mealy and/or fibrous, and more flavorful. However, the larger ones can be shredded and used in recipes like zucchini breads, or can be hollowed out and stuffed. You may need to discard the spongy core of a very large squash and just use the outer portion of the squash — and the skin.
How Do I Store Summer Squash and Zucchini?
They can be stored in the fridge for several days, depending on how firm they were when you picked or bought them.
How Do I Cook Summer Squash and Zucchini?
Summer squash (zucchini in particular) is used in many different cuisines, from the U.S. to Bulgaria to Egypt to Turkey and all throughout Europe.
The flavor is quite delicate, and therefore zucchini and summer squash take well to all kind of preparations and seasonings, since they are quite like a blank slate. They are usually simply cooked in some way – sautéed or steamed, sometimes fried, though it also can be stuffed and baked. Zucchini and summer squash can be used in soups, stews and chilis, to easily add bulk and a boost of nutrition. Don't peel them! The skin adds nice color to dishes.
They can also be used in raw preparations, like salads, as uncooked squash are nicely crunchy, especially when they are on the smaller side.
It's worth mentioning that the popularity of the spiralizer has put zucchini into the spotlight, with noodles (or zoodles) made from zucchinis being used in place of pasta, either raw or lightly cooked. You can even buy pre-spiralized zoodles in lots of markets.
In any preparation, the smooth, brightly colored skin is usually left on, as it's fully edible, and quite pretty.
What Do I Do With Zucchini Flowers?
Zucchini and summer squash put forth a flower on each end of the vegetable which is also edible. They are often stuffed and fried, and they are delicious.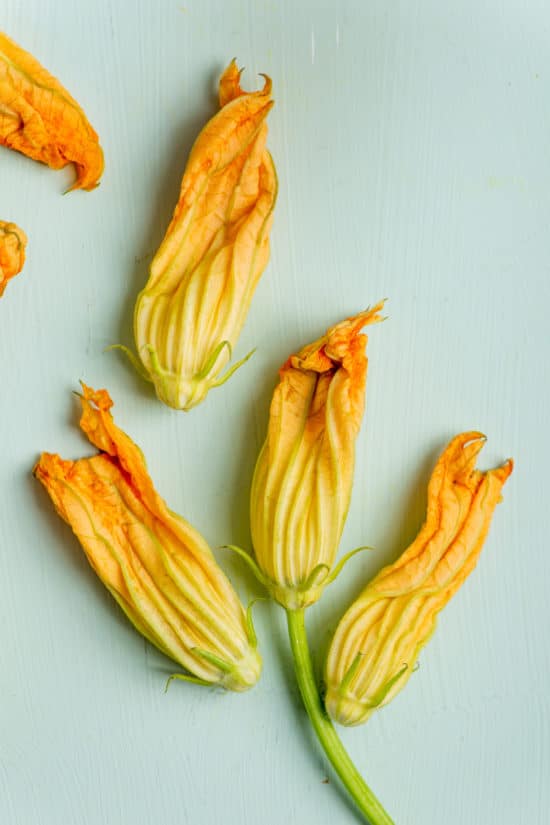 Is Zucchini/Summer Squash Nutritious?
Zucchini and summer squash have a nice amount of folate, potassium and vitamins A and C, and they are extremely low in calories.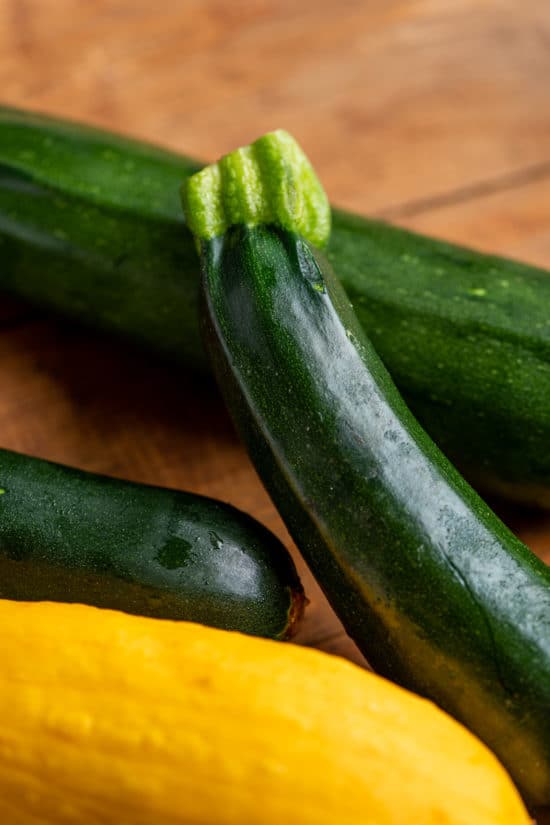 ---
Zucchini and Summer Squash Recipes
Life Beyond Zucchini Bread! You can switch zucchini and summer squash in any of these recipes.
Truly, there are few things teriyaki sauce doesn't work on.
---
Feta, zucchini, and tomato are classic Greek ingredients, and they come together in this pasta like they've know each other forever.
---
15 minutes into the oven, and 45 minutes of hands off time. This simple, cheesy gratin turns anything into a seriously classy meal.
---
This is a great way to introduce zucchini into the old repertoire, because most everything is better with a bit of crunch and a bit of cheese.
---
The perfectly pretty salad to make with those perfectly pretty zucchini.
---
A great grain and vegetable salad for all kinds of occasions.
---
A very good reason to own a sprializer.
---
Perfect End of Summer Pasta Salad
Make it while you can.
---
These slowly cooked lamb chops are fall apart tender and are nestled into a lovely vegetable studded red wine and tomato sauce.
---
Still getting yourself up to speed on different produce? Aren't we all!