Can we just start by saying you're not going to screw this up? I have roasted tomatoes at low heat, and high heat, tomatoes that are big, tomatoes that are tiny, tomatoes that are seasoned with herbs, tomatoes that are pretty ripe, tomatoes that are not so ripe, and I can't think of a time that they didn't turn out great.
How Do You Roast Tomatoes?
Roasting tomatoes simply concentrate the sugars and flavor in the fruit (You knew tomatoes were a fruit right? Right. Maybe you forgot, but now you remember). This is kind of a recipe, but more of a guideline. If you are roasting a chicken at 425°F and you want to put a tray of these in, just check in a little earlier to see if they are done.
You can use whatever color tomatoes you like. You can also stick a few sprigs of herbs in between the tomatoes for a bit of extra flavor. I like thyme, oregano and rosemary. Below are baby yellow tomatoes with thyme, which are destined for Cavatappi with Roasted Cherry Tomatoes and Pesto.
The different water content in various tomatoes will also affect the finished product in terms of flavor and cooking time, but that's not something you should worry about. Or, if this is something you want to worry about, then you are in a pretty good place because that sounds like a pretty benign thing to worry about. Larger tomatoes (you already know this) will take longer to roast than smaller tomatoes.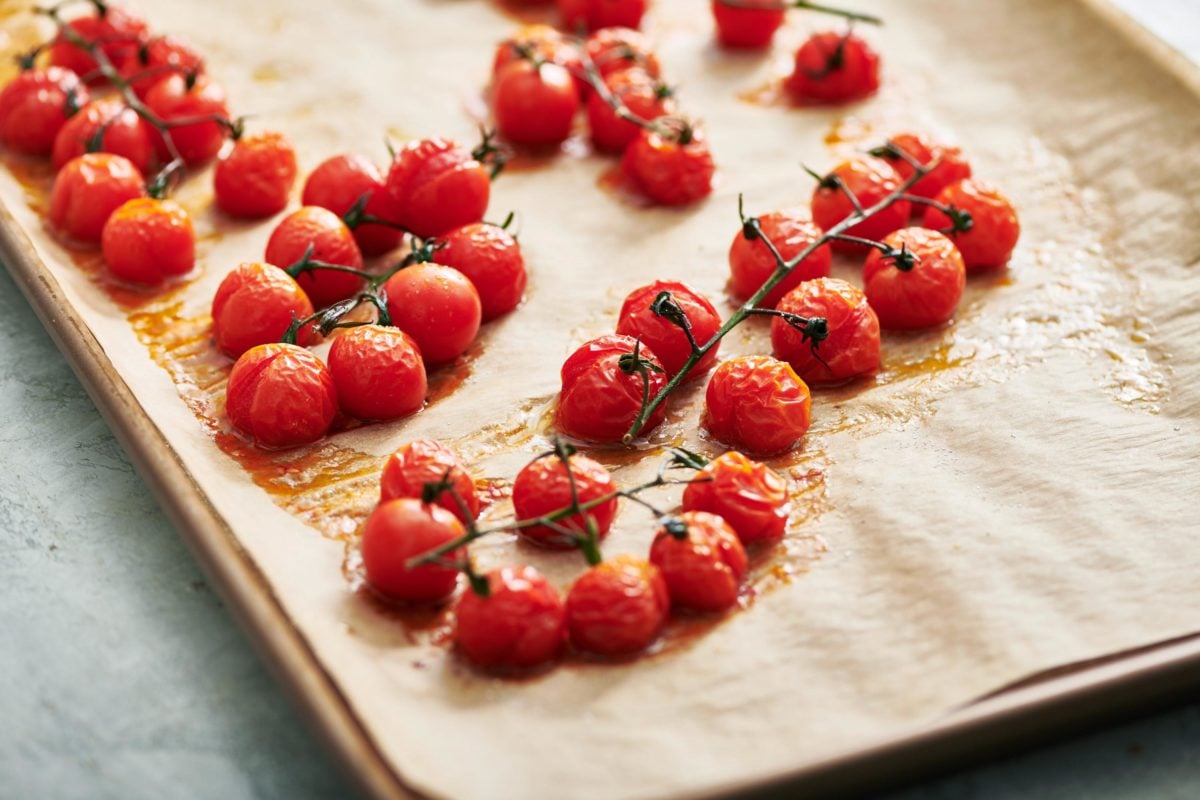 And what does done look like? That's pretty much up to you. When the tomatoes are lightly cooked they will have started to collapse a little and the skins will get a little wrinkly. The longer you cook them, the more they will shrink and the crinklier the skins will get. There will be less of them, but the flavor will be a bit deeper.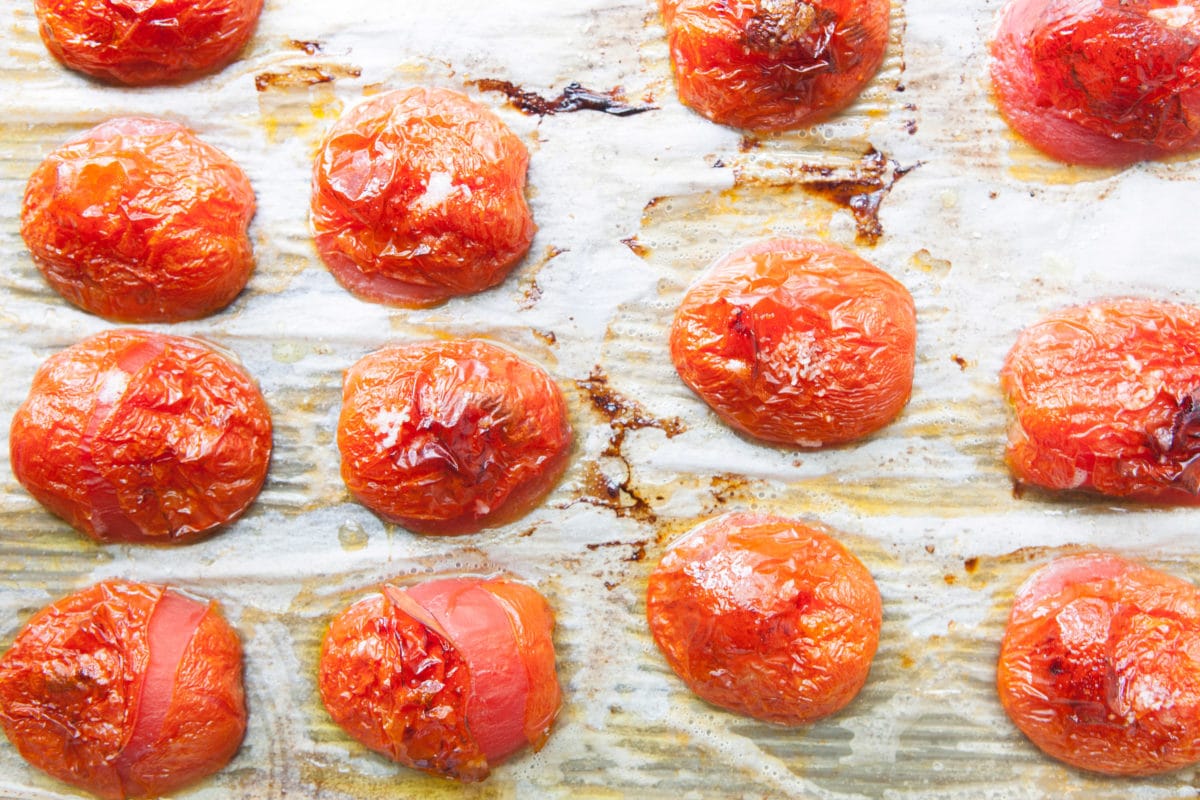 Skins on or off? Again, up to you. Thee is nothing wrong with the skins of roasted tomatoes, and in fact they add some texture to any finished dish. However, if your kids are not into them, or if you are looking for the final dish to be a bit more refined take them off. They will slip off very easily.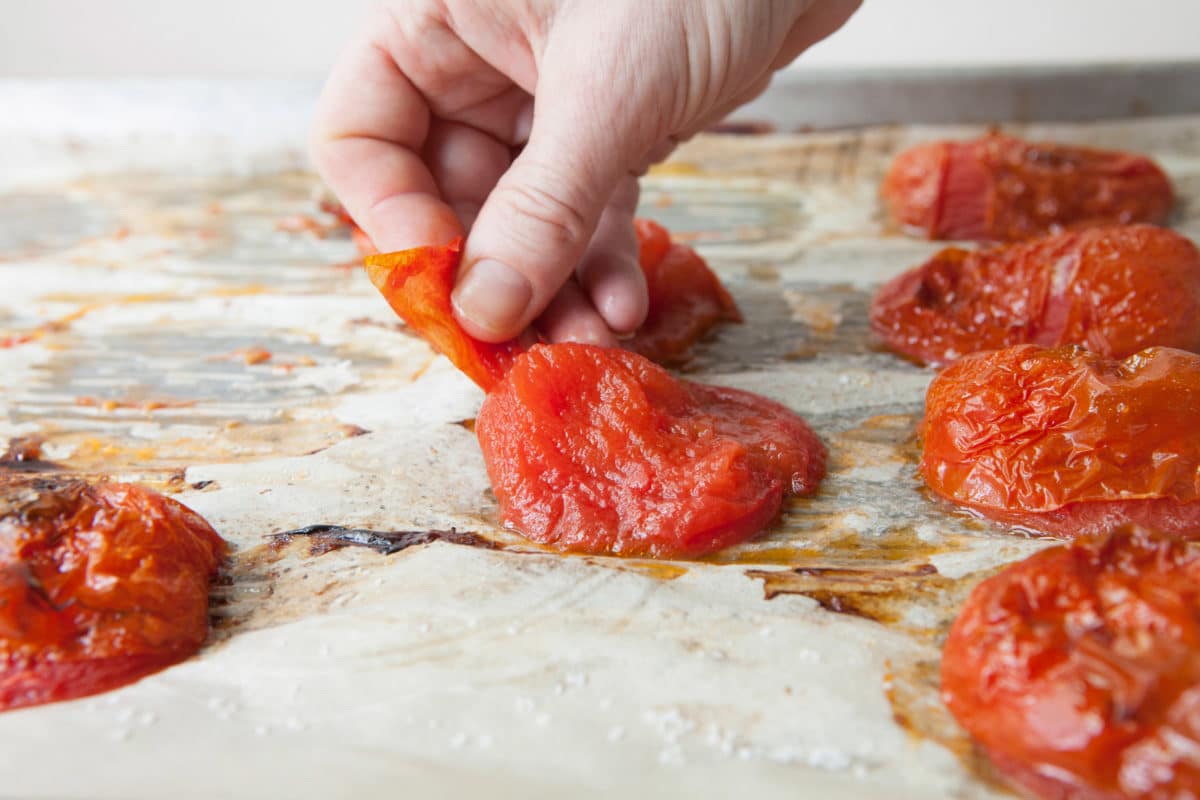 Roasting tomatoes is super easy, and really brings out a deep, concentrated, sweet flavor.

Tweet This
How to Roast Tomatoes on the Vine
Literally just to the exact same thing, but leave them on the vine – this is super pretty. A nice addition to an antipasti platter, or a graze board.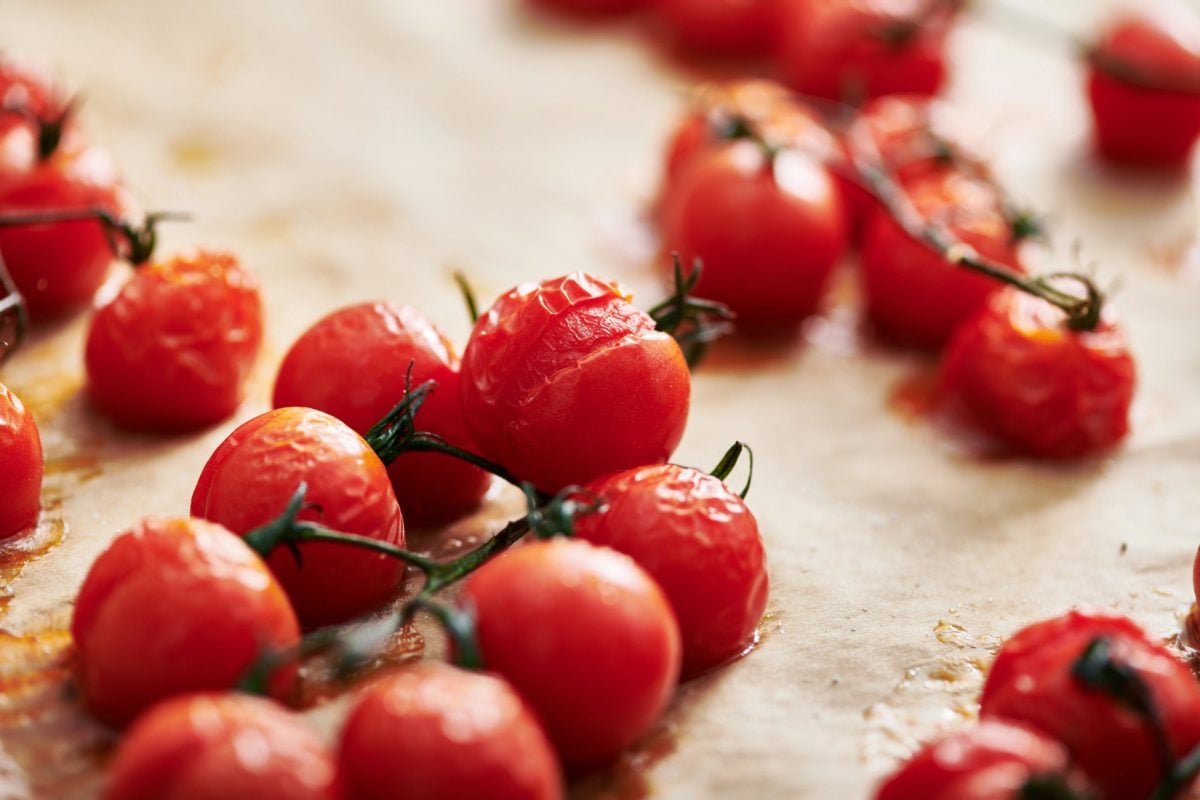 What To Do With Roasted Tomatoes:
Top crostini or bruschetta, chop and toss with hot pasta, use as part of an antipasti platter, serve alongside steak or chicken or dish or pork, or ANYTHING to add color and flavor. Combine roasted tomatoes with fresh tomatoes in salsa, or any other dish that you are using raw tomatoes in, to add flavor dimension. Top pizza with them.
Like this recipe? Pin it to your favorite board on Pinterest.

Pin This
How to Make Perfect Roasted Tomatoes
Roasting tomatoes is super easy, and really brings out a deep, concentrated, sweet flavor.
Directions
Preheat the oven to 350°F.  Spray a rimmed baking sheet with nonstick cooking spray, or line it with parchment.

Place the halved tomatoes on the baking sheet.

Drizzle over the olive oil.  Sprinkle over the sugar, and then the salt, and toss with your hands to combine.  Arrange the tomatoes in a single layer cut side down.

Bake the tomatoes for about 40 to 45 minutes, until they are as cooked as you like them to be.  Remove them with a spatula, take the skins off or not, and use them however you like.
Notes
Variations
Add a few springs of rosemary or thyme to the tomatoes as they are roasting. Or, add a few halved cloves of garlic. You could chop and use the leaves of the herbs or the garlic after the roasting process, and add them to whatever recipes you're using the tomatoes in if you like.
Nutrition Information
Calories:
61
kcal
|
Carbohydrates:
4
g
|
Protein:
1
g
|
Fat:
5
g
|
Saturated Fat:
1
g
|
Sodium:
393
mg
|
Potassium:
245
mg
|
Fiber:
1
g
|
Sugar:
3
g
|
Vitamin A:
861
IU
|
Vitamin C:
14
mg
|
Calcium:
10
mg
|
Iron:
1
mg
The nutrition values are provided as an estimate. It is not intended as a substitute for the advice of a qualified healthcare professional.
Made this recipe? Post a photo of your delicious creation on Instagram with our hashtag #dinnersolved