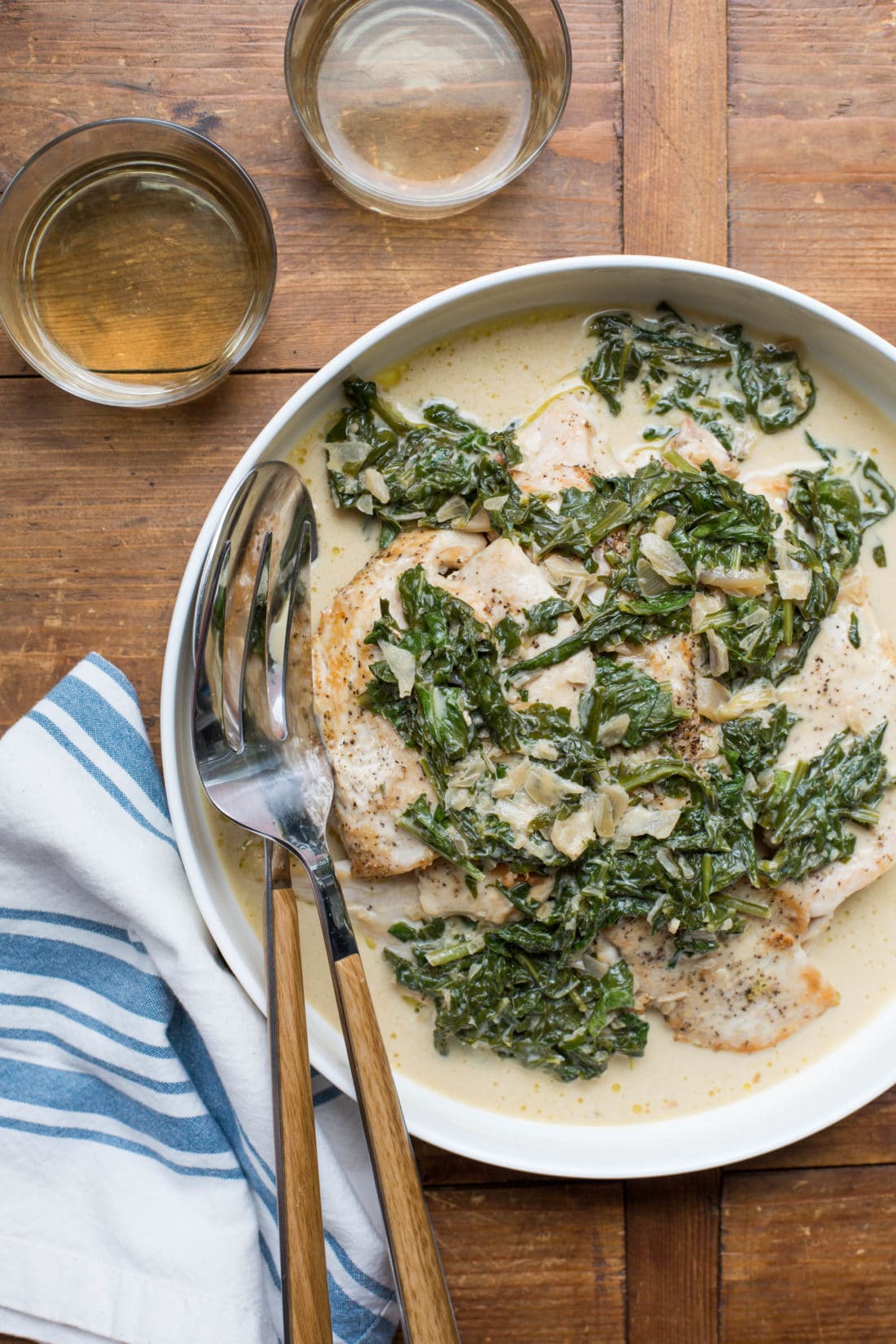 It's me, talking about pan sauces again! I'm always looking for a new pan sauce for chicken breasts (click here for the 101 on how to make a simple pan sauce). And why? Because I know of no other way to consistently turn a package of chicken breasts into something special, with such a small amount of time and fuss and ingredients.
Sometimes I use regular boneless, skinless chicken breasts, sometimes I pound those breasts, and sometimes I buy or cut thin-sliced cutlets. One thing about those packaged thin sliced cutlets: sometimes they are beautifully sliced, thin and even, and similar in size. When you have those to work with, your dish looks quite elegant, and cooks up nice and evenly.
But sometimes the chicken has been sliced in a not-so-pretty, and not-so-even way, and that's a bit frustrating, I have to say. I'm well aware that chicken breasts are not a perfectly symmetrical brick shaped object, like a block of tofu, and therefore identically even slices are not a possibility. However, when I get a package of bits and pieces that have no commonality, it's not what I'm looking for when I've splurged and bought those thin-sliced breasts.
A handful of supporting ingredients turn a couple of handfuls of arugula into an amazing pan sauce.

Tweet This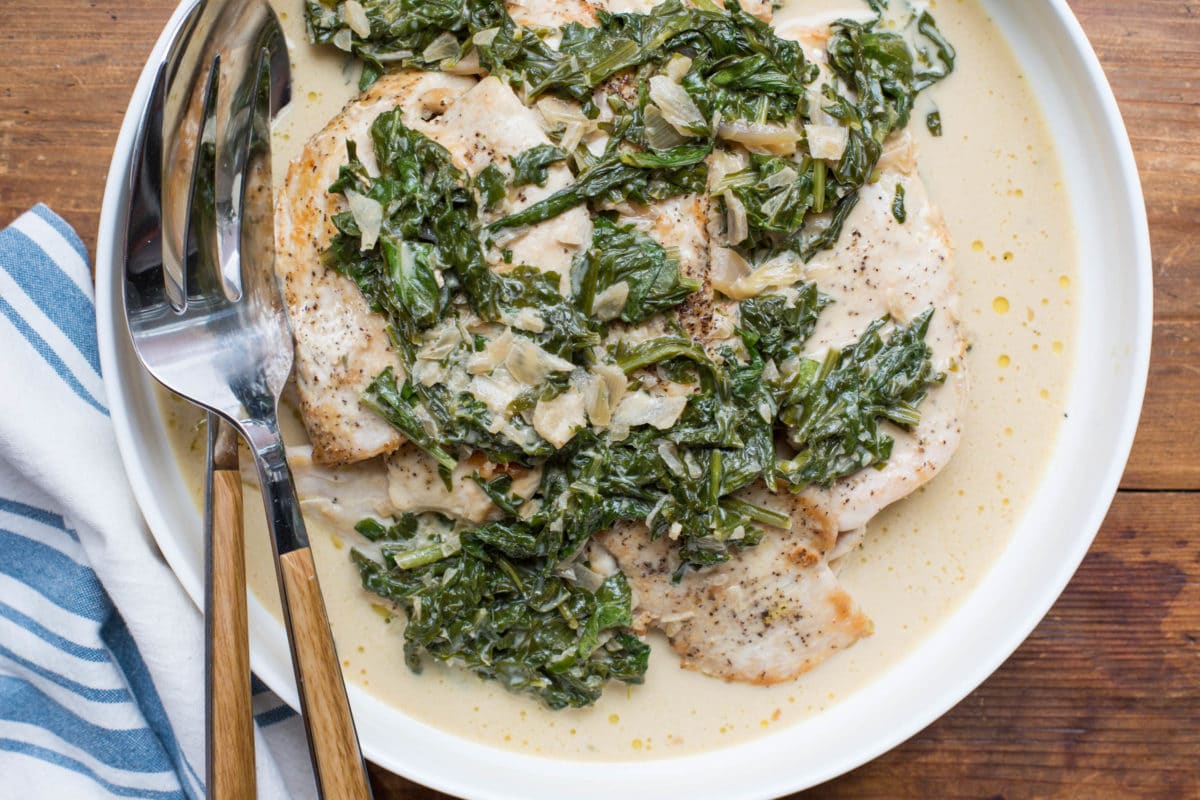 So, all of this is by way of saying, see if you can check out the cutlets you're buying, either because the slices are clearly visible in the package, or you have a nice butcher counter to shop at. Maybe ask the butcher to slice some for you, and explain that symmetry is your goal. Or slice them yourself which takes a big sharp knife and a steady hand, and a little practice.
How to Make Thin-Sliced Chicken Cutlets
Rest one hand on the top of the chicken breast to hold it steady, and carefully slice the chicken breast horizontally. Each chicken breast will yield between 2 and 4 slices, depending on how thick it is. Slice carefully but decisively. You need a good, sharp knife for this to work.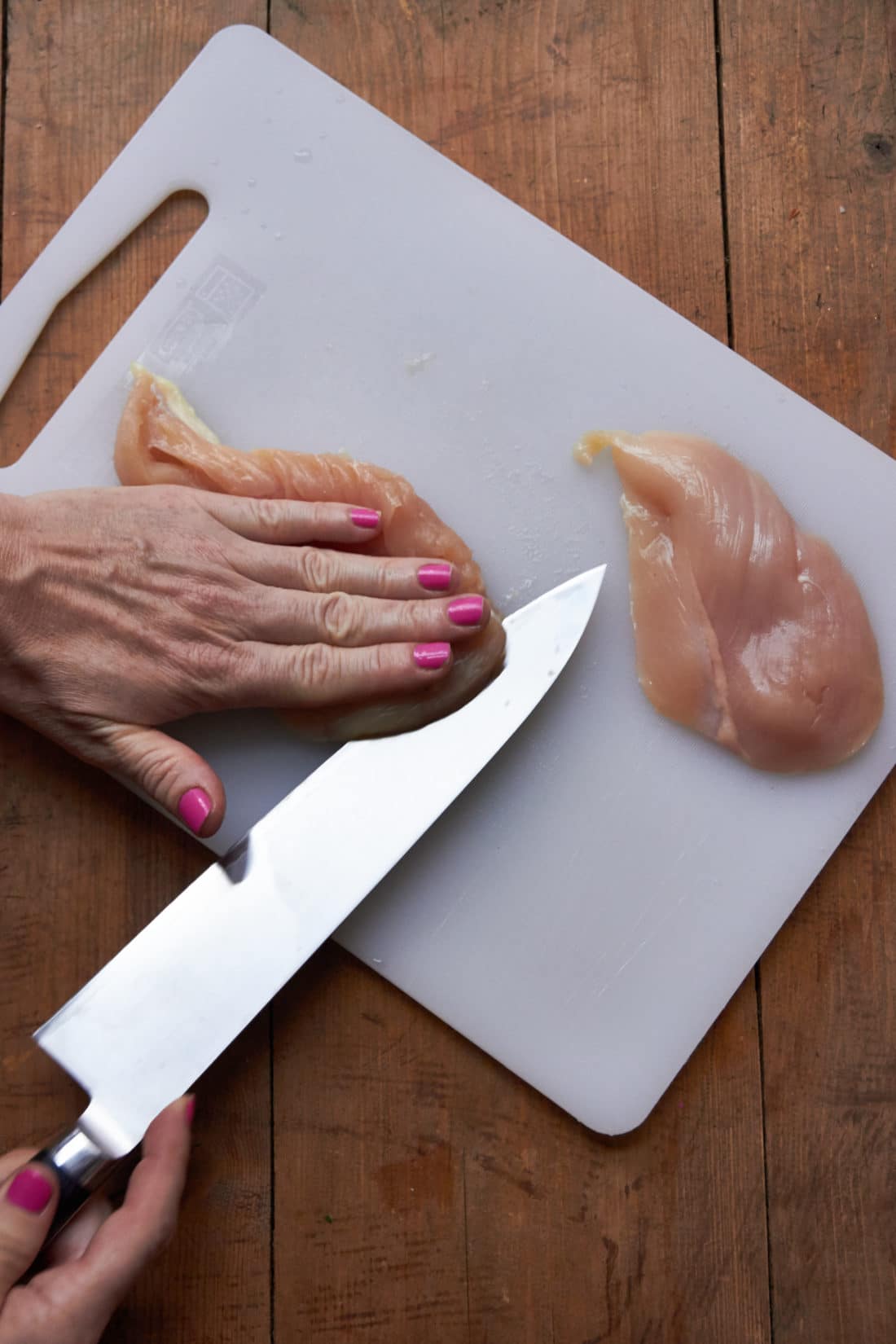 How to Make a Pan Sauce for Chicken
Now, the pan sauce! A bit of shallot, sautéed in the pan used to sear the chicken. A glug of white wine, a splash of chicken broth, some Dijon and roughly chopped arugula to wilt right into the sauce. A sploosh of cream, a pat of butter. Done and done, as my Grandma used to say! (No, she never said that, but it would have been great if she had).
What to do with the rest of that bottle of wine, what to do…..
Hey, this recipe was featured on PureWow, along with 4 other busy bloggers' favorite fast weeknight dinners….check it out!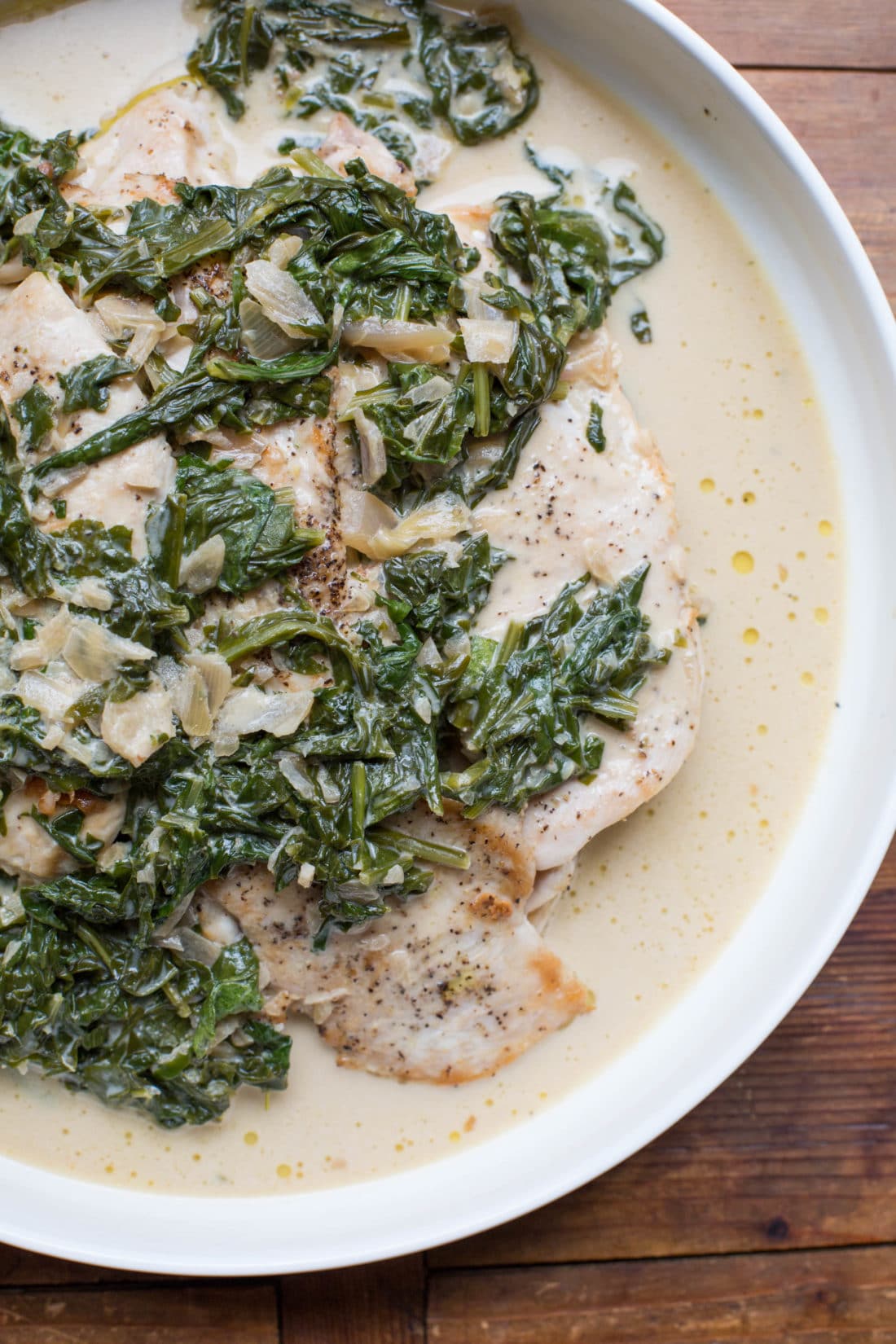 More Chicken and Pan Sauce Recipes:
Like this recipe? Pin it to your favorite board on Pinterest.

Pin This
Chicken with Arugula and Mustard Pan Sauce
A handful of supporting ingredients turn a couple of handfuls of arugula into an amazing pan sauce.
Ingredients
8

4-ounce thin sliced chicken cutlets

(see cutlet diatribe above)

Kosher salt and freshly ground pepper

to taste

1

tablespoon

olive oil

1

large minced shallot

½

cup

dry white wine

¾

cup

chicken broth

1

tablespoon

Dijon mustard

1

cup

roughly chopped arugula

2

tablespoons

heavy cream

1

tablespoon

unsalted butter
Directions
Season the chicken breasts with salt and pepper. In a large skillet, heat the olive oil over medium high heat. Add the chicken breasts and sauté until done, about 4 to 5 minute on each side. Remove the chicken breasts to a plate and set aside. Do not wipe out the skillet!

Add the shallot to the skillet and sauté over medium high heat for 3 to 4 minutes until tender. Add the white wine and stir to scrape up all the little flavorful bits that may be stuck to the bottom of the skillet. Simmer for about 2 minutes until the wine reduces by half. Add in the broth, and return to a simmer, stirring occasionally for another 4 minutes until the mixture reduces slightly. Add the mustard, arugula, cream and butter, and stir until the butter is melted and arugula is wilted.

Pour the sauce over the chicken breasts.
Nutrition Information
Calories:
376
kcal
|
Carbohydrates:
3
g
|
Protein:
49
g
|
Fat:
15
g
|
Saturated Fat:
5
g
|
Cholesterol:
163
mg
|
Sodium:
474
mg
|
Potassium:
935
mg
|
Fiber:
1
g
|
Sugar:
1
g
|
Vitamin A:
384
IU
|
Vitamin C:
7
mg
|
Calcium:
30
mg
|
Iron:
1
mg
The nutrition values are provided as an estimate. It is not intended as a substitute for the advice of a qualified healthcare professional.
Made this recipe? Post a photo of your delicious creation on Instagram with our hashtag #dinnersolved