This post may contain affiliate links. Please read our privacy policy.
Cherry tomatoes are perfect for snacking or roasting with veggies. Adding cherry tomatoes to a vegetable platter always adds nice color and vibrancy. I personally love pairing cherry tomatoes with a delicious soft cheese, like mozzarella in a Caprese salad, or burrata in the delicious Roasted Cherry Tomatoes with Burrata and Basil Oil recipe at the end of this post.
And of course, any salad benefits from the addition of cherry tomatoes, either whole or halved. Try Tomato, Avocado, and Cucumber Salad, Tomato, Red Onion, and Watercress Salad, or go all-in and make Cherry Tomato Salad and let them be the stars!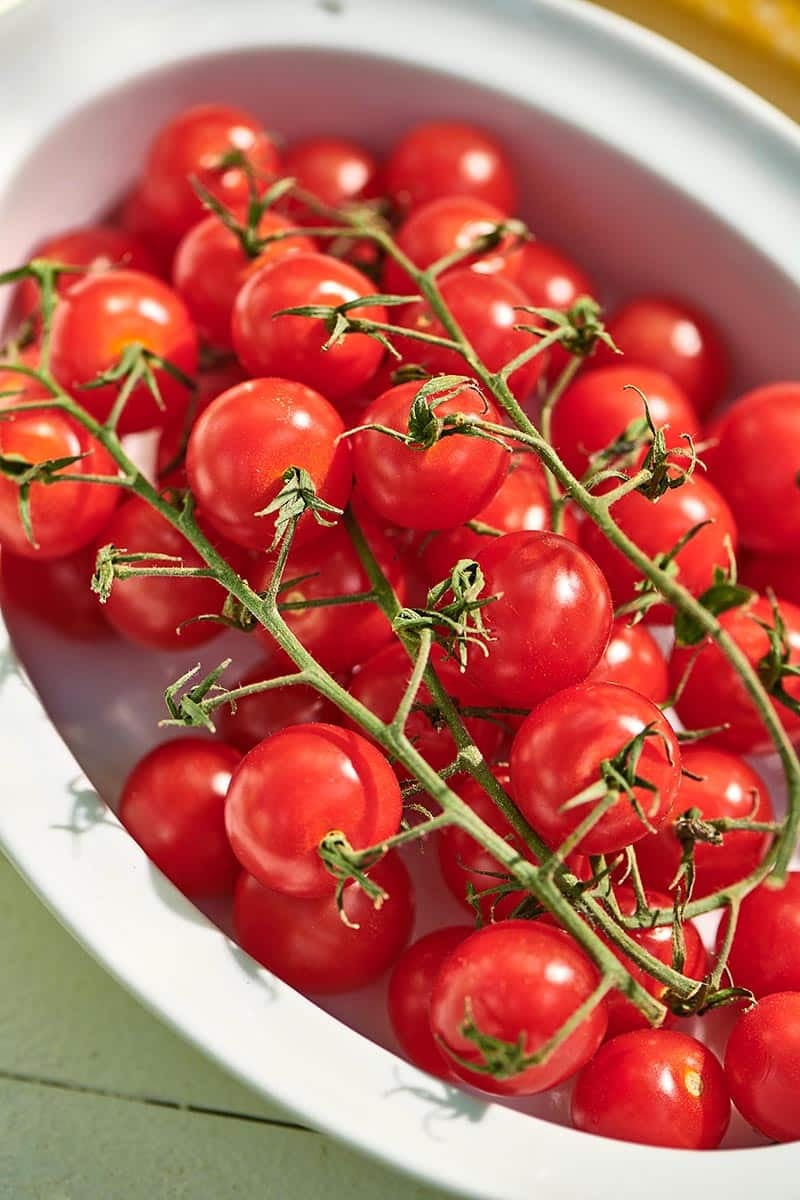 What Are Cherry Tomatoes?
Cherry tomatoes got their name from being a similar shape to a cherry and also because they are considerably sweet (remember, tomatoes are a fruit!). They can come in sizes ranging anywhere from the size of a golf ball to the size of your thumbnail.
These darling little tomatoes were not a cultivated creation, as many assume — they can actually be traced back thousands of years. Cherry tomatoes are traditionally from South America, in the Peru/Ecuador area.
What Do Cherry Tomatoes Look Like?
Cherry tomatoes can vary widely in shape, color, or size. The color will typically range from red to green, but you can also find orange, yellow, deep purple, and even black, as well as tomatoes with striated coloring. The black tomatoes look the most similar to real cherries. The shape of cherry tomatoes is typically close to spherical, but oblong or pear-shaped cherry tomatoes are also common.
Substitutes
The best substitute for cherry tomatoes is typically grape tomatoes. Grape tomatoes look very similar to cherry tomatoes, but they're shaped more like grapes than cherries (unsurprisingly). Grape tomatoes tend to be crunchier and a little less sweet.
In some instances, diced larger tomatoes are a better alternative, especially when you are looking for that level of juicy sweetness, in salads, for instance.
If you are cooking tomatoes, you might also consider canned tomatoes. You can even find canned cherry tomatoes, usually from Italy, in upscale markets. These aren't a good solution for uncooked dishes, but they are useful in cooked dishes, like pasta sauces, casseroles, and so on.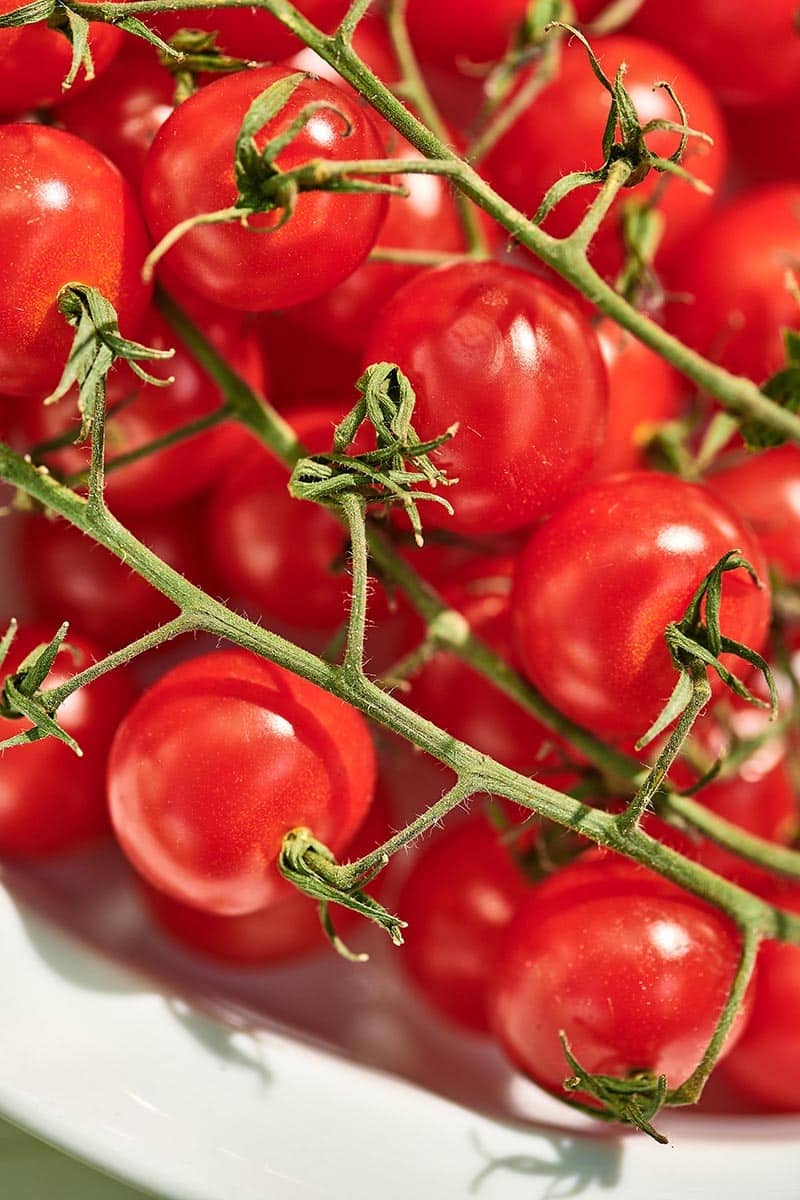 Where Do You Find Cherry Tomatoes?
Cherry tomatoes can be found in almost every grocery store in the produce section. They might be in the refrigerated section, though often they are just stacked on displays at room temperature. Cherry tomatoes will also be found at most farmers markets when they are in season, which depends on where you live, but they are abundant in the warm weather months. Buy a lot, and use them in all kinds of ways (see below for recipe ideas!).
And home gardeners often start with cherry tomato plants, which are easy to find, plant, and tend. They are some of the easiest plants to grow, especially for a rookie gardener, and are great container plants.
How to Choose Cherry Tomatoes
In a store, you want to look for the brightest-colored cherry tomatoes that are firm. Typically, you cannot touch them since they are encased in packaging, but you can usually tell the firmness by how taut the skin is. Ideally, the skin will be firm and a bright color. Avoid packages where any of the cherry tomatoes have burst or have wilted or wrinkled at all.
When picking cherry tomatoes right off of the plant, wait until the tomatoes are bright in color and have a firm texture. This usually means the cherry tomatoes are about 1 to 2 inches in diameter. The tomatoes that are ready to be harvested will usually fall right off of the vine when you attempt to pick them.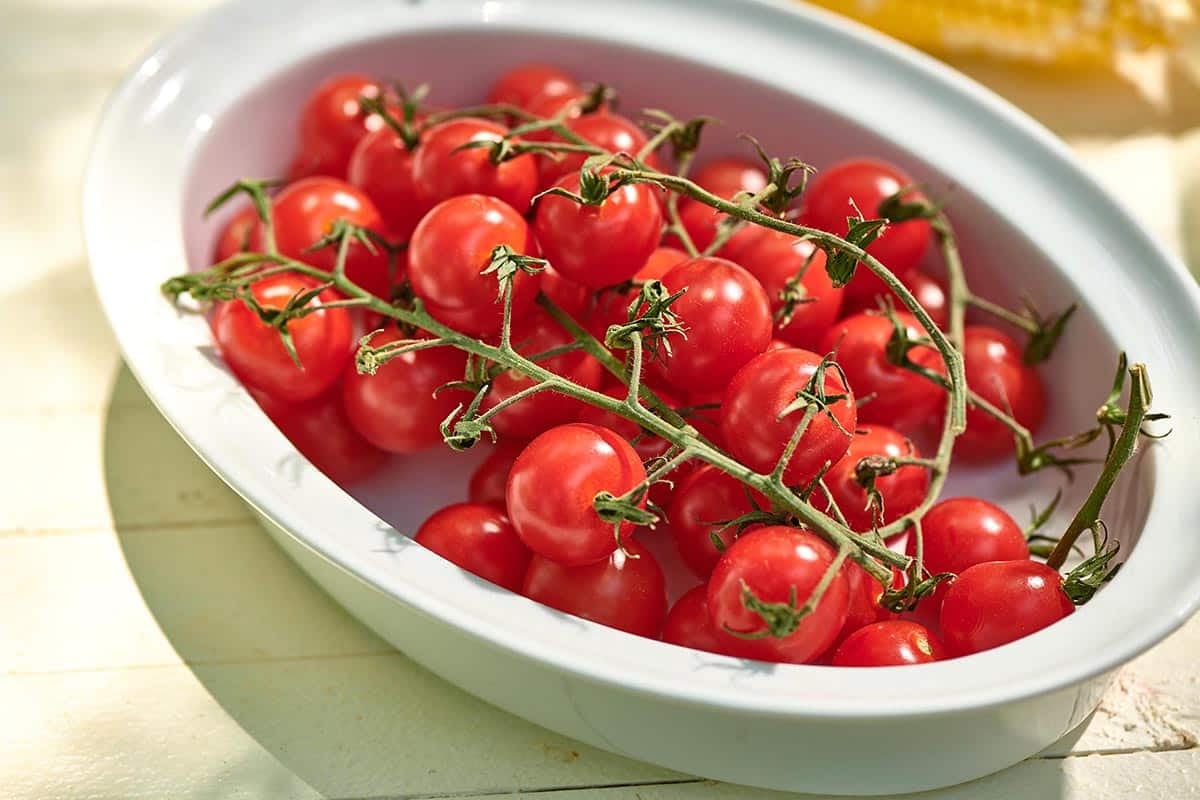 How to Store Cherry Tomatoes
Cherry tomatoes can be left at room temperature outside of direct sunlight to keep them from wilting. Moving cherry tomatoes into the fridge will slow down the ripening process but also change the consistency of your tomato over time — tomatoes can get mealy if left too long in the fridge.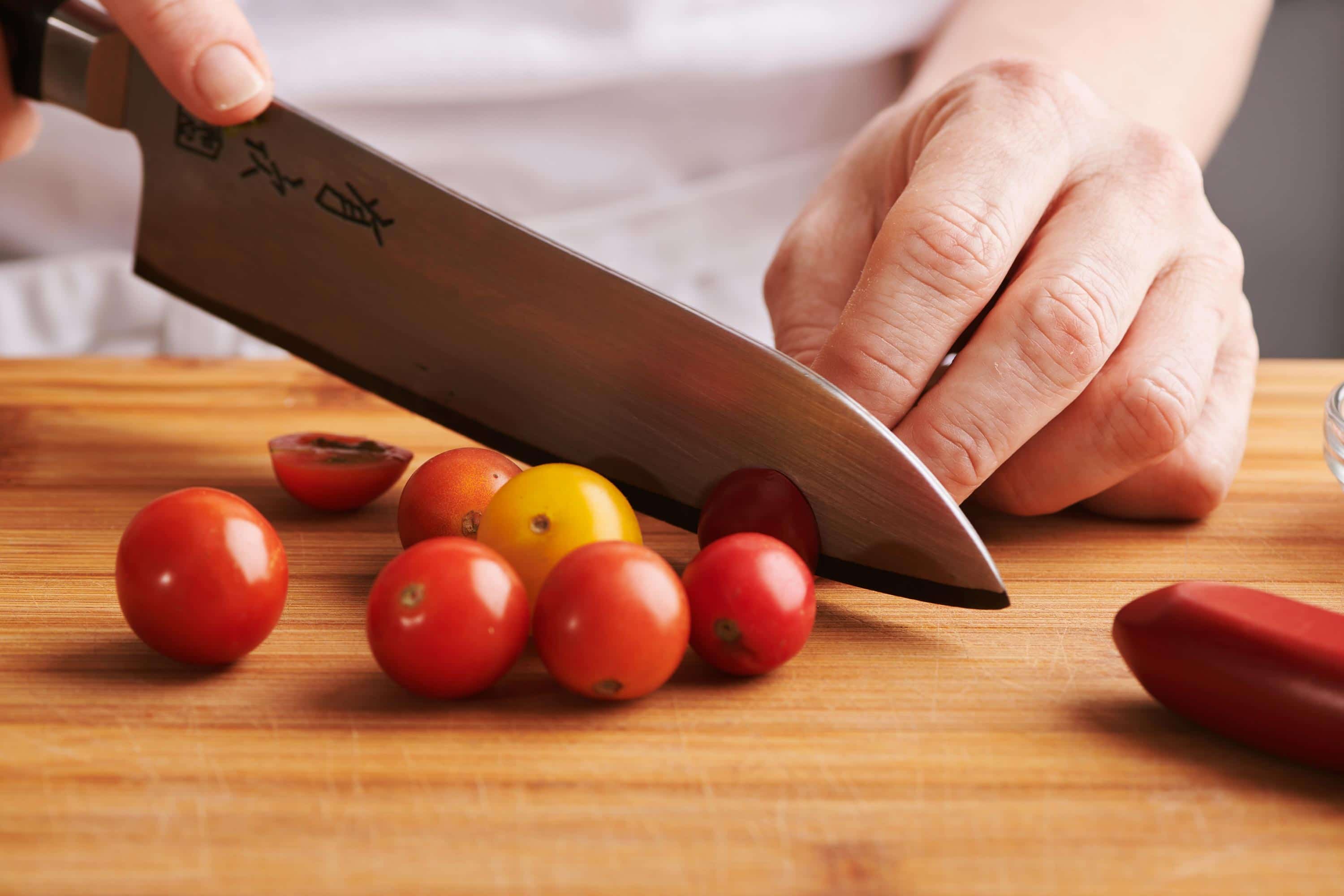 How to Quickly Ripen Cherry Tomatoes
To speed up the ripening process, cherry tomatoes need to be trapped with ethene gas. To hasten your tomatoes' ripening, you can put them in a dark, room-temperature place, like a paper lunch bag or box. If you want to speed up the process even further, you can add one of the fruits known to emit a lot of ethene gas. Add an apple or banana to the tomatoes for maximum speed-ripening results.
How to Cook Cherry Tomatoes: Everything you need to know about choosing, storing, preparing and cooking cherry tomatoes – plus recipes!

Tweet This
Cooking With Cherry Tomatoes
Cherry tomatoes are commonly eaten raw, but cooking with them intensifies their flavor. This is handy if your tomatoes aren't yet at full ripeness since the cooking process will accentuate the tomato flavor.
Cherry tomatoes are often roasted or sautéed. They are less likely to be used in a sauce as there is a lot of skin in relation to the meaty flesh inside. Unless you are putting the sauce through a food mill, you will end up with a bunch of skins in the sauce, which can be a little unpleasant in terms of texture and even taste. Learn more about How to Roast Cherry Tomatoes.
How to Freeze Cherry Tomatoes
Freezing is the easiest way to preserve cherry tomatoes. Once defrosted, these tomatoes are best used in cooked dishes — in the freezer, their texture will change, so they're not that great to use simply defrosted and raw in salads and other uncooked dishes.
Pick the best ones: Pick through your cherry tomatoes and freeze only the ones that are firm and unblemished.
Wash and dry the tomatoes.
Freeze: Place the tomatoes in a single layer on a rimmed baking sheet so that they are not touching, and place in the freezer. Freeze for at least 2 hours until frozen.
Store: Transfer the cherry tomatoes to an air-tight freezer bag or container, leaving as little air in the container as possible. Label and freeze for up to 6 months.
Defrost at room temperature.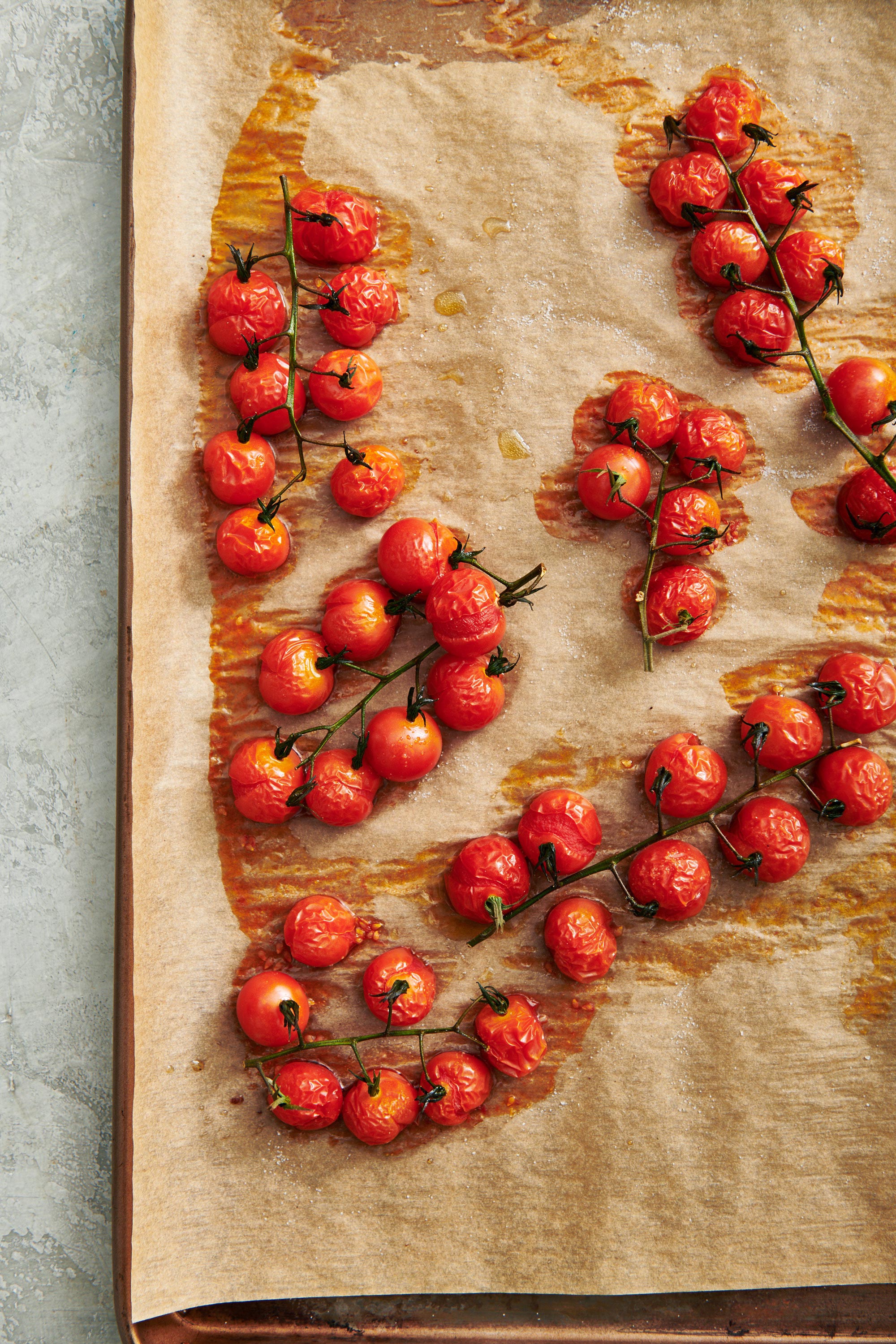 FAQs
Do I need to peel cherry tomatoes?
It depends on what you're using them for! Most people don't like using the skins of tomatoes when making a sauce. For that reason, cherry tomatoes aren't a super popular choice to base sauces on since there's so much skin per tomato. In general, if you're using cherry tomatoes, odds are that you don't need to peel them — and if your recipe asks you to, find a new recipe because that's exhausting!
Is it easy to grow cherry tomatoes?
Absolutely! Cherry tomato plants are a failsafe first plant for many new gardeners. The plant itself grows quickly, and tomato fruits themselves ripen extremely fast as well! To grow them, you just need seeds, soil, and a tomato cage to help the plant support itself as it grows. Give yourself 2 to 3 months, and you'll have bright, fresh red cherry tomatoes to grace your salads.
What are the best tomatoes?
A very difficult question for a home cook! I think each type of tomato has its own place in my heart. Beefsteak tomatoes are good for slicing up for burgers and sandwiches; heirlooms are the most incredible for showstopping presentation; Roma tomatoes are the best sauce tomatoes; and cherry tomatoes are best for a sweet finish to your salad.
What is the difference between cherry tomatoes and grape tomatoes?
Grape tomatoes look very similar to cherry tomatoes. But, as their name suggests, they are shaped more like grapes than cherries. Cherry tomatoes are usually softer and sweeter than grape tomatoes, which are a bit crunchier and meatier. Also, cherries usually have a shorter shelf life than grape tomatoes. They can be substituted for each other in salads and all kinds of recipes.
---
9 Recipes With Cherry Tomatoes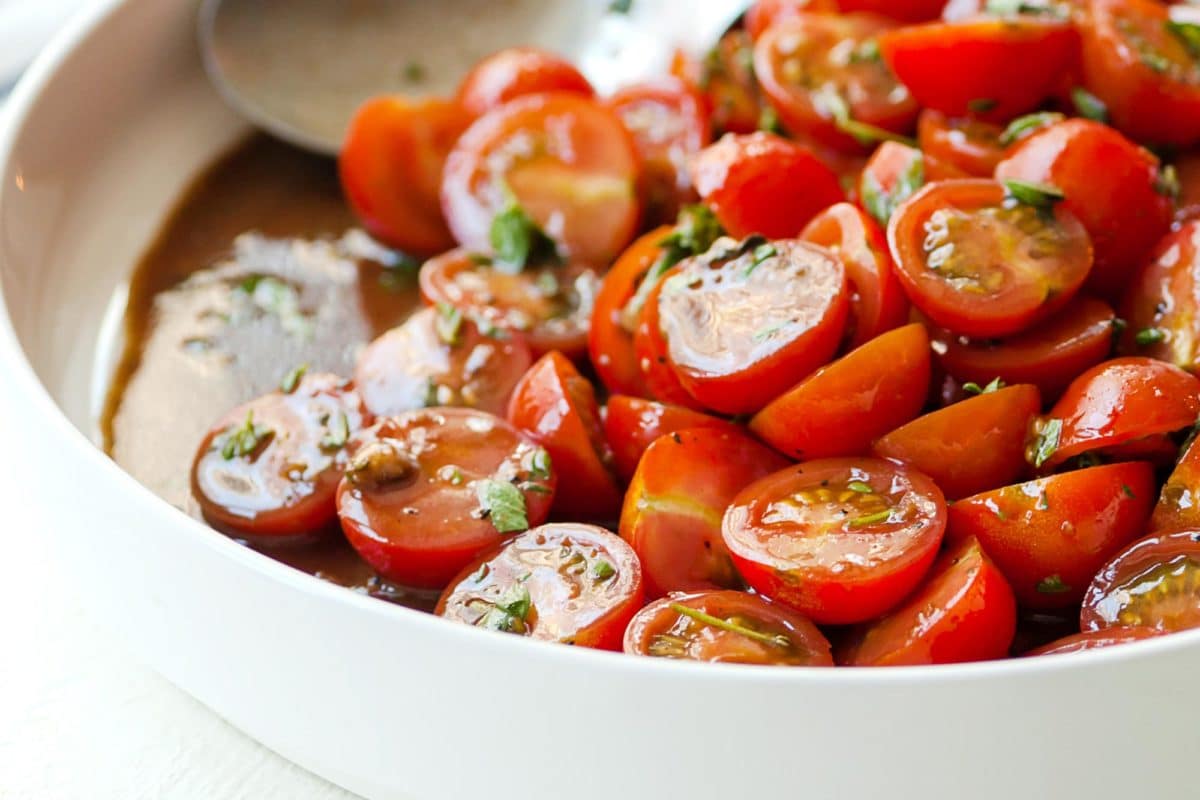 Cherry or grape tomatoes are just plain cheery and delicious. Here, they are the star of their own little show in a gorgeous salad that's perfect for any time of year.
---
Inspired by Italian restaurant antipasti platters, this gorgeous salad relies on easily available cherry tomatoes and a bunch of pantry items. Olives, artichokes hearts, onions, and an Italian dressing make this a perfect side dish for all kinds of meals.
---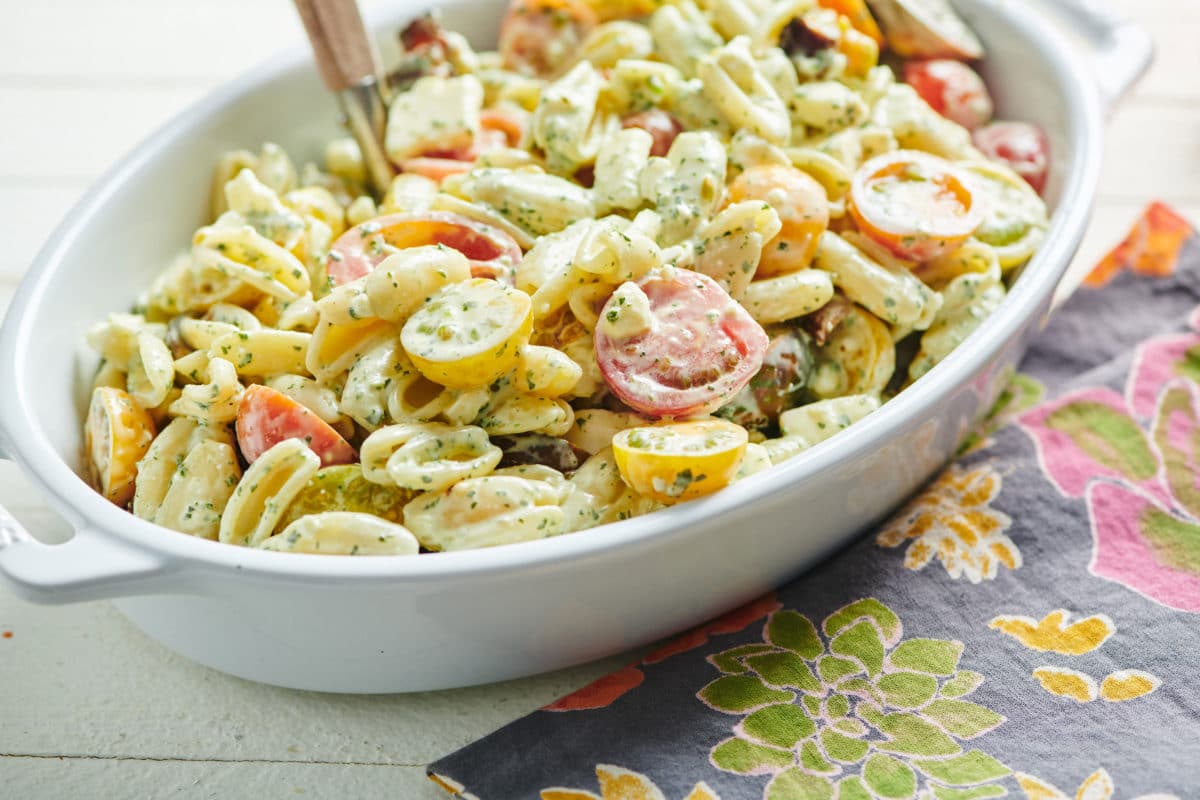 A quick summery meal that can be made ahead. Skip the bacon and it's vegetarian!
---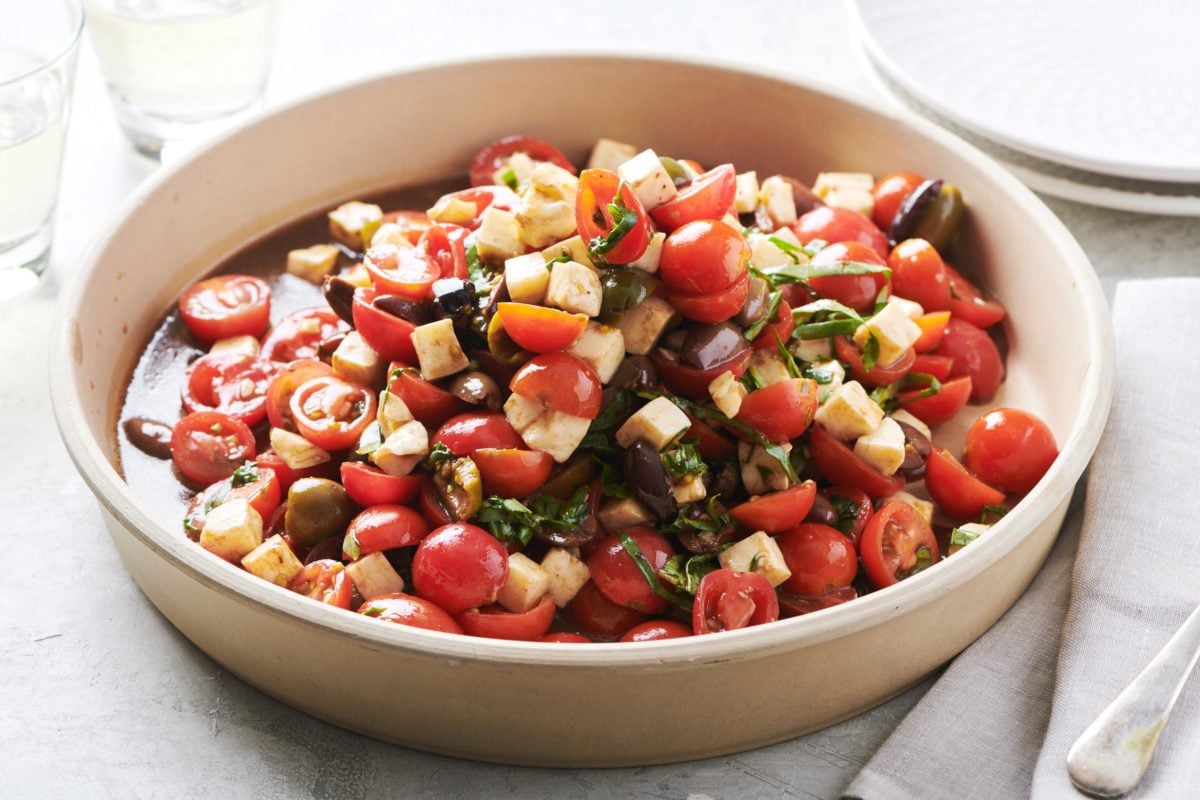 Simple, gorgeous, and summer in a bowl.
---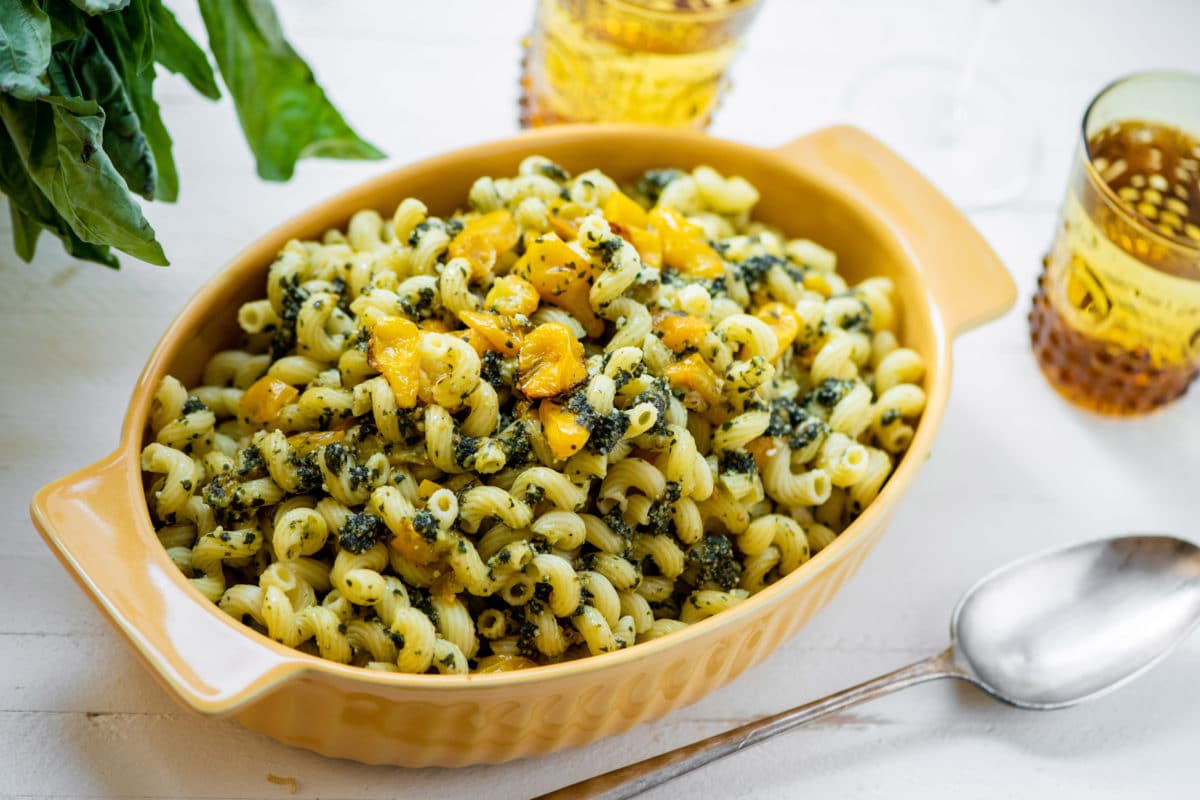 It's hard to make a summer produce pasta that is not a stunner; this one is bursting with basil and roasted tomatoes.
---
This pasta has so much going on flavorwise, but it's really simple to pull together, and downright beautiful. Using a mix of tomatoes in different colors adds even more vibrancy to this dish.
---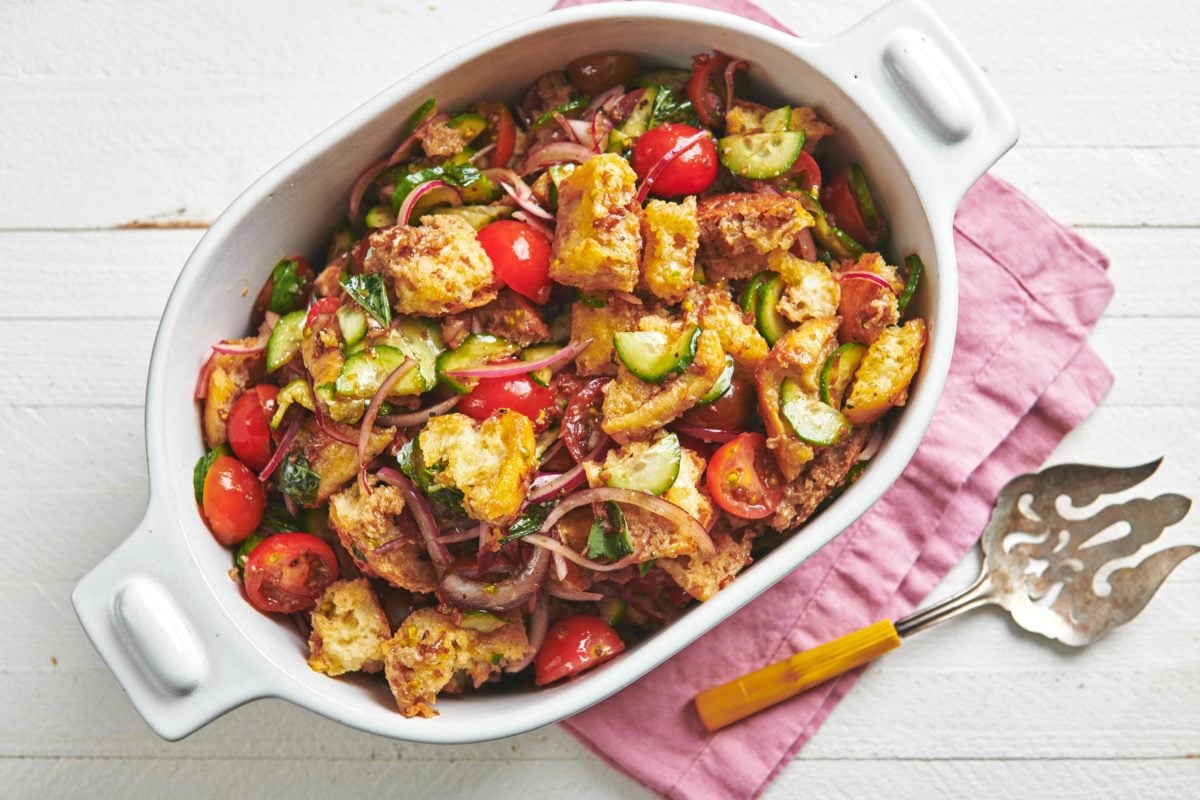 This resourceful Tuscan salad, originally created to use up stale bread, is composed of juicy tomatoes, onions, cucumbers, and basil dressed with a zingy olive oil-based vinaigrette.
---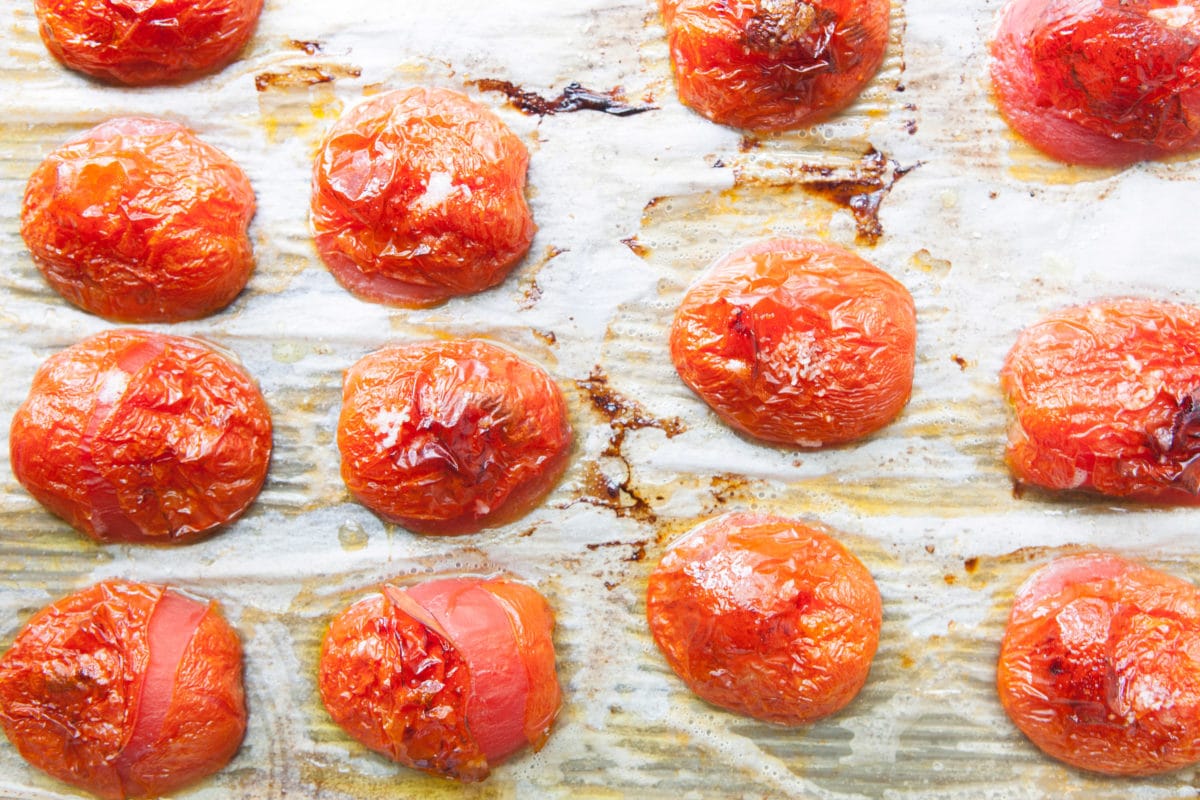 Roasting tomatoes is super easy, and really brings out a deep, concentrated, sweet flavor.
---
Roasted Cherry Tomatoes with Burrata and Basil Oil
Burrata is a semisoft white Italian cheese made from mozzarella and cream. Imagine the softest, creamiest fresh mozzarella you've ever had, but the inside is filled with buttery cream that runs out when you cut it open. If you've ever had a molten chocolate cake (a brownie-like cake with essentially thick, warm chocolate sauce in the middle), then imagine the cheese version of that. Burrata is what angel smiles would taste like if they were a cheese.
This whole dish looks like an Italian flag, what with the red, white, and green colors! If you and a friend want to demolish this for lunch, as I did, then ignore the serving size.
Ingredients
Cherry tomatoes – Roasting tomatoes caramelizes them and brings out even more of their natural sweetness. Use red, or think about an assortment of cherry tomatoes in different colors.
Olive oil – For roasting those tomatoes and for the basil oil.
Basil oil – You're going to want to drink this combo of parsley, garlic, lemon juice, salt, and pepper. You can make the basil oil ahead of time and store it in a covered container in the fridge for up to 3 days.
Burrata – A semisoft white Italian cheese made from a combo of mozzarella and cream.
Crusty bread – The crustier, the better. You're going to use this bread to soak up all the delicious tomato juices and drippy burrata — so make sure you have enough for the job.
Like this recipe? Pin it to your favorite board on Pinterest.

Pin This
Roasted Cherry Tomatoes with Burrata and Basil Oil
Cooked cherry tomatoes served with burrata and basil oil is simply divine!
Ingredients
1 ½

pounds

cherry tomatoes

(on the vine, if desired)

½

cup

plus 2 tablespoons extra virgin olive oil

1

cup

fresh basil leaves

¼

cup

fresh parsley leaves

½

teaspoon

minced garlic

1

teaspoon

lemon juice

½

teaspoon

kosher salt

(plus more to taste)

Freshly ground pepper

(to taste)

2

balls

burrata

(about ½ pound each; at room temperture)

Crusty bread

(to serve)
Instructions
Preheat the oven to 300 F. Line a rimmed baking sheet with aluminum foil and coat it with nonstick cooking spray. Place the tomatoes on the baking sheet and toss them with 2 tablespoons of olive oil (if they are on the vine, just drizzle the tomatoes with the olive oil, and use your hands to ensure they are nicely coated). Season with salt and pepper. Roast for about 30 minutes, until they are wrinkly and slightly collapsed.

Meanwhile, make the basil oil: Place the basil, parsley, garlic, lemon juice, 1/2 teaspoon salt, and pepper in a food processor, and pulse several times to roughly chop. With the motor running, add 1/2 cup of the olive oil through the top of the processor. When the oil is added, scrape down the sides of the food processor and process again.

Transfer the tomatoes to a serving platter along with any juices they have released, and let cool to barely warm or room temperature. They will release some of their juices as they cool, which is not only okay but desirable.

When ready to serve, cut each burrata in half and nestle the cheese amongst the tomatoes, making sure not to lose any of the creamy filling. You may want to add a bit more salt and pepper. Drizzle about half the basil oil over the tomatoes and cheese and serve with the crusty bread and the rest of the basil oil on the side for extra drizzling.
Notes
Roasting tomatoes caramelizes them and brings out even more of their natural sweetness. You do not have to find cherry tomatoes on the vine to make this; handfuls of off-the-vine tomatoes are fine. It's also very beautiful to get an assortment of cherry tomatoes in different colors.
You can make the (nut-free) basil oil ahead of time and store it in a covered container in the fridge for up to 3 days.
Nutrition
Calories:
183
kcal
,
Carbohydrates:
5
g
,
Protein:
1
g
,
Fat:
18
g
,
Saturated Fat:
3
g
,
Cholesterol:
1
mg
,
Sodium:
208
mg
,
Potassium:
273
mg
,
Fiber:
1
g
,
Sugar:
3
g
,
Vitamin A:
976
IU
,
Vitamin C:
30
mg
,
Calcium:
25
mg
,
Iron:
1
mg
Nutrition information is automatically calculated, so should only be used as an approximation.
Like this? Leave a comment below!