I know that you're supposed to cook the beet greens when you buy fresh beets. I know it, and I don't do it. I trim them off, and set them aside with good intentions, and then I get too busy to deal with them and then when they finally wilt and languish on the counter, I say, "Oh, well, too late now" and I throw them away.
But a while back I bought several HUGE bunches of beets and there were so many perky leaves attached to them I was unable to justify letting them go to waste. And now I get what the fuss is all about. If you like collards, kale and the like you will be delighted. Just saute them up separately from the bulbs, and then let them come back together on one platter.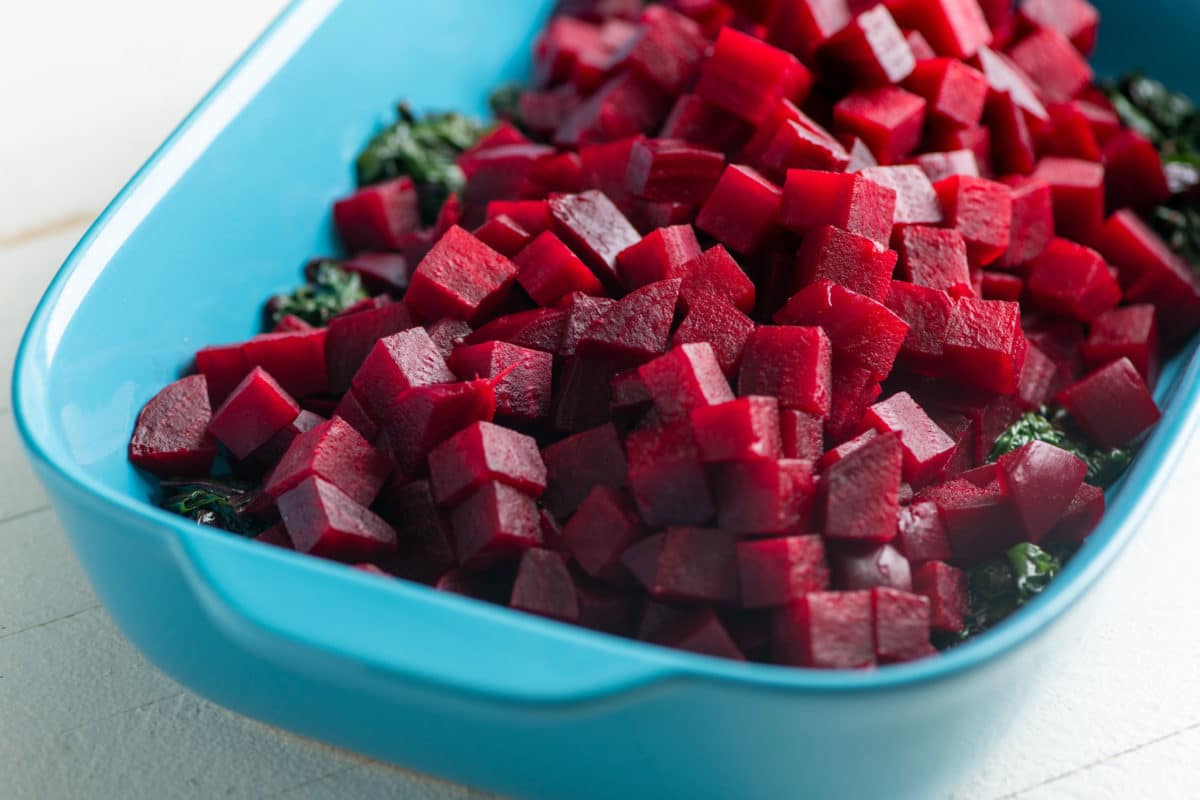 And this combo beet and beet greens recipe is also a perfect expression of the truism that a pristine ingredient, left to shine on its own, needs very little adornment. The roots are simmered and then peeled (but you could also roast them if you prefer—both easy and very fine methods of cooking them.
What is the difference between red and yellow beets, you might ask?  Good question.  Not a whole lot apart from color.  Yellow beets might be a little less "earthy" than their red counterparts, and it varies from beet to beet which has more sweetness.  Red obviously will stain, so if you are making a dish with beets and you don't want the whole thing to be tinted pink, yellow are a better bet.  But they are stunning, and if you need to add color to a meal or a buffet, they are eye-catching.
And this combo beet and beet greens recipe is also a perfect expression of the truism that a pristine ingredient, left to shine on its own, needs very little adornment. The star of this dish is the beets for sure, and the fact that they can be used nose to tail as it were means that you still get a variety of color and texture in one dish, but still rely on just one vegetable. Pretty cool, right?
Proof that a fresh ingredient needs little adornment, and that you can make use of the whole vegetable.

Tweet This
More Vegetable Side Dish Recipes:
Like this recipe? Pin it to your favorite board on Pinterest.

Pin This
Beets and Sauteed Beet Greens
Make use of the whole vegetable.
Ingredients
1 to 2

bunches yellow golden or red beets with plenty of greens

(6 to 8 medium to large beets), or a combo of red and yellow

2

tablespoons

olive oil

plus more for drizzling

1

tablespoon

minced garlic

Coarse or kosher salt and freshly ground pepper

to taste
Directions
Trim the greens from the beets and discard any thick, tough looking stems.

Rinse the beets and put them in a pot of cold water so that they are covered by at least an inch. Cover the pot and bring to a simmer over medium-high heat. Lower the heat to medium and allow the beets to simmer, covered, for about 25 minutes, until a sharp knife slides easily into the beets. Drain the beets, rinse them in cool water, and slide off the skins, which should come off easily. Cut the beets into cubes.

Meanwhile, roll up the leaves into cylinders and slice them thinly crosswise. Rinse them extremely well with cold water in a colander (they will likely be pretty gritty).

Heat the olive oil in a large skillet over medium heat. Add the garlic and stir for a minute until you can smell the garlic. Add the rinsed greens which will still be wet from washing them. Season with salt and pepper and sauté the greens for about 3 minutes, then add ½ cup of water and cover the pan. Cook, stirring every few minutes, and then recovering the pan, for about 8 minutes until quite tender.

Remove the lid and allow any remaining liquid to evaporate as you finish cooking them greens. Turn them onto a serving platter. Arrange the cooked beets on top of the greens. Drizzle with olive oil, sprinkle with salt and pepper. Serve warm or at room temperature. That's it.
Nutrition Information
Calories:
67.69
kcal
|
Carbohydrates:
8.17
g
|
Protein:
1.38
g
|
Fat:
3.65
g
|
Saturated Fat:
0.51
g
|
Sodium:
64.2
mg
|
Potassium:
266.5
mg
|
Fiber:
2.3
g
|
Sugar:
5.55
g
|
Vitamin A:
27.06
IU
|
Vitamin C:
4.33
mg
|
Calcium:
14.93
mg
|
Iron:
0.66
mg
The nutrition values are provided as an estimate. It is not intended as a substitute for the advice of a qualified healthcare professional.
Made this recipe? Post a photo of your delicious creation on Instagram with our hashtag #dinnersolved