Sautéed Spinach with Garlic
Sautéing spinach is dead easy. You are simply wilting in in a hot pan until it's cooked the way that you like it. You can stick with just salt and pepper for seasonings, or add other spices and fresh herbs as you like. It's a perfect simple side dish, and SO versatile.
Is Sauteed Spinach Healthy?
Yes! Extremely healthy, in fact a nutritional bombshell of a side dish: It has nice amounts of iron, calcium, vitamin C, and a whopping amount of vitamin A. ½ cup cooked spinach only has about 35 calories.
I like to use baby spinach in this dish, but you can definitely use mature spinach leaves. Just chop them coarsely before sautéing and know that the leaves are less delicate so they may take an extra minute or two to cook down.
How Much Cooked Spinach Does Raw Spinach Make?
The most important thing to know is that a voluminous amount of uncooked spinach results in a somewhat startlingly small amount of sautéed or cooked spinach. All of this depends on whether you chop the spinach, and how finely or roughly, and how long you cook the spinach, but it's general guide.
5 ounces of raw spinach (the size of a typical container or "clamshell" of baby spinach) yields about 1/2 cup of cooked spinach.
8 ounces (1/2 pound) spinach equals about 2/3 cup.
1 pound of uncooked spinach will get you about 1 1/3 cups cooked spinach.
Why Does Spinach Cook Down to Such a Little Amount?
Because it's a lettuce, and contains a lot of water. If you cooked down any lettuce, the same thing would happen, it's just that most of us eat lettuces uncooked, so we don't really think about the water content of lettuces.
How to Sauté Spinach
Start by heating up some fat in the pan over medium heat. This can be oil of any sort (I default to olive oil for pretty much anything other than Asian cooking, and even then a mild olive oil is fine), or butter. I love a combination of the two, olive oil and butter—say a couple of teaspoons of each.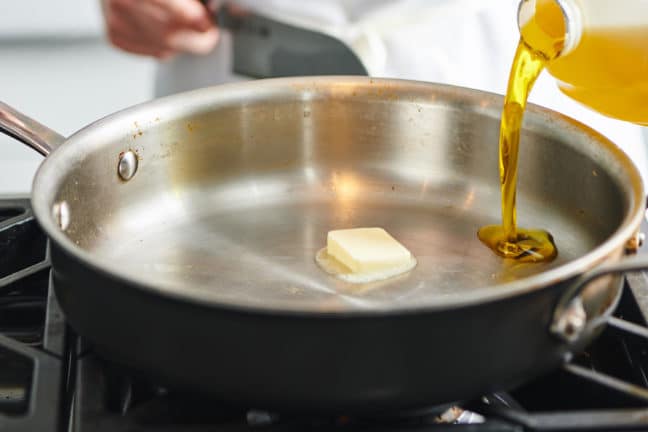 Add some chopped member of the onion family, such as onions, shallots, leeks, or garlic. Sauté for 1 minute for garlic, up to 3 minutes for leeks, and about 2 minutes for shallots or onions., until softened and slightly golden brown. For 8 ounces of raw spinach, use about 1 teaspoon minced garlic, or a few tablespoons chopped leeks, shallots or onions. My favorite is sauteed spinach with garlic, but I also love the other variations as well.
Season with salt and pepper.
Add the Spinach.
You'll be adding the greens in batches, probably unless you have a humongous pan or you are cooking a smaller amount of spinach. The spinach will wilt down quickly as you saute it. You can add a tablespoon of water if the spinach seems to be sticking at all to the pan, or if you just want to make the cooking go faster.
Once it's wilted to the degree you wish (there is no wrong answer on that by the way – some people like their spinach barely wilted, while others are doing for a dense, super soft result), taste and see if it needs more seasonings.
Also see Creamed Spinach!
Transfer it to a serving bowl or dish and give it a final light sprinkle of kosher salt.
What to Serve with Sautéed Spinach:
(What doesn't it go with?? But here are some thoughts):
Like this recipe? Pin it to your favorite board on Pinterest.

Pin This
How to Saute Spinach
A colorful, versatile, nutritious and delicious side dish for any night of the week.
Ingredients
1

tablespoon

unsalted butter or olive oil

or a combination

3

tablespoons

minced shallots or onions

or 1 teaspoon minced garlic, approximately

Kosher salt and freshly ground pepper

to taste

½

pound

baby spinach

or roughly chopped regular spinach
Directions
Place the butter or olive oil in a large skillet and heat over medium heat, until the butter is melted (if using).

Add the shallots, onion s or garlic and sauté for 1 to 2 minutes until just barely golden, but not browned.  Season with salt and pepper.

Add the spinach, in batches if necessary, and stir until it is wilted. Check and adjust seasonings as needed.  Turn into a serving dish.
Nutrition Information
Calories:
49
kcal
|
Carbohydrates:
3
g
|
Protein:
2
g
|
Fat:
4
g
|
Saturated Fat:
1
g
|
Sodium:
46
mg
|
Potassium:
341
mg
|
Fiber:
1
g
|
Sugar:
1
g
|
Vitamin A:
5317
IU
|
Vitamin C:
17
mg
|
Calcium:
59
mg
|
Iron:
2
mg
The nutrition values are provided as an estimate. It is not intended as a substitute for the advice of a qualified healthcare professional.
Made this recipe? Post a photo of your delicious creation on Instagram with our hashtag #dinnersolved