Easy Sautéed Kale
You can cook mature kale and you can cook baby kale much in the same way. My favorite go-to method for cooking kale, and pretty much any leafy green is to sauté it, giving it a relatively quick spin in a pan over medium high heat.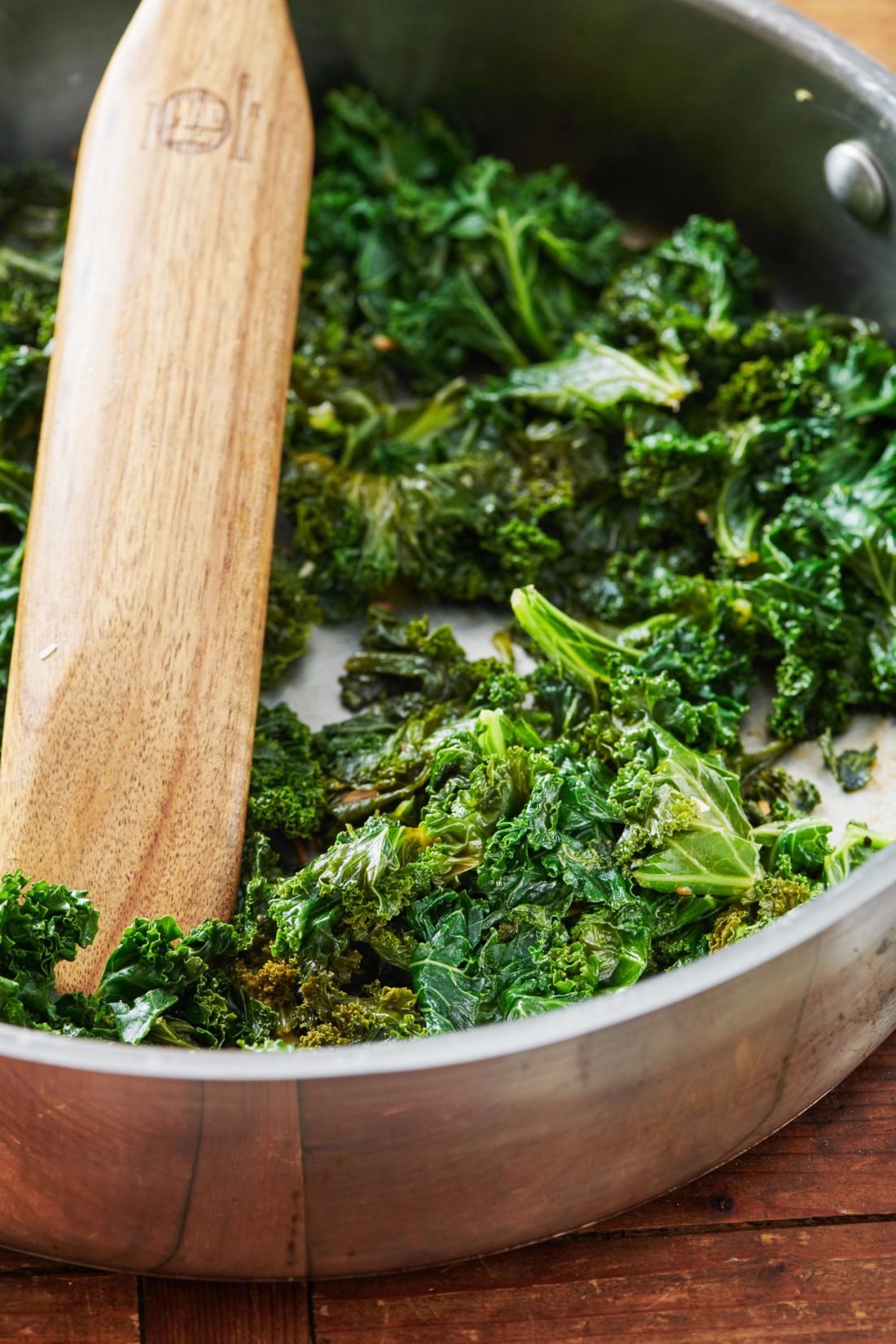 Mature kale has to be worked on a bit before it's ready to cook. The main thing to know is that you need to remove the tough inner rib, which can be done by folding the leaf over so that the thick rib is on one side of the folded leaf, and then using a sharp knife to cut down the side of the rib, removing it and the rest of the stem from the leaf.
Then give it a rough chop, or you can stack the leaves, roll them up, and thinly slice them (see how to chiffonade basil for instructions, and just do this with the stemless leaves).
Baby kale can be sautéed just as, whole or roughly chopped.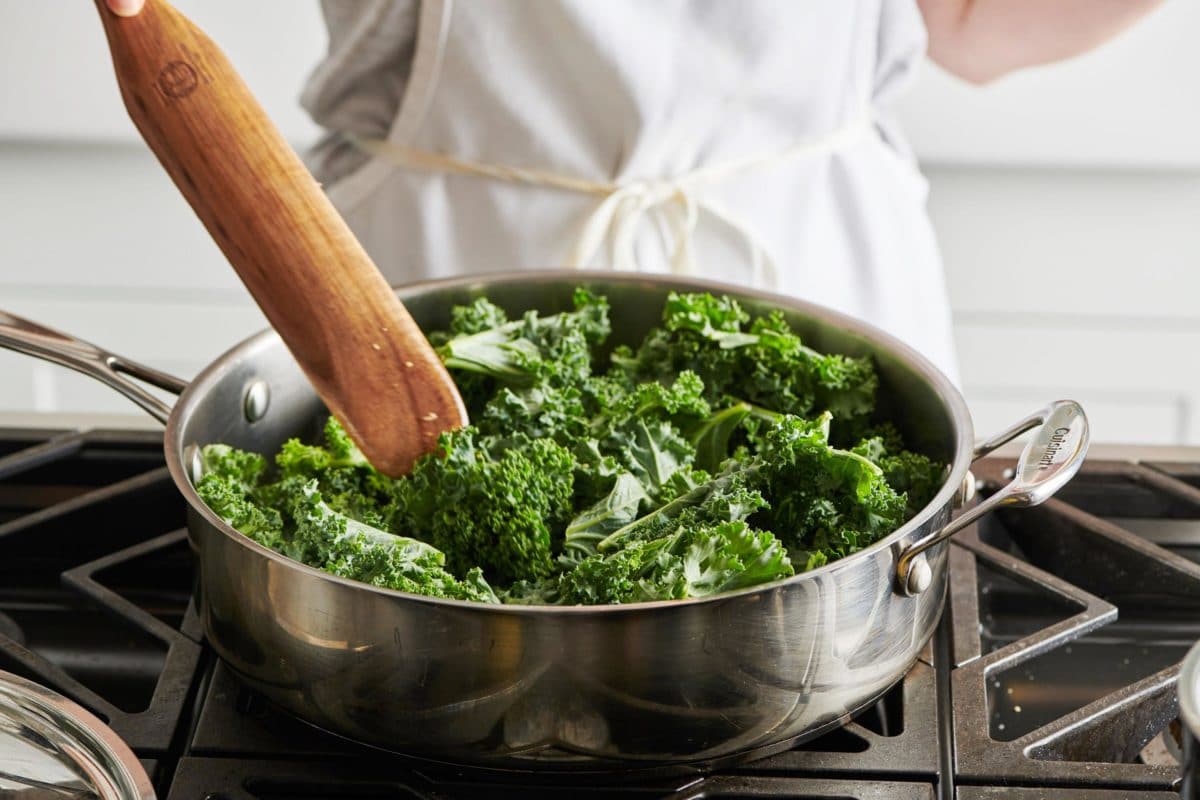 Sauteed Kale
How much Cooked Kale Does Raw Kale Make?
Kale doesn't cook down quite as much as spinach does, but it still reduces significantly.
5 ounces of raw kale (the size of a typical container or "clamshell" of baby kale) yields about 1 cup of cooked kale.
8 ounces (1/2 pound) equals about 1 1/3 cups.
1 pound of uncooked kale will get you about 2 1/2 cups cooked kale.
This is a general guide, but the end volume will also depend on whether you chop the leaves, and how finely or roughly, and how long you cook the greens.
Cooking Kale in a Skillet
Start by heating up some fat in the pan over medium heat. This can be oil of any sort, such as olive oil, canola oil, vegetable oil, (g)rapeseed oil or you can use butter or ghee. I love a combination of olive oil and butter—the best of both worlds of flavor.
Add some chopped member of the onion family, such as onions, shallots, leeks, or garlic. Sauté for 1 minute for garlic, about 2 minutes for shallots or onions, and up to 4 minutes for leeks, until softened and slightly golden brown. For 8 ounces of raw kale, use about 1 teaspoon minced garlic, or a few tablespoons chopped leeks, shallots or onions. Adjust the amount as desired, or depending on your amount of kale.
Season with salt and pepper.
Start adding the kale. Unless you have a super big pan or you are cooking a smaller amount of kale you may be adding the kale in a few batches. The kale will wilt down as you sauté it. Add some water or broth (vegetable if you want to keep this a vegetarian dish), about ¼ cup, if the kale seems to be sticking at all to the pan, or if you just want to make the cooking go faster.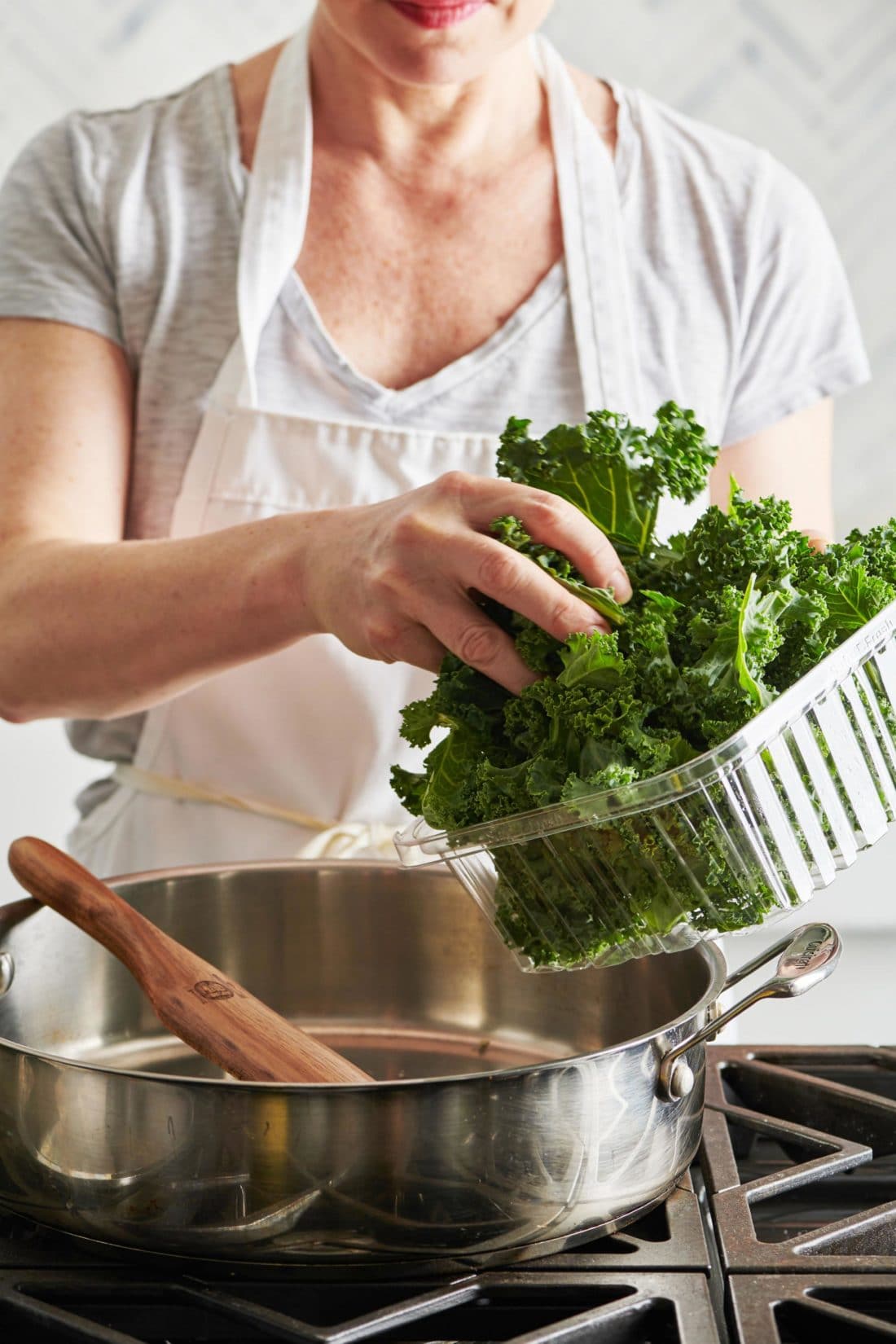 Once it's wilted to the degree you wish (and it really is up to personal taste—some people like their kale just a touch wilted, while others like a much softer more cooked version. Taste and see if it needs more seasoning.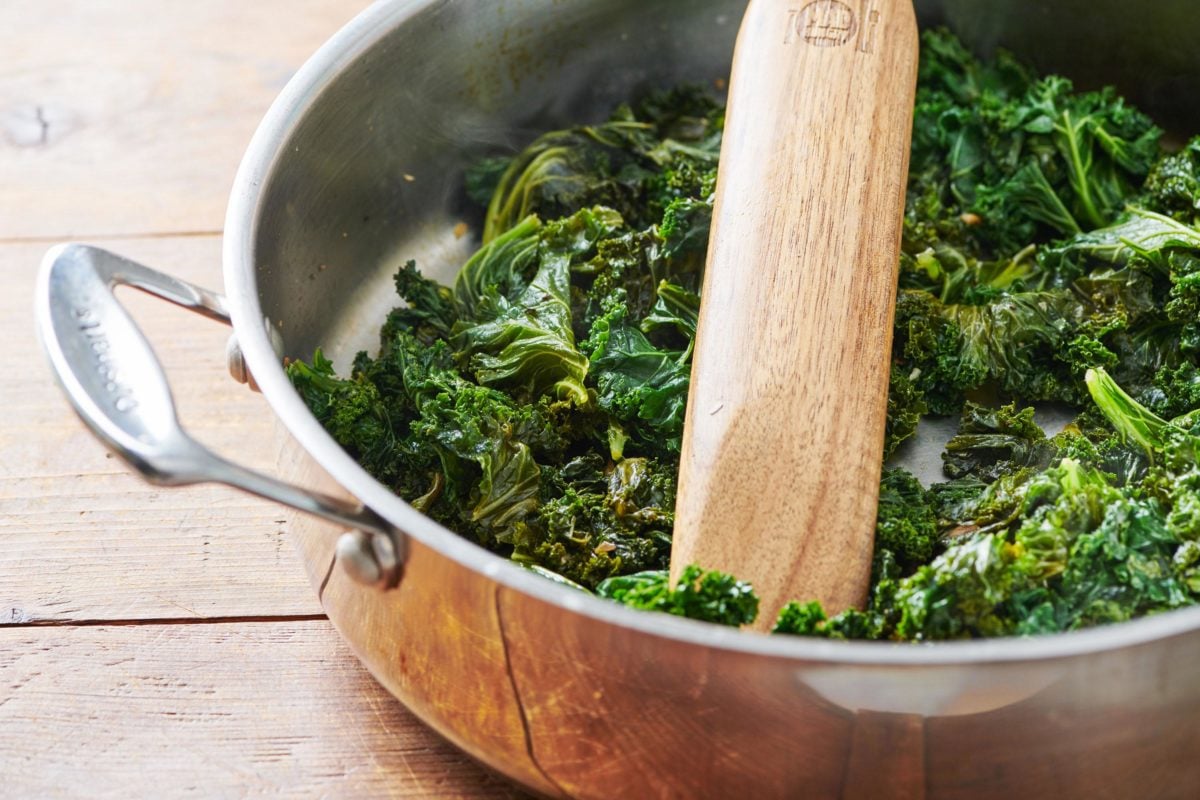 Transfer it to a serving bowl or dish and give it a final light sprinkle of kosher salt.
Sauteed kale is a fabulous simple side dish, and can also be added to everything from omelets to quesadillas to lasagnas to enchiladas for a pop of color and nutrition.

Tweet This
What to Serve with Sautéed Kale
You can serve it with anything from steak to chicken to fish. Also use it in Lebanese Couscous with Sautéed Kale and Lemon Dressing, Pasta with Sautéed Kale and Toasted Bread Crumbs, and Hot Cheesy Scallion Kale Dip.
And pile it on a romesco slathered crostini.
And check out these kale recipes.
Other How to Cook Vegetable Recipes!
Like this recipe? Pin it to your favorite board on Pinterest.

Pin This
How to Cook Kale
Sauteed kale is a fabulous simple side dish, and can also be added to everything from omelets to quesadillas to lasagnas to enchiladas for a pop of color and nutrition.
Ingredients
2

tablespoons

unsalted butter or olive oil or another oil

or a combination

3

tablespoons

minced shallots or onions

approximately, or 2 garlic cloves very thinly sliced or 1 teaspoon minced garlic

Kosher salt and freshly ground pepper

to taste

1

pound

baby kale

¼

cup

water or broth

chicken or vegetable

2

tablespoons

red wine vinegar

Pinch red pepper flakes

optional 
Directions
Place the butter or olive oil in a large skillet and heat over medium heat, until the butter is melted (if using).

Add the shallots, onions or garlic and sauté for 1 to 2 minutes until just barely golden, but not browned. Season with salt and pepper.

Add the kale, in batches if necessary, and the liquid, and stir until it is wilted to how to you like it, and the liquid has evaporated. Add the vinegar and red pepper flakes, if using, and toss to combine well. Check and adjust seasonings as needed. Turn into a serving dish.
Nutrition Information
Calories:
76
kcal
|
Carbohydrates:
8
g
|
Protein:
3
g
|
Fat:
5
g
|
Saturated Fat:
2
g
|
Cholesterol:
10
mg
|
Sodium:
66
mg
|
Potassium:
396
mg
|
Fiber:
1
g
|
Sugar:
1
g
|
Vitamin A:
7669
IU
|
Vitamin C:
92
mg
|
Calcium:
115
mg
|
Iron:
1
mg
The nutrition values are provided as an estimate. It is not intended as a substitute for the advice of a qualified healthcare professional.
Made this recipe? Post a photo of your delicious creation on Instagram with our hashtag #dinnersolved