Tarragon Sauce for Salmon
A good piece of fish needs very little to make it perfect. Here, the brisk, anisey-tangy flavor of the tarragon vinaigrette is a wonderful complement to the rich lushness of salmon filets. If you start with excellent salmon and super fresh herbs, and don't overcook the fish, you cannot mess this up. A less is more dish.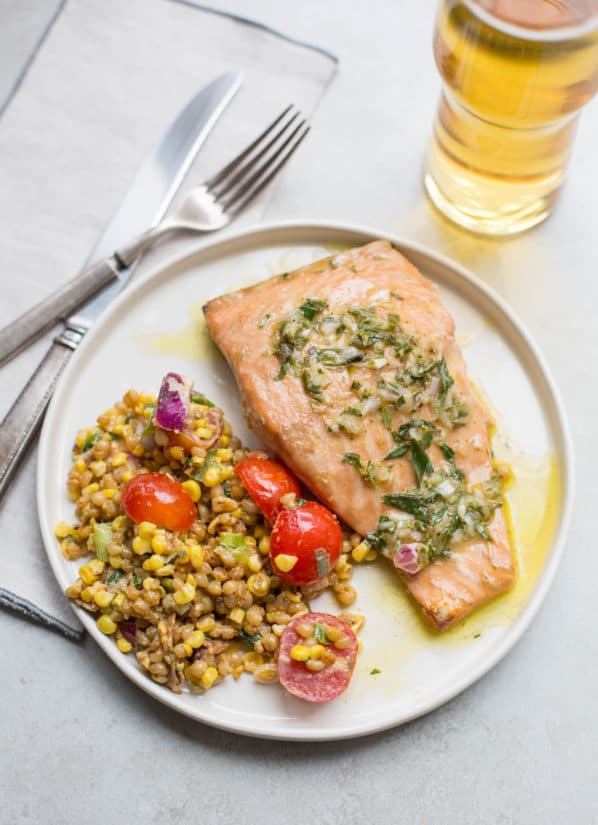 The mix of orange and lemon juices in the vinaigrette gives it a really nice balance of sweetness and tanginess. If you are in possession of a Meyer lemon, you could use that juice in place of the mix, and get to similar results Not exactly the same, that's not the point, but something else wonderful.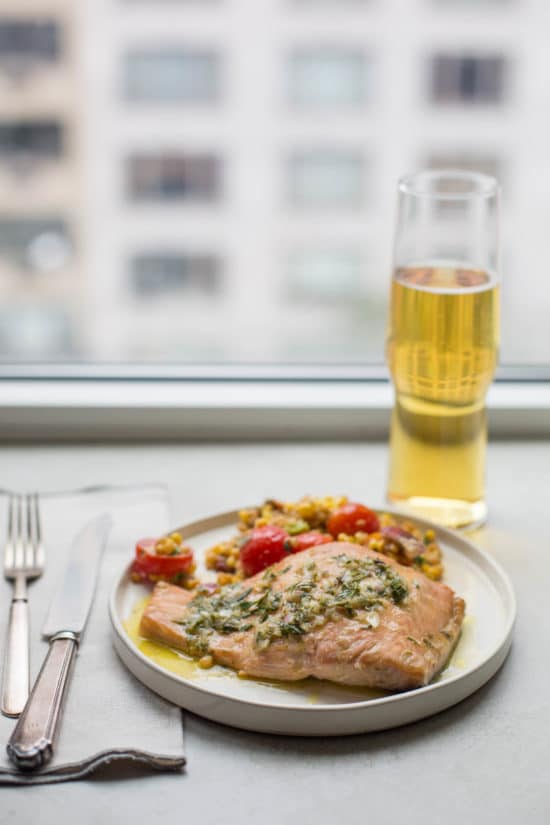 Tips for Cooking Salmon
I love starting fish in a pan (make sure your fish is fairly thick, about 1-inch or even thicker), then transferring it to a stove to finish cooking. Here's are the three main reasons why:
1) You can use the oven to cook something else to go with the fish – whether it be roasted potatoes or other vegetables.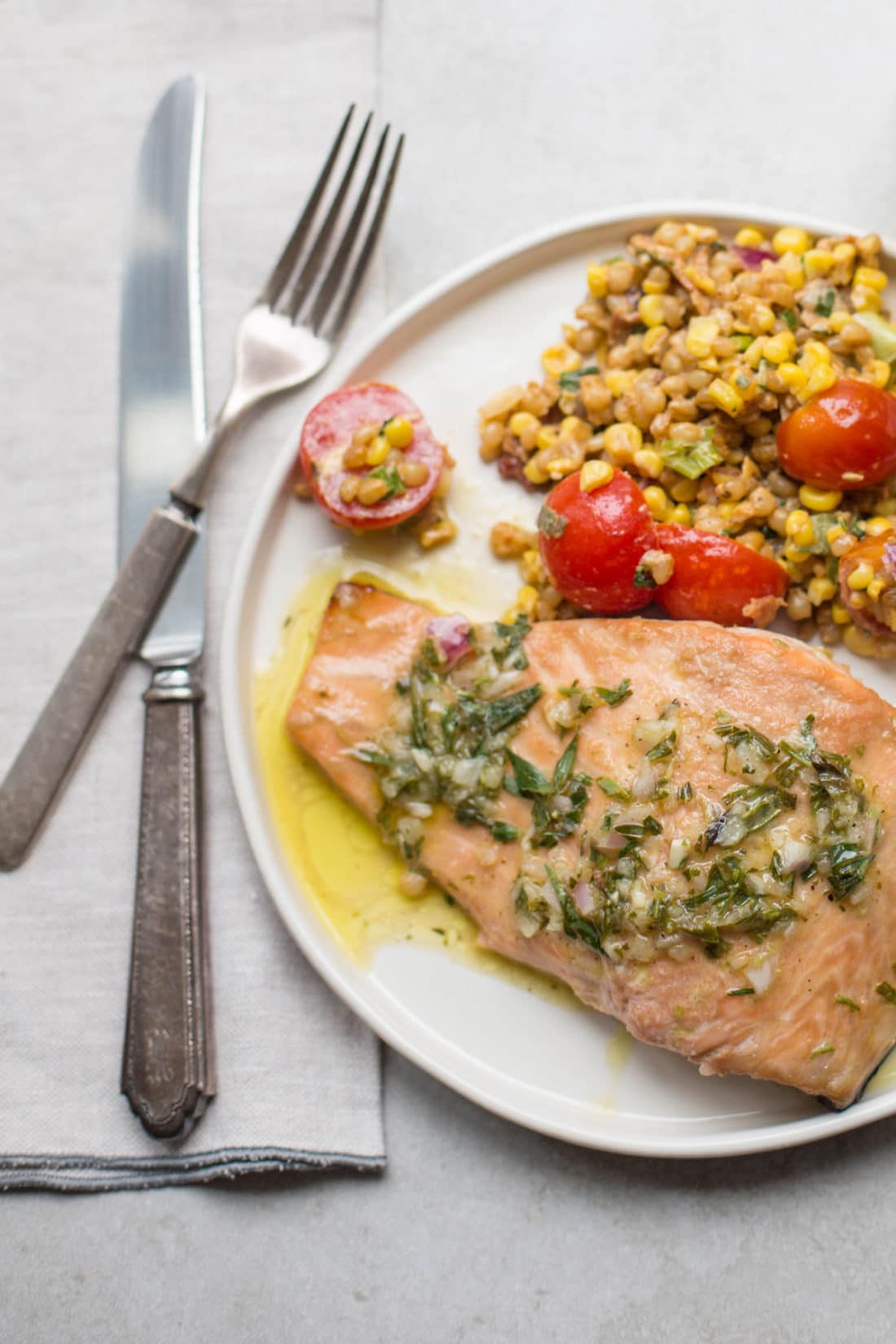 2) Starting the fish in the pan means that if you are cooking fish with skin on it, you can get that pan screaming hot before you add the fish, so that when the skin hits the pan it starts to crisp up immediately, and then stays crisp and delicious and great to eat. Soft fish skin = not good. Crisp fish skin = a truly fabulous counterpoint to a well cooked soft, delicate fish
3) You don't have to flip the fish, which even for the most confident and experienced cooks doesn't always end well.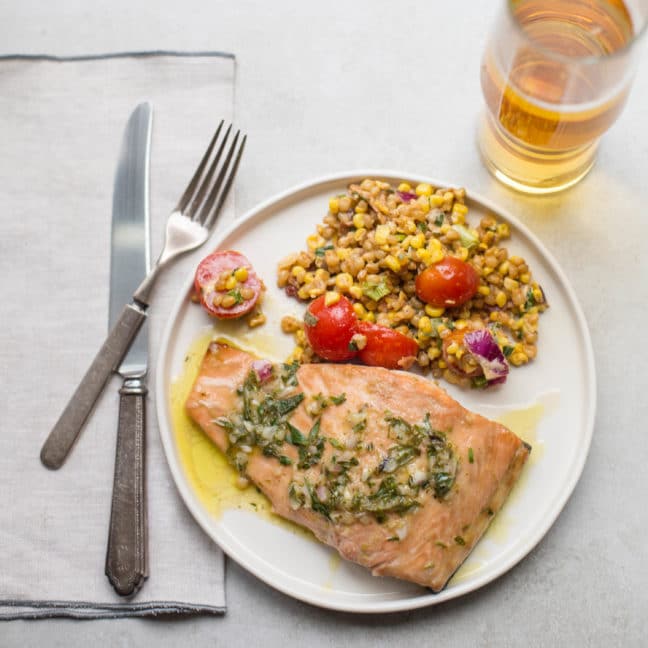 What Kind of Salmon to Buy
Salmon is available everywhere, because it's so damn good and so damn popular. If you can get wild Alaskan salmon, do yourself (and the environment) a favor and buy it. It has a more pronounced flavor than farm-raised, so you're getting the full salmon experience. And because the Alaskan seafood folks are so vigilant about sustainability and harvesting practices, you know you're eating salmon that has no growth hormones, no artificial coloring, no preservatives, no added stuff that you might be wondering about in your fish.
If you like your salmon cooked all the way through, that's super fine, cook it how you like it. I have a non-erasable memory of being at a very fancy restaurant with some business colleagues, and the waiter bringing one of our group a brick sized cut of barely seared tuna. My friend sent it back, asking that it be cooked all the way through. The waiter huffily removed the fish, and returned it several minutes later. Cooked exactly the same way. Clearly the chef was having none of this "cooked through" business, but here's the thing – who was eating the fish, the chef or my friend?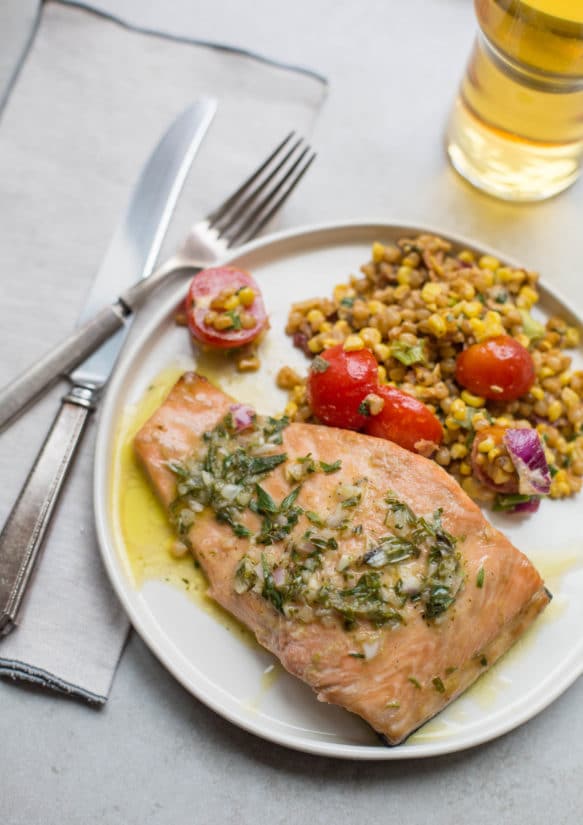 Having shared that, I think there is nothing finer than a piece of salmon with some dark pinkness inside. And I'm not trying to kiss the chef's ass.
What to Serve with Salmon with Tarragon Vinaigrette:
This salmon would be a gorgeous, complete meal with this tomato and corn salad, mixed with some grains. It would also pair really nice with Sugar Snap Pea Salad or Air Fryer Green Beans.
File this one under FEFCEEFAW (Fancy Enough for Company, Easy Enough for a Weekday).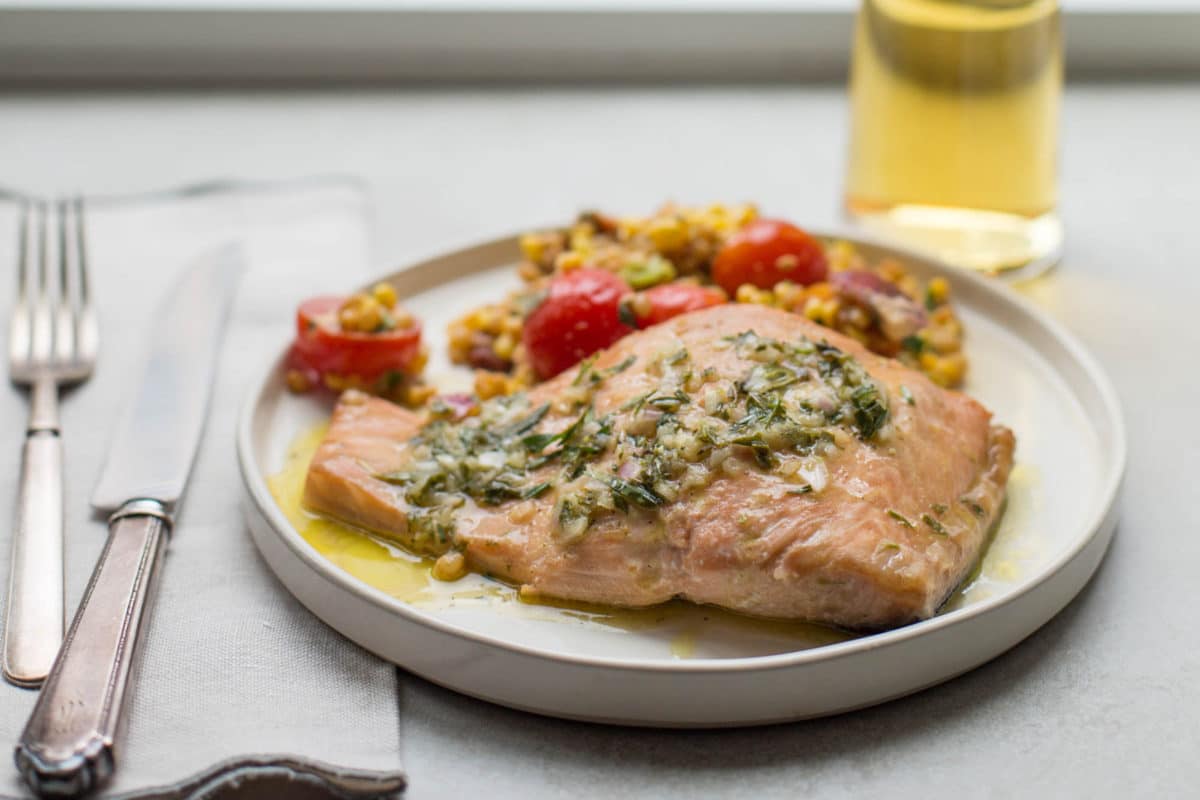 Other Weeknight Salmon Recipes:
Like this recipe? Pin it to your favorite board on Pinterest.

Pin This
Salmon with Tarragon Vinaigrette
Fancy enough for company, easy enough for a weeknight.
Ingredients
For the Salmon
4

6-ounce fillets of salmon, 1-inch thick preferably wild, skin on if desired

1

tablespoon

olive oil

plus more for brushing
For the Tarragon Vinaigrette
Directions
Preheat the oven to 425°F. Heat a heavy, ovenproof skillet over high heat, and add the olive oil.

Brush some olive oil over each piece of salmon, and season with salt and pepper. Add them to the pan skin side down (if relevant). Allow to sear, without moving, in the pan for about 3 minutes. Transfer to the oven and roast for 5 to 8 minutes, until done to your liking (

check out this video, it's so helpful

).

While the salmon is cooking, in a small container combine the olive oil, orange juice, lemon juice, tarragon, shallots, Dijon mustard and salt and pepper. Shake to blend well.

Transfer the fish to a serving platter or individual plates. Shake the vinaigrette to remix, then pour it over the fish. Serve hot or warm.
Nutrition Information
Calories:
411
kcal
|
Carbohydrates:
4
g
|
Protein:
35
g
|
Fat:
28
g
|
Saturated Fat:
4
g
|
Cholesterol:
94
mg
|
Sodium:
92
mg
|
Potassium:
973
mg
|
Fiber:
1
g
|
Sugar:
1
g
|
Vitamin A:
232
IU
|
Vitamin C:
8
mg
|
Calcium:
60
mg
|
Iron:
3
mg
The nutrition values are provided as an estimate. It is not intended as a substitute for the advice of a qualified healthcare professional.
Made this recipe? Post a photo of your delicious creation on Instagram with our hashtag #dinnersolved