With the arrival of fall my produce thoughts starts to move from things that grow above the ground to things that grow under the ground. Yes, my fellow seasonal cooks, root vegetable season is heading our way.
I always feel a little like a homesteader when I cook with root vegetables. I think of 19th century families setting up homes out West, filling their root cellars with all kinds of tubers, readying themselves for the cold winter ahead. I channel my Laura Ingalls Wilder self as I contemplate the piles of knobby, bumpy, often dirty vegetables, knowing that this is what the vegetal landscape is mostly made of until spring..
Ok, none of this has anything to do with my actual life, but there is something about the humble sturdiness of a root vegetable that can be very pleasing, and even inspiring.
Parsnip and Golden Beet Soup: This beautiful fall soup soup has a rich golden color, and is filled with deep, sweet root vegetable flavor.

Tweet This
First stop – soup! This soup highlights the pale golden colors and slight sweetness of yellow beets and parsnips. Is this not the prettiest pale butter color?
Substituting Red Beets
You could absolutely use red beets, and make this into a red soup – which would also be just gorgeous. And you could definitely use carrots instead of the parsnips, which will make the soup a more orangey yellow (presuming you are using the golden/yellow beets).
If you can find the larger beets, they are easier to peel, and obviously you'll use fewer of them. Baby beets are the other option, though they are a bit more painstaking to peel. And one time I had this great package of steamed baby golden beets, and instead of simmering them with the parsnips I just added them during the last 5 minutes of simmering to heat them through, and then pureed the mix and finished the recipe. An amazing shortcut.
Cooking Beets in their Skins
If you want to cook the beets in their skins, and then slip them off you can do that in a pot of simmering water, letting them cook until a knife slides in super easily. Let them cool slightly, then slide off the skins, slice them, and add them towards the end of the parsnip simmering. This is a bit easier in terms of peeling, but it does require a second pot.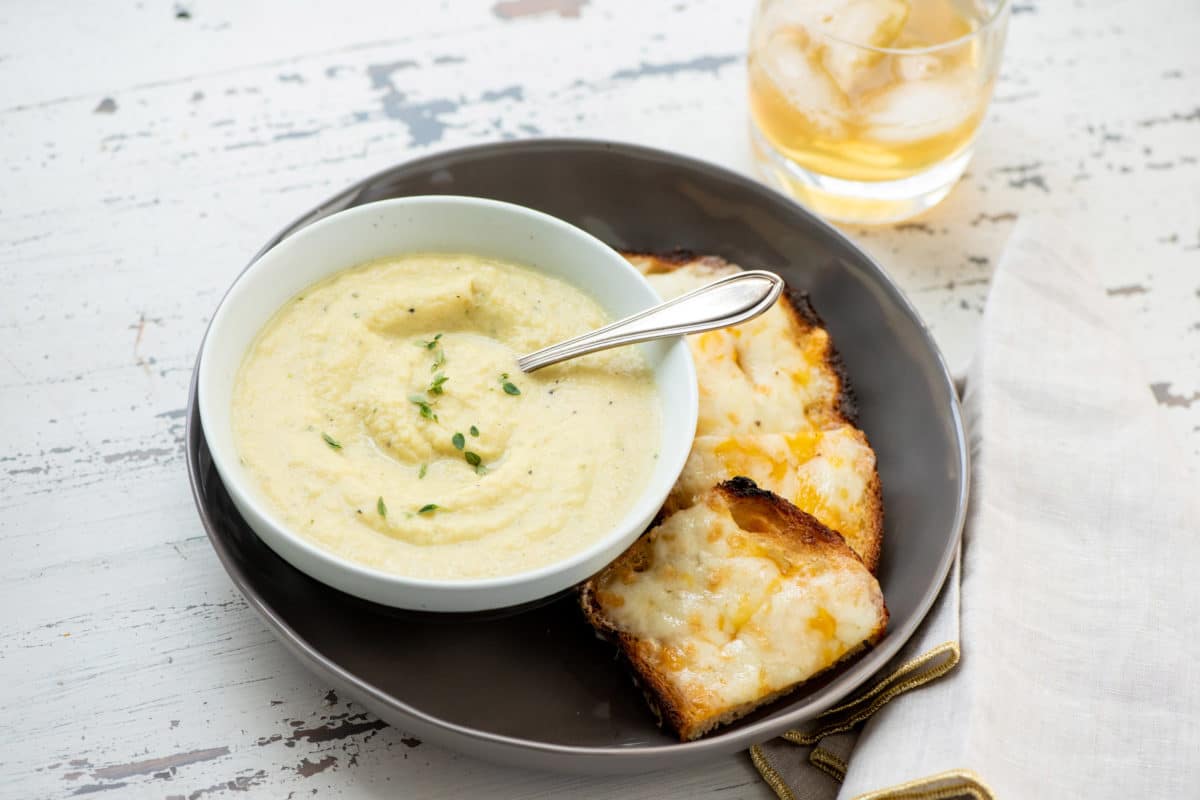 The second time I made this the fennel I was using came with these very long stalks with loads of fronds. So I chopped a few of the fronds for garnish and then put all of the stems (there were about 4 heads of fennel, not all of which were destined for this recipe) in a pot, added water to cover and simmer it for about 45 minutes. Then I had fennel broth, which I used to make this—and a few other—soups.
I always feel very pleased with myself when I use a vegetable nose to tail, as it were.
You can definitely leave out the cream if you don't want it for any reason, and a little squirt of hot sauce is a brilliant addition at the end (but not too much – there's no point in overpowering the delicate sweetness of the vegetables).
Paired up with some cheese toasts, this is what I would consider a meal. Especially if the bowl was big enough.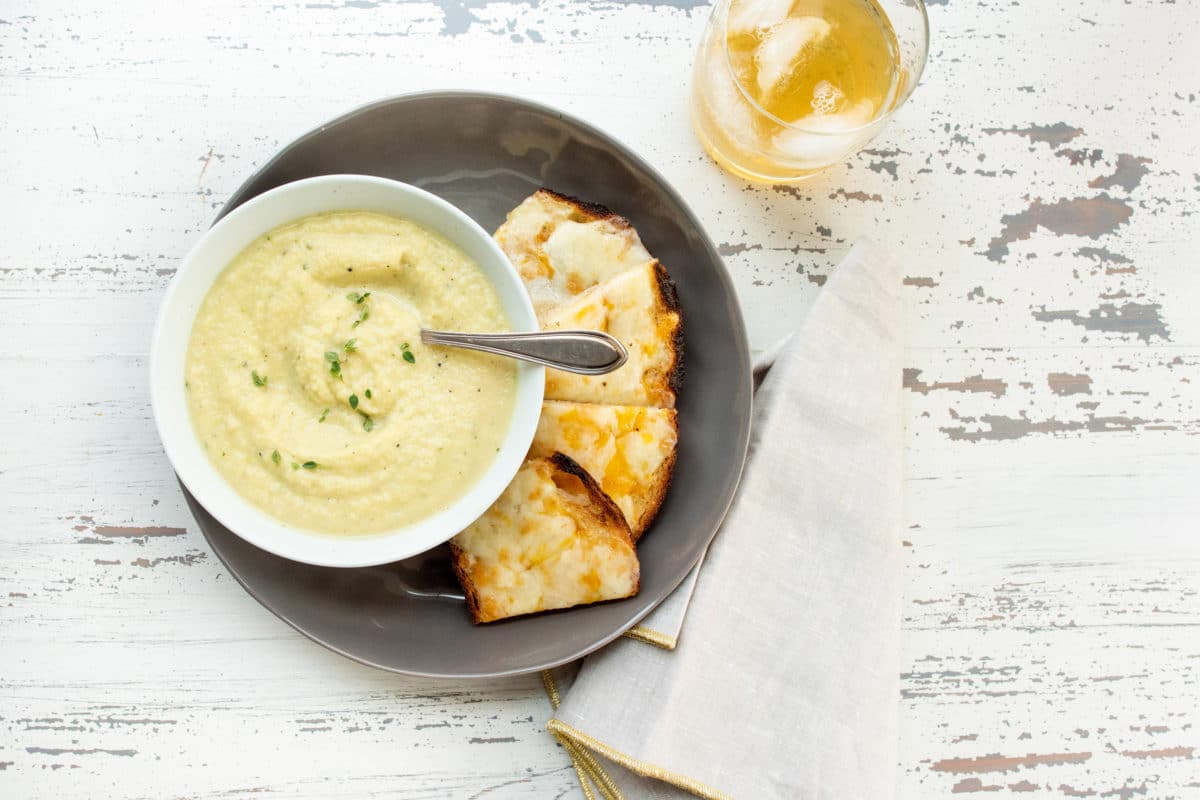 Other vegetarian soup recipes to try:
Like this recipe? Pin it to your favorite board on Pinterest.

Pin This
Parsnip and Golden Beet Soup
Deeply golden in color, deeply flavorful in taste.
Total Time:
1
hour
10
minutes
Ingredients
1

tablespoon

olive oil

½

cup

chopped fennel

½

cup

chopped onions

kosher salt and freshly ground pepper

to taste

4

parsnips

peeled and sliced (about 1 pound)

4

golden beets

or about 10 baby golden beets, about 1 pound total, peeled and sliced

4

cups

vegetable broth

or more as needed

1

teaspoon

fresh thyme leaves

½

cup

heavy cream

light cream, or half and half
Directions
Heat the olive oil in a large pot or Dutch oven over medium heat. Add the fennel and onions and simmer for 3 minutes, until they start to soften and turn golden. Add the parsnips and stir for another minute until the parsnips are coated with the oil. Add the broth and bring to a simmer. Add the beets and continue to simmer, partially covered, until the vegetables are very tender, about 35 to 45 minutes.

Allow the vegetables and broth to cool slightly. There should be about 2 cups of broth left – the liquid will have reduced in the simmering. Then transfer the contents of the pot, along with the thyme leaves, in two batches if necessary, to a food processor or blender and process to puree until smooth.

Return the soup to the pot over medium low heat and stir in the cream. Give it another moment for the cream to warm through, taste and adjust seasonings as needed. If the soup seems too thick, add more broth to reach the texture you like. Serve warm.
Nutrition Information
Calories:
291
kcal
|
Carbohydrates:
38
g
|
Protein:
4
g
|
Fat:
15
g
|
Saturated Fat:
7
g
|
Cholesterol:
41
mg
|
Sodium:
1058
mg
|
Potassium:
890
mg
|
Fiber:
9
g
|
Sugar:
16
g
|
Vitamin A:
1014
IU
|
Vitamin C:
28
mg
|
Calcium:
88
mg
|
Iron:
2
mg
The nutrition values are provided as an estimate. It is not intended as a substitute for the advice of a qualified healthcare professional.
Made this recipe? Post a photo of your delicious creation on Instagram with our hashtag #dinnersolved