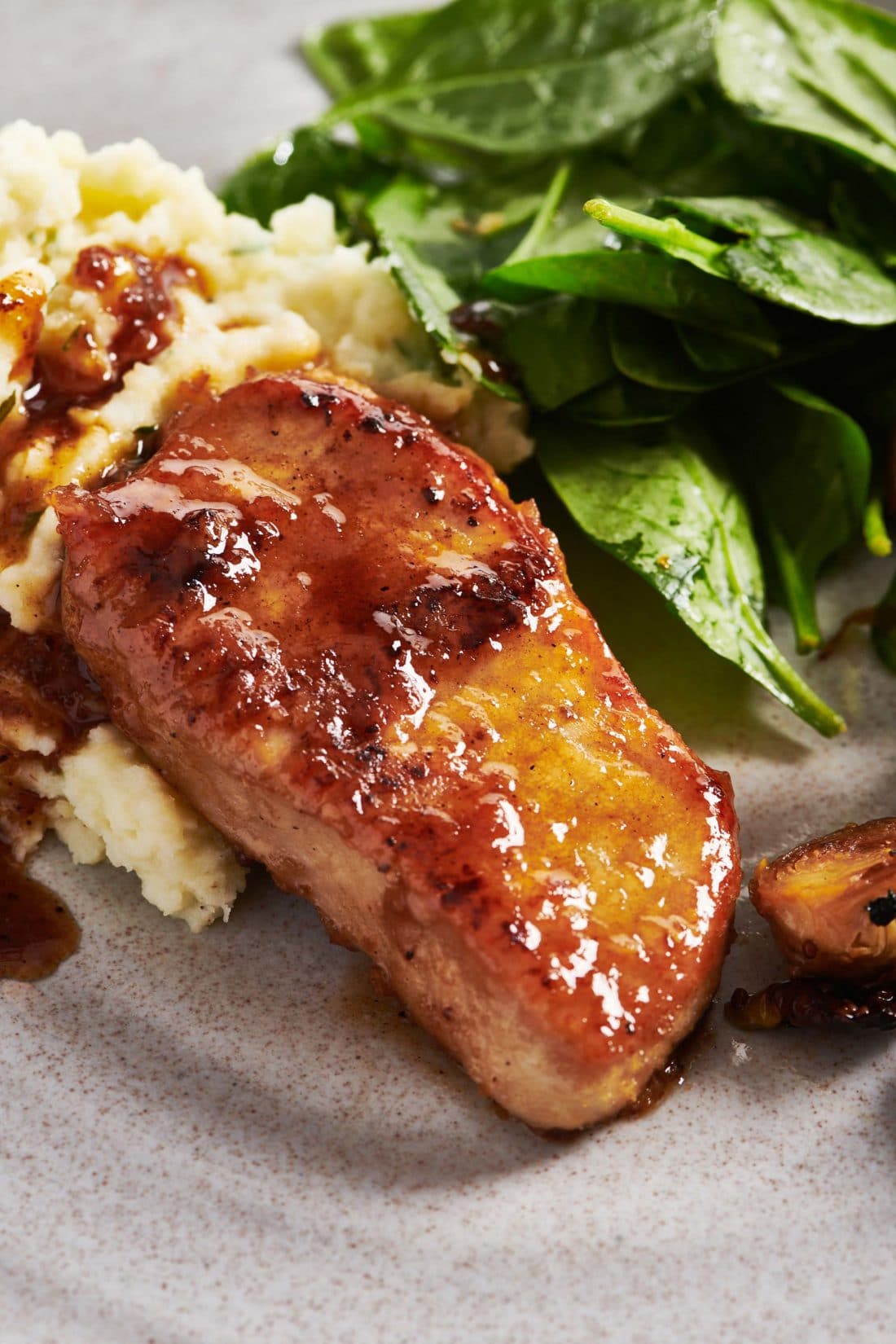 For those of us who need to get quick and easy weeknights on the table (and by that I mean all of us), new recipes to add to the rotation are always in demand. This is one of those recipes that is full on flavor-wise, simple, fast, and also inexpensive.
Cooking Pork Chops
If your pork chops are on the thinner side, say ¾-inch or thinner, then you can cook this whole dish on the stovetop. If you are going for thicker pork chops, 1-inch or thicker then you may want to finish them in a 375°F or so oven for about 5 minutes, especially if the oven is already on for another reason. This will ensure that your pork chops cook throughout without the outside getting overly browned.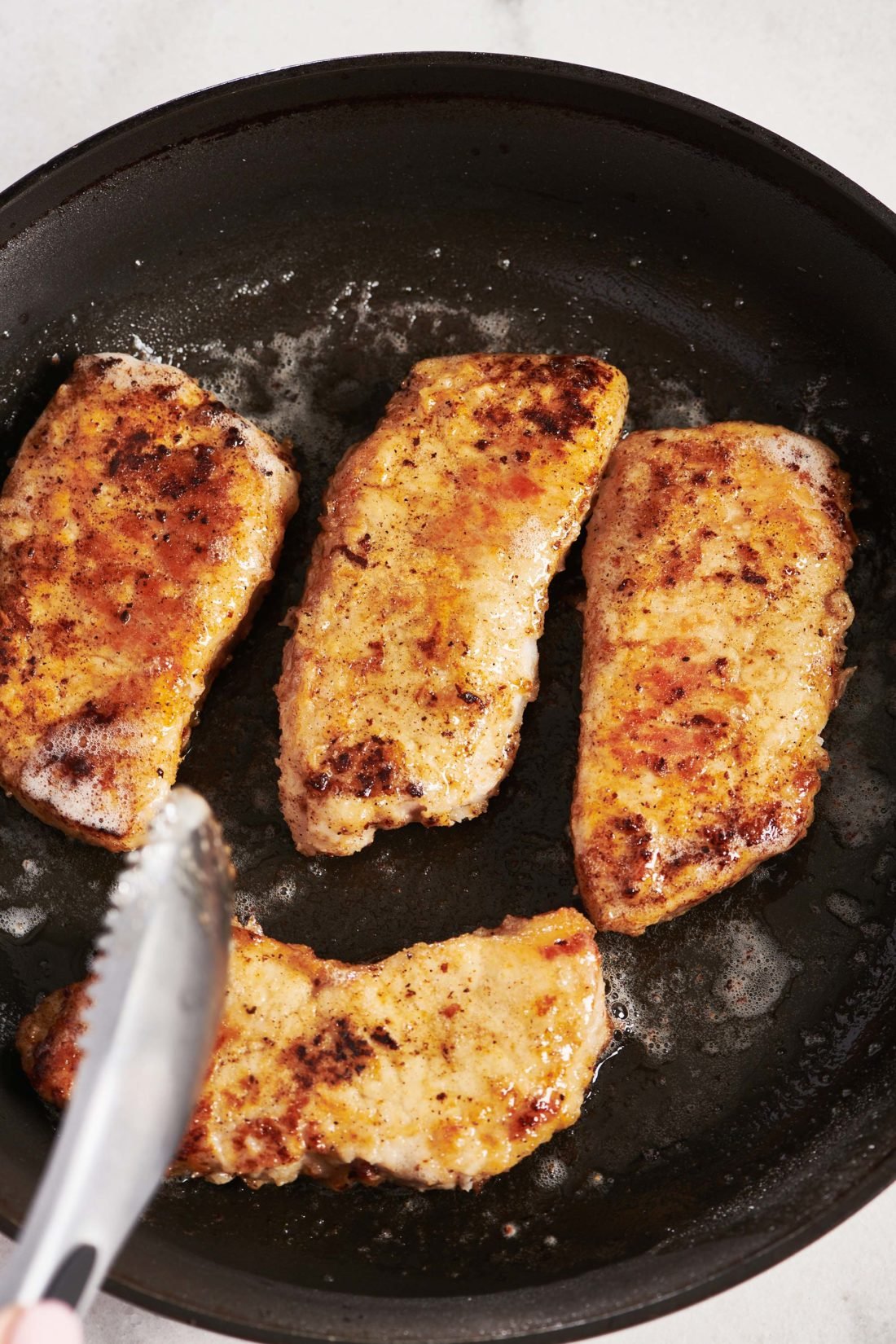 If you have your oven on at 350°F or 400 °F that works too, just keep an eye on the pork and take it out when the pork has reached an internal temperature of 140°F, which will climb to 145°F as the pork chops rest for a few minutes once they come out of the oven. That's the temp you want for safely cooked, still juicy pork. An exact baking time is hard to say, but there should be just a hint of pinkness in the center of the pork chops when you cut into one.
While you do not need to brine your pork chops before cooking them, if you have time you will ensure that the results are tender and juicy.
Honey in Cooking
If you've only thought about honey as a sweetener in your tea, or perhaps in desserts, then you are missing out on what honey can do in savory dishes. I forget about it for a while, which means I get to remember it and say oh, honey, it's on.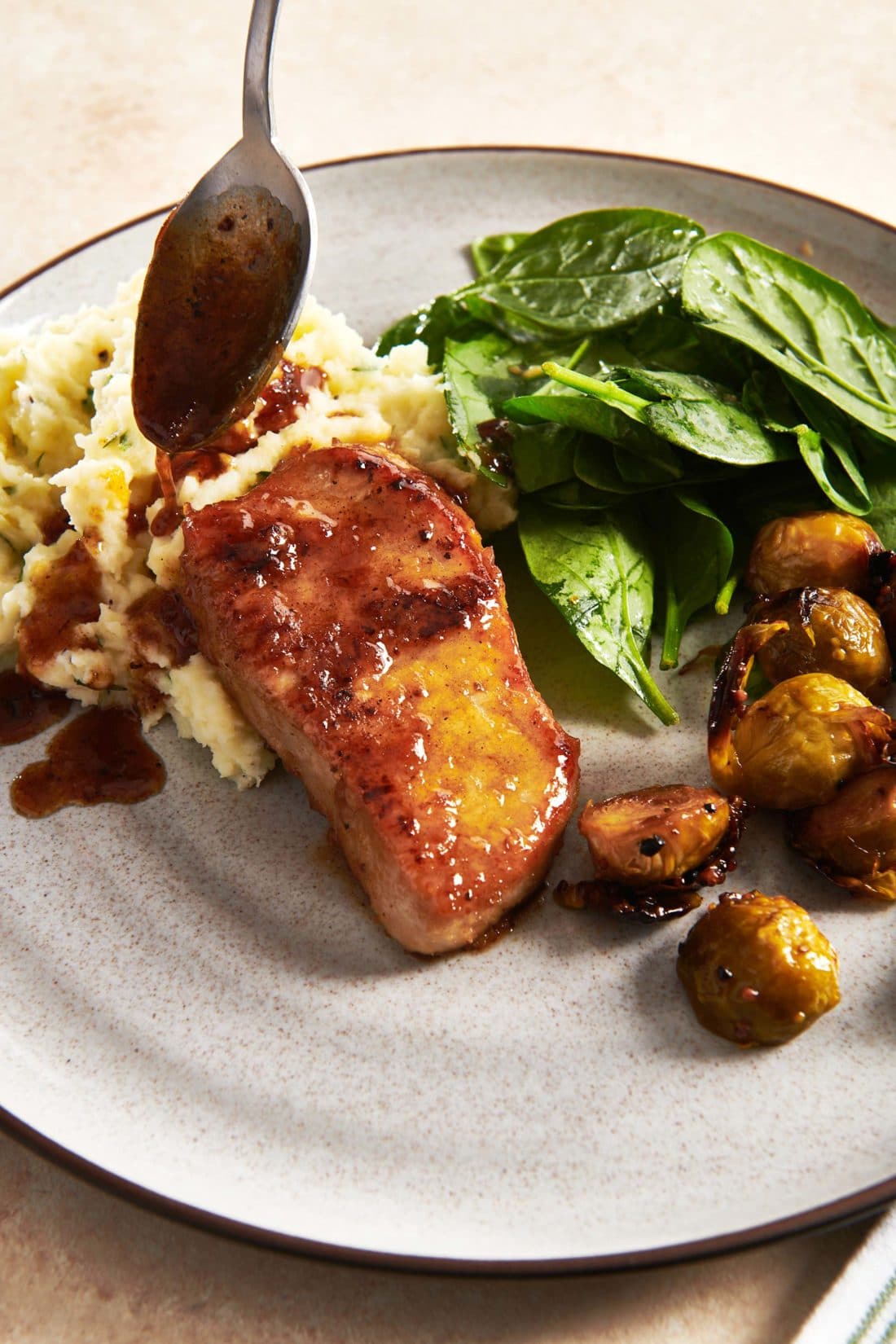 Because honey is of course a sweetener, it aids in caramelization, especially when it comes in contact with direct heat. Look at that lovely glaze!You do want to keep an eye on the heat of the pan, lowering it if the chops look like they are browning too quickly.
Leftover Pork Chops
I always make more "dinner" than I need because I am the world's biggest fan of leftovers, either eaten straight up, or repurposed into another dish. These pork chops would be great cubed and added to a grain bowl, or added to a stir fry towards the end, just to heat through. A stir-fried rice meal could be built on planned leftover honey garlic pork chops for sure. Thinly sliced they would make delicious east-meets-west soft shell tacos.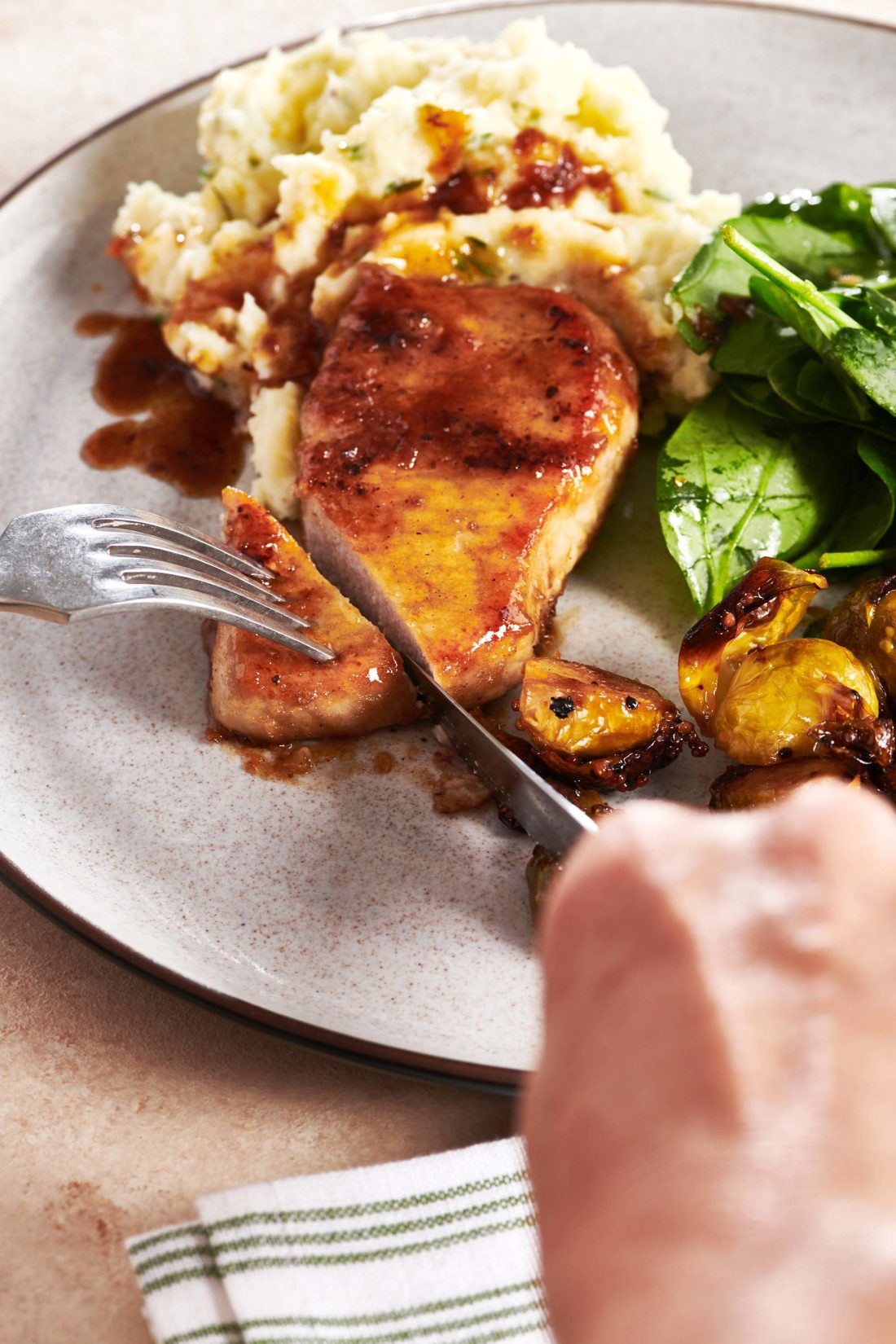 What to Serve with Honey Garlic Pork Chops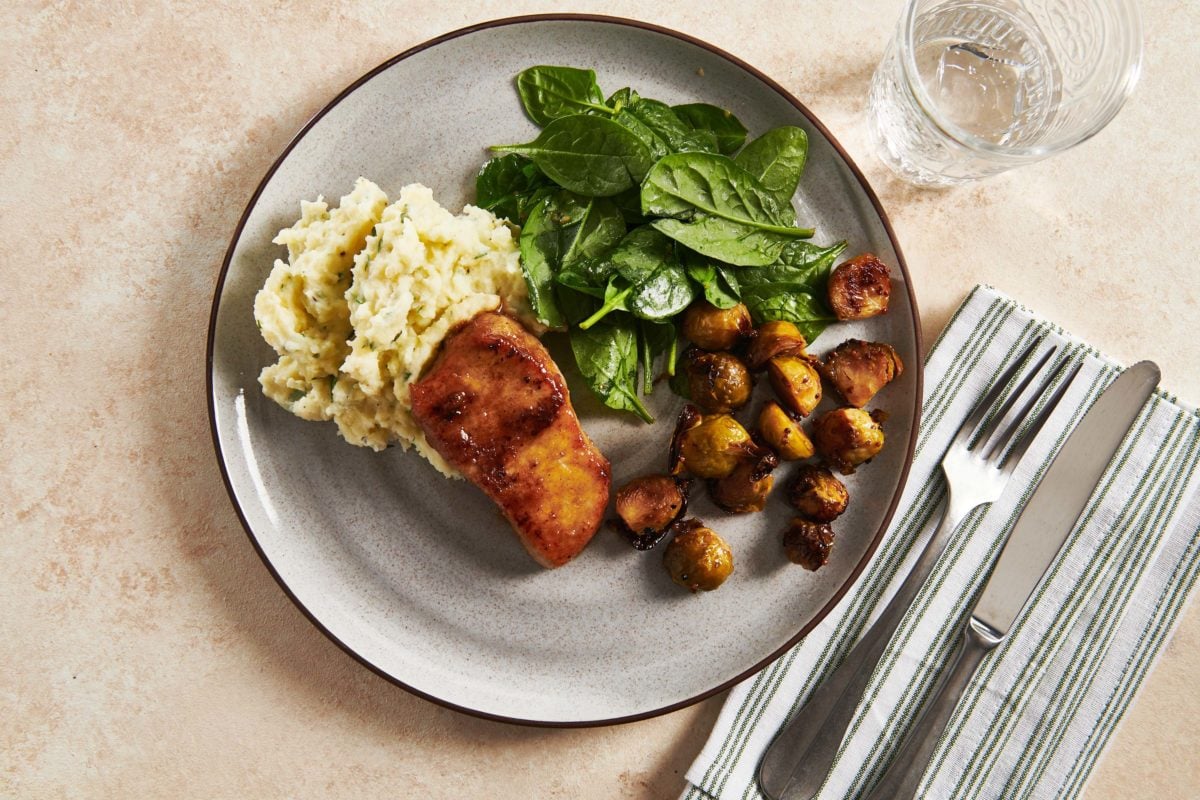 Other Pork Chop Recipes:
Like this recipe? Pin it to your favorite board on Pinterest.

Pin This
30-Minute Honey Garlic Pork Chops
A beautiful glaze coats tender, juicy pork chops. These are the perfect change up to the weeknight dinner routine.
Ingredients
½

cup

all-purpose flour

Kosher salt and freshly ground pepper

to taste

4

(6 to 8-ounce) boneless pork chops

, about 1 -inch thick

2

tablespoons

unsalted butter

2

teaspoons

minced garlic

1

tablespoon

rice wine or cider vinegar

1

tablespoon

soy sauce

¼

cup

honey

¼

teaspoon

red pepper flakes

Thinly sliced scallions

to serve (optional)

Hot cooked rice

to serve (optional)
Directions
In a shallow bowl combine the flour, salt and pepper. Dredge the pork chops in the flour, turning it to coat both sides well. Shake off any excess flour.

Spray a large skillet with nonstick cooking spray. Melt the butter over medium high heat, then sear the pork chops for 3 minutes on each side until the outside is browned but the pork isn't quite cooked through. Transfer the pork to a plate.

Return the pan to medium heat and add the garlic, stirring for 1 minute until it is just golden. Add the vinegar, soy sauce, 2 tablespoons water and the honey and stir until it is combined and bubbly, and you've released any little browned bits stuck to the bottom of the pan. Simmer for 1 more minute. Return the pork to the pan and turn it in the sauce until it is well coated, then allow the pork to continue cooking for another couple of minutes until it is cooked through, with an internal temperature of 140°F. Transfer to a serving dish (or individual plates), pour over any remaining sauce, scraping the pan with a rubber spatula, and sprinkle over the scallions, if using.

Serve hot with the rice , if desired.
Nutrition Information
Calories:
533
kcal
|
Carbohydrates:
30
g
|
Protein:
51
g
|
Fat:
22
g
|
Saturated Fat:
9
g
|
Trans Fat:
1
g
|
Cholesterol:
167
mg
|
Sodium:
365
mg
|
Potassium:
894
mg
|
Fiber:
1
g
|
Sugar:
18
g
|
Vitamin A:
221
IU
|
Vitamin C:
1
mg
|
Calcium:
25
mg
|
Iron:
2
mg
The nutrition values are provided as an estimate. It is not intended as a substitute for the advice of a qualified healthcare professional.
Made this recipe? Post a photo of your delicious creation on Instagram with our hashtag #dinnersolved