This Baby Pattypan Squash Gratin is one of the most unusual and pretty vegetable sides I've made in a while. I truly can't quite remember what prompted the combo—I do remember that I had some chard that was looking less than pert, and therefor had to be used in a cooked preparation.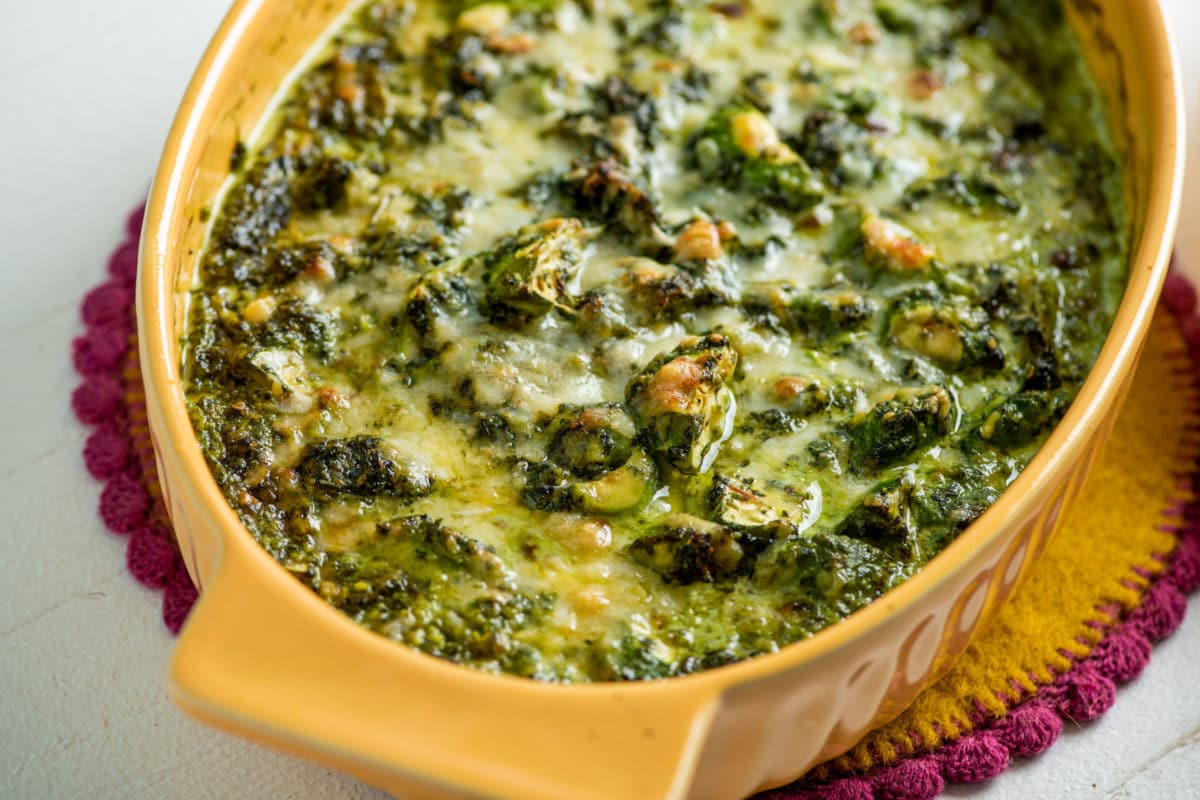 And a cooked preparation that it could sort of blend into. And I obviously had some baby pattypan squash lying around, which is not one of the vegetables I normally have lying around…but they are so dang cute that they must have jumped into my shopping basket.
Squash is nestled in a beautiful green sauce made with chard, cream, and gruyere cheese for a flavorful and unusual side dish.

Tweet This
And I always have some gruyere-like cheese hanging around, like actual Gruyere or Grand Cru. So a gratin began manifesting itself in my kitchen.
The chard is made into a puree of sorts with some garlic and olive oil, then blended with some cream and cheese to make a vividly green gratin sauce (speckled with bits of other color from the chard ribs if they were multicolored). Into a shallow baking pan it goes, a shower of additional cheese is bestowed on the top and the whole thing is baked until the cheese is melted, the whole thing is bubbly and the top has nice toasty brown spots.
You can use green or yellow pattypan squash, it doesn't matter a bit. Sometimes they are called baby summer squash. In any case they are about 1 inch in diameter, with tiny ruffled edges, and they are adorable. Trim off and tiny stems and root ends, but just barely so you don't lose much of the already diminutive vegetable.
You could also used sliced regular yellow squash or zucchini in this. Not as cute perhaps, but just as delicious.
I served this up with some sliced Grilled Mexican Rib-Eye Steaks and crusty bread and folks were happy.
Also try this recipe with:
Like this recipe? Pin it to your favorite board on Pinterest.

Pin This
Baby Pattypan Squash Gratin
Squash is nestled in a beautiful green sauce made with chard, cream, and gruyere cheese for a flavorful and unusual side dish.
Ingredients
1

teaspoon

minced garlic

3

cups

sliced Swiss chard leaves

cleaned and sliced

¼

cup

olive oil

¾

cup

heavy cream

1

teaspoon

minced garlic

½

teaspoon

kosher salt

½

teaspoon

freshly ground black pepper

1

cup

grated Gruyere

divided

1 ½

pounds

baby patty pan squash

trimmed and halved
Directions
Preheat the oven to 375°F. Lightly butter a shallow a 1 ½ quart baking dish, or spray with nonstick cooking spray.

In a food processor, pulse the garlic and Swiss chard until chopped. Add the olive oil and puree until combined.

In a large bowl whisk together the cream, minced chard mixture, salt and pepper, and ½ cup of the Gruyere. Add the pattypan squash and use a large spoon or your hands to combine until the squash is all well coated with the cream mixture. Turn the squash into the prepared baking pan. Sprinkle the remaining ½ cup grated cheese on top.

Bake for about 35 minutes until the cheese is nicely browned and the casserole is bubbling around the edges. Let sit for about 5 minutes then serve hot.
Nutrition Information
Calories:
298.8
kcal
|
Carbohydrates:
6.38
g
|
Protein:
8.93
g
|
Fat:
27.4
g
|
Saturated Fat:
12.31
g
|
Cholesterol:
64.96
mg
|
Sodium:
318.87
mg
|
Potassium:
314.74
mg
|
Fiber:
1.69
g
|
Sugar:
3.03
g
|
Vitamin A:
1992.84
IU
|
Vitamin C:
26.3
mg
|
Calcium:
272.48
mg
|
Iron:
0.86
mg
The nutrition values are provided as an estimate. It is not intended as a substitute for the advice of a qualified healthcare professional.
Made this recipe? Post a photo of your delicious creation on Instagram with our hashtag #dinnersolved