Watercress Salad with Tomato, Feta, and Olives
There are a few foods I can eat like someone may be about to ship me off on an ice floe. One is sushi. Truly do not put yourself between me and a piece of raw salmon; you could get hurt. Another is popcorn. I make a huge pot of stovetop popcorn several times a week, and I eat about half, and my family gets to share the other half. It's not the prettiest thing to watch.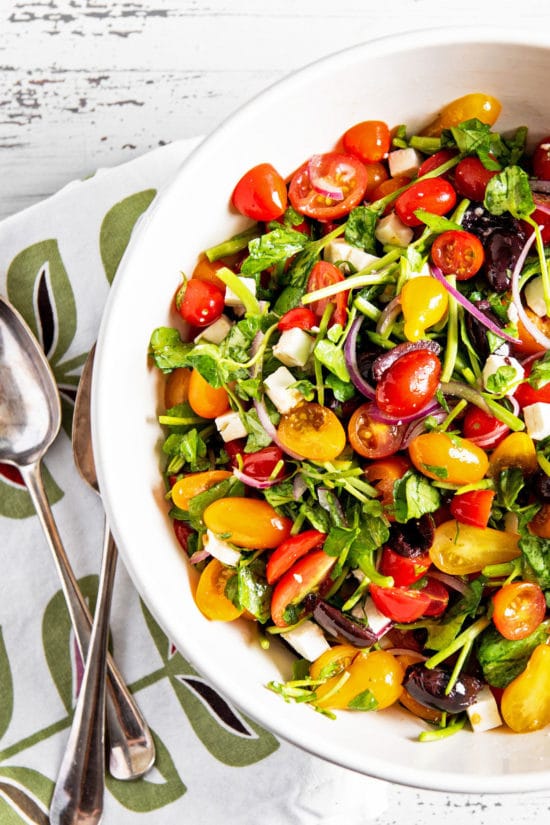 And also there is salad. I can eat a very large quantity of pretty much any kind of salad, as can most of my family, most of the time. Regular readers of this blog will know that there is a deep and abiding level of adoration for Greek Salad amongst my people (by this I mean my family, as opposed to Jews or New Yorkers, say). Jack and I are the leaders of the Greek Salad Fan Club, but Charlie and Gary are both card-carrying members.
Also: if there weren't such tangible consequences I could also eat French fries until I fell over, but I don't allow myself to do this. Much. Thank god many of the dishes my family orders in restaurants come with fries, so I can be enabled, but not too often.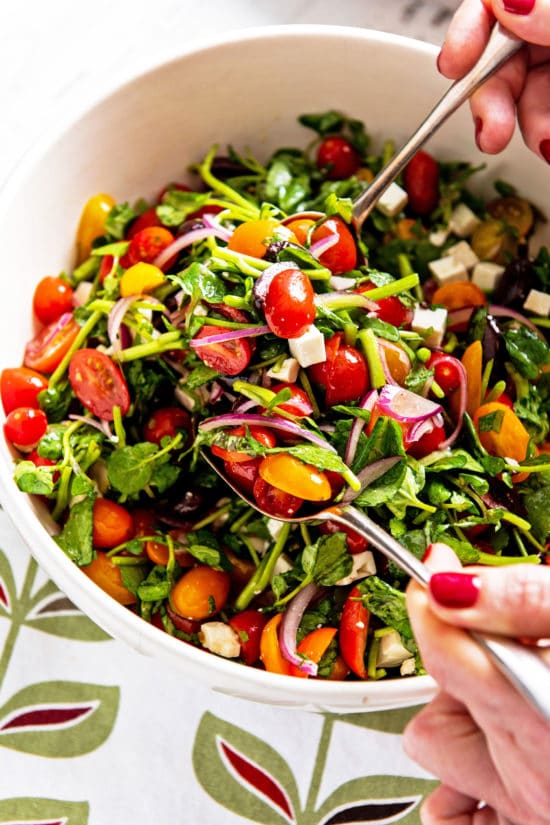 Back to salad. Do you love watercress? I LOVE watercress, which I know is a slightly weird thing to say (or even to know about oneself). But it seems like it's not all that available, and when you can find it it's pricey or just not looking all that fresh and perky. It's a fragile green, with a short shelf life, but it's so amazingly fresh and kind of grassy tasting in a great way that we all need to persevere and find it and use it.
Kind of like a Greek Salad, only with watercress and a longer name. A perfect summer salad.

Tweet This
So, this Tomato, Red Onion, Watercress, Feta and Olive Salad is kind of—kind of—like a Greek Salad, but with watercress instead of either no lettuce (actually very traditional), or romaine (very common here in the U.S.). And it has sherry vinegar in the dressing, where red wine vinegar is more traditional, and also fresh basil added, not oregano, which is also a bit of a departure. So, kind of.
I want you to look at the amount of salad in this bowl. It was intended to serve 8 people. It served 4, and I can tell you that the other three people at the table had fairly normal sized portions. Hey, better than French fries right? I have a major in English but a minor in justification.
Other Salad Recipes:
Like this recipe? Pin it to your favorite board on Pinterest.

Pin This
Tomato, Red Onion, Watercress, Feta and Olive Salad
15 minutes gets you to an explosion of summery color and flavor in a bowl.
Ingredients
3

tablespoons

extra virgin olive oil

3

tablespoons

sherry vinegar

2

tablespoons

thinly sliced chiffonaded or chopped fresh basil

1

tablespoon

minced parsley

1

teaspoon

kosher salt

½

teaspoon

freshly ground black pepper

1

red onion

quartered and thinly sliced

2

pints

cherry or grape tomatoes

halved

2

cups

roughly chopped watercress

1

cup

halved black olives

1

cup

diced feta cheese
Directions
In a large bowl combine the olive oil, vinegar, basil, parsley, salt, and pepper.

Add the onion, tomatoes, watercress, olives and toss to combine. Add the feta and gently toss to combine again. Serve at room temperature.
Nutrition Information
Calories:
149.78
kcal
|
Carbohydrates:
7.69
g
|
Protein:
4.36
g
|
Fat:
11.99
g
|
Saturated Fat:
3.9
g
|
Cholesterol:
16.69
mg
|
Sodium:
780.44
mg
|
Potassium:
324.72
mg
|
Fiber:
1.69
g
|
Sugar:
4.41
g
|
Vitamin A:
1063.63
IU
|
Vitamin C:
32.31
mg
|
Calcium:
127.59
mg
|
Iron:
1.13
mg
The nutrition values are provided as an estimate. It is not intended as a substitute for the advice of a qualified healthcare professional.
Made this recipe? Post a photo of your delicious creation on Instagram with our hashtag #dinnersolved