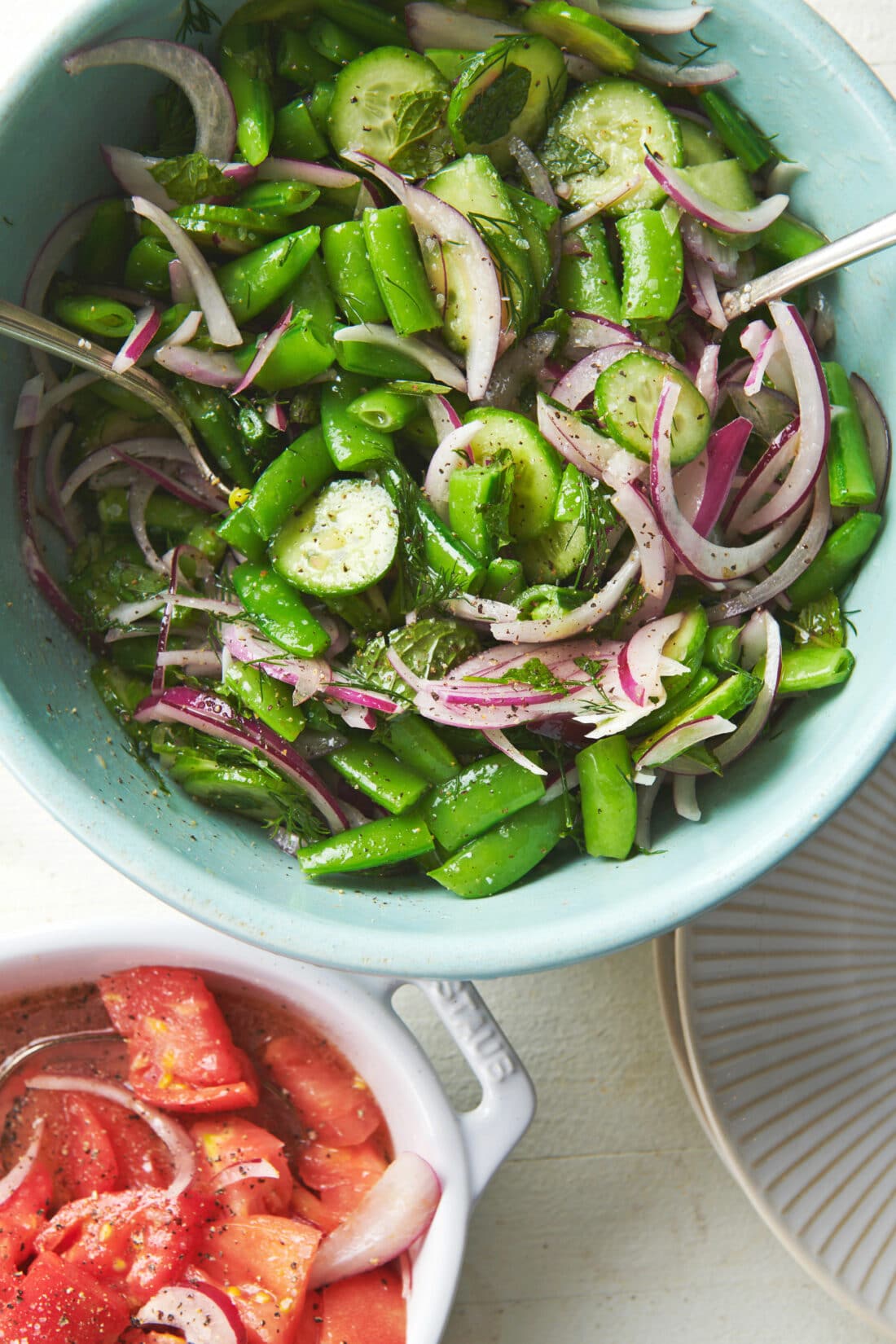 There are two kinds of sugar snaps peas (also called mangetout): good ones, and disappointing ones.  Good ones are sweet and crunchy and not fibrous and the peas inside are as fresh and sweet (again with the sweet) as the pods.  Disappointing sugar snap peas are not all of these things.  Look for firm, plump non-cracked pods with no dry spots, and taste a couple before buying.
How to Prepare Sugar Snap Peas for Salad
You can make this salad with raw sugar snap peas, or if they aren't absolutely young and perfect, a quick blanching makes them amazing. Blanching simply involves bringing a pot of salted water to a boil, dumping the sugar snaps in the water for 60 seconds, then draining them and plunging them into a bowl of ice water you have at the ready. When the peas are cool, they are ready to be drained and eaten or used in a recipe.
I like to cut the sugar snap peas in half crosswise, so each piece is bite-sized. If you happen to find very small sugar snaps peas you can leave them whole.
Is is Safe to Eat Sugar Snap Peas Raw?
Yes! They are best to eat raw when they are very young, fairly small, and very fresh. Sugar snap peas are very nutritious and have lots of fiber, so don't overdo it with the raw ones; too many can sauce stomach distress. This salad mixed sugar snap peas with cucumber so even people with fiber sensitivities should be ok.
Trimming Sugar Snap Peas
If your sugar snap peas are young and don't have a thick string running down the side of them, you can just trim off the tips on both edges, cutting off just the very end to keep as much of the bean intact as possible. If they are more mature they may have a string running down one or both sides of the bean, where the halves are joined, and that should be removed by peeling it off as you remove the tips. Find a child or helpful guest or family member to help you with this slightly tedious but sometimes necessary task.
Fresh Herbs
I like to tear the herbs for this salad, just ripping them into chunks and leave them in larger pieces. You can roughly chop them if you prefer. You could also finely chop them, if that's your preference, but I like the burst of fresh flavor larger bits of herbs lend to the dish.
I used dill and mint, but play around with other herbs if you like, such as basil. Chervil would also be lovely. And yes, there are a lot of fresh herbs in this recipe; they are not just a supporting ingredient but a true part of the salad.
Sugar Snap Pea Salad Recipe: A pretty and fresh salad that takes minutes to put together, and brightens up any meal.

Tweet This
Make Ahead Sugar Snap Pea Salad
You can make this up to two days ahead of time, and store it well sealed in the refrigerator.
What to Serve with Sugar Snap Pea Salad:
Other Spring Salad Recipes:
Like this recipe? Pin it to your favorite board on Pinterest.

Pin This
Sugar Snap Pea Salad
A pretty and fresh salad that takes minutes to put together, and brightens up any meal.
Prep Time:
1
hour
9
minutes
Ingredients
1

pound

sugar snap peas

trimmed and halved crosswise

1

red or yellow onion

halved and very thinly sliced

3

baby cucumbers

thinly sliced

¼

cup

torn or roughly chopped fresh dill

¼

cup

torn or roughly chopped fresh mint
Directions
Bring a large pot of salted water to a boil.  Fill a large bowl with ice water.  When the water is boiling, drop the sugar snaps into the pot and cook for 1 minute.  Drain the sugar snap peas and plunge them into the ice water.

While you are waiting for the water to boil, make the vinaigrette: In a large bowl combine the olive oil, balsamic vinegar, rice vinegar, Dijon mustard, honey, shallot, salt and pepper.  

Drain the cooled sugar snap peas, shake off any excess water, and add them with the onion, cucumbers, dill and mint to the dressing in the bowl.  Toss to combine.  Taste, adjust seasonings as needed and serve.
Nutrition Information
Calories:
179
kcal
|
Carbohydrates:
17
g
|
Protein:
4
g
|
Fat:
11
g
|
Saturated Fat:
2
g
|
Sodium:
26
mg
|
Potassium:
399
mg
|
Fiber:
4
g
|
Sugar:
10
g
|
Vitamin A:
1625
IU
|
Vitamin C:
75
mg
|
Calcium:
80
mg
|
Iron:
3
mg
The nutrition values are provided as an estimate. It is not intended as a substitute for the advice of a qualified healthcare professional.
Made this recipe? Post a photo of your delicious creation on Instagram with our hashtag #dinnersolved