Tuscan Panzanella Salad
Panzenella is a dish that feels like an ode to summer. It is a Tuscan salad, created to use up stale bread, because Italians are smart and don't like to throw away food. This classic salad includes some sort of vinaigrette, which soaks into the stale bread (or in this case baked croutons), as well as tomatoes which lend their juices to the mix. Onions, cucumbers and basil are often a part of the mix, as they are in this recipe.
I used cherry tomatoes here, and halved them but if you have some big ripe tomatoes to cube up and use instead, definitely do that. Mixing different colored tomatoes gives this dish even more gorgeousness.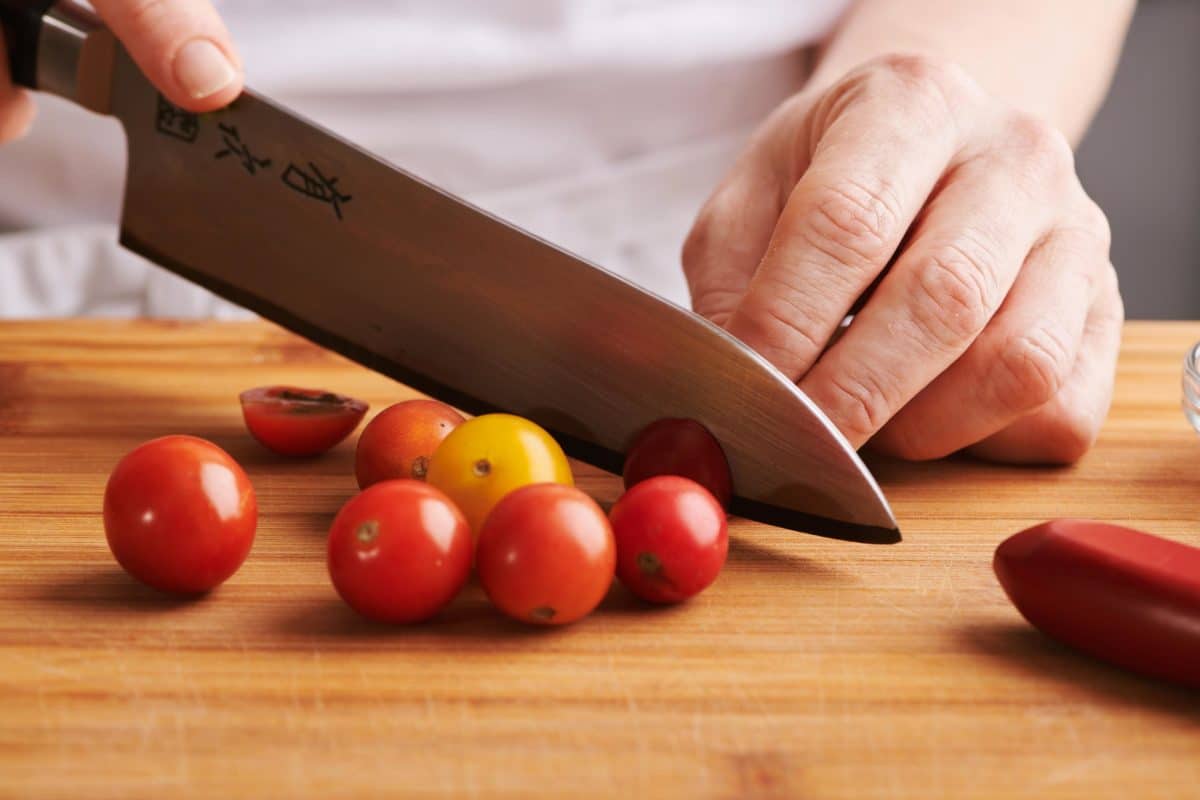 I love it very much. It's best the day it's made, but after it sits for at least 20 minutes. If you have stale bread, and want to use it instead of making croutons, then you are really making classic panzanella. I love these croutons which are made with either garlic oil (if you have time to make it or have it on hand), or plain old olive oil.
This dish feels like an ode to summer. A Tuscan salad, created to use up stale bread, dressed with vinaigrette, and mixed with juicy tomatoes ,onions, cucumbers and basil.

Tweet This
What Type of Bread to Use for Croutons
Short answer: you can use any bread you like for croutons. Most of the time it's some sort of white bread that is used, but as long as it's a firm bread you can play around with everything from Italian bread to ciabatta to a Pullman loaf. However, there are no rules about this, and croutons can be made from all kinds of breads, like sourdough, pumpernickel, or whole grain.
Do I Need to Remove the Crust of the Bread for Croutons?
Up to you! I happen to love the crust of the bread, and like the difference in texture between the softer inside of the bread and the crunchier crust. If you prefer to cut off the crusts, go for it, but since the whole point of panzenella originally was to use up stale bread it seems a shame to throw away any part of the loaf.
I want to try this sometime with these Parmesan Croutons – I think that would be something pretty amazing, a whole other level of panzanella.
What to Serve with Tomato Panzanella:
Other Summery Tomato Recipes:
Like this recipe? Pin it to your favorite board on Pinterest.

Pin This
Tomato Panzanella
This dish feels like an ode to summer.  A Tuscan salad, created to use up stale bread,  dressed with  vinaigrette, and mixed with juicy tomatoes, onions, cucumbers and basil.
Ingredients
For the Ciabatta Croutons
1

1-pound loaf of country or other rustic white bread

⅓

cup

olive oil

Kosher salt

to taste
1

cup

halved and very thinly sliced red onion

3

pints

cherry or grape tomatoes

halved or quartered if large

5

baby or Persian cucumbers

halved and sliced ½-inch thick

¼

cup

chopped or thinly sliced fresh basil
Directions
Preheat the oven to 400°. Tear the ciabatta into big rough chunks, about 1 1/2-inches large.  Place them on a rimmed baking sheet and drizzle with the 1/3 cup olive oil.  Toss them to combine, then spread them out on the baking sheet and sprinkle with salt.  Bake for 10 minutes, until the bread starts to brown at the edges, but are still tender.  Remove the bread from the oven and let cool on the baking sheet.

Make the vinaigrette: In a small bowl or container combine the ½ cup olive oil, red wine vinegar, balsamic vinegar, shallots, garlic, and salt and pepper.

Place the red onion, tomatoes, cucumbers and basil in a bowl. Shake or stir the vinaigrette to re-combine then pour it over the salad and toss gently. Add the croutons and toss again until everything is well combined. Let sit for 15 to 20 minutes to allow the croutons to soak up the dressing a bit and soften, then serve.
Nutrition Information
Calories:
567.5
kcal
|
Carbohydrates:
41.02
g
|
Protein:
6.8
g
|
Fat:
42.78
g
|
Saturated Fat:
14.04
g
|
Sodium:
233.75
mg
|
Potassium:
597.23
mg
|
Fiber:
3.74
g
|
Sugar:
24.3
g
|
Vitamin A:
944
IU
|
Vitamin C:
43.05
mg
|
Calcium:
32.67
mg
|
Iron:
2.76
mg
The nutrition values are provided as an estimate. It is not intended as a substitute for the advice of a qualified healthcare professional.
Made this recipe? Post a photo of your delicious creation on Instagram with our hashtag #dinnersolved