Boy oh boy boy boy do we all need comfort food right now. There is nothing about this time that is easy, and nothing about this time that doesn't call for a meal that makes us feel nourished and soothed. For my people, this often comes in the form of some sort of slow cooked meat, like this crock pot pot roast.
This recipe omits the pre-searing or browning of the meat before it is added to the crockpot. Sometimes a recipe will call for this step, but while it can add some flavor and texture, it's not strictly necessary. This recipe does not call for browning the meat before putting in the slow cooker, because the goal of this recipe is not just a delicious dinner, but a delicious dinner that is supremely easy on the cook (presumably you!).
You don't have to add much liquid to the slow cooker when you are cooking a roast, but in this case there is 1 cup of wine and 1 cup of beef broth, which provides lots of flavorful cooking juices to drizzle over the meat after it has rested and been sliced. The larger amount of liquid also gives you the ability to let the roast stay moist and tender in the slow cooker for a bit longer (see below), and not get overcooked or tough.
The roast itself will release some liquid, so if you want less cooking juices at the end, you can reduce the amount of the wine and the broth to ½ cup each. You can also use all broth if you prefer. I often use a mixture of wine and broth when cooking, making sauces and such because I like the way the flavors of each build upon each other.
Best Slow Cooker Temperature for Pot Roast
I recommend low for a longer time to have the most tender results. This roast cooks on low for 10 hours, but it might be done as early as 8 hours (test it if you are eager to get it on the plates). There is no harm in letting it cook for the full 10 hours, though, even if it is cooked through. You can even leave it on low for up to 12 hours total.
After it is cooked, you can leave it in the slow cooker on warm for another hour or two if that fits with your cooking and eating schedule.
Leftovers
If you have leftovers (and you might with a 6-pound roast!), you are in luck. You can freeze them, tightly wrapped, for up to 6 months. Or if you want to put them to use right away you can make tacos with them (see this recipe for a template of how to turn them into tacos), you can turn the beef into quesadillas or enchiladas, you can layer them between some tortillas and cheese for nachos. Replace the lamb with shredded beef in this Shepherd's Pie for a version of British Cottage Pie. Add it to a casserole in place of ground beef.
Slow Cooker Pot Roast: Inexpensive, comforting, flavorful and tender, only 15 minutes for hands on time, and almost guaranteed leftovers.

Tweet This
If you want to make this with a 3-pound roast, just cut all of the ingredients in half, and set the timer on low for 8 hours instead of 10. Feel free to check it at 7 hours; it may easily be done by then. Again, you can let it go an hour or so longer, and you can also hold it on warm for a couple of hours.
Why Both Fresh and Dried Garlic and Onions?
I am a huge proponent of fresh onions and garlic, but I never sneer away from dried. The flavors are different to me, and the purposes are different as well. The dried form the base of a rub in this case, and really infuse the meat itself with flavor. Then the fresh add another pop of flavor, plus some interest to the sauce. You can use just one or the other in either or both cases (the onions and the garlic), but if you have the opportunity to employ both you will be rewarded with a pot roast that is deeply layered with flavor.
What to Serve with Slow Cooker Pot Roast: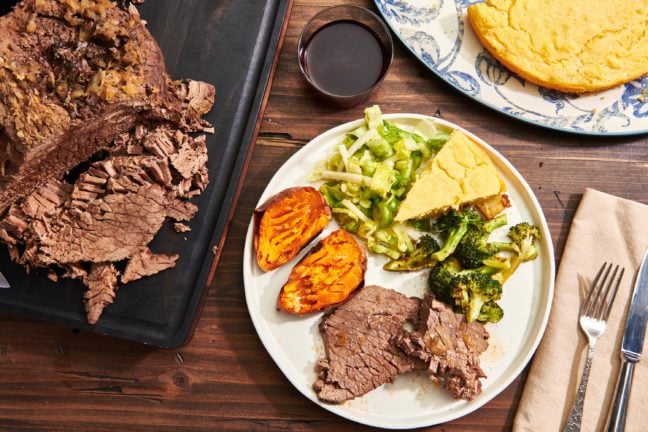 Other Slow Cooker Roast Recipes:
Like this recipe? Pin it to your favorite board on Pinterest.

Pin This
Slow Cooker Pot Roast
Inexpensive, comforting, flavorful and tender, only 15 minutes for hands on time, and almost guaranteed leftovers.
Total Time:
10
hours
15
minutes
Ingredients
1

tablespoon

minced fresh garlic

1

tablespoon

onion powder

1

tablespoon

garlic powder

1

teaspoon

kosher salt

½

teaspoon

freshly ground black pepper

1

cup

dry red wine

1

cup

beef broth

3

tablespoons

tomato paste

1

(6 pound) top round roast

2

onions

, chopped
Directions
In a small bowl, mix the minced garlic, onion powder, garlic powder, salt and pepper together. Pat the meat dry with paper towels, then rub the blend over the entire outside of the roast.

Place the wine and the beef broth in the slow cooker and stir in the tomato paste until fairly well blended. Place the roast in the slow cooker, fattier side up, and add the chopped onion on top. Cook on low for 10 hours until the meat is fall apart tender. Remove from the slow cooker and let sit for 15 minutes.

Slice (it will fall apart as you do — that's a good thing!) and place on a serving platter. Spoon some of the cooking juices with the cooked onion over the top.
Nutrition Information
Calories:
352
kcal
|
Carbohydrates:
4
g
|
Protein:
51
g
|
Fat:
11
g
|
Saturated Fat:
4
g
|
Cholesterol:
141
mg
|
Sodium:
428
mg
|
Potassium:
865
mg
|
Fiber:
1
g
|
Sugar:
1
g
|
Vitamin A:
61
IU
|
Vitamin C:
3
mg
|
Calcium:
53
mg
|
Iron:
5
mg
The nutrition values are provided as an estimate. It is not intended as a substitute for the advice of a qualified healthcare professional.
Made this recipe? Post a photo of your delicious creation on Instagram with our hashtag #dinnersolved