This post may contain affiliate links. Please read our privacy policy.
Best Way to Store Tomato Paste
Isn't it annoying when a recipe calls for less than a full small can of tomato paste in this recipe? (and sorry for those of my recipes that do). Most of the time we don't know what to do with it, and leave it partially covered with plastic wrap in the back of my fridge, and discover it weeks and weeks later, with a light layer of mold on the top, and throw it out, feeling wasteful and irritated.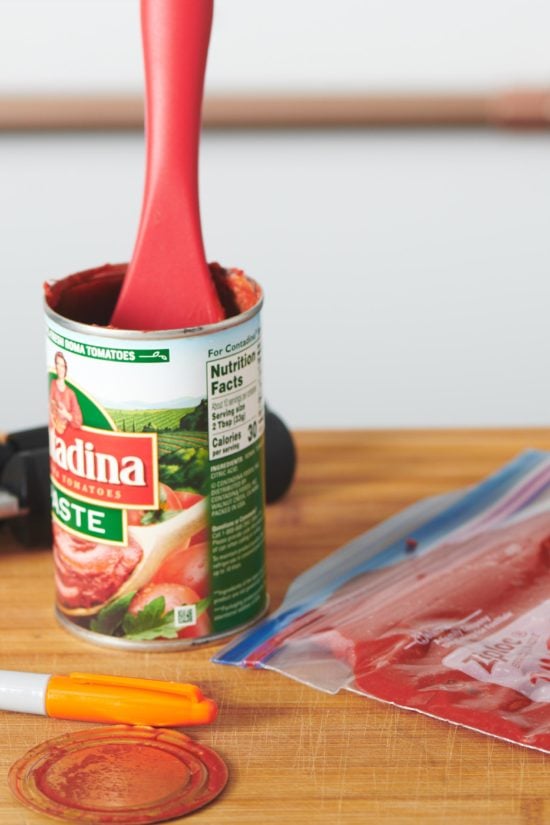 But the reason I don't feel bad about calling for a few tablespoons of tomato paste here and there is because I know how easy it is to store the leftovers.
How to Freeze Tomato Paste
Here's what you do: Scrape out the rest of the tomato paste into a small freezer-proof zipper top baggie with "Tomato Paste" and the date on written on it with a Sharpie (which you should always have in your kitchen junk drawer).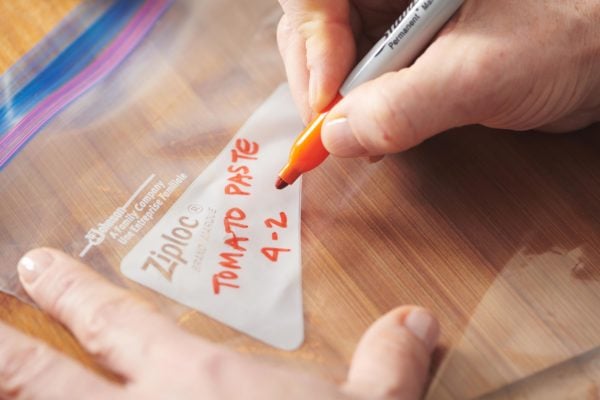 Press out the air.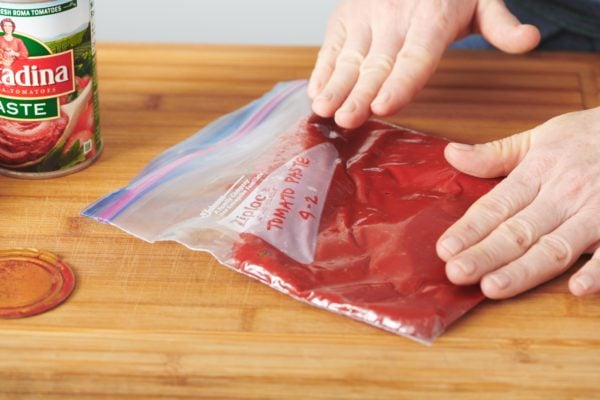 Seal it.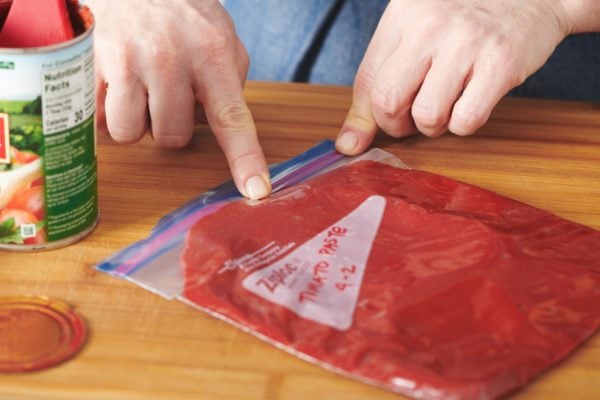 And throw it in the freezer.
The next time you need a small amount of tomato paste, take it out, and break off a piece that's about the size of 1 tablespoon or what ever else the recipe calls for (don't worry about precision: tomato paste isn't one of those ingredients you need to measure perfectly, like baking powder or baking soda).
You can also freeze the tomato paste in ice cube trays, but I find this zipper top bag method to be quicker, easier, and less messy.
What To Do with Leftover Tomato Paste: The Best (Hack!) Way to Store Leftover Tomato Paste for Future Recipes – Indefinitely!

Tweet This
Substitution for Tomato Paste
Final tip: if a recipe calls for a small amount of tomato paste, 3 tablespoons or less, and you don't have it, you can substitute ketchup! Or double the amount of pureed tomatoes.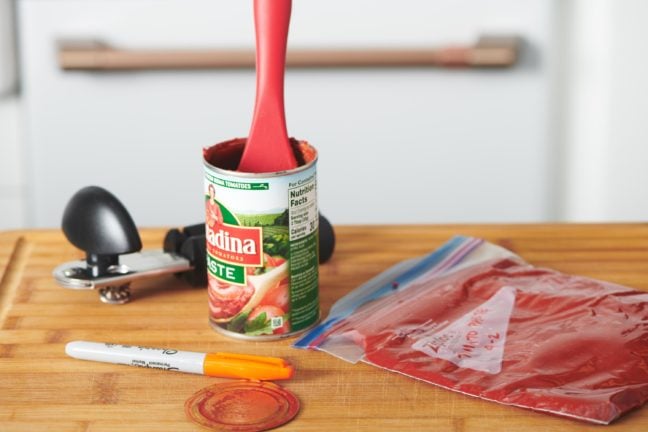 ---
Recipes for Leftover Tomato Paste
Here are recipes to help you use up that leftover tomato paste!
A colorful, delicious, year-round and versatile dish dish (and a great way to use not-so-perfect tomatoes!)
---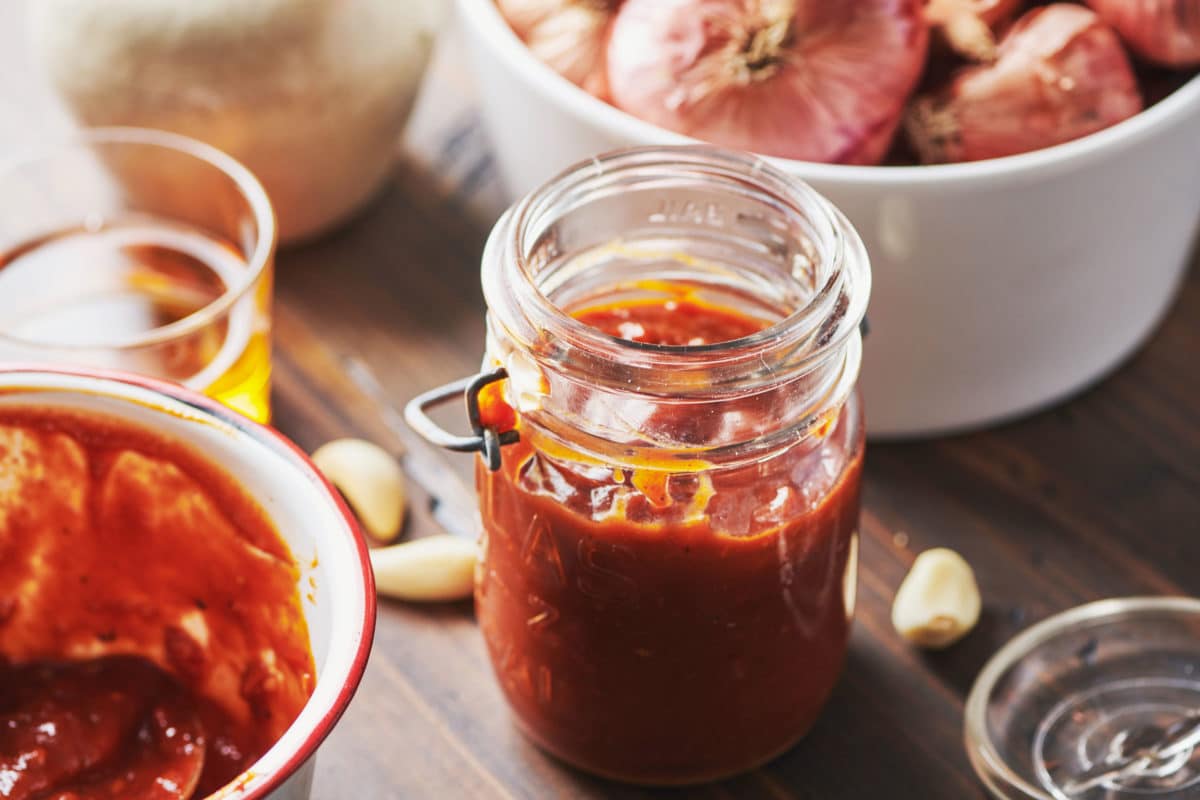 Tangy and sweet, perfect for grilled chicken and then some…and it keeps in the fridge for weeks!
---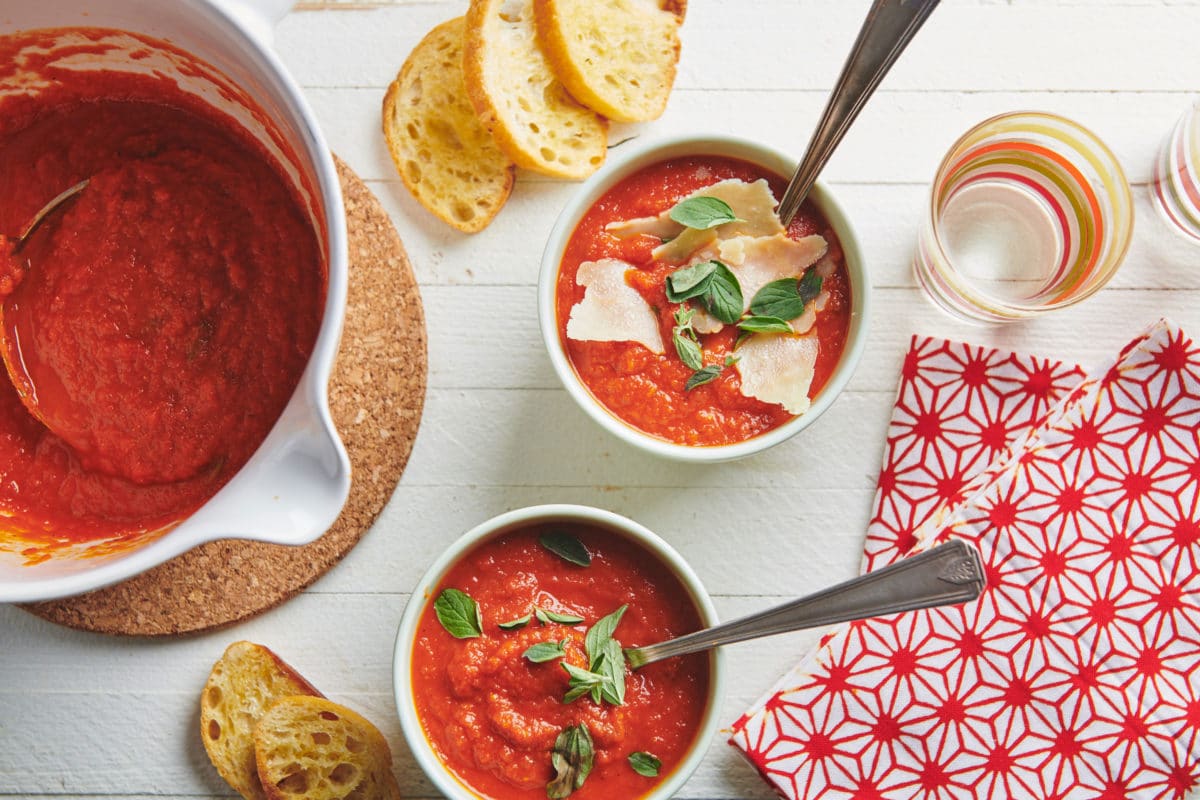 Sometimes you just want the classic—bursting with tomato flavor, silky smooth, and not complicated by much else.
---
Total Jewish comfort food (but don't feel like you have to be Jewish to make this).
---
More Cooking Tips to Read: