This post may contain affiliate links. Please read our privacy policy.
Pork lovers often wonder if it's possible to get a super tender pork loin in the slow cooker. The answer to that question is a resounding yes, and this recipe is proof!
Pork loin is a much more lean cut of pork than the shoulder or butt usually used for pulled pork or carnitas, so it really needs the slow cooker to work some magic. The meat is first brined, which means that it will retain moisture much better than unbrined pork. Then, it's cooked low and slow in barbecue sauce in a crockpot. The result is a super tender cut of meat, but one that has less fat than other cuts of pork.
If you don't have time to brine the pork, you will still get a delicious slow-cooked BBQ pork meal; it just won't be as tender.
Tropical Fruit Salsa is the perfect match for this meat piled up on a bun. But you could use any salsa, and you should play around with options. Here are 8 Fruit Salsas to Change Things Up! Also try Carrot Celeriac Remoulade. We also loved this BBQ pulled pork with Caesar Salad and a chickpea salad.
In this Slow Cooker Barbecue Pulled Pork Loin recipe a pork loin is slow cooked in barbecue sauce, and it becomes as tender as all heck.

Tweet This
Ingredients
For the sauce:
Ketchup – Ketchup is the base for a lot of BBQ sauces because of its complex yet balanced sweetness and acidity.
Apple cider vinegar – Adds a lovely acidity to the sauce.
Brown sugar – Adds a deep, caramel-y sweetness.
Dry mustard – Adds a little spice.
Onion powder – A little onion flavor is essential to any well-rounded dish.
Chili powder – You can adjust according to your spice tolerance. Use your favorite chili powder blend.
Ground cloves – A little warmth gives more depth to the sauce.
Lemon juice – Adds freshness and acidity.
Worcestershire sauce – The savoriness of this sauce deepens and rounds out all the flavors.
For the pork:
Pork loin – I recommend brining the meat before cooking with 8 cups water, ⅓ cup sugar, and ½ cup salt (see recipe Notes). However, even if you don't have time to brine, it will still come out super tender and delicious from being slow-cooked in the sauce.
Carrots – Slice them thinly so they almost melt into the sauce while cooking.
Onion – Adds a little texture and so much flavor as the pork cooks.
Minced garlic – Adds a bit of level heat but also sweetens and mellows as it slow cooks.
To serve (optional):
Hamburger rolls – If you want to serve this dish pulled-pork style like I did.
Salsa of your choice – To serve. I used Tropical Fruit Salsa, but you can use the salsa of your choice, storebought or homemade.
Substitutions
While I am offering you a recipe for the sauce, I am also endorsing bottled BBQ sauce as a-ok. Don't even flinch. That means that this could be a 2 ingredient recipe with just a pork loin and a bottle of sauce. If you can make crockpot pulled pork with two ingredients, that is a very winning moment in time. I encourage you to be as lazy as you feel!
Having said that, I love making homemade BBQ sauce. There is a recipe for it in The Mom 100 Cookbook and right here on this blog (this recipe contains a modified version of it). It's highly delicious and reliable and just the kind of all-American tomato-y barbecue sauce that most people think of when they think of the words Barbecue Sauce (at least in my area of the country).
After nervously gifting my sauce to Ina Garten's(!!) best friend, Barbara, I received an email in response. I kept the email because I was so tickled by her words. She said: "Btw, your BBQ sauce is among the best we have ever had…actually, it is the best we have ever had!!! It is now my husband's go-to sauce. He wants it to be a permanent in our fridge."
You would keep that email, wouldn't you? Even if it wasn't from Ina's best friend?
How to Make Barbecue Pulled Pork Loin
Make the sauce: Combine the ketchup, water, vinegar, brown sugar, mustard powder, onion powder, chili powder, salt, pepper, cloves, lemon juice, and Worcestershire sauce in a saucepan. Simmer for 30 minutes.
Slow cook: In the slow cooker, combine the pork loin, carrots, onion, garlic, and 1½ cups of the sauce. Cook on low for 6 to 8 hours.
Pull the pork: Use two forks to pull apart the super-tender meat into strands. Toss to combine with the sauce and cooking juices in the slow cooker.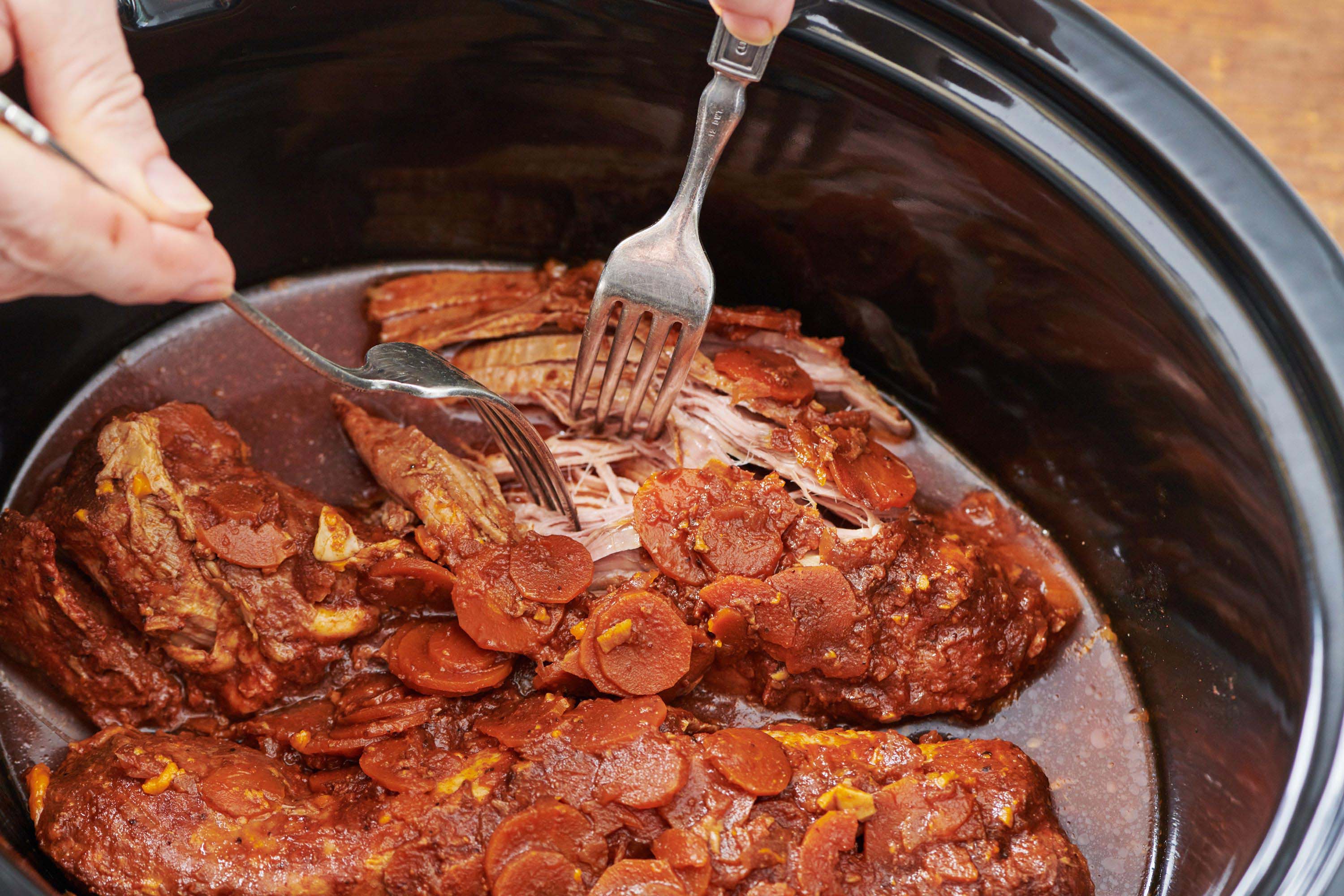 Serve: Serve piled up high on soft hamburger buns, if desired. Feel free to add any extra sauce and any salsa, slaw, or pickles you might want on your sandwich.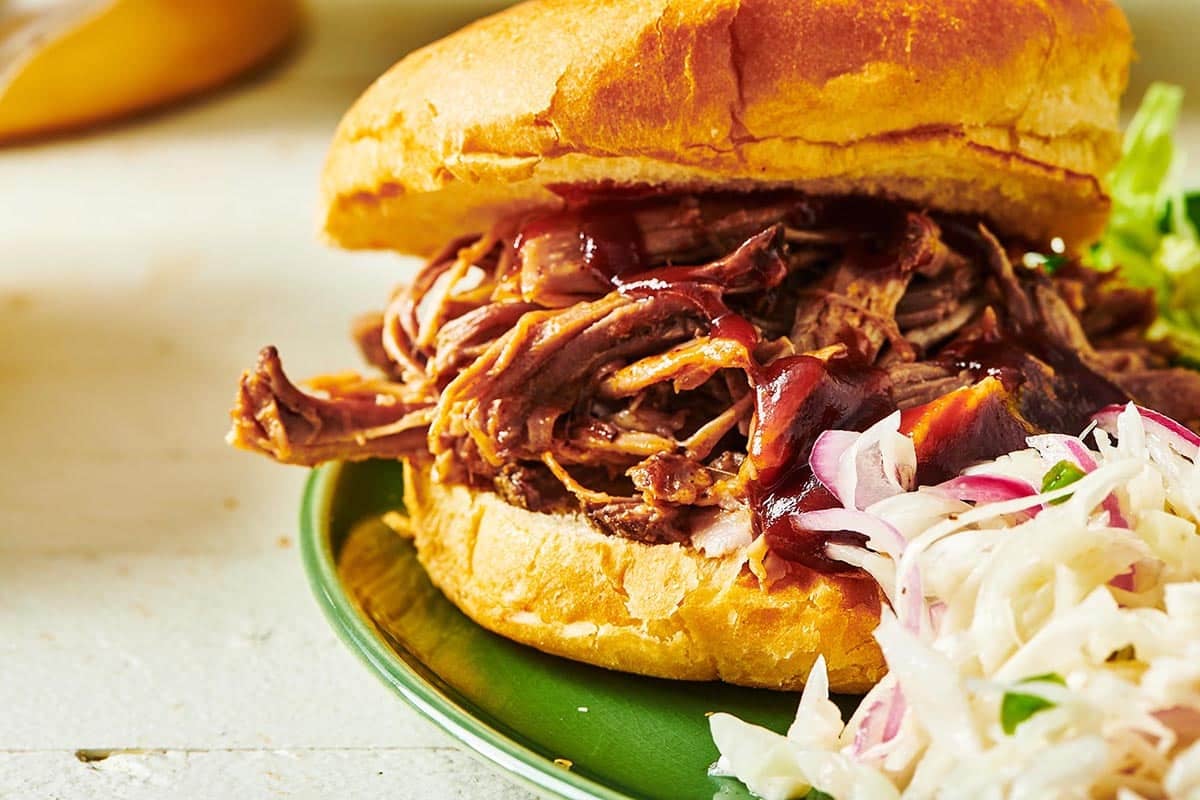 FAQs
How do you make pulled pork at home?
Pulled pork is actually super easy to make at home. You can roast it low and slow in your oven all day, or you can stick it in the slow cooker, and it will be falling apart and tender in only 6 hours! Although it's pretty difficult to get that same smoky flavor that professional pitmasters get in their pork, you can get pretty close at home with little effort. I love using the crockpot because it's a controlled low and slow cooking environment, very hands-off, and super easy.
Do you have to brine the pork for pulled pork?
Brining is important if you want the best possible pulled pork, but not necessary if you don't have the time. I have made it in a crockpot without brining the meat first, and it was terrific, if not as meltingly tender.

You should shred the meat with two forks right in the crockpot so it mixes in with the barbecue sauce and the cooking juices. Cooking low and slow in the somewhat acidic and salty barbecue sauce helps to compensate for the flavor and tenderness that you would get from brining.
How long do you cook pork loin in the slow cooker?
You should cook the pork loin for at least 6 and preferably 8 hours at low heat. The low heat is important because you want the pork to cook slowly in order to get the best texture and the most juiciness.

Check the pork after 6 hours and see if it is ready to fall apart upon inserting a fork. It may already be tender and ready to shred at this point. If not, let it go for two more hours; if you aren't home to check, just let it go for the full 8 hours.
Pro Cooking Tips
Allowing the sauce to simmer for an hour deepens and melds the flavors, but if you don't have time, even 15 minutes will be fine.
Shred the meat right into the crockpot so it combines with the sauce and cooking juices in the pot.
Make-Ahead and Storage
This pork will keep in a container in the fridge for up to 4 days. It's easier to pull it into shreds while it's warm, but it can be sliced or shredded and reheated later in the week.
Reheat the pork in a 300-degree oven for about 20 minutes. Or put the shredded pork in a saucepan and cook, stirring often, over medium heat until heated through, about 10 to 15 minutes.
You will have a little leftover sauce. Keep it in your fridge to use on anything/everything you eat for the rest of the week!
What to Serve With Pulled Pork Loin
More Slow Cooker Recipes
Like this recipe? Pin it to your favorite board on Pinterest.

Pin This
Slow Cooker Barbecue Pulled Pork Loin
Crockpot plus BBQ sauce plus pork loin equals a great easy pulled pork dinner.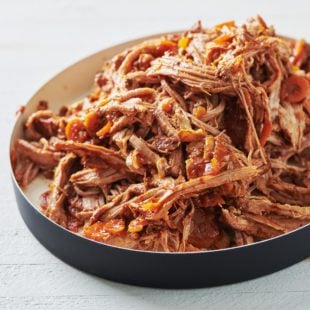 Ingredients
For the Barbecue Sauce
2

cups

ketchup

1

cup

water

½

cup

apple cider vinegar

⅓

cup

brown sugar

1

tablespoon

dry mustard

2

teaspoons

onion powder

1

teaspoon

chili powder

1

teaspoon

fresh ground black pepper

kosher salt

(to taste)

Pinch ground cloves

1

tablespoon

lemon juice

1

tablespoon

Worcestershire sauce
For the Pork
1

3-pound pork loin

(brined; see Notes – and cut into 4 pieces)

2

large carrots

(thinly sliced)

½

cup

minced onion

1

teaspoon

finely minced garlic
Instructions
In a medium saucepan, combine the ketchup, water, vinegar, brown sugar, mustard, onion powder, chili powder, pepper, salt, cloves, lemon juice, and Worcestershire sauce. Bring the mixture to a boil over medium-high heat, then reduce the heat to medium-low and simmer for 30 minutes, stirring frequently so the flavors meld nicely.

Place the pork in the slow cooker, and add the carrots, onion, and garlic, then pour in 1 ½ cups of the sauce and stir to combine. Cook on low heat for 6 to 8 hours.

Take two forks and use them to pull apart the meat right in the cooking liquid. This should be very, very easy. Toss the meat so it gets well coated with the sauce and juices. Remove it with a slotted spoon.

Pile the meat on the buns and serve with additional sauce and the salsa of your choice.
Notes
Brining Pork Loin:
The primary reason for brining is to add moisture and flavor to meat, especially lean meats that tend to get dry when cooked, such as
turkey or pork loin.
T
he most basic brine is
just water with salt and sugar dissolved in it.
And then you can add whatever
you like in terms
of seasonings, from simple peppercorns, garlic, and bay leaves to lemongrass, herbs, and citrus zest.
Basic Brine Recipe
8 cups water, divided

⅓

cup sugar

½ cup kosher or coarse salt
In a large container (big enough to hold the pork loin), pour in 1 cup of very hot water. Stir in the
sugar and
salt. Stir until the sugar and salt are pretty well dissolved. Add 7 cups of very cold water and stir to combine. Submerge the pork loin in the mixture.
Keep it
covere
d in the refrigerator for 4 to 16
hours,
then take it out and pat dry with paper towels before proceeding with the recipe.
Nutrition
Calories:
351.77
kcal
,
Carbohydrates:
36.02
g
,
Protein:
34.12
g
,
Fat:
6.92
g
,
Saturated Fat:
1.98
g
,
Cholesterol:
85.73
mg
,
Sodium:
664.11
mg
,
Potassium:
788.7
mg
,
Fiber:
1.43
g
,
Sugar:
20.45
g
,
Vitamin A:
2343.67
IU
,
Vitamin C:
4.61
mg
,
Calcium:
76.29
mg
,
Iron:
2.14
mg
Nutrition information is automatically calculated, so should only be used as an approximation.
Like this? Leave a comment below!