There are certain dishes that are very hard to resist on certain menus.  I almost always order a Greek Salad at a diner, frisee salad and mussels and frites at a bistro, and when I see any seafood Fra Diavolo at a good Italian restaurant, my decision is pretty much made.
What is Diavolo or Fra Diavolo?
The Italian phrase alla fra diavolo means "in Brother's Devil style".  It refers, according to The Italian American Cookbook by John Mariani and Galiana Mariani, to both the red color of the sauce, and the spiciness from chili peppers.  In the 30s Lobster Fra Diavolo became very popular in America, and then the shrimp version dish took hold, and you'll still find it on Italian American menus across the country.
As with most shrimp dishes, the size of the shrimp is up to you. The larger the shrimp the more expensive, but yes, the more dramatic the presentation. I stuck with extra-large here, which are usually labeled 21/25, as in 21 to 25 shrimp per pound. Please, go to jumbo if you like! If you are looking to wow a crowd, go to colossal, but remember to increase the final cooking time by a few minutes to make sure the shrimp are cooked through.
Two pounds of shrimp to 1 pound of pasta is a pretty huge shrimp to pasta ratio, but with dishes like this I like to go big or go home.
Shrimp Fra Diavolo with Linguine: A spicy red sauce makes this classic Italian-American shrimp and pasta dish irresistible (go for big shrimp!)

Tweet This
Tomatoes
You can decide between diced tomatoes, crushed tomatoes, or whole tomatoes that you chop or crush yourself.  Note that the 28-ounce size can is a common size for tomatoes packaged in the U.S., but in Italy and other parts of Europe you might find cans with slightly different volumes.  The exact amount of tomatoes is flexible, just make sure your can is somewhere around the 28-ounce size.
Some diced tomatoes come in more of a juice, and some come in a thicker puree. Same with crushed tomatoes. Both are fine here, but the ones in the thicker puree will obviously yield a thicker sauce. You can thin a thick sauce with additional cooking water if you think it's too thick.
Adding Pasta Cooking Water to Sauce
Why do some recipes tell you to reserve a small amount of the pasta cooking water and add it to the sauce? A few good reasons. The hot cooking water will loosen a thick sauce, and it will provide a bit of seasoning to amp up the flavor, thanks to the salt that was added to the water at the beginning of cooking. And, thanks to the starch that is released from the pasta into the water, it will also encourage the sauce to adhere better to the cooked pasta.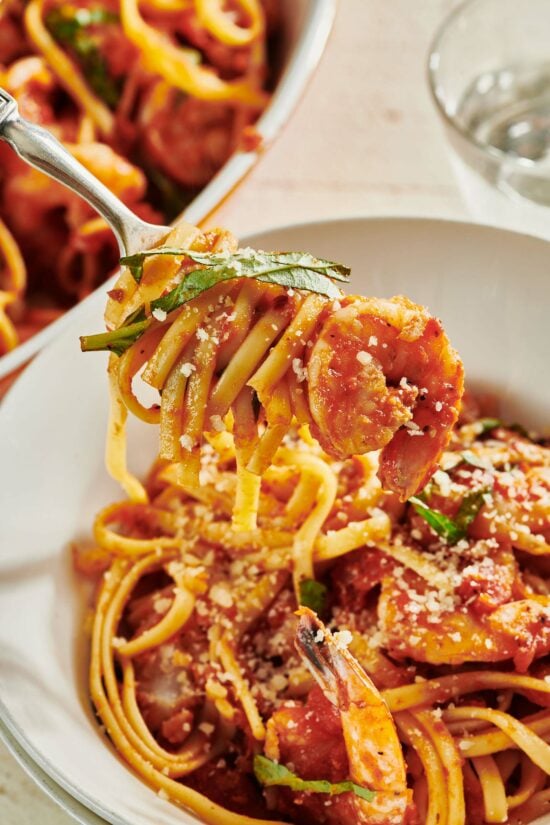 What Kind of Wine to Serve with Shrimp Fra Diavolo?
There are plenty of good choices in both the red and white wine camps.  For a white wine, try pinot grigio, a Chilean Sauvignon Blanc, or as the Marianis suggest a Valpolicella.  For a red, try a fruity red like a Barbera or a chianti.
What to Serve with Shrimp Fra Diavolo with Linguine:
Other Italian Pasta Recipes:
Like this recipe? Pin it to your favorite board on Pinterest.

Pin This
Shrimp Fra Diavolo with Linguine
A spicy red sauce makes this classic Italian-American shrimp and pasta dish irresistible (go for big shrimp!)
Ingredients
1

pound

dried linguine

Kosher salt

to taste

4

tablespoons

olive oil

, divided

Freshly ground pepper

to taste

2

pounds

extra-large shrimp (12/25 count)

, peeled and deveined

1

large onion

, halved and thinly sliced

4

teaspoons

minced garlic

½

teaspoon

dried oregano

¼

teaspoon

red pepper flakes

, or to taste

1

cup

dry white wine

1

can

(28 ounces) diced tomatoes

½

cup

sliced or torn fresh basil leaves

, divided

Freshly grated Parmesan

to serve (optional)
Directions
Heat 1 tablespoon of the oil in a very large skillet over medium-high heat. Add half the shrimp , season with salt and pepper, and sear for 1 minute on each side, just so the shrimp start to turn a brighter pink on the outside. Remove with tongs to a plate. Repeat with another tablespoon of oil and the remaining shrimp, seasoning them as well, then add the second batch of seared shrimp to the plate.

Return the pan to medium heat. Add the remaining 2 tablespoons oil and when the oil is hot, add the onions and saute for about 5 minutes until they become tender. Add the garlic, oregano and red pepper flakes, and saute for one more minute until you can smell the garlic. Pour in the wine and cook until the wine has reduced by about half, about 3 minutes.

Stir in the tomatoes and bring to a simmer. Stir occasionally for 20 minutes, until the flavors meld and the sauce has thickened a bit.

While the sauce simmers, bring a large pot of salted water to a boil. Cook the pasta according to package directions.

Just before the pasta is done, add the partially cooked shrimp and half of the basil to the tomato sauce and stir until the shrimp is hot and cooked through, about 2 minutes.

Drain the pasta, reserving ½ cup of the pasta cooking water, and return to the pot. Pour over the sauce with the shrimp, add the ½ cup pasta water, and toss to combine. Transfer to a shallow serving bowl, and top with the remaining basil. Sprinkle with some Parmesan or serve the shrimp dish with the Parmesan passed on the side for those who want it.
Nutrition Information
Calories:
570
kcal
|
Carbohydrates:
63
g
|
Protein:
42
g
|
Fat:
13
g
|
Saturated Fat:
2
g
|
Cholesterol:
381
mg
|
Sodium:
1282
mg
|
Potassium:
491
mg
|
Fiber:
4
g
|
Sugar:
5
g
|
Vitamin A:
214
IU
|
Vitamin C:
15
mg
|
Calcium:
274
mg
|
Iron:
5
mg
The nutrition values are provided as an estimate. It is not intended as a substitute for the advice of a qualified healthcare professional.
Made this recipe? Post a photo of your delicious creation on Instagram with our hashtag #dinnersolved