Linguine with white clam sauce is the kind of thing I cannot resist on an Italian restaurant's menu. I can almost smell the garlic just reading the words, and imagine the chewy, briny nuggets of clams tangled up in strands of linguine with that savory broth puddling on the bottom of the bowl. And the good news is that if you stock up on canned clams for your pantry, this dish can come together in literally 20 minutes. Only 20 minutes to pasta with white clam sauce?! It feels almost impossible, but it's true.
The result is the kind of thing you might find in an Italian joint in Little Italy in NYC or in the North End in Boston.
Linguine with White Clam Sauce with Canned Clams
I am a fan of Snow's chopped clams, which fully deliver on taste and texture, and having a little stack of their cans in the pantry, plus a couple of bottles of Snow's® clam juice means that this can be on the table for dinner with a handful of other pantry staples any night of the week. And if you are a little tired of holding a box of pasta in one hand and a jar of tomato sauce in the other, this is the perfect way to shake up the dinner routine.
I went for chopped clams in this pasta, because I love the big chunks. I like to go a little overboard with the clams. No disappointing hunting around for clams in this pasta; every bite has chunks of seafood twirled up in the noodles.
I also mixed the Snow's Clam Juice with chicken broth and white wine for the sauce. The result is a sauce that is pulls the linguine and clams together perfectly. Plus, yes olive oil and garlic. Also, a splash of lemon juice for brightness and a bit of acidity. This balances out the rich savoriness of the clams.
Ingredients in White Clam Sauce
Extra-virgin olive oil – a generous amount to saute the garlic in and form the base of the sauce
Minced garlic – again, a generous amount. Clam sauce must be garlicky! Use fresh garlic if at all possible.
Red pepper flakes – adds a kick to the sauce. Pass additional redpepper flakes for sprinkling on top
White wine – I prefer a dry white wine, which adds depth of flavor to the sauce.
Chicken broth or stock – the richer the better, this become part of the sauce
Clam juice – this adds a wonderful brininess of the pasta sauce.
Chopped clams – making clam sauce with chopped clams means that it comes together very quickly, and if you have cans of clams in the pantry, you can make this whole meal in about 20 minutes. You can use chopped or minced; I like chopped best. Drain them before adding
Juice and zest of 1 large lemon – citrus adds a jolt of acidity which really plays well with the salti richness of the seafood and the heat from the garlic and red pepper flakes. The juice goes into the sauce, the zest gets sprinkled on top.
Chopped parsley – finish the fish with an herbal note that also provides freshness and color.
This dish made me want to buy a red and white checked tablecloth so that I could feel like the whole trattoria experience was mine. My kids absolutely love this dish, and it's an easy weeknight dinner. A sprinkle of bacon on top would not be unwelcome either.
What to Serve with Linguine with White Clam Sauce:
Linguine with White Clam Sauce: This 30-minute pasta recipe made with an ample amount of canned clams is a quick and easy weeknight dinner.

Tweet This
Other Seafood Pasta Recipes: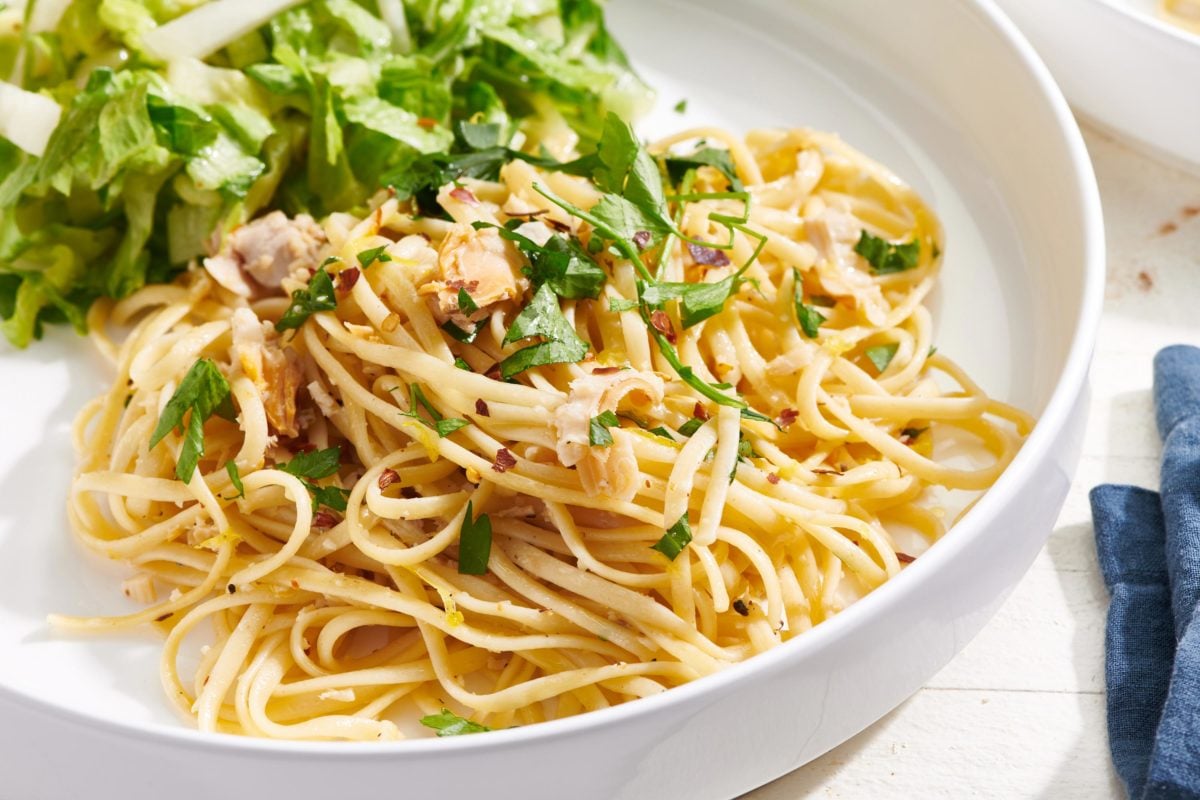 Like this recipe? Pin it to your favorite board on Pinterest.

Pin This
This post is in partnership with Snow's®. All opinions are my own.
Linguine with White Clam Sauce
This easy 30-minute pasta recipe made with an ample amount of canned clams is a satisfying, quick and easy weeknight dinner.
Ingredients
1

pound

dried fettuccine or linguine

¼

cup

extra-virgin olive oil

4

teaspoons

minced garlic

¼

teaspoon

red pepper flakes

, plus more for serving

Kosher salt and freshly ground pepper

to taste

1

cup

dry white wine

1 ½

cups

chicken broth or stock

(the richer the better)

½

cup

Snow's® Clam Juice

6

(6.5 ounce) cans Snow's® Chopped Clams

, drained

Juice and zest of 1 large lemon

chopped parsley

to serve
Directions
Bring a large pot of water to a boil. Add salt, and cook the pasta according to package dictions. You'll want to cook it until just al dente, and then it will finish cooking in the sauce, so plan to take it out a couple of minutes before it is done to your liking.

Meanwhile, in a large deep skillet, heat the olive oil over low heat. Add the garlic and cooking, sitting frequently, for 8 minutes, until the garlic is soft and a very light golden color; do not allow the garlic to brown. Stir in ¼ teaspoon of the red pepper flakes, and season with salt and pepper.

Raise the heat under the garlic oil to medium high. Add the white wine and simmer for 3 minutes until slightly reduced. Add the chicken broth or stock and the clam juice to the pan, and bring to a simmer. Allow to simmer and reduce a bit, for about 5 minutes.

When the pasta is just al dente, drain it and return it to the pot. Pour in the broth-clam juice mixture, add the chopped clams and lemon juice and toss until the pasta has become tender and absorbed a bit of the liquid, the clams are heated through and everything is well combined, about 2 minutes; tongs are great for this. Turn into a serving bowl, and top with additional red pepper flakes, the chopped parsley and the lemon zest. Serve hot.
Nutrition Information
Calories:
442
kcal
|
Carbohydrates:
59
g
|
Protein:
15
g
|
Fat:
13
g
|
Saturated Fat:
2
g
|
Trans Fat:
1
g
|
Cholesterol:
72
mg
|
Sodium:
472
mg
|
Potassium:
300
mg
|
Fiber:
3
g
|
Sugar:
2
g
|
Vitamin A:
185
IU
|
Vitamin C:
6
mg
|
Calcium:
50
mg
|
Iron:
2
mg
The nutrition values are provided as an estimate. It is not intended as a substitute for the advice of a qualified healthcare professional.
Made this recipe? Post a photo of your delicious creation on Instagram with our hashtag #dinnersolved