Getting more fish on the table is a shared goal amongst most home cooks. Getting your kids to eat more fish is also a common aim, and sometimes feels slightly Sisyphean in nature. But a beautiful fresh fish dinner is too fantastic to shove to the back burner for another time.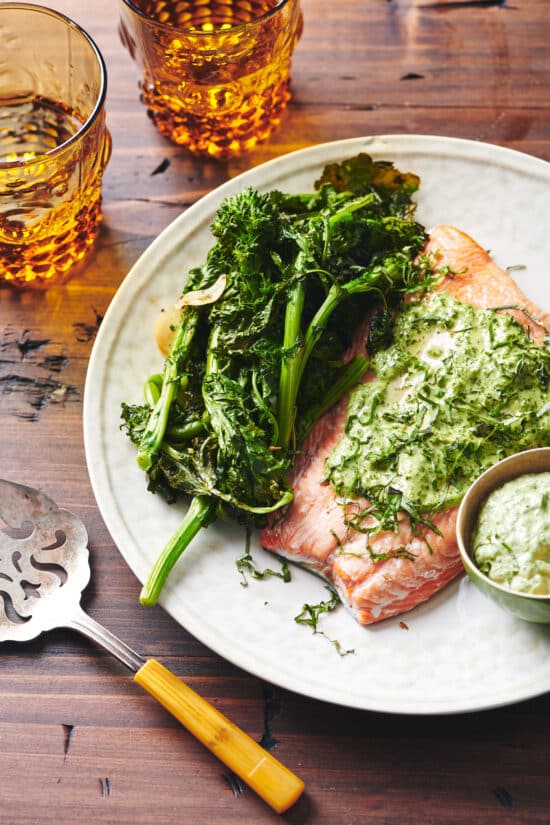 Salmon
When I am thinking about fish for dinner, more often than not, I chose salmon. Salmon is the most popular fish in this country and for good reason. It's moist, it's versatile, it's delicious (granted that's subjective, but it's a pretty common perception), and it's very nutritious. It's rich in omega-3 fatty acids, which can help support brain function by improving memory, reducing heart disease, alleviating joint pain, as well as boosting eye health. And it's a great source of protein and provides a nice dose of vitamin D. Not bad for a piece of fish.
And properly sourced it's high on the list of sustainable fish, according to seafoodwatch.org; make sure it's wild caught (another shout out for Alaska) or farmed in sustainable ways.
But none of this matters a bit if your family doesn't want to give it a go. This salmon itself is very simply prepared, roasted with a bit of olive oil, salt and pepper, so hopefully a good "beginner fish" for any skeptics at your table.
Sheet Pan Salmon and Broccoli Rabe: A simple sheet pan supper saves the day, and this one pan wonder is a gorgeous weeknight dinner.

Tweet This
Herbed Mayonnaise
But the sauce… this is where things get interesting. I have been making various renditions of herbed mayonnaise all spring and summer long, inspired by a jumping off recipe in Joshua McFadden's wonderful book Six Seasons. And I've been using it in any possible way I can think of – from chicken salads, to the base for various, to a dip for roasted potatoes, and here I'm using it to slather up some pieces of lush salmon. The pink and the green look pretty terrific together, don't they?
The types and quantities of herbs are just guidelines: use the herbs you like best, the herbs that are in your garden, the herbs you have hanging out in the fridge. Skip the cilantro if you have cilantro-haters in your house; it's a great herb to use, but it's not for everyone. Don't even think about using a dried herb here. I'm sorry, but it's just not the place for them. Save those for your cooked dishes.
And while you might think that fish is hard enough to get your kids to embrace, so fish with sauce would be harder…likely not the case. This sauce is so appealing that it might just become a gateway condiment for more fish or seafood dinners (it would also be great with anything from chicken to pork to steak).
Sheet Pan Recipe
The salmon and the broccoli rabe share a baking sheet in the oven, so just one sheetpan to clean (other than the food processor). The broccoli rabe gets a head start, and then the salmon is added to the baking sheet so that everything finishes at the same time.
If spicy isn't your family's thing, you can leave out the red pepper flakes in the broccoli rabe side. You can also use small stalks of regular broccoli instead of the broccoli rabe. Or try asparagus, which will take about the same time to cook as the broccoli rabe if thick, or only the amount of time it takes for the salmon to roast if the stalks are skinny.
What to Serve with Sheet Pan Salmon and Broccoli Rabe:
Other Salmon Recipes:
Like this recipe? Pin it to your favorite board on Pinterest.

Pin This
Sheet Pan Salmon and Broccoli Rabe
A simple sheetpan supper saves the day, and this one pan wonder is a gorgeous weeknight dinner.
Ingredients
For the Broccoli Rabe:
1

pound

broccoli rabe

, trimmed

1

tablespoon

olive oil

½

teaspoon

kosher salt

3

large garlic cloves

, thinly sliced

¼

teaspoon

crushed red pepper flakes

(or to taste)
For the Roasted Salmon:
4

(6-ounce) fillets of salmon

, skin on

4

teaspoons

olive oil

Kosher salt and freshly ground pepper

to taste
For the Herbed Mayonnaise:
Directions
Preheat the oven to 425°F. Line a rimmed baking sheet with foil or parchment, and spray with nonstick cooking spray.

Roast the broccoli rabe and the salmon: Place the broccoli rabe on the prepared baking sheet and drizzle over 1 tablespoon oil, 1/2 teaspoon of the salt, then add the garlic and red pepper flakes. Toss to coat well, then spread out on a baking sheet. Place in the oven, and cook for 10 minutes. Remove the baking sheet from the oven, shove the broccoli rabe over to the side of the baking sheet to make enough room for the 4 salmon filets. Place the salmon filets skin side down on the baking sheet and drizzle about 1 teaspoon of olive oil over each piece and rub to coat the top and sides. Season with salt and pepper. Roast everything for 8 to 10 minutes more, until the broccoli rabe is tender and the salmon flakes easily. The internal temperature of the salmon should be at least 145°F in the thickest part.

While the salmon and broccoli rabe are roasting, make the Herbed Mayonnaise: Place the parsley, basil, cilantro, dill and oregano in the food processor and pulse to chop. Add the mayonnaise and pulse several times to blend. Pulse in the lemon juice, salt and several grinds of pepper. With the motor running, very slowly drizzle in the olive oil through the feed tube on top or with a slow and steady hand until the mixture is completely incorporated and – if things went well – somewhat fluffy. Scrape down the sides and blend again. Taste and adjust the seasoning as needed.

Slide a thin spatula under each piece of fish, separating it from the skin and place each piece on a plate. Distribute the broccoli rabe amongst the 4 plates next to the fish. Spoon the Herbed Mayonnaise over the salmon, or pass it on the side as desired. Sprinkle the top of the fish with slivered fresh basil if desired.
Nutrition Information
Calories:
594
kcal
|
Carbohydrates:
5
g
|
Protein:
38
g
|
Fat:
47
g
|
Saturated Fat:
7
g
|
Polyunsaturated Fat:
19
g
|
Monounsaturated Fat:
19
g
|
Trans Fat:
1
g
|
Cholesterol:
105
mg
|
Sodium:
731
mg
|
Potassium:
1117
mg
|
Fiber:
4
g
|
Sugar:
1
g
|
Vitamin A:
3534
IU
|
Vitamin C:
30
mg
|
Calcium:
178
mg
|
Iron:
5
mg
The nutrition values are provided as an estimate. It is not intended as a substitute for the advice of a qualified healthcare professional.
Made this recipe? Post a photo of your delicious creation on Instagram with our hashtag #dinnersolved