This post may contain affiliate links. Please read our privacy policy.
There are so many ways to prepare asparagus. These lovely green stalks can star in a side dish, be a supporting member of a skillet meal, or hold their own in a vegetable sauté. They can be steamed, boiled, stir-fried, roasted, baked, grilled, or broiled. Pretty much any way you can cook something, you can cook asparagus (I haven't tried sous vide yet, but someday I will. Maybe.).
Asparagus usually cooks in about 6 to 14 minutes, depending on the cooking method and the thickness of the stalks, and of course, how tender or crisp you like your spears. Also, remember that the asparagus will continue to "cook" and soften after it leaves the heat, no matter how you cook them.
Different Types of Asparagus
Asparagus are members of a flowering plant family, and the shoots from the plants grow in long slender stalks with a tightly closed bud at the tip. Those are the part of the plant that we buy, cook, and eat.
Asparagus varies in color, with green being the most commonly available and popular in the U.S. There is also purple asparagus, and white asparagus, which is very popular in Europe (the whiteness is due to the fact that it is grown without any sunlight to prompt photosynthesis). There is also wild asparagus.
Where and When to Find Asparagus
Asparagus is harvested from February to June in various locales, with March and April being the prime asparagus season in most places. Asparagus pops up in early spring at farmers markets all over the country, but you can also buy it in the market in the produce section. If you are lucky, you might live in a part of the country where asparagus grows wild. Asparagus foragers look forward to the season and hunt for asparagus in ditches, ravines, next to streams, and various places near fresh water. Wild asparagus can be found all over the U.S., mostly in rural areas.
Different countries grow asparagus at different times of the year. In some cases, asparagus is grown in greenhouses, so even though it's a very seasonal vegetable when it grows wild, it can be found at the market pretty much year-round. But there is a world of difference between fresh local (or even semi-local) asparagus, and asparagus that has been flown in from some far-flung place.
How to Choose Asparagus
Thick or thin? Your choice. I think for a while, there was something very sexy and desirable and chic about the very skinny asparagus, but really it's a matter of preference. The thin spears just need the bottom inch or so cut off, cook faster, and work nicely in sautéed or stir-fried dishes. The fatter ones take longer to cook, but the thickness provides a much more satisfying bite.
Look for asparagus that is not too dried out at the cut ends (all asparagus is a bit dried at the base where it was cut from the plant). The tips should be tightly closed as well, without any fraying or damage. The stalks themselves should be firm and smooth other than the tiny petal leaves that emerge. If you see asparagus that looks wrinkled, withered, or slimy/wet, skip it. If there is a sour or "off" smell, it's probably past its prime. Asparagus that is wrinkled along the stems is also older and should be avoided. And, if it has anything resembling mold (black spots, fuzzy spots), toss it for sure.
Storing Asparagus
Think of asparagus spears as the flowering vegetable that they are. When you get them home, trim off an inch or so from the bottom, and place them in a tall wide glass or vase or measuring cup with a couple of inches of water. Loosely cover the tops with a plastic bag and store them in the fridge for 3 to 7 days, depending on their freshness. You can also leave them in a bag in a produce drawer, but they do tend to get a little banged up and age a bit faster. And if you have extra asparagus, lucky you — here's all you need to know to Freeze Asparagus perfectly.
Much-loved and eagerly awaited asparagus heralds the arrival of spring. It's easy to find at the markets, and so easy to prepare. a Here are 11 simple asparagus recipes to make the most of this seasonal vegetable!

Tweet This
Various Ways to Cook Asparagus
There are many ways to cook asparagus. How you'll want to cook it may depend on how you're using it, how you're preparing the rest of the meal, and even what the weather is like.
You can steam asparagus by putting it on a rack or in a basket suspended over simmering water, in a pot with the lid on. But if you don't have a steamer apparatus, it's easy to steam them in a covered pot with just a small amount of water brought to a simmer, just enough to provide the moisture, hence the steam, that you need to cook them through.
Boiled Asparagus
This can be done by simply including more water in the pot than you would for steaming. I prefer steaming them, as I feel less of the flavor is lost to the cooking water.
Blanching Asparagus
Blanching is simply cooking food briefly in boiling water, and then immediately draining them and plunging them into ice water. This quick-cook method is usually used with vegetables. It not only softens the vegetables slightly but also locks in their color by dunking them into cold water right after cooking. This also stops them from cooking further in the residual cooking heat, also called carryover cooking.
Why is an ice water bath important when blanching asparagus?
The simple step of adding an ice bath to your blanching yields great results. If you cooked the vegetables for a couple of minutes and skipped the ice bath, they would just soften a bit, and lose some of their brightness, but everything would still be a-ok. However, setting up an ice water bath takes very little extra time, and also, the bowl that you use for the water bath can be immediately put to use for something else, like a salad. It really makes a nice difference for asparagus in particular, leaving them as crisp-tender as you like, and a brilliant green.
Roasted Asparagus
Roasting asparagus in the oven is definitely one of my favorite ways to cook asparagus. The natural sugars in the vegetables are concentrated by the high heat and you get a lovely golden exterior. This is how I prepare asparagus during the cooler months of the year.
Grilled Asparagus
Asparagus on the grill is a pure joy. Just make sure to position the spears perpendicular to the grill grates so you don't lose any! Or, use a grill basket and rest easy that all of the asparagus will make it through to the end. Asparagus of any thickness works on the grill, just add an extra minute or two for fatter spears.
Can You Eat Raw Asparagus?
If your asparagus is very fresh, you can slice the spears and use them raw in salads, or as part of a vegetable (crudité) platter. Definitely make sure you peel or trim off any tough ends, which will be unpleasant to eat. Also, peel them, or at least the bottom half, if the skin seems thick and tough. This farro salad recipe is a great example of how to use raw asparagus in a salad!
How to Clean and Prepare Asparagus
A rinse under cold water is usually all that asparagus needs. They are rarely very dirty. If you are preparing them using a dry heat method, like roasting or grilling, dry them before cooking. If you are steaming or boiling them, then you don't have to worry about drying them first.
The most traditional kitchen technique for trimming asparagus is to hold the stalk in the middle and by the bottom end and bend it until it snaps. This removes the woody and fibrous bottom few inches of the stalk. I'm not a fan of this method. I think it wastes more of the edible stalk than necessary, especially if you are preparing thick asparagus.
I prefer to cut off the bottom and then, for thick asparagus, peel the bottoms of the stalks to remove the not-so-pleasant tough outer skin of the spear. For any asparagus, you can just cut the bottom inch or so off the asparagus. Then, for thick asparagus, simply take a vegetable peeler and peel the green outer layer off from the bottom 3-ish inches of the stalk.
How Long to Cook Asparagus
The answer depends on the thickness of the asparagus, the temperature you are cooking them at, and with some cooking methods, like baking or roasting, how crowded the pan is. Baking and roasting are both cooking in the oven with dry heat, but baking is usually at a lower temperature than roasting. If you are baking asparagus, you'll want to have the oven around 350 degrees, and for roasting, I like to have the oven at 425 degrees.
Asparagus Thickness
425 Degrees
350 Degrees
Thin Asparagus
(less than 1/2-inch thick)
8 to 10 mins
10 to 12 mins
Medium Asparagus
(1/2-inch thick)
10 to 12 mins
12 to 14 mins
Thick Asparagus
(more than 1/2-inch thick)
12 to 14 mins
14 to 16 mins
Roasting and Baking Times for Asparagus
The cooking time also really depends on how you like your asparagus cooked. Keep in mind that the asparagus will continue to "cook" after they leave the oven, especially if you leave them on the hot tray. Take them out just before they are as cooked as you would ultimately like them to be.
Crisp-tender? Tender-crisp? Super soft? For quite a while now, it's been the fashion to eat asparagus and many other vegetables quite al dente. Well-cooked vegetables have been sneered at as old-fashioned and unchic. And while I think that vegetables cooked into oblivion are not a great thing, I also think you should cook your vegetables to how done you like to eat them. If you and your family are fans of slightly mushy veggies, then you should cook them until they are slightly mushy. You don't need undercooked vegetables to prove you're cool.
Nutrition
Yes! Asparagus is a very nutritious vegetable. It has high doses of vitamin K, antioxidants, and fiber, and is also very low in calories.
---
12 Asparagus Recipes
Now let's dig into those recipes! Here are a bunch of asparagus recipes to make this spring.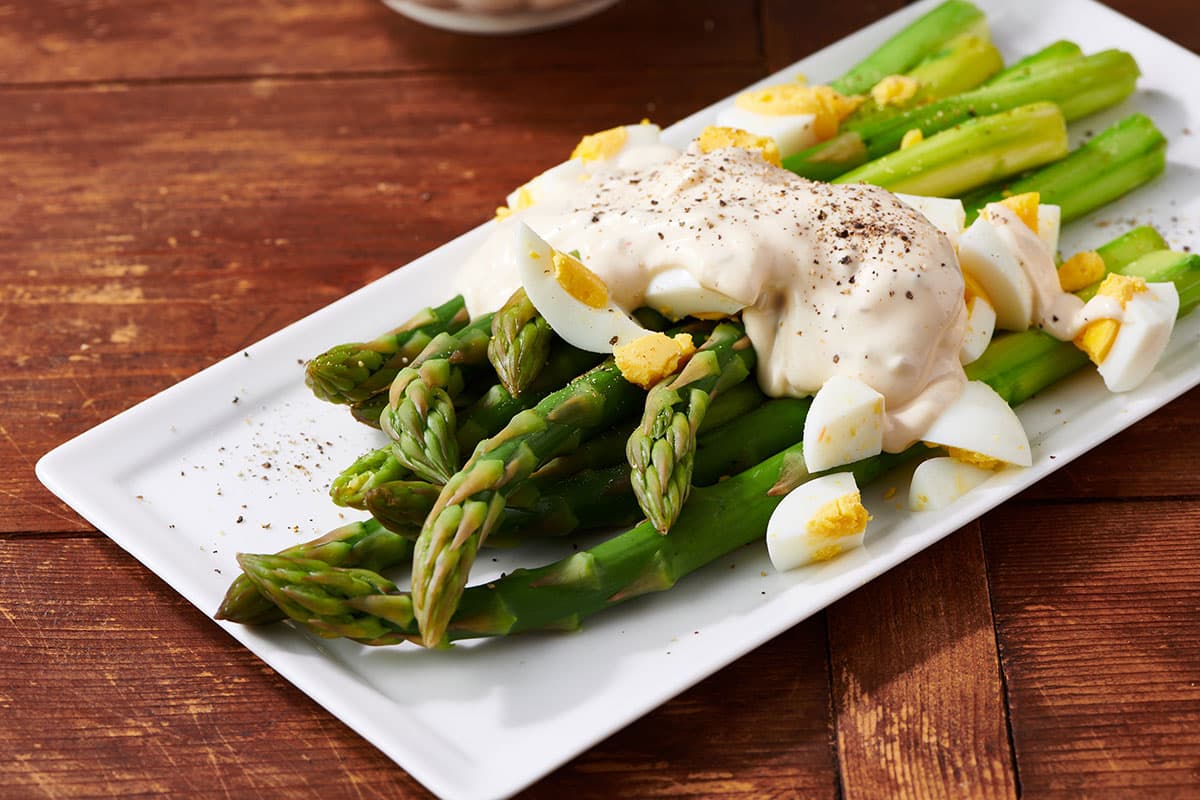 A beautiful, make-ahead spring side dish that takes asparagus to a whole other level. The tender-crisp asparagus is blanketed by a creamy dressing and then topped with chopped egg. I would eat this for lunch and want nothing else other than maybe a nice chunk of crusty bread to sop up the rest of the sauce.
---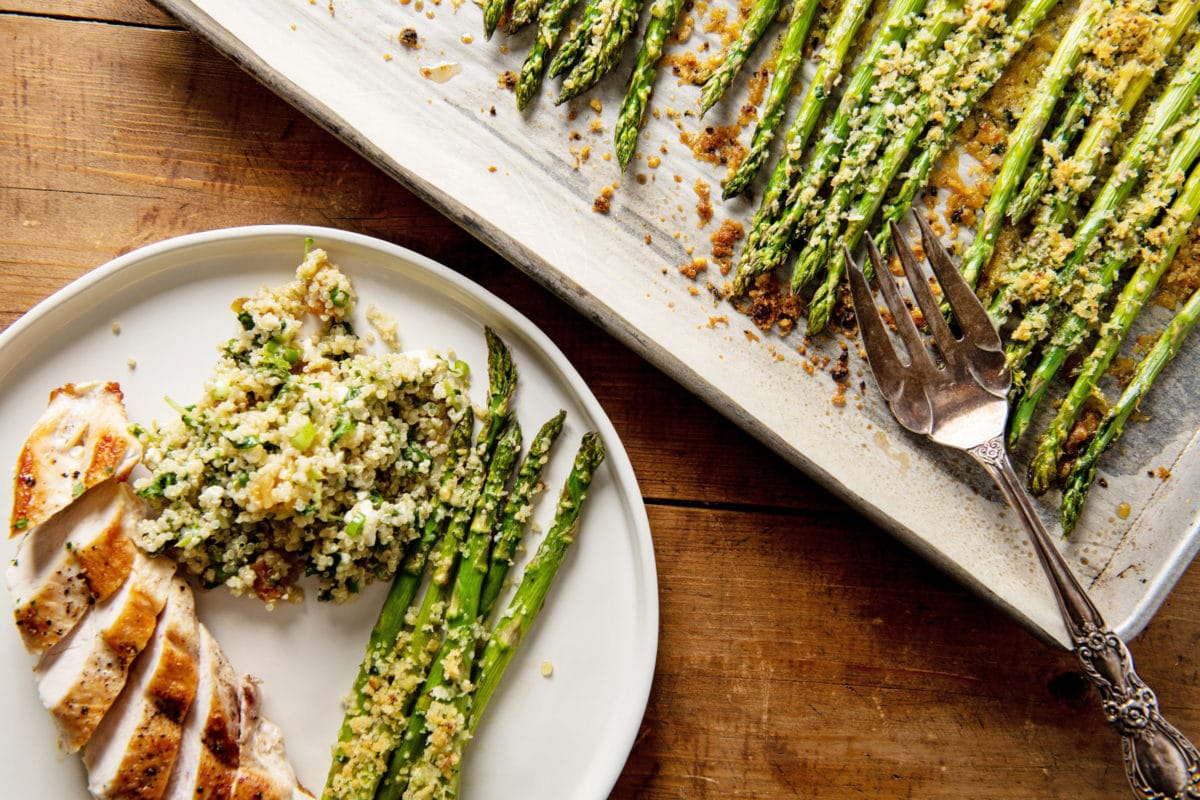 A notch above plain roasted asparagus, but not a whole lot more effort. Panko breadcrumbs mixed with garlic, Parmesan, olive oil, and parsley make a lovely crumbly topping for asparagus.
---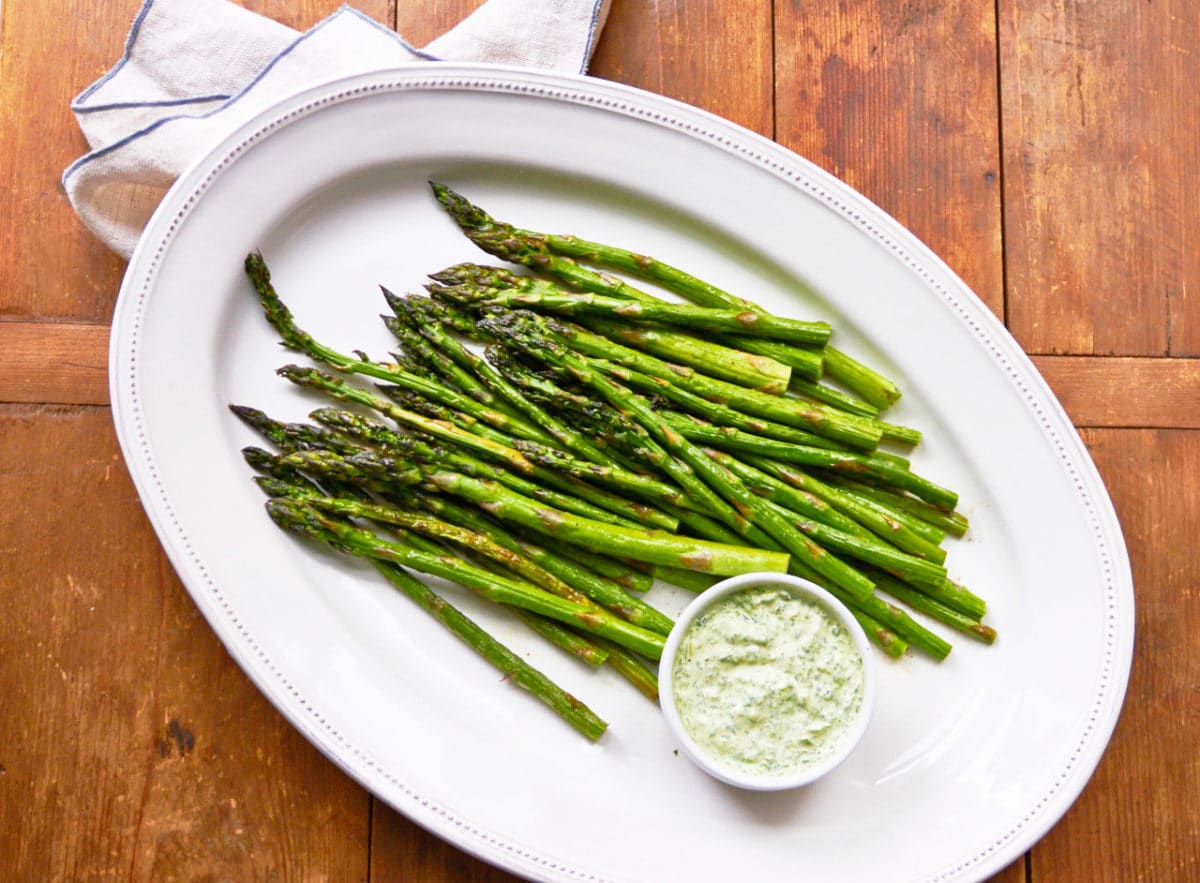 If you want to bump things up a notch with not all that much effort, this is the asparagus recipe to reach for, especially if you have extra fresh herbs on hand waiting to be used up. You can make the sauce while the asparagus cooks. This is a nice side dish but also a fun little appetizer (and yes, you can eat these with your fingers!).
---
This is a short ingredient list, and it can get even shorter if you want!  Asparagus, of course, and onions for flavor, broth to make it soup, and some version of cream to give the soup lushness and body.  Then, some celery, potatoes, and a bit of thyme or another fresh herb if you have it — or leave them out if you don't! If you want the soup to be vegetarian, make sure to use vegetarian broth.
---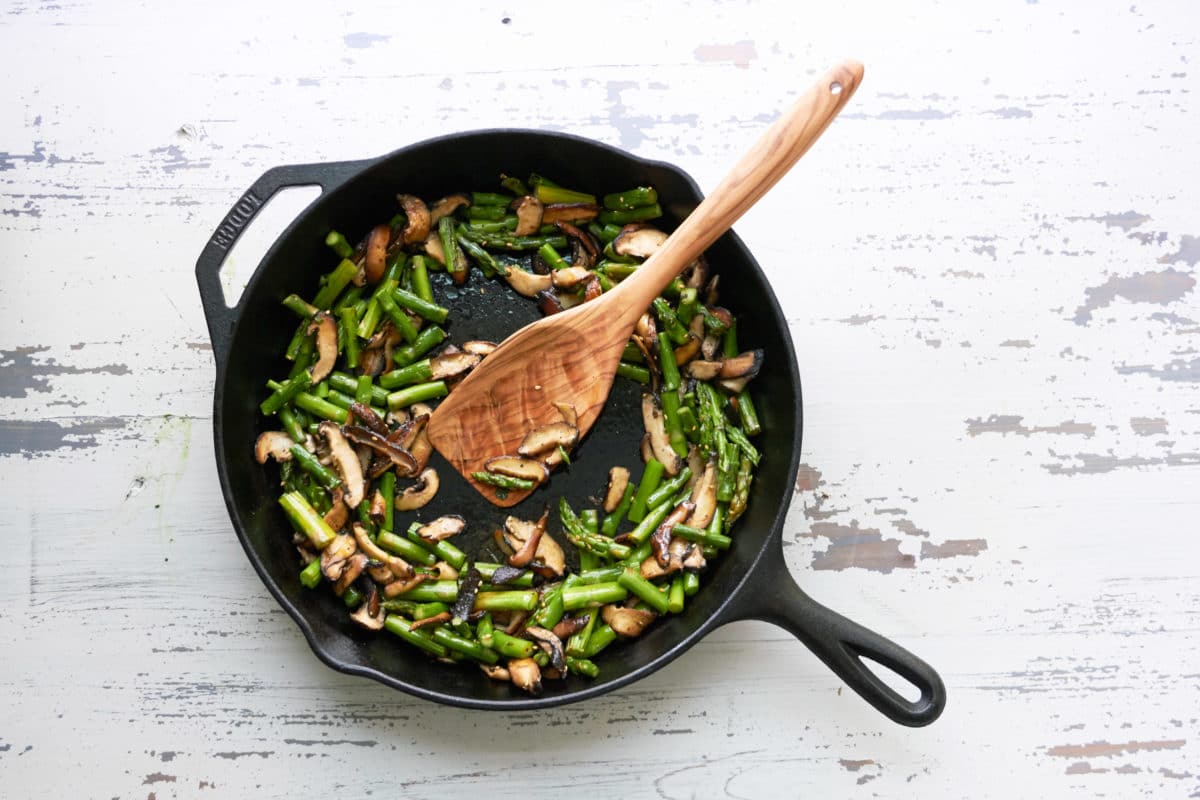 The combo of mushrooms and some green vegetables is a very popular one in Chinese cooking, and that's because the pairing works every time. This is a 4-ingredient, 10-minute recipe. You can serve it as a side or over rice for a vegan/vegetarian main course.
---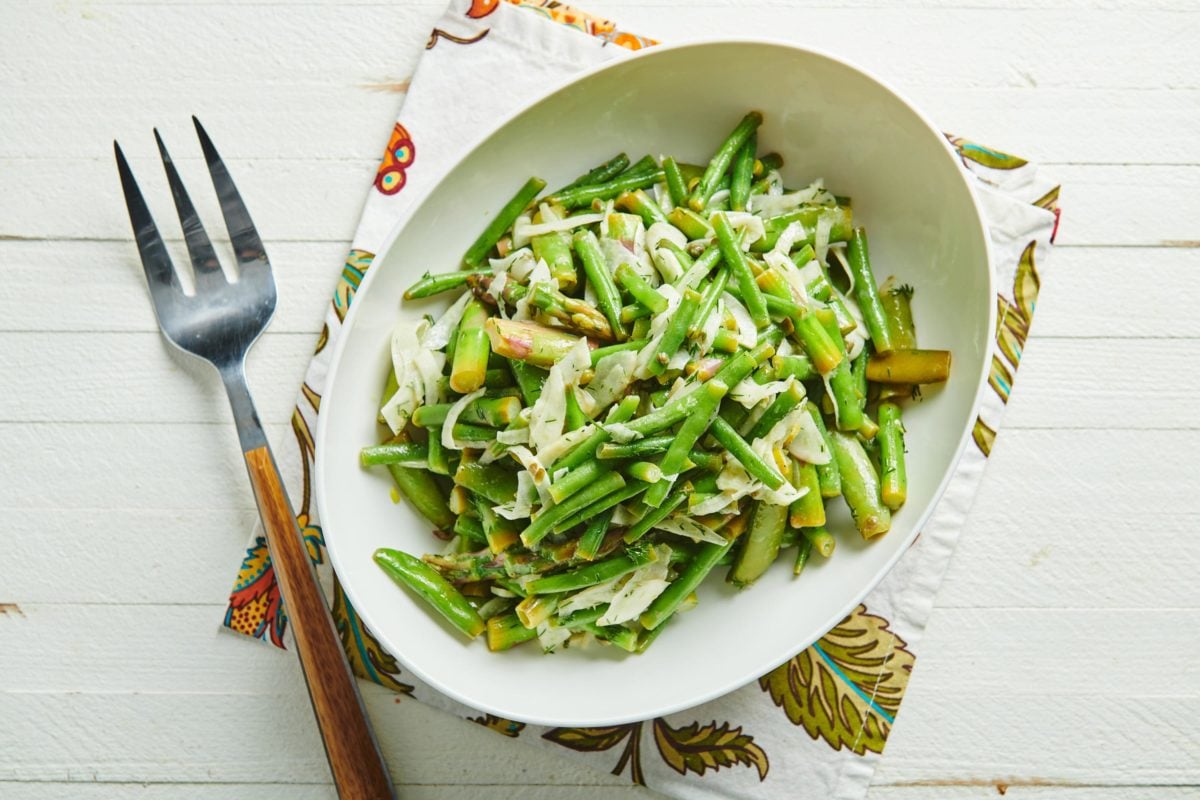 Simple, perfect, crisp-tender, and goes with everything. While asparagus is certainly a recommended spring vegetable in this salad, everything is merely a suggestion, so you can swap things in and out as you please.
---
This lemon sauce would perk up pretty much any kind of roasted vegetable, but I particularly love it with asparagus. The whole thing feels very springy. The dressing is vivid with citrus and you can perk it up even more with a bit (not too much!) of hot sauce. A perfect side for Easter, Mother's Day, or just dinner on a Wednesday night!
---
A fabulous, pretty, simple warm-weather side. Make sure to serve with grains or crusty bread to sop up all of the tangy vinaigrette. This would also be nice as part of a more robust platter — the vinaigrette will work with any grilled vegetable!
---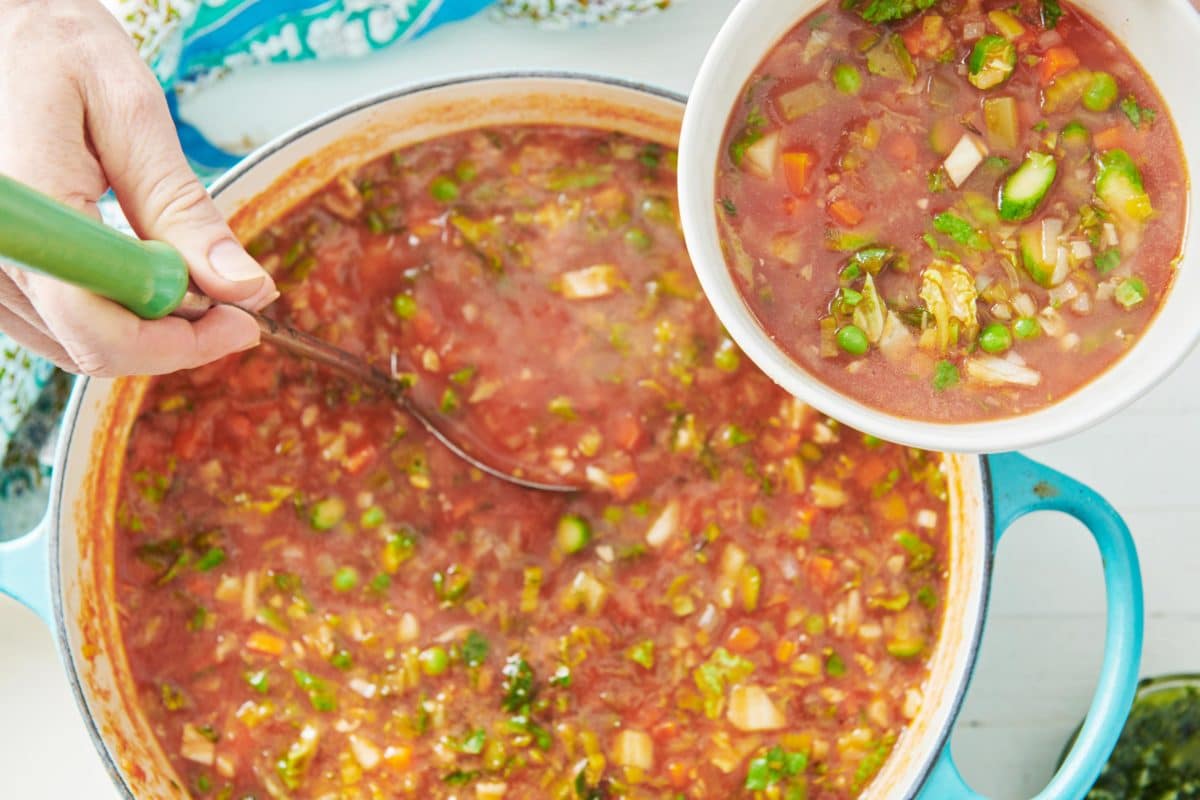 This is a very flexible vegetable soup recipe, beautiful, simple to make, and a great way to use all of those long-awaited vegetables of spring.
---
This entire salad can come together in minutes.  While you are bringing the water to a boil, trim and slice the sugar snap peas and asparagus.  Cook the orzo, and add the vegetables to the pot with the orzo for the last couple of minutes. While the pasta cooks, make the very simple dressing.  Toss it all together and you're good to go!
---
---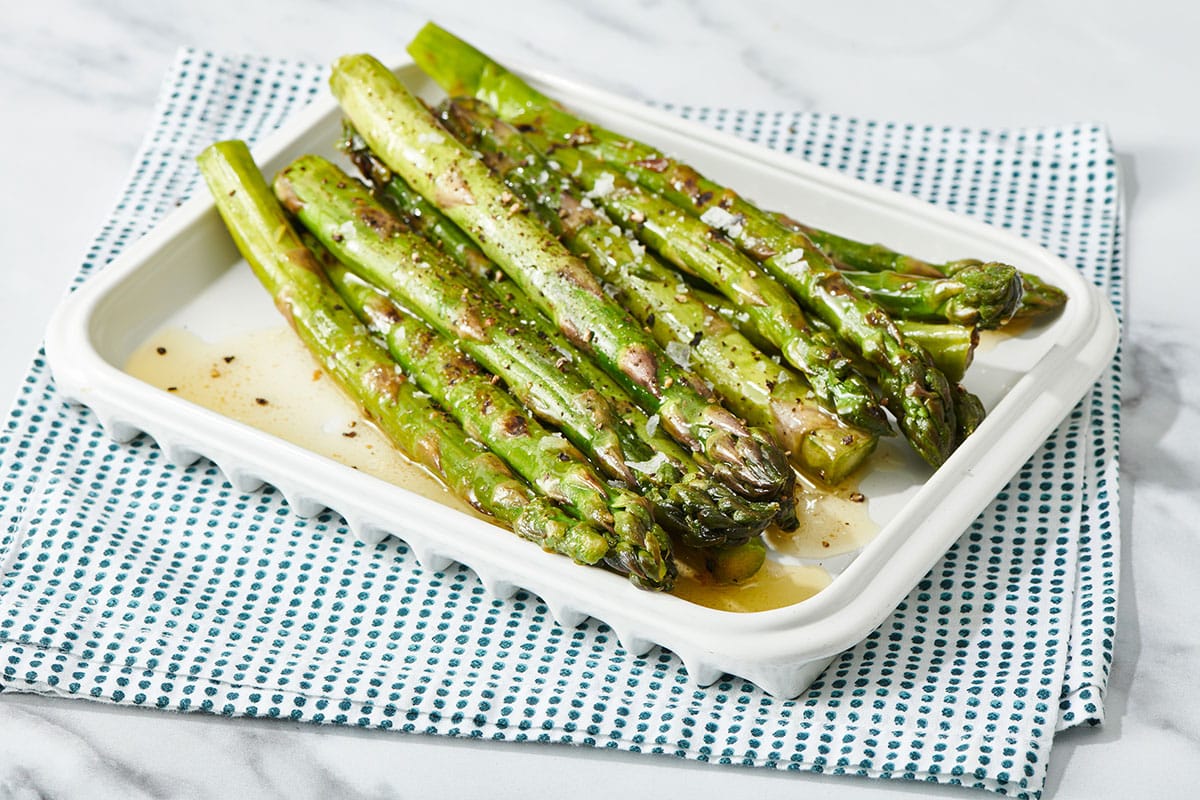 Tender asparagus become even more irresistible with a drizzle of a citrusy buttery sauce. As with most asparagus recipes with a sauce, you can decide if you want to bake, roast, blanch, grill, or steam your asparagus.
---